Hunt the Truth
---
Benjamin Giraud, award-winning war photographer, survivor of New Mombasa, and roving reporter, has begun a brand-new investigative series that promises mystery, drama, and some tantalizing intrigue.
Arriving on Xbox One Fall 2015
---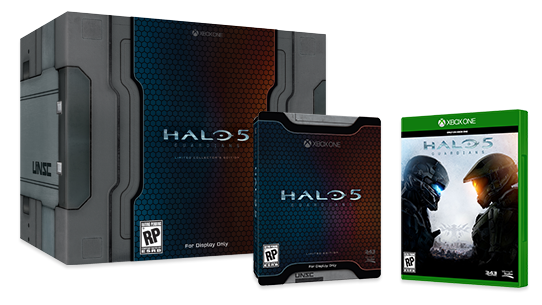 Peace is shattered when colony worlds are unexpectedly attacked. But when humanity's greatest hero goes missing, a new Spartan is tasked with hunting the Master Chief and solving a mystery that threatens the entire galaxy.
Limited Edition
The Limited Edition** of Halo 5: Guardians delivers new digital content to enhance Spartan combat plus exclusive* items all wrapped in a uniquely designed steel book.
Limited Collector's Edition
A premium edition of Halo 5: Guardians for collectors and Halo fans alike. The Limited Collector's Edition** contains the Limited Edition as well as additional content including a commemorative statue designed by 343 Industries.
Halo 5: Guardians Media Gallery
---
Halo 5: Guardians Multiplayer Beta Gallery
---
Game Details
---
Game Rating

Release Date
Developer
343 Industries
Publisher
Microsoft Studios
Genre
First Person Shooter
Players
--
Co-op
--
Online Multiplayer
--
Online Co-op
--
System Link
--
*Timed-exclusives, may be available elsewhere at a later date.
**At participating retailers, while supplies last.