Esports
HCS DAYTONA BY UMG: PASSES ON SALE NOW!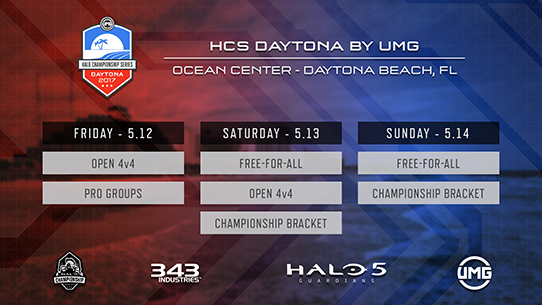 Friday 5/12
HCS Daytona by UMG takes over the Ocean Center Arena on Friday, kicking things off with intense play from both Pro League and Open 4v4 groups.
Saturday 5/13
Play continues as teams in the Open 4v4 tournament look to win their way into the Championship Bracket to take on the world's best. In addition, Saturday also marks the beginning of Free-For-All tournament play.
Sunday 5/14
The Florida sun will be shining bright on the top Halo players and teams from around the world as Championship Sunday crown both the top 4v4 team in the Championship Bracket, and the top individual players in the FFA tournament. Up for grabs are prize pools of $75,000 for 4v4, and $5,000 for FFA – you aren't going to want to miss any of the incredible action!
Tune in all weekend on beam.pro/Halo and twitch.tv/Halo!