Social Feed
---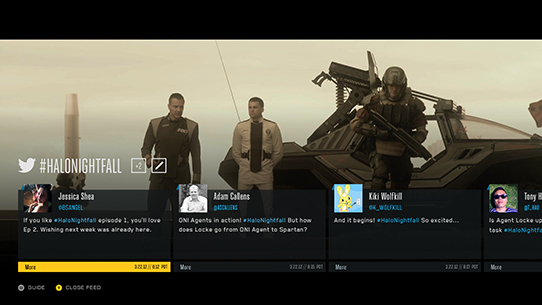 The Social Feed is a transparent control that can be pulled up during Video Playback by pressing a designated button on Xbox One (Y).
On Xbox, you must dismiss (via the B or Y Buttons) the Social Feed before you are able to control show playback.
On Windows devices, you can interact with multiple on-screen elements, as long as they are visible and provide full touch/mouse targets.
The control encourages syncing of Twitter to the Halo Channel for interactive community input. The Social Feed Control is populated in real-time with tweets using a predefined show hashtag.
You can join the discussion by composing new posts or interacting with existing posts.
The Refresh Icon will take you back to the beginning of the feed. This button appears next to the New Post button.
Compose New Post will allow you to post to Facebook or Twitter.
Press the "More" button to show discussion options for the tweet to appear inline.
The "More" option reveals five discussion options: Follow, Retweet, Reply, Report, and Favorite.
You can also choose "Less" to return to viewing the tweet from the former screen.
If your Twitter account is linked to the Halo Channel:
"Follow" will let you follow that Twitter account's posts. The "Follow" button then switches to "Unfollow."
"Retweet" and "Reply" will send you to an edit box screen for posting.
"Favorite" will favorite this tweet for later viewing from other devices and apps.
If your Twitter account is NOT linked to the Halo Channel, you will be sent to an authorization screen.
How to Link Twitter - XBOX
---
In order to make this authorization flow go smoothly, please make sure that Internet Explorer (IE) is set up for Snap mode.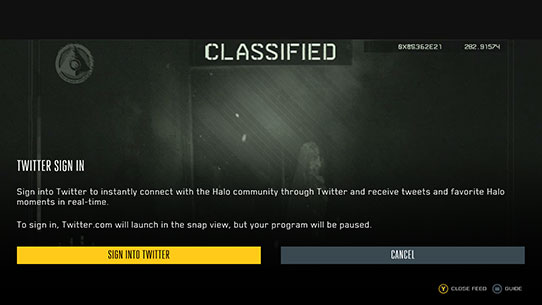 Press the Y-button to bring up Twitter Sign in, and then select the "Sign Into Twitter" button.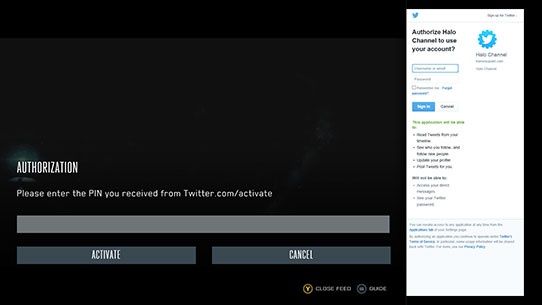 Twitter.com will launch in Snap Mode. Now you can sign into Twitter with your user name and password.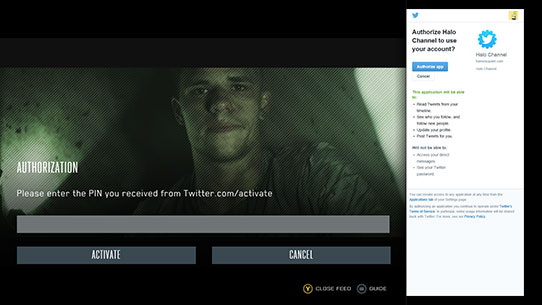 Twitter will then ask if you want to "Authorize Halo Channel." You must allow Twitter to authorize Halo Channel.
Twitter will then provide a PIN that you will need to enter into the Halo Channel.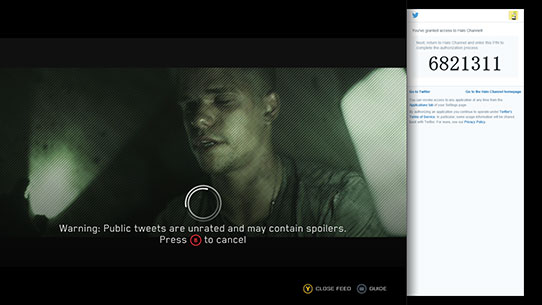 Double tap the Xbox Home button on your controller to return the focus to the Channel. (This will shift the selected highlight from Snapped Twitter to the user Channel.) When your focus is back on the Halo Channel, input the PIN that you received from Twitter.com and then select Activate.
To Unsnap Internet Explorer (Twitter), press the Xbox Home button and select Unsnap. Then select the hero tile and make Halo Channel full screen.
One final piece of advice … Don't tweet anything you wouldn't want your mom to read.
How to link twitter - Windows
---
PC works a little bit differently than Xbox, just follow the steps below to get setup!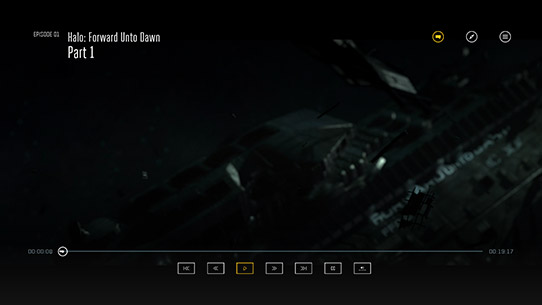 Start by opening Twitter via the Social icon in the top right corner of your screen.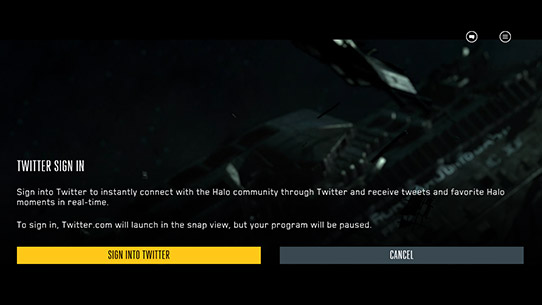 Select "Sign into Twitter" which will open Twitter in a Snapped view.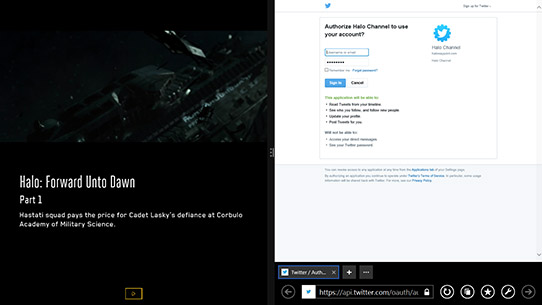 Once Twitter is open you will have the option to authorize the Halo Channel to access your Twitter account by signing into Twitter.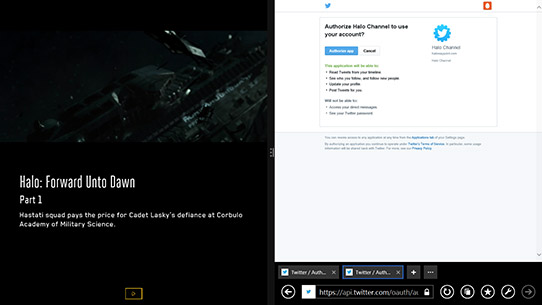 Once you've signed into Twitter, simply click "Authorize App" to allow the posting of Tweets from within the Halo Channel application