The Guide
---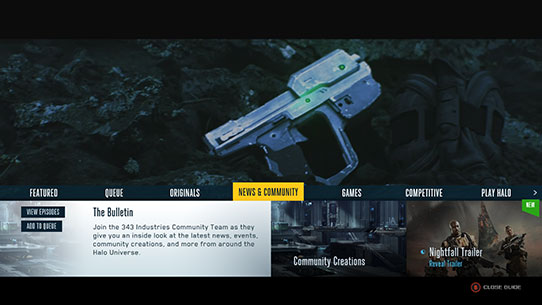 Xbox
The Guide can be summoned at any time in the Halo Channel experience via the controller Menu button.
On Xbox One, content continues to play in the background unless you pause it.
When starting the app, the last piece of content you watched is at the front of the Featured List to help you easily restart where you left off.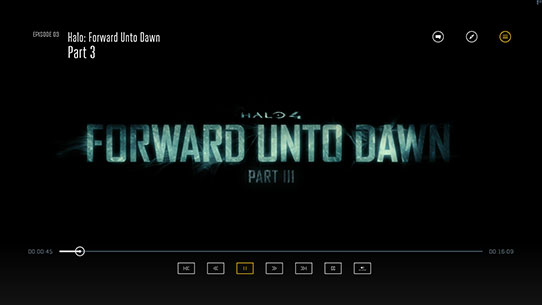 Windows
You will find most navigation buttons are in the upper right corner of the screen. Video controls and Back buttons are found along the bottom of screen. Other navigation buttons are in the upper right corner of the screen.
Show Details
---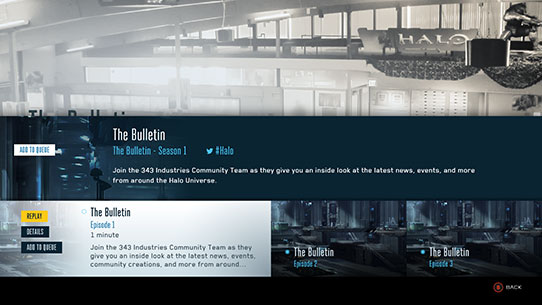 Shows are a collection of episodes, grouped into seasons. Some shows only have a single season, while others have multiple. You can change the season being displayed with the Change Season button.
Items in the Show module expand and collapse, revealing additional options.
By default, filters are set to show all items. You can use them to reduce the number of items shown to better match your interest.
Xbox
Use the B-button to return to the main level of the Guide.
Windows
Use the Back button found in the lower left-hand corner to return to the main level of the Guide.
Episode Details
---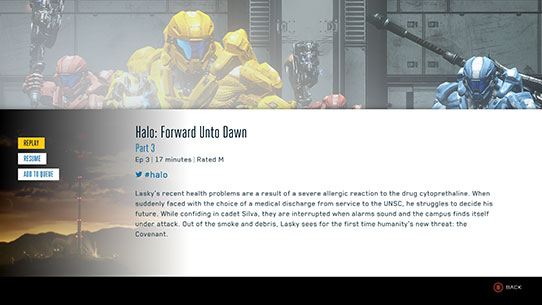 An episode is contained within a season of a particular show.
From an episode summary, you can open the Episode Detail page.
Queue
---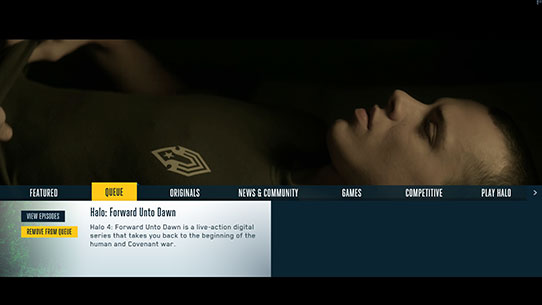 When adding something to the Queue, it adds individual episodes.
To do this, select "Add to Queue" via the controller A-button.
You must select an option or use the controller B-button to go back. Other options are not available until you back out. You can also select "Add to Queue" button to close options.
Snap View
---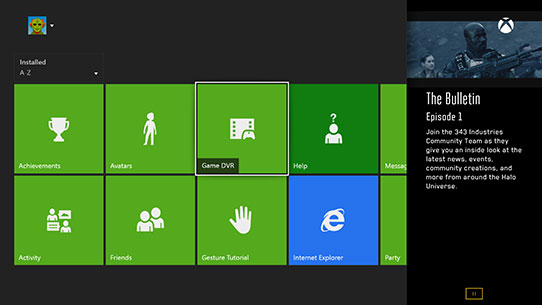 Xbox
Guide is not available when the Halo Channel app is in Snap View.
You can play/pause, and will still have quick access to making the Halo Channel a full-screen app again, at which point you can bring up the Guide.
Windows
The Halo Channel adapts to allow one other Snap application to share the screen. When the app window becomes smaller than 50% of the primary screen, Halo Channel switches to its Snap View mode.
In Snap View, Halo Channel content continues to play, and always shows video title & associated metadata, as well as video controls and scrubber. This is a limited experience ideal for watching content while gaming or surfing the web. In snap view you will have access to a limited set of features. You can swipe snap window open to a wider width in order to get quick access to interactive options and to browse content.