Video Controls and Interactive Features
---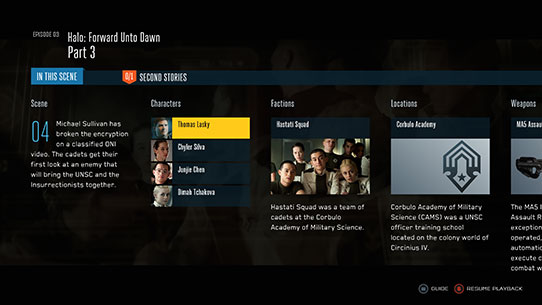 Scene Explorer
Xbox
At any point during your video playback, you can engage the Scene Explorer by hitting the X-Button to select "Explore."
It displays information about the current scene. This information changes as you progress from scene-to-scene.
At the top of the screen is summary information about the current episode and your progress through discovery of Second Stories and Rewards.
Beneath episode summary information, a tab bar allows you to reach various categories, including Rewards.
Scene Explorer
Windows
You will be able to access Second Story items via a separate tab.
Selecting/tapping on the expanded item will launch the Second Story, taking you away from the Scene Explorer.
You can tap an icon/region to collapse the item. Tapping anywhere outside the item container – on any non-interactive region – will also collapse the item.
Changes from the Xbox version include the inclusion of a Resume button in the upper-right corner (this acts as a toggle between video playback and Scene Explorer (reference separate design document on Video Playback for further details).
Play Halo
---
You can always play Halo from the Play Halo Twist in the Guide. There are some times when an interactive element will be presented on-screen in a show, giving you an opportunity to launch and play the featured Halo game.
Deep-linking gives you the option to jump seamlessly from the Halo Channel into the action.
When you unlock game content or challenges, a Play Halo notification element will appear. These notifications can be reviewed in the Scene Explorer.
You can go from the Channel to a Game at any time from the Play Halo Twist in the Guide.
If you do not have Halo installed, Play Halo will take the user to the Marketplace to purchase the associated game. If you installed Halo from disk, you may be prompted to insert the disk to play.
Second Story
---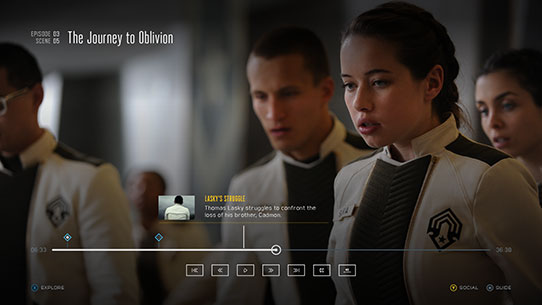 Second Stories can be found in either the timeline controls or via the Second Story tab in the Scene Explorer.