What's Next: HCS Pro League
---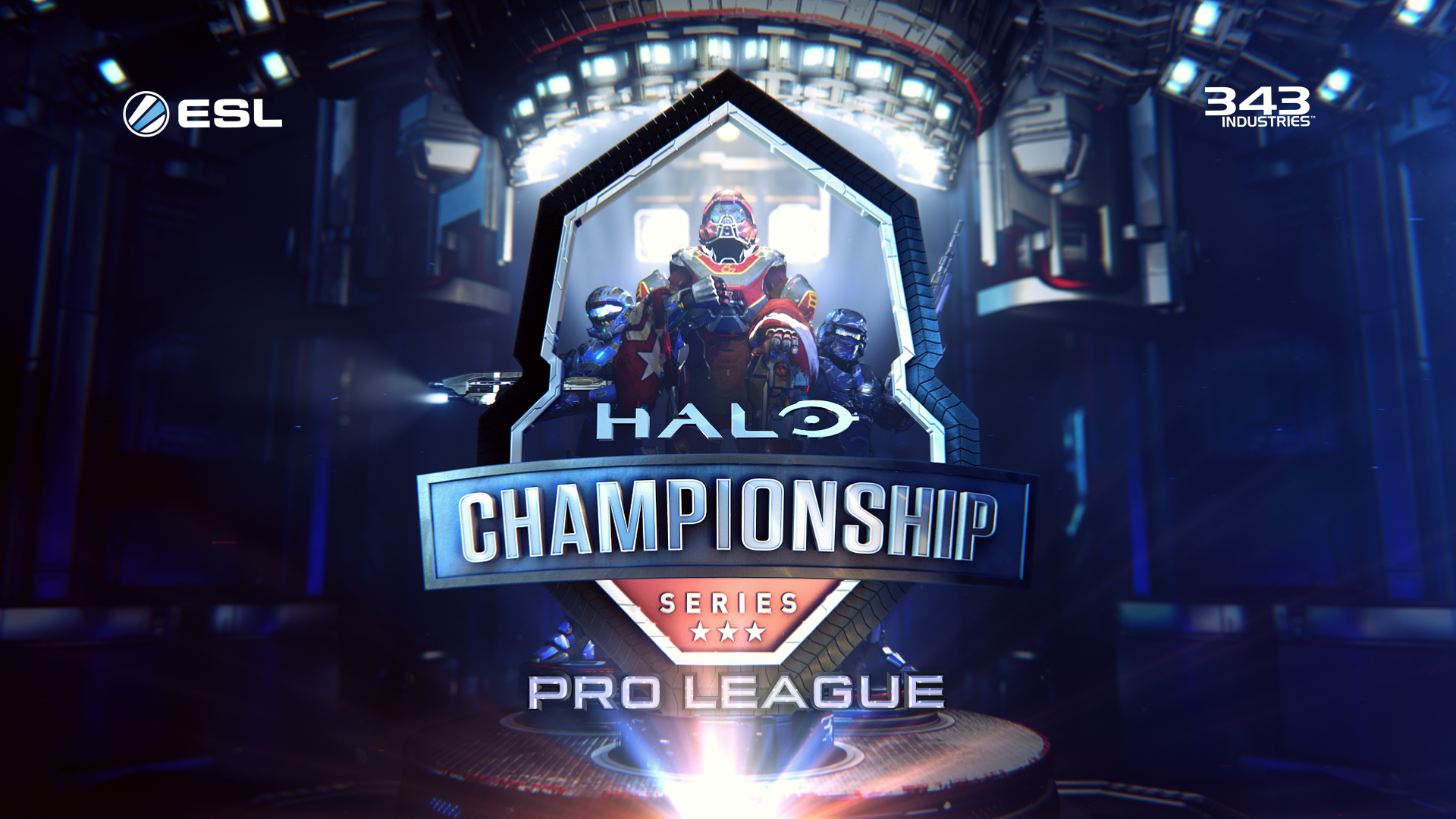 The Halo World Championship 2016 could be seen as a finale of sorts – the ultimate event in the Halo Championship Series sports calendar – but from our perspective, it's really just the beginning.
We are pleased, proud and excited to announce the Halo Championship Series: Pro League – a long-term partnership between 343 Industries and ESL to grow, nurture and evolve Halo esports at every level of competition.
WHAT TO WATCH
---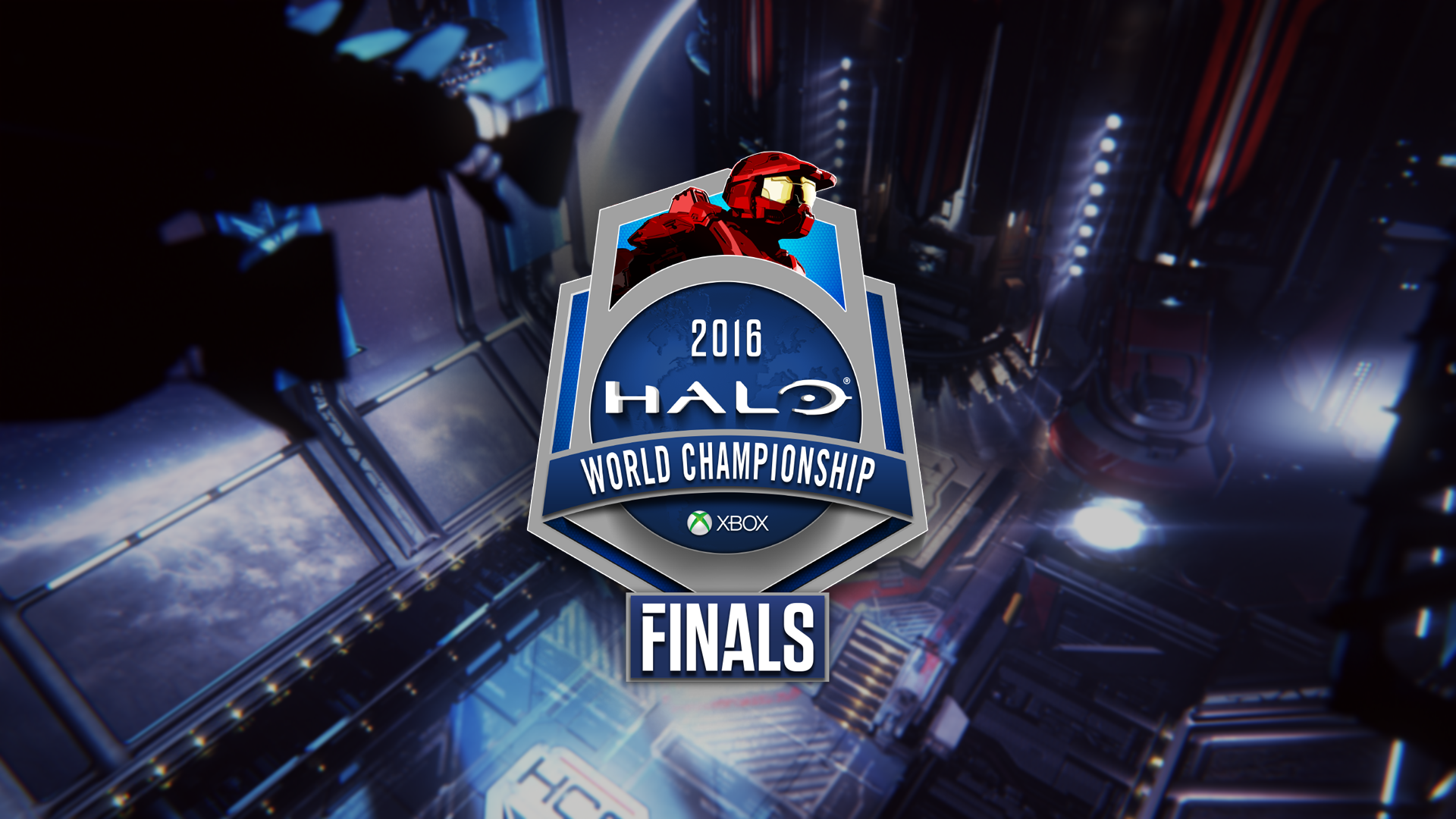 Finals - Halo World Championship 2016
With nearly 1,000 registered teams and over 4,000 players from around the world competing in the biggest Halo tournament ever, it's all come down to this – the Halo World Championship Finals! Watch as Counter Logic Gaming and Team Allegiance go head-to-head in the Finals to find out which team walked away with $1 million - the biggest individual prize in console esports history - and the title of Halo World Champions!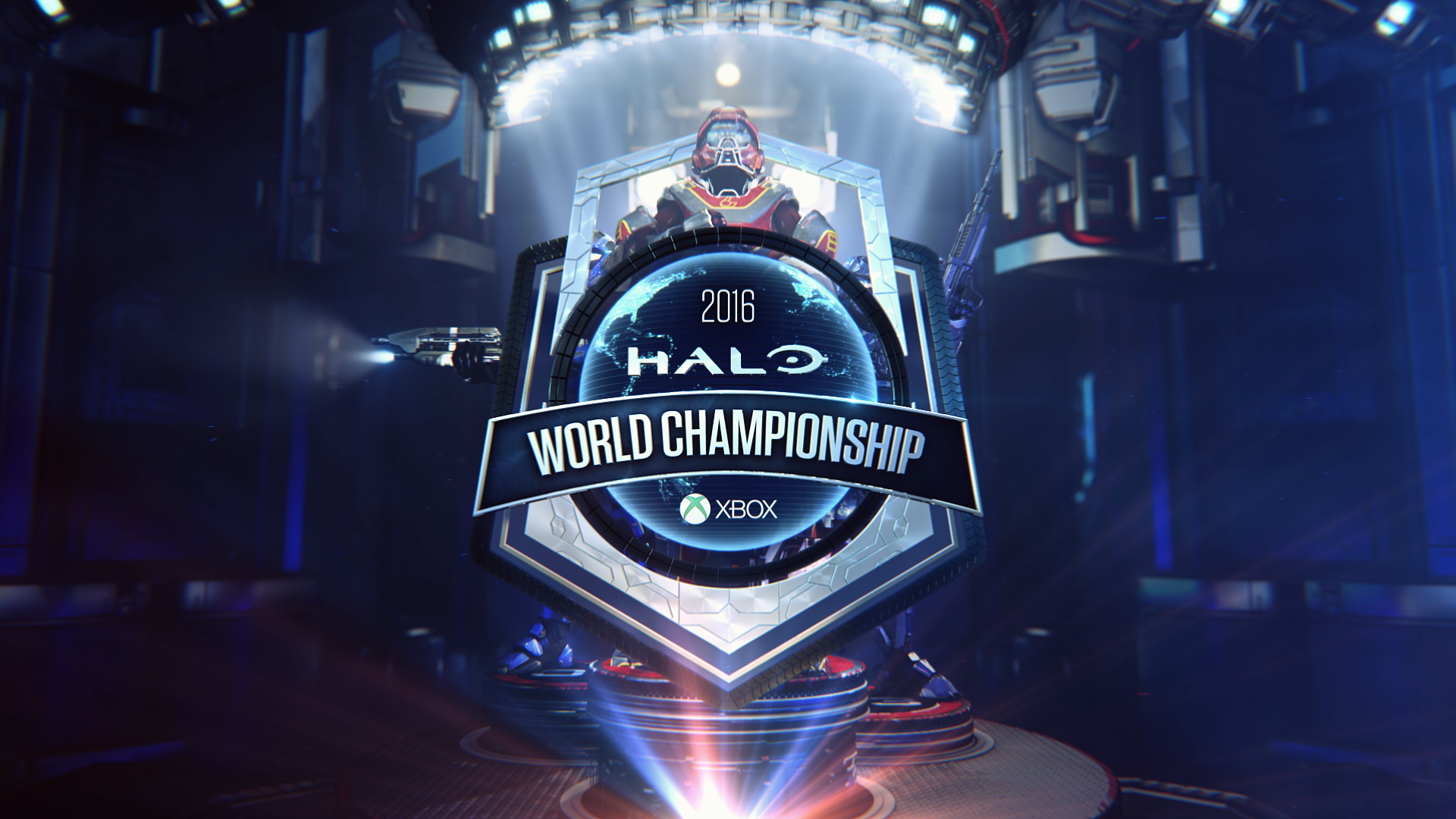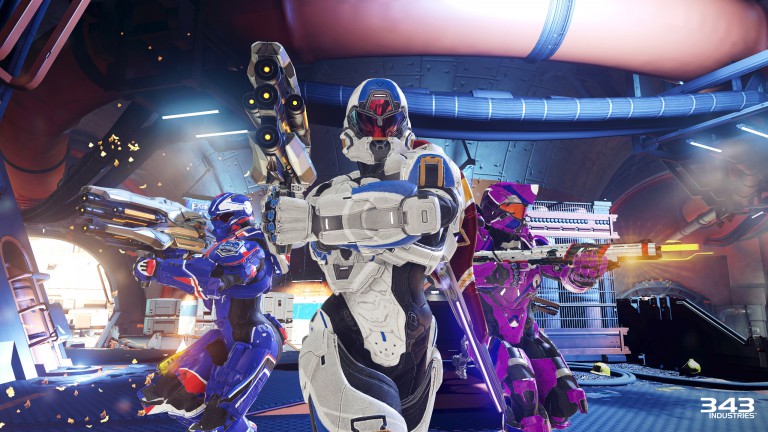 Warzone Firefight
This is an ambitious new multiplayer experience that takes the initial promise of Halo 5's Warzone multiplayer – the epic battles, incredible scale and huge maps – and applies that to create the biggest Halo cooperative experience ever in franchise history. In Warzone Firefight, up to eight players will work together to complete five rounds of increasingly difficult, dynamic objectives set against a timer to emerge victorious.
HaloWC 2016 Bracket
---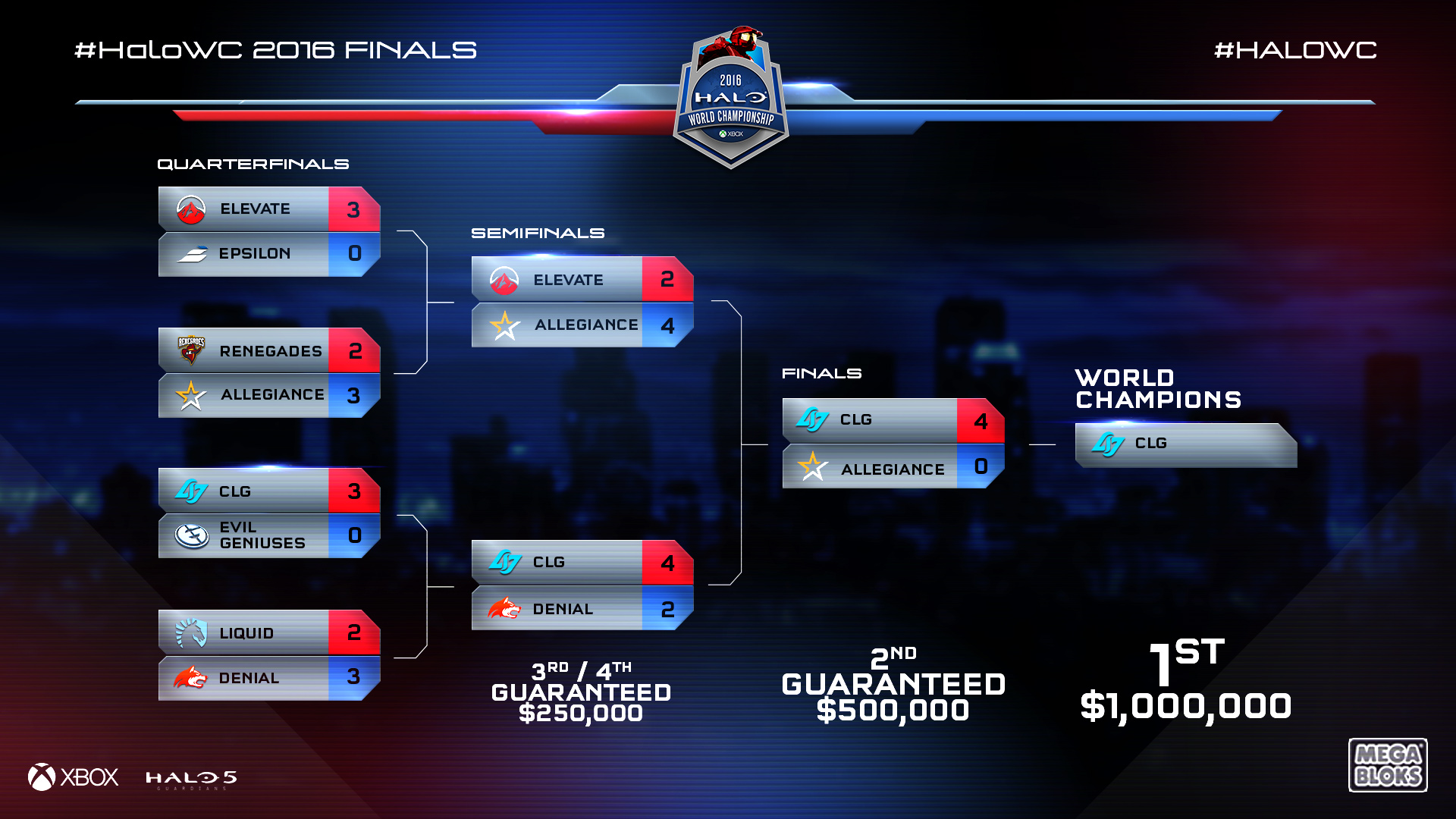 Halo World Championship Tour: Winner's Circle
---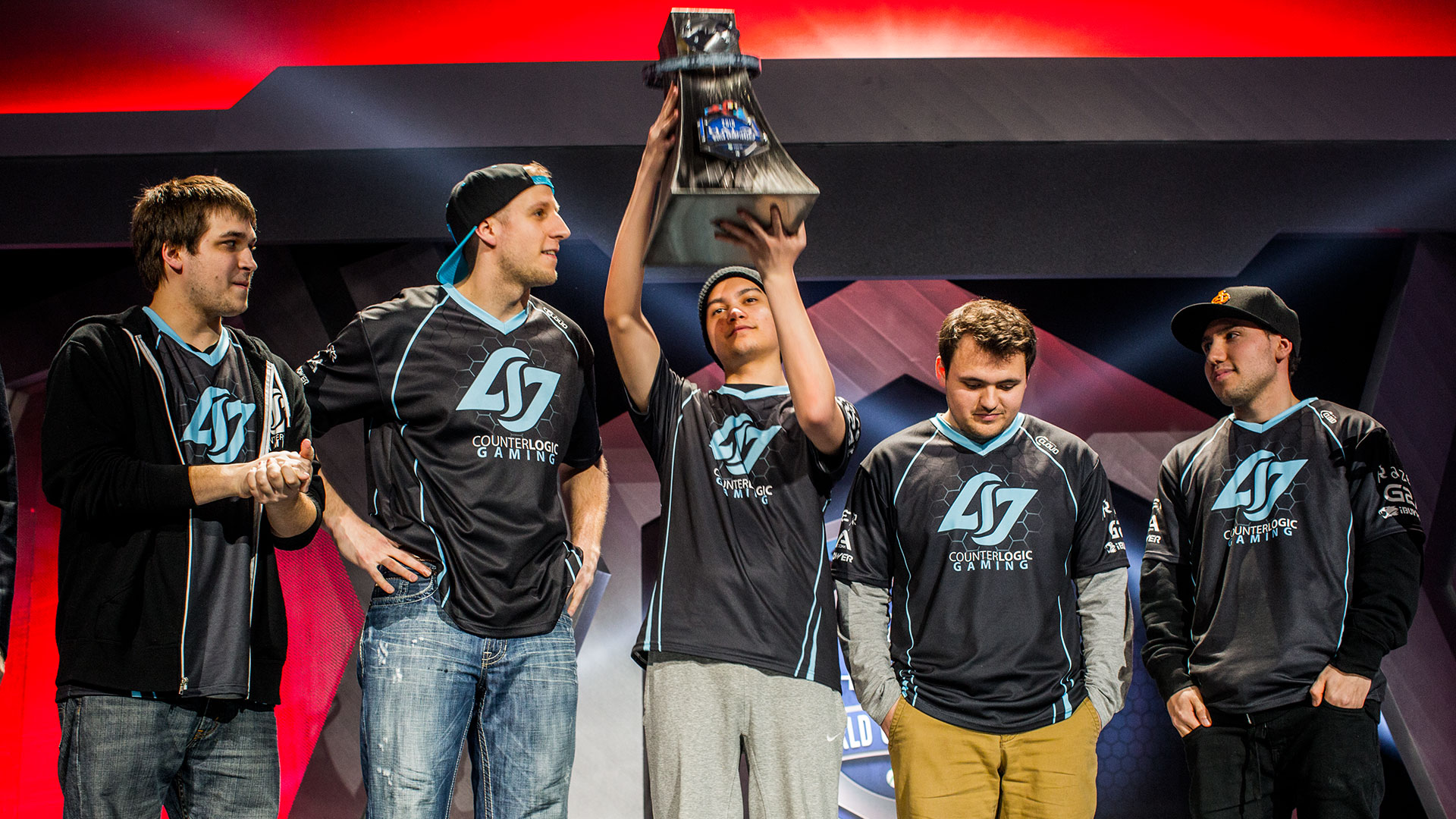 2016 Finals
With Allegiance facing off against an incredibly strong CLG, many wondered whether Naded's Cinderella story of getting his first victory at a major tournament, let alone the biggest Halo tournament of all time, would come to fruition.
In Game 1 (CTF on Coliseum), both squads played neck and neck in a tightly contested match. CLG and Allegiance were able to capture one flag apiece, but neither team was able to take the lead and the match ended in a tie, which forced a redo. The sequel marked the beginning of the end for Allegiance, who were unable to generate momentum against CLG across four games – a complete sweep for CLG.
With a perfect record of 4-0 in the finals, CLG was crowned Halo World Champions and received $1 million in prize money.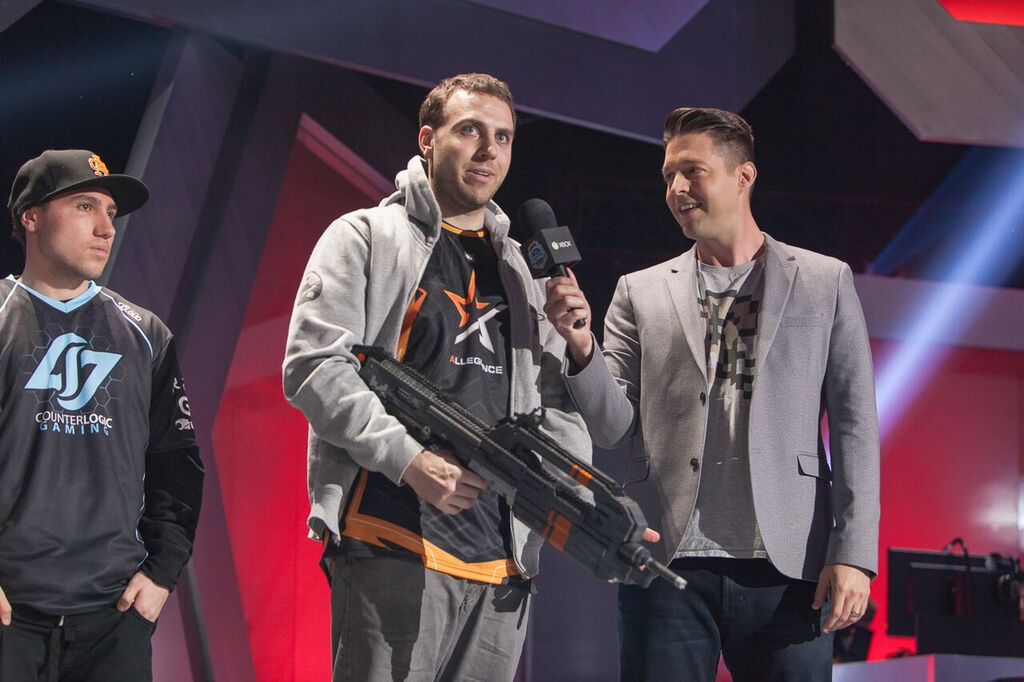 Mega Bloks MVP
Sixteen teams battled it out during the Halo World Championship 2016 Finals for the title of Halo World Champion and their share of a $2.5 million prize pool, but when all the dust settled and a winning team emerged, there was still another honor to be awarded – the most valuable player. One player was recognized for their performance as an individual contributor, key member of their team, and all around exemplary Halo player. The lucky recipient of this title not only walked away with the honor and recognition of being the MVP of the biggest Halo tournament in history, but also the awesome custom BR MVP trophy provided by our friends at Mega Bloks.
Congratulations to Naded for securing the most votes and being named the Halo World Championship 2016 Finals MVP, presented by Mega Bloks!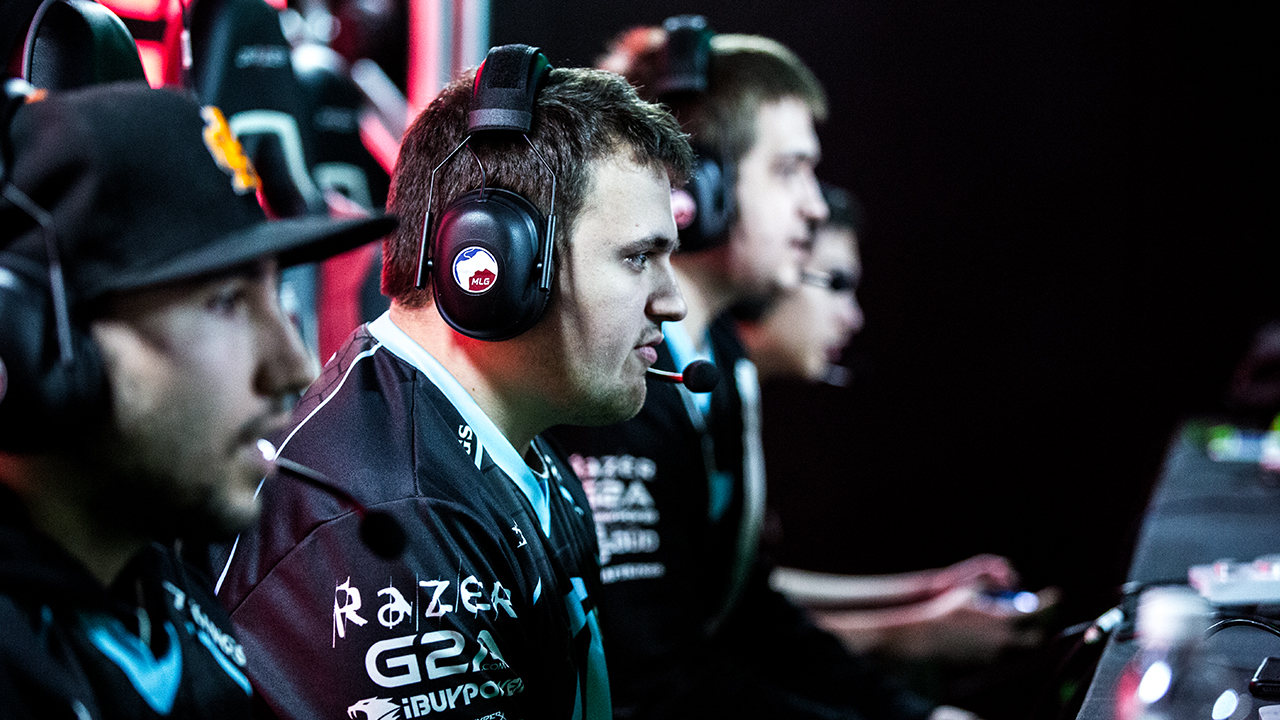 Columbus
Lauded by many as the best team in the world, Counter Logic Gaming made a statement after their Silver Medal performance at the X Games. CLG cruised through the group play with relative ease, only losing a single game to Noble Esports in the process. Their crusade of carnage continued well past the group stage, as CLG swept Renegades in the first round, and bitter rivals EG in the second round before meeting an unlikely foe in Denial Esports in the grand finals. They were unfazed, however, and took the series win 4-2.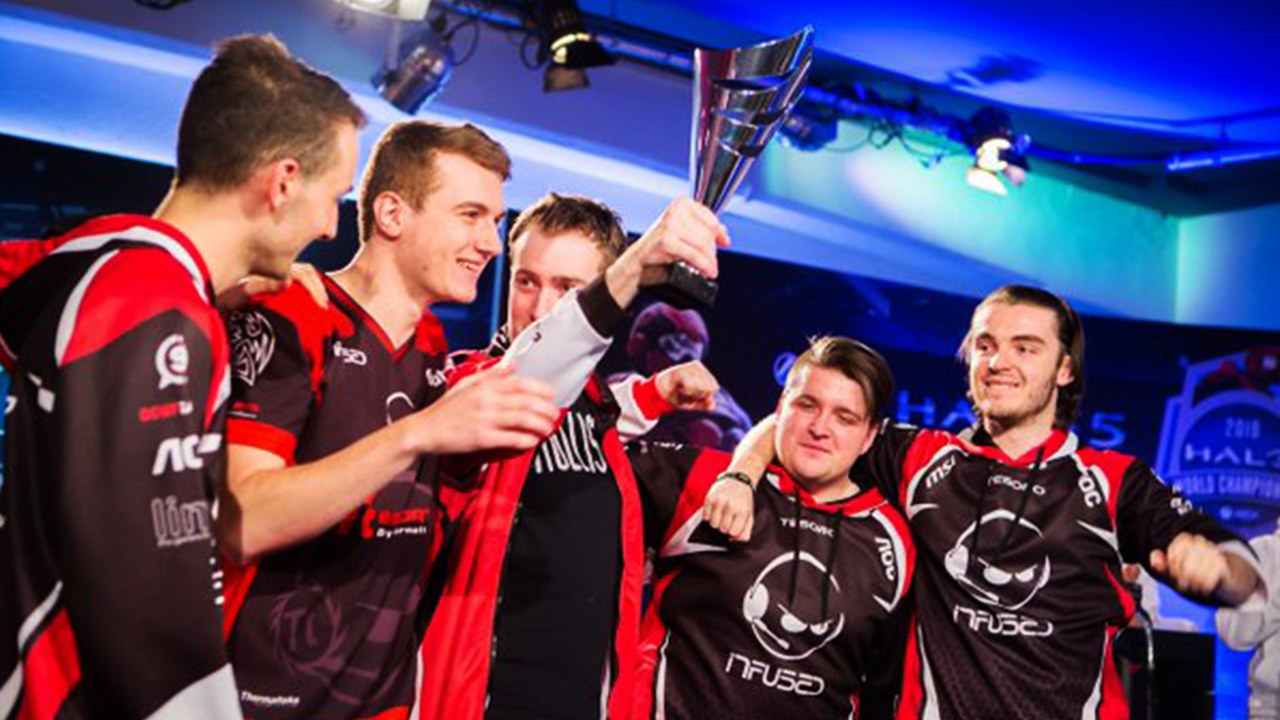 Cologne
Considered to be one of the top three teams at the event, Team Infused came to Cologne with a "Championship or Bust" mentality. They would go on to eliminate their rivals, Epsilon esports, and face surprise finalists exceL in a BO7 for the top seed coming out of the region. Infused dominated exceL in the grand finals, sweeping the series 4-0 and being crowned champions of the Halo World Championship Tour: Cologne.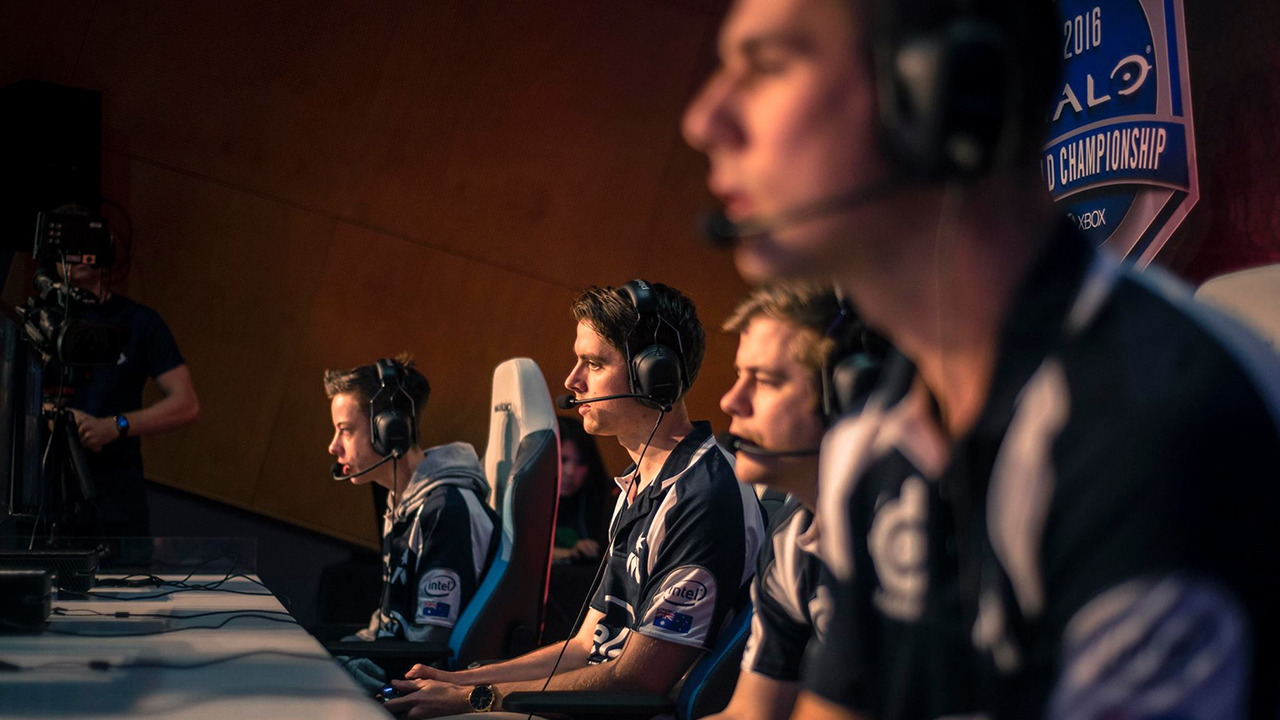 Sydney
Exile5 entered the Grand Finals as an underdog against the best team in the region, Team Immunity. Exile5 had to feel good about the first game type of the series, Capture the Flag, because x5 held an 11-0 record in CTF, and improved in Game 1 to 12-0, taking CTF on Truth 3-1. But x5's luck ran out after that, as iM would win the next four games straight, and be crowned the winner of the Halo World Championship Tour: Sydney.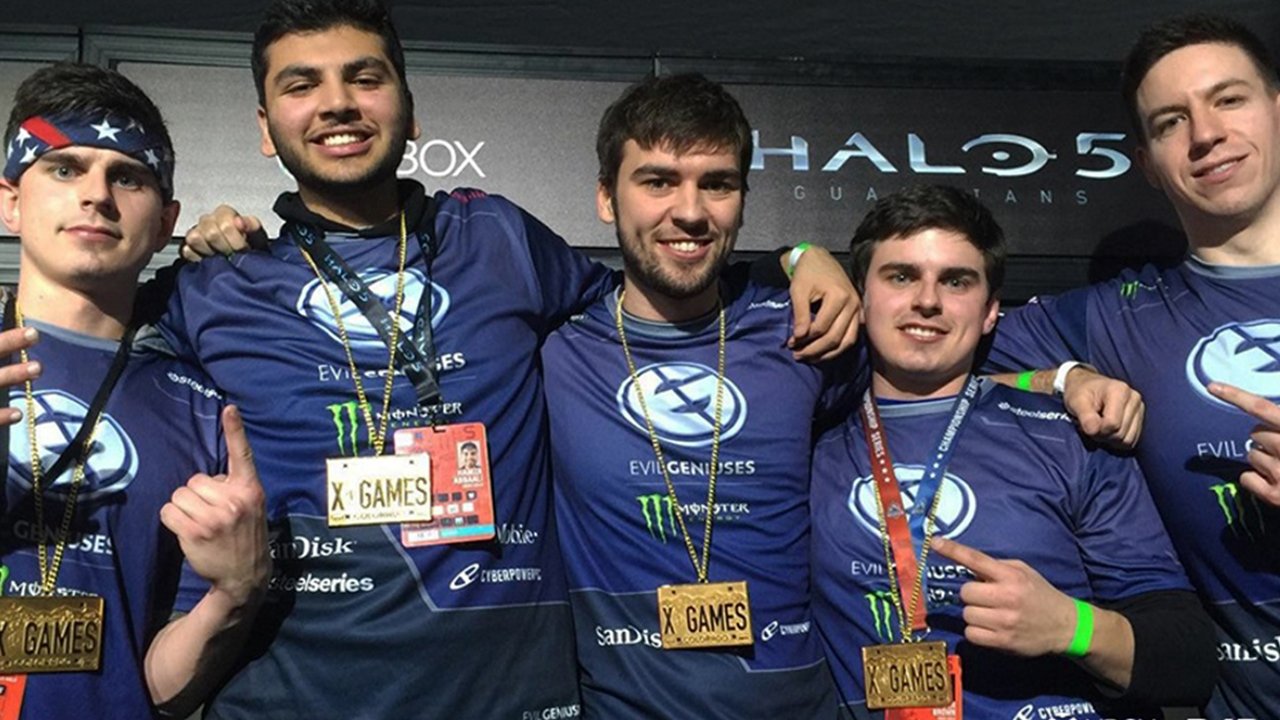 X Games Aspen
It was an incredible weekend featuring Halo 5 competition during the Halo World Championship Series Tour: X-Games Aspen Invitational. In the end, it would be TWO rival factions, CLG taking on Evil Geniuses in an EPIC final showdown, with Evil Geniuses coming out on top and earning themselves X-Games gold medals.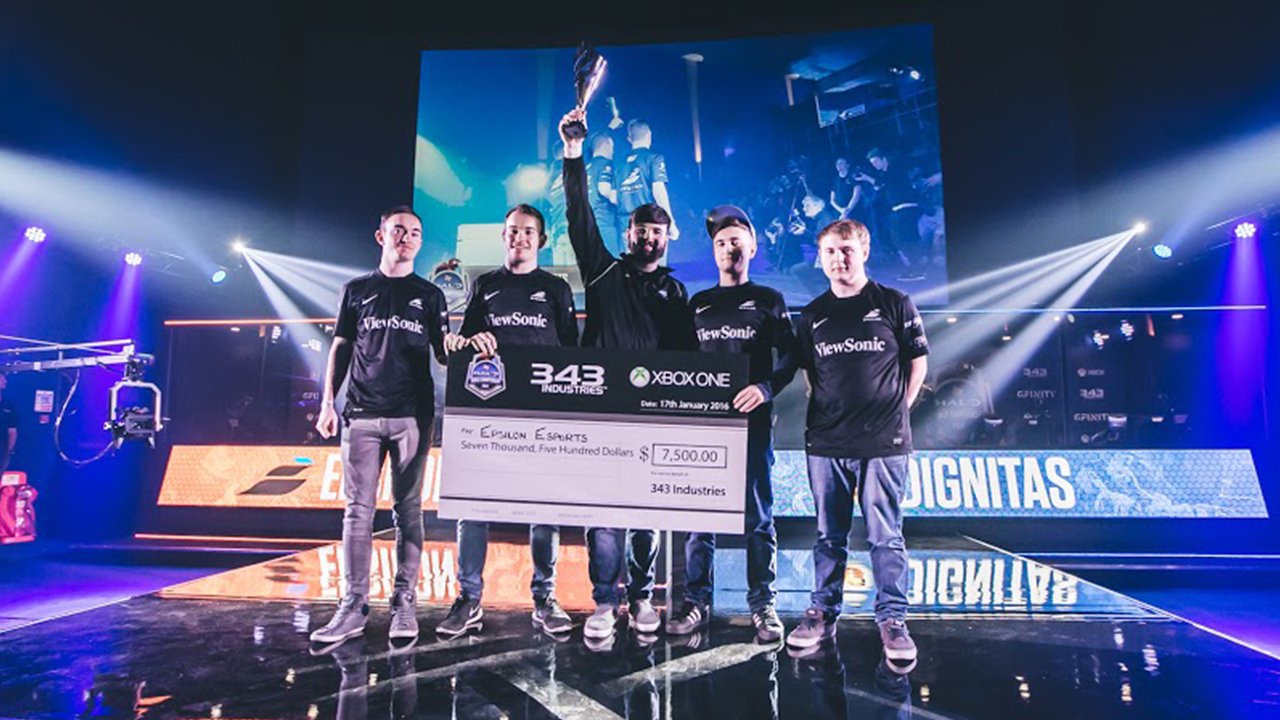 London
Sixteen teams qualified for the Halo World Championship Tour: London, however, it was the fan favourites, Epsilon eSports, who were able to assert their dominance and regain their crown as the best Halo 5 team within the United Kingdom.
Following a dramatic semi-final series against fierce rivals Team Infused, Epsilon overcame Team Dignitas in a monumental 3-1 showdown in the Halo World Championship Tour: London Grand Finals.
Rules and Regulations
---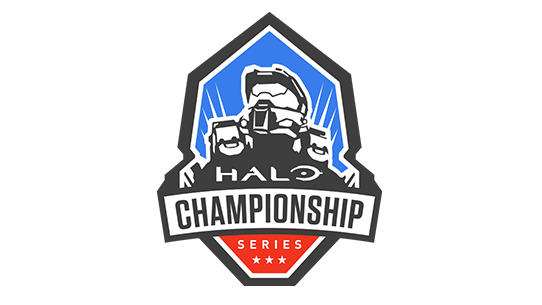 The Halo World Championship strives to uphold the greatest level of competition and sportsmanship in Halo esports. The Halo World Championship will feature a single set of rules and regulations across all regions eligible to compete in the global tournament program. Whether your team is competing online on Xbox Live, or at one of the many in-person events, competition will only take place on the official map and gametype rotation. Read the official rules and regulations to learn more.
Official Halo Esports Merchandise
---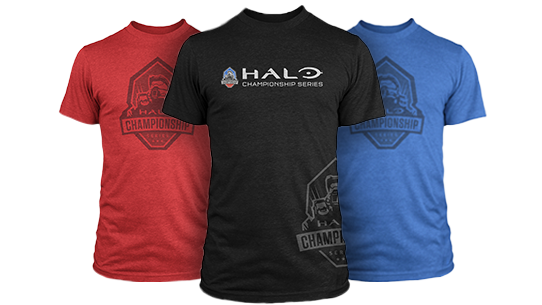 Pro gear, pro attitude. Get competitive with the official Halo Championship Series hoodies, t-shirts, and more, to look your best on-and-off the virtual battlefield.