Esports
Halo 5 Pro Series
Halo 5 Pro Series Overview
---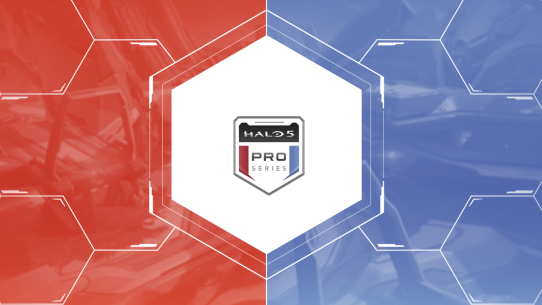 Introducing the Halo 5 Pro Series – a series of online Halo 5 tournaments for Pro and aspiring Pro players alike! Assemble your squad and compete for cash prizes in weekly regional tournaments.
To keep up-to-date with the Halo 5 Pro Series, follow @HCS on Twitter!
How it Works
---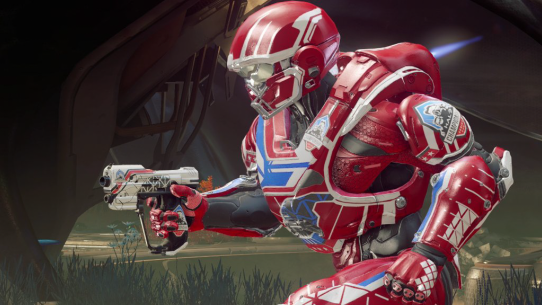 Battle through the Gauntlet
Season #1 will start with two Open tournaments.
The top 16 teams from the 2nd Open tournament will move on to the 1st Pro Tournament.
Pro tournaments start with a Round Robin group stage leading into an 8-team single elimination bracket.
The top 8 teams from the 1st Pro tournament will lock in their spots for the next Pro tournament.
The top 8 teams from the following Open tournament will join the line-up for the next 16-team Pro tournament.
SEASON CHAMPIONSHIPS
Following the 2nd Pro tournament of each season, we will hold a championship for the Top 8 teams!
Saturday, November 7
Saturday, December 12
Where to Watch
---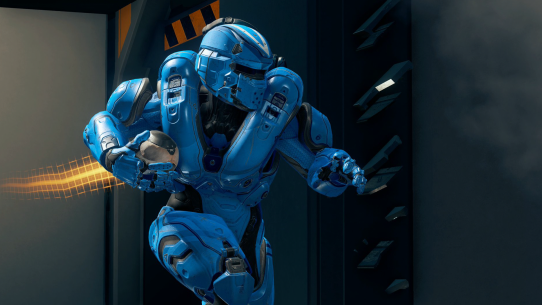 Tune in Live
The Halo 5 Pro Series Season Championships will be broadcasted live to Twitch and YouTube! Join the HCS cast and crew on November 7th and December 12th as they break down the $10,000 tournament action.
To catch the games during the Open tournaments, head to aka.ms/Halo5Streams.
PRIZING
Championship: $10,000
Pro: $5,000
Open: $1,000
International Love
---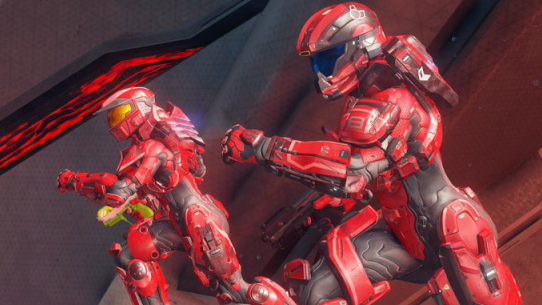 In addition to the North American based Halo 5 Pro Series tournaments, the LATAM, ANZ, and EMEA regions will also have their own regional tournaments!

FORMAT FOR LATAM, ANZ, AND EMEA
The remainder of the year will be split into two seasons.
Weekly Open tournaments: $1,000 + FACEIT ELO
After multiple weeks of competition, the top 8 teams from the final Open tournament will qualify for the Season Championship.
The Season Championships will run just like their NA counterparts, only with a smaller size: 8-team Round Robin Groups into 4-team single elimination bracket.
The cycle resets for the next season – FACEIT ELO will remain.
NA Pro #2 Results
---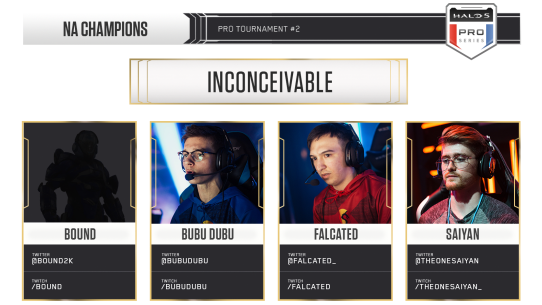 Top 8 NA Halo 5 Teams
Congratulations to team Inconceivable, your Halo 5 Pro tournament #2 Champions!
Here are the final results and top 8 teams that have secured their spots in the $10,000 Season 1 Championships!
1st. Inconceivable (9-2) Bound - Bubu dubu - Falcated - Saiyan
2nd. Cloud 9 (6-4) Eco - Penguin - Renegade - Stellur
3rd. Sentinels (4-3) Frosty - Neptune - Royal 2 - Snakebite
3rd. KC Pioneers (4-3) Druk - Manny - Soul Snipe - Taulek
5th. Flyers (1-3) Commonly - Tripppey - Super CC - Str8 Sick
5th. Falling Esports (0-3) Envore - Neby - Musa - Sceptify
5th. Kingdom (0-3) Clipp - HaloElite - Kilimajaro - Thin
5th. No Ice (0-3) Bardes - GoldStarBR - JK VII - Uegjragn
EU Open #5 Results
---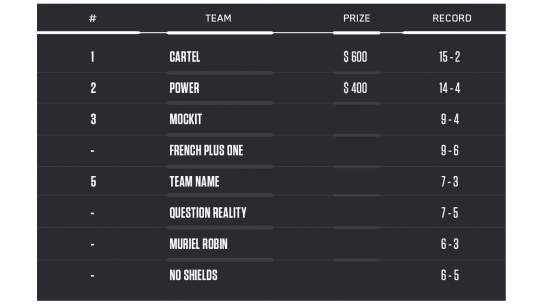 Top 8 EU Halo 5 Teams
Congratulations to this week's EU Halo 5 Pro Series Champions - team Cartel!
Here are the full results + top 8 teams following the 5th Open EU tournament.
1st. Cartel (15-2) Legendzer - Rsica - Shaadyzer - SLG
2nd. Power (14-4) Jimbo - Kimbo - Mose - Snipedrone

3rd. Mockit (9-4) Batchford - LooneyDogzz - Procisionite - Wxrlord
3rd. French Plus One (9-6) Cruzzbaby - Nvrix - Tchik - Zhuh
5th. Team Name (7-3) CaseyLuney - Morguhh - ShabbyDagger - SoSnakey
5th. Question Reality (7-5) Crossman - Luundy - Qatchy - SLBeetly
5th. Muriel Robin (6-3) IImada - Kronoszer - Sunriz ASAP - X3rthos
5th. No Shields (6-5) HeresToNow - Nqoby - Undy Tonza - Sanart
LATAM Open #5 Results
---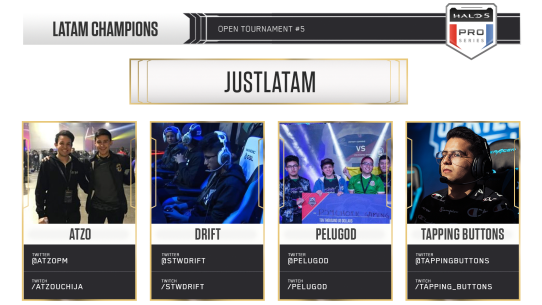 Top 8 LATAM Halo 5 Teams
This week's LATAM tournament goes to team JustLATAM as they claim their third consecutive title!

Here are the full results and top 8 teams from Week 5.
1st. JustLATAM (15-1) Atzo Drift Pelugod TappingButtons
2nd. FireNIce (13-3) Magico - Noblc RunningJM - Sebas7626
3rd. No Aim (9-3) DevilSpider Hendwn - Idystinct - Nebulossy
3rd. Lux Gaming (9-5) INugget - Hrymgel - Laaylox - Rorzch
5th. Carnage Gaming (8-3) Bluexide - Dynnas - Icooooler - Kroonoe
5th. Mercy (6-3) Airborne Vanessa - Dan M1zu - Dyua HCS - Nirodhar
5th. No Mercy Esports (6-3) Guardian Flys - Johaan MC - Juan 117s - Zzarck

5th. Blast Thunder (6-3) Erick L17 - ExcessiveN - Grimsty - Impressivc
ANZ Open #5 Results
---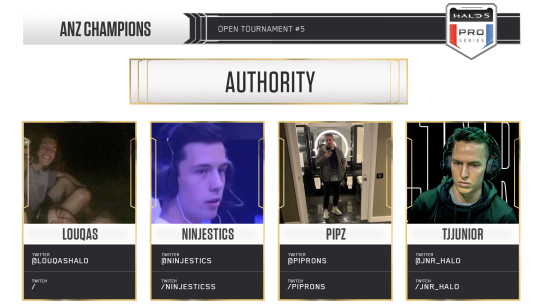 Top 8 ANZ Halo 5 Teams
Team Authority are this week's ANZ Halo 5 Champions!
Here are the full results and top 8 teams from the weekend.
1st. Authority (12-2) Louqas - Ninjestics - Pipz - Junior
2nd. OE Baby (9-3) GLSIsHyper - Hazzair - Snakei - Vaampi
3rd. On Top (8-3) Barcode - Bziirk - Madsyy - Slayz
3rd. Im Anooyed (6-3) Empathetic - Im Bananasaur - Nooyy - SynergyTS
5th. Free Agency (3-3) Jasko - MikeYippy - Socksyyboi - Velchron
5th. Turkish Delight (3-3) Idonttt - Khaunted - Pinepulp - Scnator
5th. R Rated (3-3) Clusey - Frazer89 - Konflix - Ryscu
5th. Archetype (3-4) Basharalasad - Monza - OSP Enigma - Weezy113