Esports
Halo 5 Pro Series
Halo 5 Pro Series Overview
---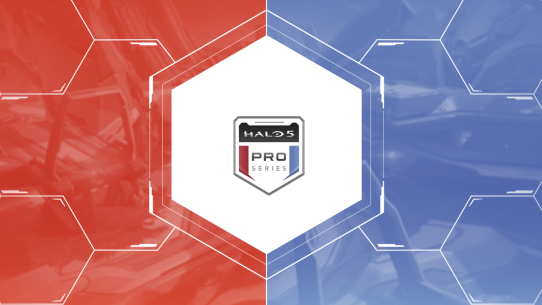 Introducing the Halo 5 Pro Series – a series of online Halo 5 tournaments for Pro and aspiring Pro players alike! Assemble your squad and prove yourself against Halo's best! Regional competition kicks off on September 26th.
To keep up-to-date with the Halo 5 Pro Series, follow @HCS on Twitter!
NA Open #1 Results
---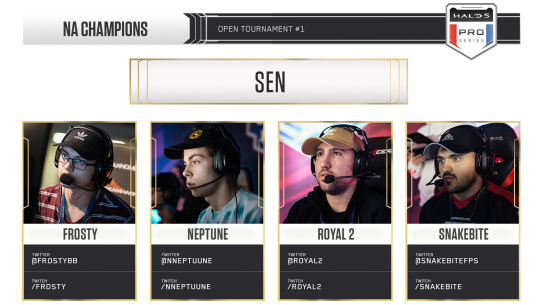 Top 8 NA Halo 5 Teams
1st. Sen (21-0) Frosty Neptune Royal2 Snakebite
2nd. Inconceivable (18-5) Bound Bubudubu Falcated Saiyan
3rd. Last Second (15-5) Artic Juziro Rohzes Sabinater
3rd. Need 8s (15-3) DivineDamsel Slinky Sorrell Swish5s
5th. Reps (12-3) Eco Penguin Renegade Stellur
5th. Magnanimous (12-3) KingNick Rayne Ryanoob Spartan
5th. Flyers (12-3) Commonly Scaryotic Str8Sick Vetra
5th. Derf Gang (12-5) Derderf Nerderf Pi3derf Psyderf
EU Open #1 Results
---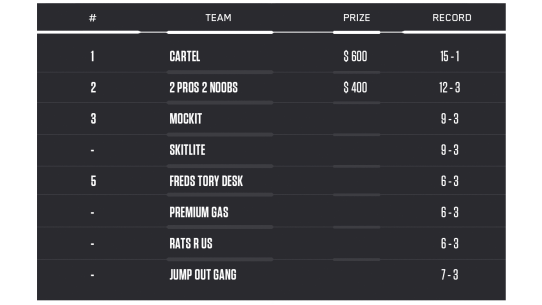 Top 8 EU Halo 5 Teams
1st. Cartel (15-1) Legendzer Rsica Shaadyzer Slg
2nd. 2 Pros 2 Noobs (12-3) CaseyLunny MystaOG Procisionite TheSpeedShow
3rd. Mockit (9-3) Batchford LooneyDogzz Squashyy Wxrlord
3rd. Skitlite (9-3) Crossman Hollers Luundy Slbeetly
5th. Jump Out Gang (7-3) Jimbossity Random4n ShabbyDagger Snakey
5th. Premium Gas (6-3) Ballyheagas Bliteyyy Hxershly xL3g3nd
5th. Rats R Us (6-3) Fa3le Ninzur Savieer VManatee
5th. Freds Tory Desk (6-3) DeadEyeFred Scarcely Shystie Strally
LATAM Open #1 Results
---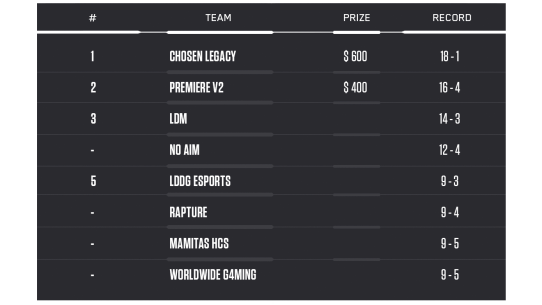 Top 8 LATAM Halo 5 Teams
1st. Chosen Legacy (18-1) Bullet MagicButtons Noblc RunningJM
2nd. Premiere V2 (16-4) Hecaina Johaanmc Juan117s SoyGuardian
3rd. LDM (14-3) Atzo Drift Pelugod TappingButtons
3rd. No Aim (12-4) DevilSpider Healertic Hendwn Nebulossy
5th. LDDG esports (9-3) Gambino Haizchamako LZues Nugget
5th. Rapture (9-4) Coolsecure Hzlhest Prokmay117 Velnias
5th. Mamitas HCS (9-5) Blxzter InsancNaz ISpark3 Tutelevision
5th. Worldwide Gaming (9-5) Inostal Sh7z Vergidumundo Zkakarotto
ANZ Open #1 Results
---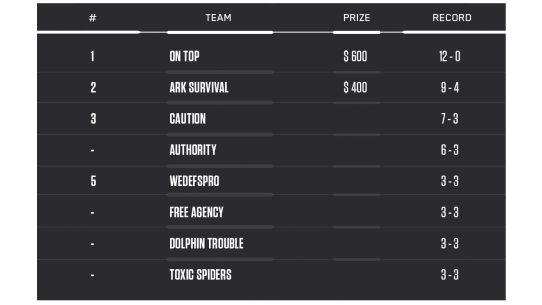 Top 8 ANZ Halo 5 Teams
1st. On Top (12-0) Barcode Bziirk Madsyy Slayz
2nd. Ark Survival (9-4) GrandLastShadow Hazza Rambo Snakei
3rd. Caution (7-3) mystro OneHit Reaver Venom
3rd. Authority (6-3) Louqas Ninjestics Pipz Junior
5th. WeDefsPro (6-3) Andrew Omgiripu TeaspoonIV Tim
5th. Free Agency (6-3) Binaural Jasko MikeYippykiay Player
5th. Dolphin Trouble (6-3) Agitated Enigma PancakeMistakes PinapplePulp
5th. Toxic Spiders (6-3) Idont JimmyBruh Scnator Tadpole
How it Works
---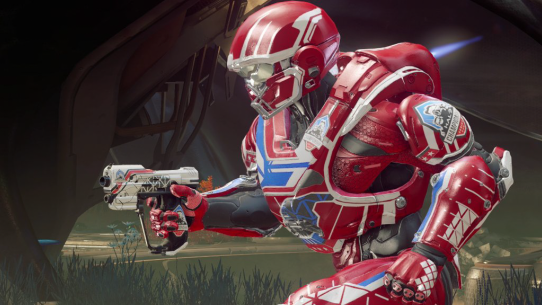 Battle through the Gauntlet
Season #1 will start with two Open tournaments.
The top 16 teams from the 2nd Open tournament will move on to the 1st Pro Tournament.
Pro tournaments start with a Round Robin group stage leading into an 8-team single elimination bracket.
The top 8 teams from the 1st Pro tournament will lock in their spots for the next Pro tournament.
The top 8 teams from the following Open tournament will join the line-up for the next 16-team Pro tournament.
SEASON CHAMPIONSHIPS
Following the 2nd Pro tournament of each season, we will hold a championship for the Top 8 teams!
Saturday, November 7
Saturday, December 12
Where to Watch
---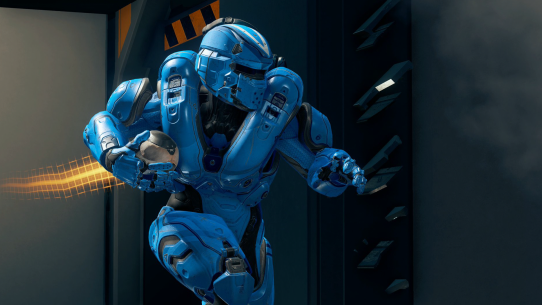 Tune in Live
The Halo 5 Pro Series Season Championships will be broadcasted live to Twitch and YouTube! Join the HCS cast and crew on November 7th and December 12th as they break down the $10,000 tournament action.
To catch the games during the Open tournaments, head to aka.ms/Halo5Streams.
PRIZING
Championship: $10,000
Pro: $5,000
Open: $1,000
International Love
---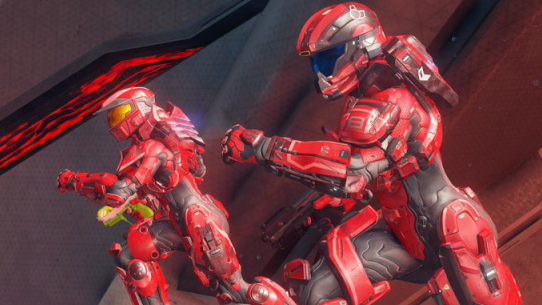 In addition to the North American based Halo 5 Pro Series tournaments, the LATAM, ANZ, and EMEA regions will also have their own regional tournaments!

FORMAT FOR LATAM, ANZ, AND EMEA
The remainder of the year will be split into two seasons.
Weekly Open tournaments: $1,000 + FACEIT ELO
After multiple weeks of competition, the top 8 teams from the final Open tournament will qualify for the Season Championship.
The Season Championships will run just like their NA counterparts, only with a smaller size: 8-team Round Robin Groups into 4-team single elimination bracket.
The cycle resets for the next season – FACEIT ELO will remain.