New Updates Available Now
---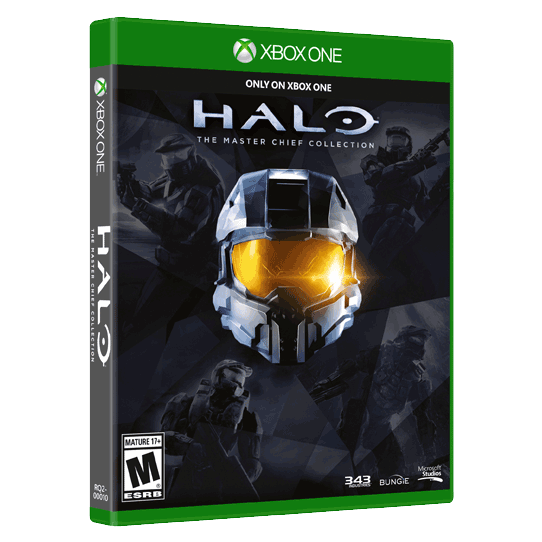 The improved and enhanced Halo: The Master Chief Collection is included with Xbox Game Pass. Featuring visual enhancements with up to 4K UHD resolution on Xbox One X, improved matchmaking, offline LAN, customizable installation options, and faster load times, it's the definitive way to experience the ultimate Halo saga. Includes the extensive suite of campaign, multiplayer and additional features from Halo: Combat Evolved Anniversary, Halo 2: Anniversary, Halo 3, and Halo 4 - all updated to run at 60FPS.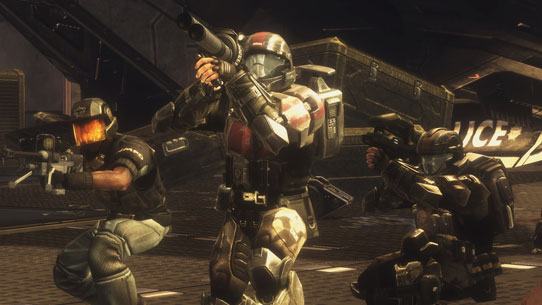 Halo 3: ODST
The Halo 3: ODST* campaign for Halo: The Master Chief Collection comes to the Xbox One looking better than ever. Running at 1080p/60fps, experience the events leading up to Halo 3 through the eyes of Orbital Drop Shock Troopers (ODST) as they search for clues leading to the whereabouts of their scattered squad and the motivations behind the Covenant's invasion of New Mombasa.
*Halo: The Master Chief Collection is required to play the (digital only) Halo 3: ODST campaign.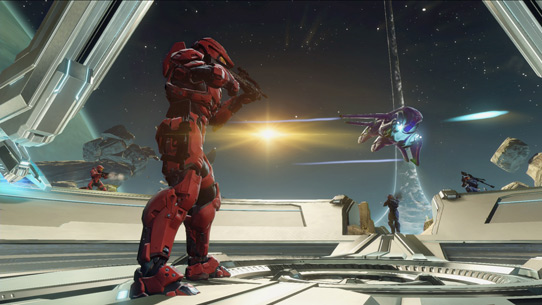 Halo 2: Anniversary
Halo: The Master Chief Collection includes Halo 2: Anniversary, celebrating the 10 year anniversary of the iconic fan favorite. The campaign features a "Classic Mode" to instantly switch between the remastered next-gen graphics and original game, updated sound effects, and completely new cut-scenes created by Blur Studios. Discover new story elements with extended cut scenes, hidden terminal videos, and uncover clues about the story of Halo 5: Guardians. Utilize game-altering Skulls to experience the campaign in a whole new way. For multiplayer you have access to all of the original multiplayer maps from Halo 2 and Halo 2 Vista included, exactly as you remember them. Play on fan favorites including Ivory Tower, Ascension, and Lockout, plus 6 completely re-imagined maps that take full advantage of the capabilities of the Xbox One.*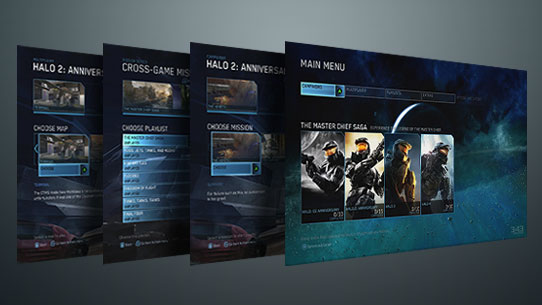 THE ULTIMATE HALO MULTIPLAYER EXPERIENCE
In addition to the 45 campaign missions you get with Halo: The Master Chief Collection, you can play with your friends on over 100 multiplayer maps (including the original Halo: Combat Evolved maps) and all Halo: Spartan Ops missions.* With the Master Menu, play all four games from start to finish, or jump around and play your favorite missions. Use curated playlists to experience both the campaign and multiplayer modes in a whole new way.
Included in Halo: The Master Chief Collection
---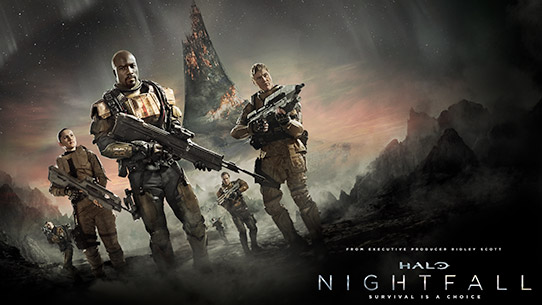 Halo: Nightfall provides insight into the origin and backstory of legendary manhunter Agent Locke (Mike Colter), a pivotal new character in the Halo universe who will play a key role in Halo 5: Guardians.
Xbox One X Enhanced Gallery
---
Halo 3: ODST Media Gallery
---
Halo 2: Anniversary Media Gallery
---
Halo: The Master Chief Collection Multiplayer
---
Halo: The Master Chief Collection Campaign
---
Halo 2: Anniversary Comparisons
---
Game Details
---
Select Platform
Game Rating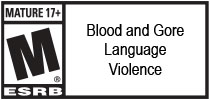 Release Date
Developer
343 Industries
Publisher
Microsoft Studios
Genre
First Person Shooter
Players
1-4
Co-op
2
Online Multiplayer
1-16
Online Co-op
1-4
System Link
1-16
* Online multiplayer features require Xbox Live Gold membership (sold separately).
**Some game features, including hidden terminal videos, require broadband internet; ISP fees apply. Online multiplayer features require Xbox Live Gold membership (sold separately). Halo 5: Guardians sold separately; release date not yet announced. Halo: Nightfall: 5 episode live action series is streaming only, with episodes releasing on a weekly basis. Xbox One or Windows 8.1 and broadband internet required; ISP fees apply. Halo 5: Guardians Multiplayer Beta: Halo: The Master Chief Collection required. Limited Time Beta Starts: December 29, 2014; Ends: January 18, 2015. Must be 17+. Xbox One, broadband internet (ISP fees apply) and Xbox Live Gold membership (sold separately) required. Halo: Nightfall and Halo 5: Guardians Multiplayer Beta dates, content, and features subject to change. See www.xbox.com/halo