I fear I've let you down, Sunshine State. Growing up in Florida, being encased in a humidity-induced energy shield of sweat was as normal as chasing alligators from swimming pools (this is not an exaggeration). However, having recently begun my fourth year here at 343 – and by extension, life in the Pacific Northwest – I realize what a little baby I've become in regard to the heat. Therefore it is with great comfort and pleasure that I type this today's Halo Community Update up from the blissful existence of a 70-degree Seattle summer day. It's as if the Forerunners themselves were responsible for the optimization of local environmental conditions – a supposition that provides quite the apt foundation from which to weave these weekly words.
We've got a good recap on tap for you today, including thoughts, memories, and images from an incredible time at RTX in Austin, a catch-up from our recent Microsoft Store Halo 5 FFA tournament, round-up of recent exciting announcements, and more – read on!
BABY GOT BACK COMPAT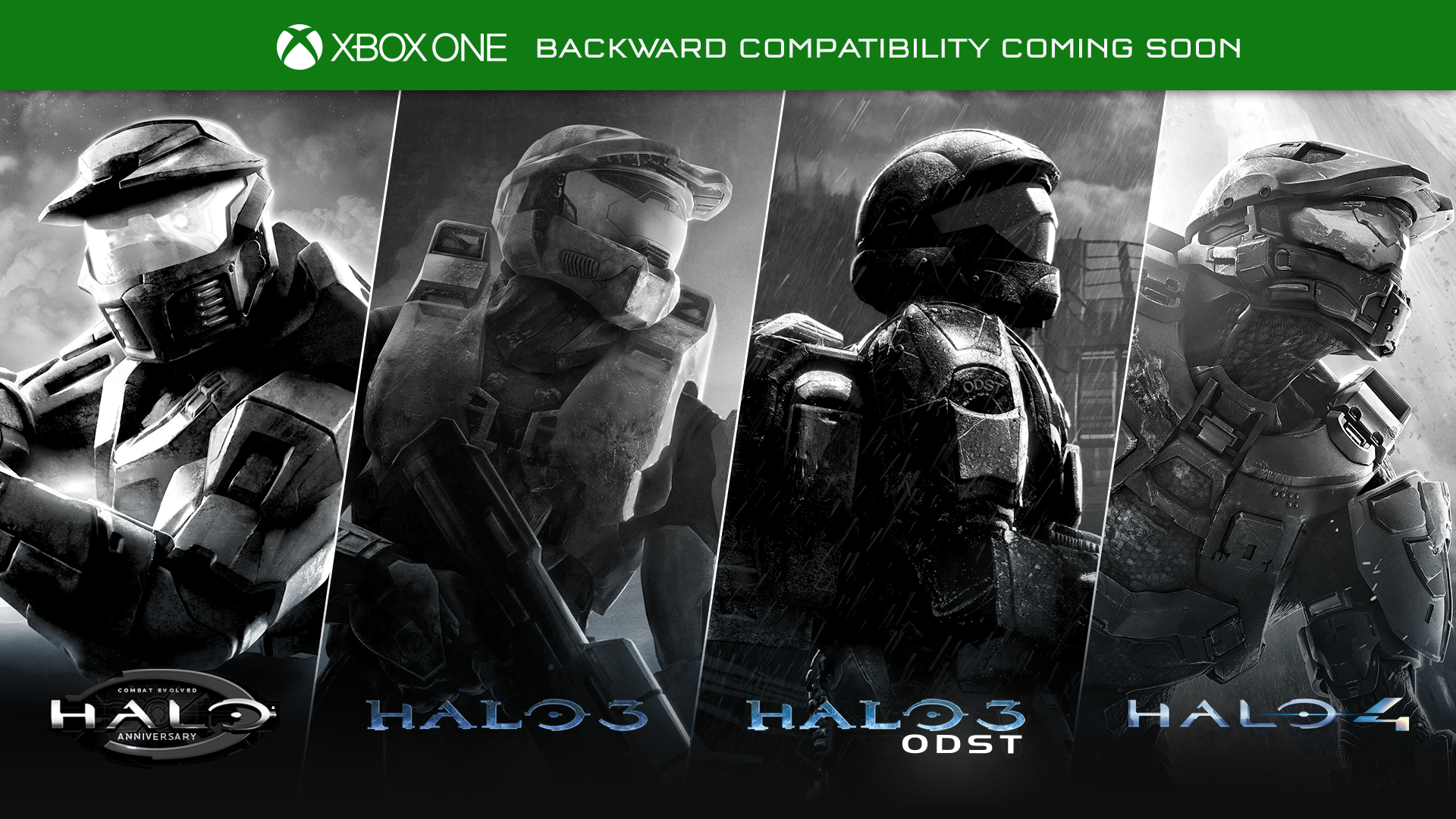 Last week, in leu of a "standard" Halo Community Update, we announced some pretty cool news for fans of Halo's legendary lineage on the Xbox 360 – all Halo shooters on the aforementioned console will be available in the near-ish-but-not-remotely-settled-upon future. This includes Halo: Combat Evolved Anniversary, Halo 3, Halo 3: ODST (woohoo!), and Halo 4, all playable on the Xbox One family of consoles. Players will be able to cross-play with folks playing on native Xbox 360, and take full advantage of Xbox One platform features like the DVR (thank the Lord).
Plus, maybe best of all, all the DLC from these legacy titles is now free and available for download in the Store, so no worries about splitting the MP population. After getting in some quality time with OG Firefight in Halo 3:ODST on the Xbox One at RTX, I am super stoked to be able to reenact some late-night epic co-op moments on Lost Platoon and Alpha Site. For more information on both back-compat, and on all the other cool stuff we've got tied into our "Halo Summer Celebration," make sure you check out the full blog HERE.
HERE COMES THE ROOSTER
Oh RTX, how we love thee. How we sweateth in thine blazing weather. How we bathe in the love and friendship doth provided by Halo-loving fans and friends. How we partaketh of thine BBQ and delight in the way Gus frieth thine chicken. In short, RTX was rad.
Last week, a multi-disciplinary firetream from 343 hot-dropped into Austin, TX for Rooster Teeth's annual expo of awesome. Joining forces with our friends and partners at Loot Crate, we put together a fun-filled fan booth full of playable Halo goodness, games, goodies, and great times. It was so awesome to get to spend time with Halo fans of all walks, likes, and cosplays, all eager to chat about favorite features, memorable moments, game development, multiplayer, story, and exchange plain old-fashioned pleasantries. It was like the internet, but with actual conversation, context, and happy dispositions.

343's James Monosmith of @HaloGear fame made sure to keep the booth looking as classy as possible.
On Saturday, our beloved ske7ch and yours truly co-hosted a delightful double-header of Halo fun. First up was our Halo Match Game – a hilarity-filled hour in which we convinced Frank O'Connor, Joe Staten, Burnie Burns, and Tom French to join us under the condition that we would go hard on the fun and frivolity. And trust me, bad puns, dirty jokes, and laughing fits are ske7ch and I's specialties. It was a packed house affair (we were actually forced to turn people away =( ) that likely set a new record for most uses of the term "food nipple" in one hour. If you want to watch RTX's VOD of the experience, check it out HERE, and if you'd like to see the actual questions posed to our panelists (made up of the aforementioned four folks plus Saul, the strong and silent ODST from the 405th), make sure you hit up the awesome RTX recap blog post created by HaloFanForLife. And maybe ask the same questions at your next gaming get-together. Or maybe that's a bad idea. Anyway, moving on…
Following the Halo Match Game panel, we hosted an hour of Halo 5 gameplay from the RTX center stage. Rooster Teeth's Adam Kovic, Blaine Gibson, and Jeremy Dooley joined our own Tom French to play some awesome and hilarious community-created Forge games with fans in attendance. It was an awesome time that you should definitely check out if you missed it the first time around. Watch the VOD above!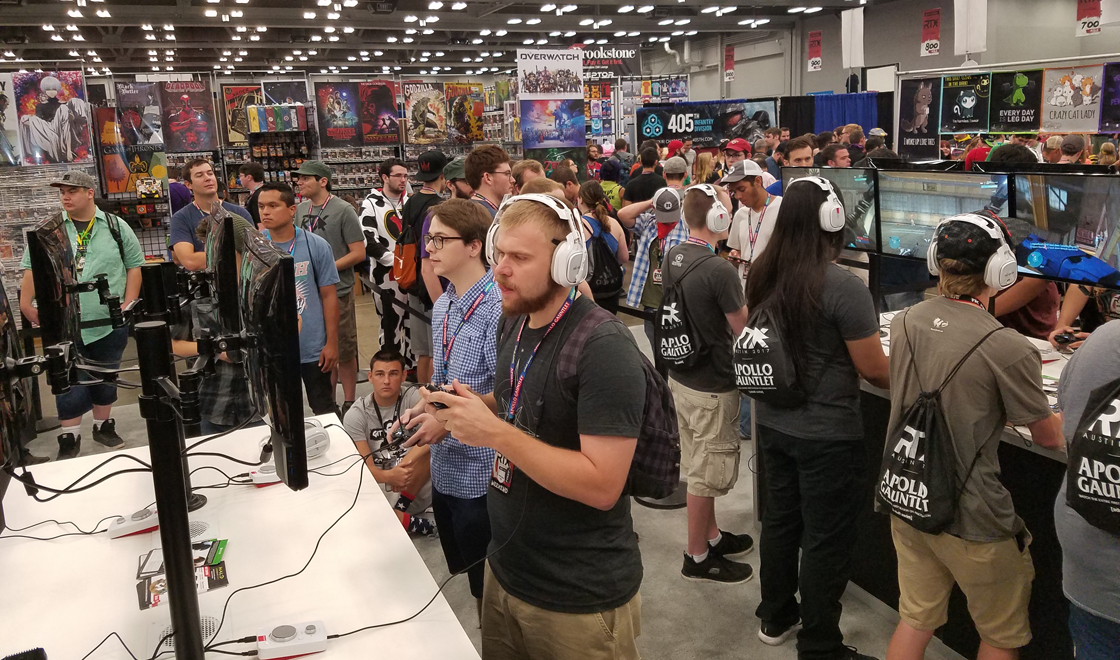 All weekend, the show floor itself gave Halo fans an opportunity to get a first hands-on Xbox One trial run with both Halo 3 multiplayer and Halo 3: ODST, as well as try out the E3-build of Terminus Firefight, the awesome new Flood-fighting co-op mode coming this fall with the Halo Wars 2: Awakening the Nightmare expansion. In addition, we had a BOOM Co firing range where fans could put their marksmanship on the line for some pretty cool prizes.
It was a fantastic weekend of packed lines, long nights, sore feet, and wonderful fan-friendship that we're all incredibly grateful to have taken part of. Big shout out to everyone at 343 and Loot Crate who worked the booth, all our panel and center stage guests, a big shout to all the awesome RTX Guardians (especially you, Dave!), and most of all to each and every awesome Halo fan who visited with us for hours on end to share their passion for Halo. We hope to see you all again next year.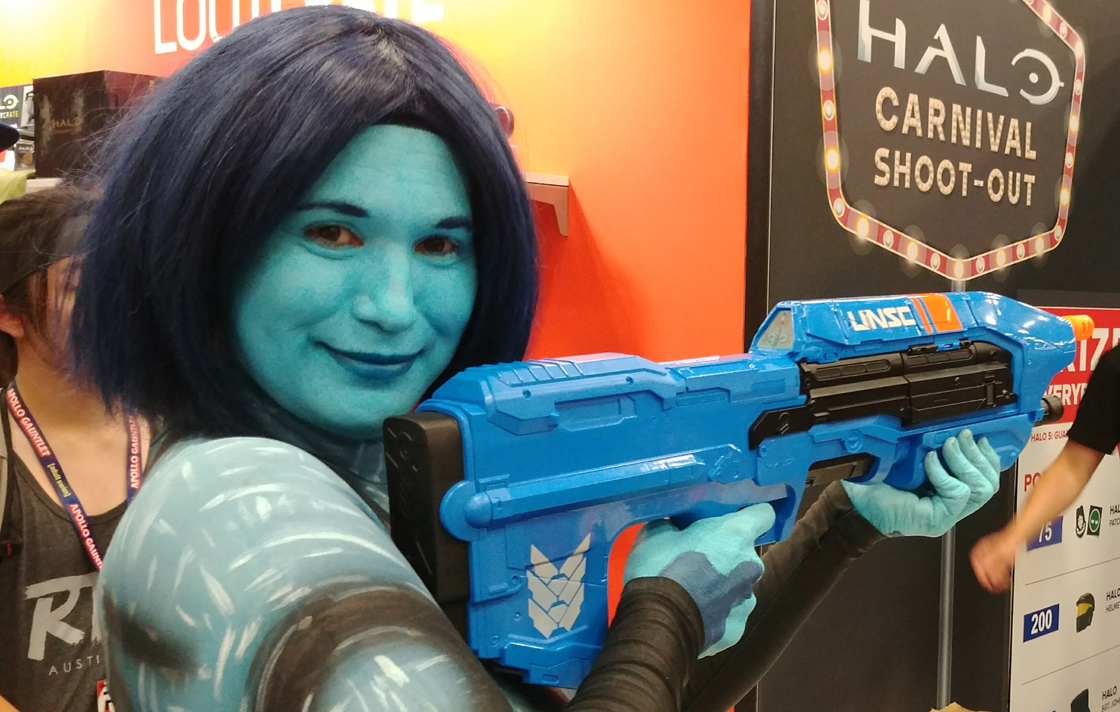 HeavenlyFightr from the 405th showed off both awesome costuming and marks(wo)manship skills.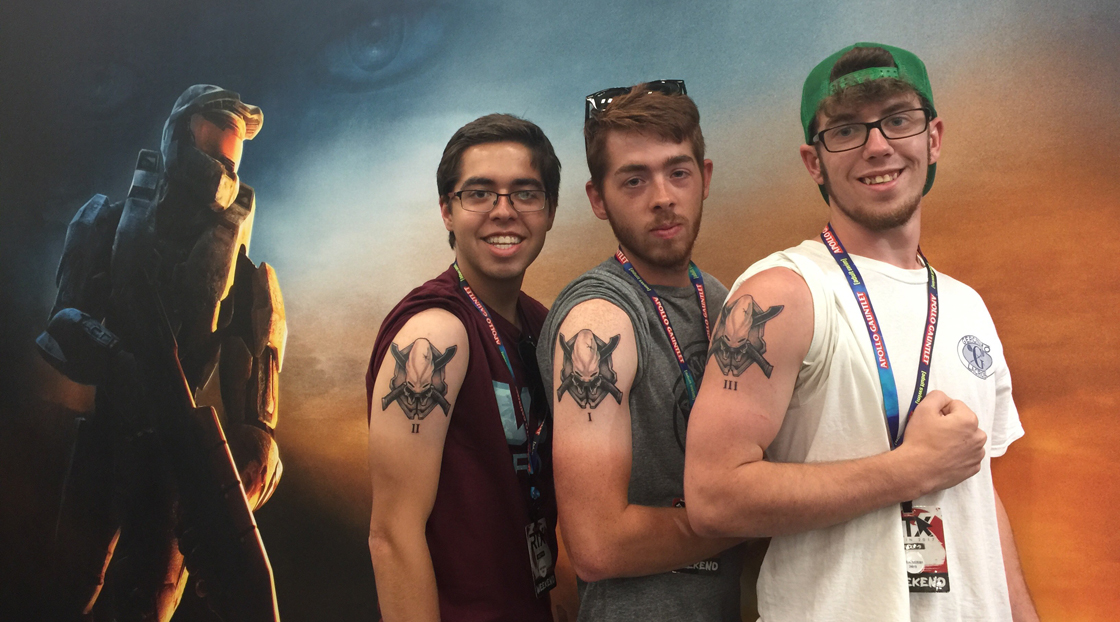 From L-R, Bryan, Jimmy, and Chase made sure we knew how much Halo meant to them by showing off their awesome coordinated tattoo effort. Legendary bros indeed.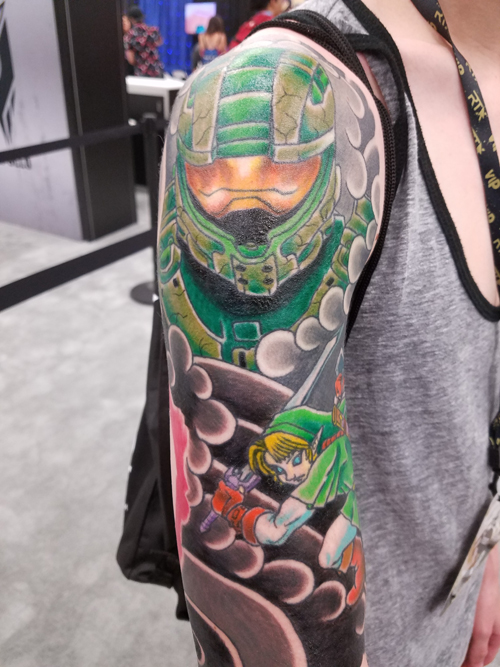 Another sweet, fresh Halo tattoo proudly displayed by an RTX attendee.
SCORE AT THE STORE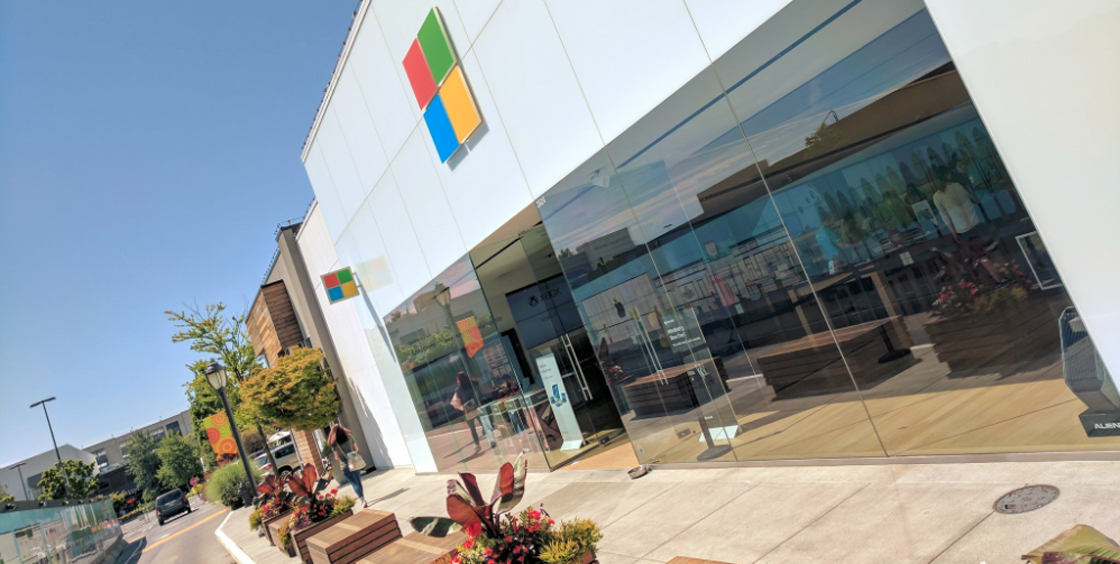 Even with all the aforementioned craziness, RTX wasn't the only front we were flying the Halo flag on this past weekend. On Sunday, some of the HCS home team were in attendance at the local U-Village Microsoft Store here in Seattle for an awesome grass-roots Halo 5 FFA tournament. To help describe the scene, here's our very own Michael "StrongSide" Cavanaugh:
The Microsoft Store Halo 5 FFA tournament was a walk down memory lane for me. The environment, passion, and friendship reminded me of my first few events in the Halo scene when I was just 13 years old. Everyone was just happy to hang out and play some Halo while munchin' down on some pizza. I love these small grassroot events; you are able to connect with a bunch of people and meet almost everyone. I got a chance to chat with a handful of great people, many of which who have been in tune with competitive Halo for years but have just never had the opportunity to travel to a major event.
During the finals match you could feel the intensity between the competitors. With about one minute remaining, three players were tied for first place as we all watched on the edge of our seats. It wasn't until the last 20 seconds when Jack Nicholsin (not THAT one) picked up a couple clutch kills to pull away from the pack by 2 to close out his first tournament victory – on his very first attempt.
On top of winning the tournament, Jack was also lucky enough to win the grand raffle, walking away with an Xbox Elite controller. It was a day filled with good times, good fun, and good memories. By the end, players were exchanging numbers and Gamertags, all eager to find new teammates and play together again online. It was great meeting everyone, and hope to do it again soon. Thanks to everyone who came out!
Thanks, Side! And big congrats to the double-winner Jack Nicholsin! Also a big shout out to Kenny and the awesome staff at the U-Village Microsoft Store for helping head up an awesome event. Now for those of you who are wishing that something like this would happen a bit closer to your own hometown, you should maybe stay tuned in the near future for some news on potentially interesting opportunities. Just sayin'.
RADAR BLIPS

And now, it's time for everyone's favorite dose of blip-service. We've got an eclectic menagerie of things to cover, so read on!
I Need A Crayon – Earlier this week, our friends at Dark Horse announced a sweet new "Adult Coloring Book" (don't worry, it's still rated T) featuring over 40 different scenes to bring to life. I just took a perusal through a bunch of the available art and trust me, it's pretty rad. For more info, check out Dark Horse's official announcement HERE, and keep those color pencils locked and loaded!
Where There's Smoke… – If you're a big fan of Kelly Gay's recent additions to the Halo universe – and I sure am – then you will be pleased to know that the previously-digital-only novella Halo: Smoke & Shadow is getting a print release! Slated to hit bookshelves on Jan 16 of 2018, the print release will also include Kelly's prequel story "Into the Fire," originally included with the Halo: Fractures short-story anthology.You can pre-order your physical copy of Halo: Smoke & Shadow right HERE.
Plasma-powered Playlist – earlier today, we went live with our latest featured Halo 5 social playlist, the return of Covenant Slayer. It's vital that Spartan-IVs are trained and up-to-date with the latest weaponry, so grab your favorite alien armament and burn bright on the battlefield, soldier. Also, we'll be having a 343 Community Playdate tomorrow (Friday), July 14, from 4 – 5 PM PT. If you happen to get matched with our 343 squad during that time, you'll earn yourself a cool new 343 Ice Unicorn Skin. See you then!
Domination Rotation – For Halo Wars 2 fans, the next season change – which typically corresponds with the associated DLC drop – will feature the return of Domination to the matchmaking fold in high-stakes Ranked 2v2 flavor. Better get your build orders polished!
Skin in the Game – Speaking of Halo Wars 2, a new skin-pack went available for individual purchase this week, bundling the previously-exclusive UNSC camo and pearlescent Banished skins for $2.99 USD. These skins affect Leader-agnostic core units like Banshees, Wraiths, Warthogs, and Pelicans, and give your armies a unique visual tweak on the battlefield. We've also got some solutions in place for folks who experienced issues with previously getting their UNSC skins via the Twitter Wars promotion around the game's launch; hit up the HW2 Support Forums if you've had similar issues.
HCS Pack is Back – With the HCS Summer Finals 2017 just around the corner, the special Halo Championship Series REQ Pack is now available again in the Halo 5 store for a limited time. The HCS Pack unlocks five special visual customization options for use, assuming you don't have them already. The pack can be obtained for 80k RP in-game (or $9.99 USD if that's your thing). Represent!
(UPDATE) Double Trouble – This weekend, July 14-16, four Halo 5 playlists will be 2XP! Hop into FFA, Covenant Slayer, Super Fiesta, or Warzone Assault for some double-up action on your XP grind.
Leaving a Legacy – on a more somber note, we learned this week that voice actress Lori Tritel passed away. Halo fans will recognize her wonderful performance as the voice of the Librarian. We want to offer nothing but love and well-wishes to Lori's family, friends, and colleagues. <3
HCS UPDATES

Next week, the best pro and open Halo teams from North America will meet up with the best pro teams from Europe to battle it out in the HCS Summer 2017 Finals at DreamHack Atlanta. If you haven't been keeping up with the scene, you can check out our DreamHack Atlanta hub on Halo.gg right here, and also check out our freshly-released (just today!) Atlanta update blog with all sorts of awesome news and updates on the event itself. Plus, keep an eye on Halo.gg early next week for a full preview of the upcoming action and info on how you can tune in to watch it all go down. Stay tuned!
SDCC 2017
If you happen to already be in attendance at the 2017 edition of the San Diego Comic Con, there will be a couple stops you might want to make as a Halo fan. Here's a quick-hit list of what might grab your fancy:
DARK HORSE
Panel:
Console Yourself: Video Game Comics and Books
Special Guest, Frank O'Connor
Thursday 7/20 5pm – 6pm
Video game franchises have found a foothold in comics at Dark Horse. With a line of video game–related comics and deluxe art books, including the best-selling World of Warcraft Chronicle, The Legend of Zelda: Art & Artifacts, and The Art of Mass Effect: Andromeda, the publisher now works with the biggest studios and brands in the business. Join Dark Horse editors and representatives from the publisher's video game partners for news and announcements on all your favorite video game tie-ins!
Signing:
HALO: RISE OF ATRIOX
Thursday, July 20th from 11:00am - 11:50am
Cullen Bunn, Alex Irvine, Jody Houser, Jonathan Wayshak
Exclusive:
Halo UNSC Vulture Ship Replica Convention Exclusive Team Red Edition
$50.00, Limited Edition of 300, 2 per Person per Day
MEGA CONSTRUX
Photo Op: Our friends at Mega Construx will be displaying a life-size ODST Drop pod made entirely out of Bricks! Additional photo ops with cosplaying Spartans will be available on Friday and Saturday.
Product Display: Fall 2017 MEGA Construx product line up on display
ACME ARCHIVES
Exclusive: "Know Your Enemy" Halo Wars 2 Exclusive print by Garrett Post
100 piece, 13" x 19", $40.00
MISC
Panels:
World Creators - Crossing Platforms (Film, TV, VR, AR, Gaming & Comics)
Friday, 7/21/17, 4:30p.m. - 5:30p.m.,
Room: Horton Grand Theatre
A discussion of what it takes to make worlds come alive across a multitude of platforms, featuring some of the great creative minds in the business. Intended panelists include: Neil deGrasse Tyson (Star Talk, Cosmos), Ted Schilowitz (Fox Futurist), Kiki Wolfkill (Halo), Colum Slevin (Oculus), Randy Pitchford (Gearbox) with a couple of super-cool surprise panelists to be announced. Produced in partnership with VRCon, hosts of the Futurism and Tech Pavilion at the Omni Hotel.
I Know That Voice: The Series
Friday July 21, 2017 12:00pm - 1:00pm
Room: Horton Grand Theatre
John DiMaggio (Atriox, Sesa 'Refumee), Dee Bradley Baker (Gravemind), Fred Tatasciore (So many Halo voices), Steven Blum (Multiple Halo voices), and Nolan North (Sgt. Forge, Romeo) join Carlos Alazraqui (Rocko's Modern Life), Bob Bergen (The Looney Tunes Show), Jessica DiCicco (Loonatics Unleashed) to celebrate the announcement of a new documentary series exploring the world of voice-over acting that pays tribute to the many legends and iconic properties that have defined animation. Actors will partake in a Q&A session moderated by Jim McCann.
COMMUNITY SPOTLIGHT
This week we're taking a short break from the normal collection of screenshots, art, and montages, but that doesn't mean we've got nothing on tap. Recently, The Psychoduck sent along some pretty awesome results of a Battle Golf map-building exercise he helped head up – the results are super cool and would make a fantastic addition to your next Custom Games night. Let's hear what he has to say on the matter.
What is Battle Golf?
When not engaged in activities like stealing flags and saving the galaxy, Spartans often enjoy the sport of Grifball. However, many Spartans have yet to experience the joys of Grifball's younger, but equally ball-centric cousin, Battle Golf! Two brave (and talented) Forgers recently set out to create some exciting new arenas in which this epic sport can be played. So, join the club and take a swing at these awesome courses!
NEW MAPS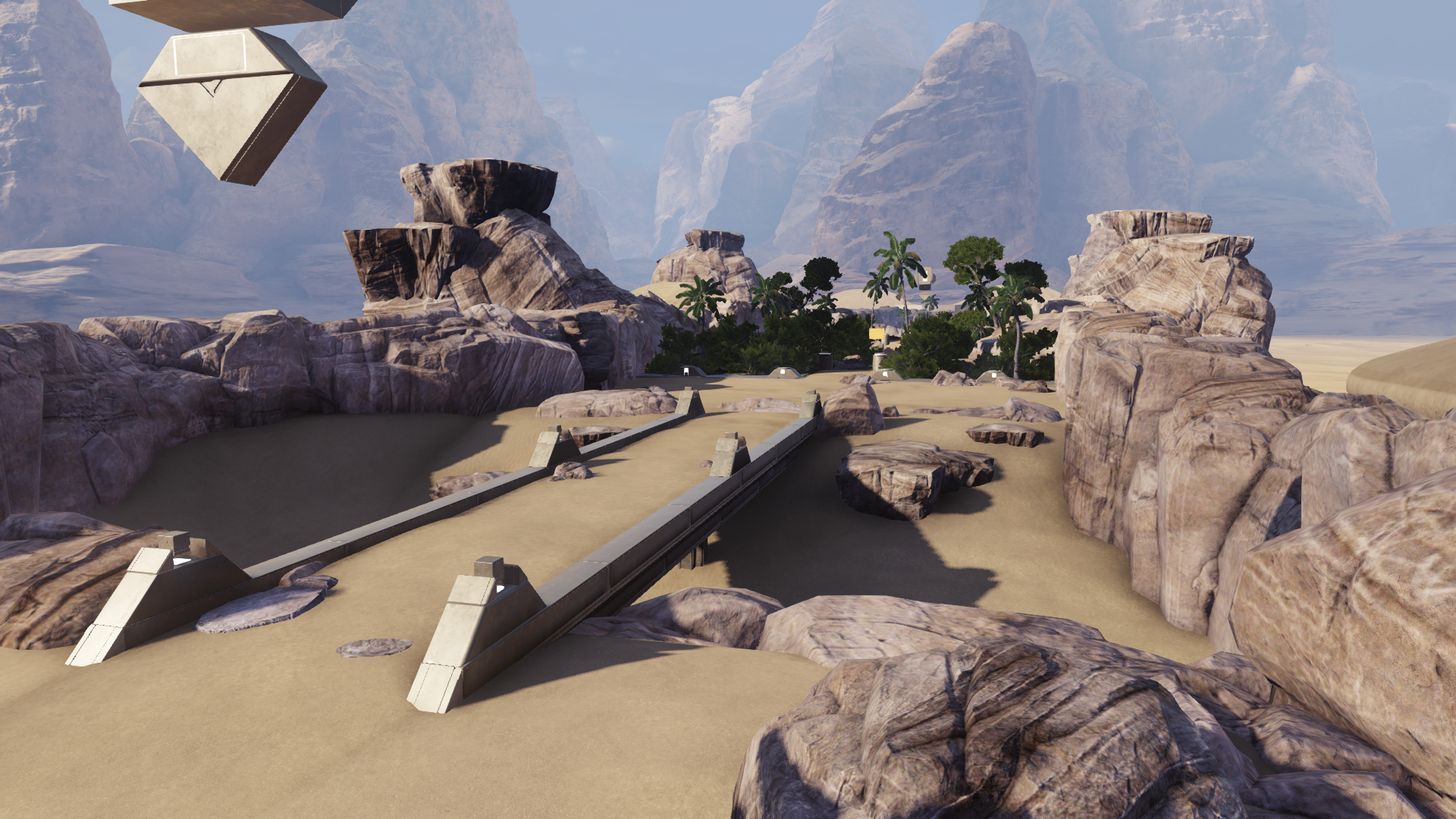 Presumably based off of a more literal interpretation of Phoenix Arizona's habit of placing golf courses in the middle of the desert, Bogey Desert brings Battle Golf to a beautiful oasis surrounded by sand. Almighty Nubs has done a magnificent job of blending harsh desert terrain with a lush oasis. Forerunner bridges span valleys on either end of the elongated playspace while the green (again quite literally) is characterized by dense foliage perfect for springing ambushes on the opposing team. The author has also included some clever scripting to keep players on their toes as the environment changes each round.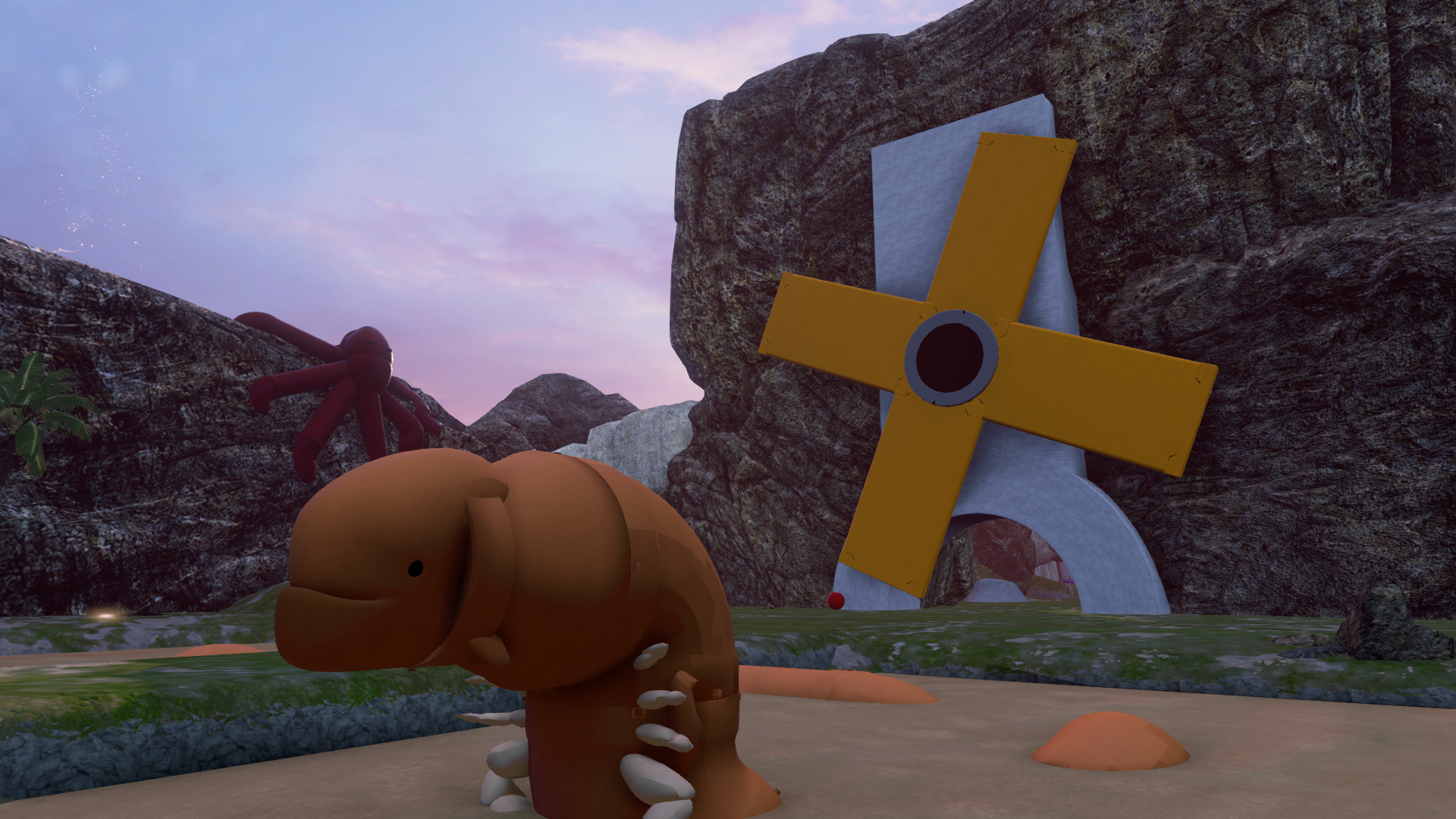 Drawing inspiration from Mini Golf, this (ironically) rather large course is all about creating a unique obstacle for teams to overcome each round. From the rotating cylinders to the fully-functional windmill, Golf Coast sports a creative array of scripting wizardry which is sure to keep players engaged and entertained match after match. If that wasn't enough, the author has also sculpted a number of cute sea creatures to populate the space. Classic Mini Golf tropes like sandtraps, lighthouses, and tunnels are on display here as well.
Thanks, Psychoduck!
And with that, we bring today's edition to a loving close. Next weekend, yours truly will be in Hotlanta with the rest of the Community and HCS crew to bring you greaves-on-the-ground coverage of the HCS Summer Finals 2017 from DreamHack Atlanta, so we very likely won't be seeing a normal Community Update, however, I am told that we may just have a #99 in store of a certain lore-based love-letter series early in the week. Consider it more premonition than promise. Anyway, much love and bye-byes!
Until next time… Live well, play Halo, and don't take the wrong things too seriously. You'll live longer.