Things have been pretty good around these parts, lately. The weather is cool, the air crisp, the roads damp, and the leaves a gorgeous mix of greens, yellows, oranges, and reds. And no, I'm not just talking about this past week's Fall season in Forza Horizon 4. Everywhere you look, there seems to be a breath of fresh air, and around the Halo franchise, the winds are changing in similar fashions, a feeling that completely new experiences are on our own horizons – looking fondly on what's been, and eager to be surprised by something quite new, and quite different.
From competitions and campaigns to community curiosities, there's a ton of cool new adventures on the way, both right around the corner and much farther-flung. Let's talk about a few of them today, shall we?
INVERTED BANSHEE SNIPERS ONLY
One new project coming up in the near future is the latest comic mini-series from our friends at Dark Horse – Halo: Lone Wolf, a series that focuses on everyone's favorite Spartan-II sharpshooter.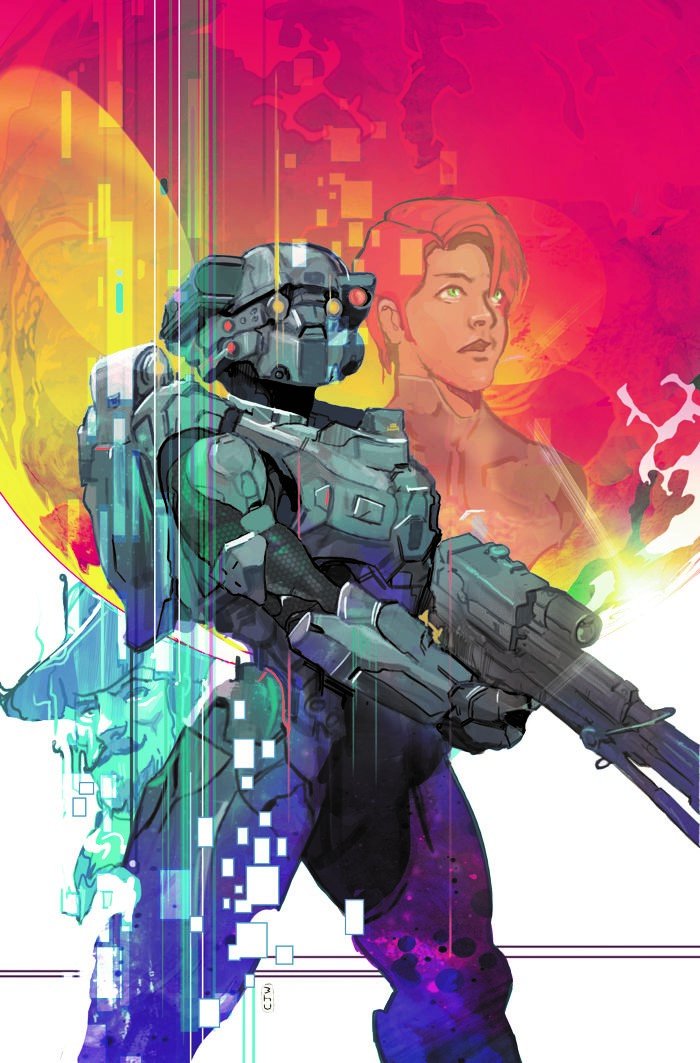 Sent alone on a covert mission, Spartan Linda-058's unique skills are called upon to end the threat posed by a wanted scientist on a distant planet. With only an ONI assigned AI at her side, Linda must fight through both the dregs of the Covenant and the hostility of a lost human settlement to stop her target in his tracks.
This newest entry in the Halo comics franchise is written by Anne Toole (Stargate SG1, The Witcher) with art by Kieran McKeown (White Canvas) and JL Straw (Back to the Future), colors by Dan Jackson (Buffy the Vampire Slayer, Call of Duty: Zombies), and covers by Christian Ward (Quantum Age: From the World of Black Hammer, Young Avengers).
Issue #1 of the four-issue mini-series goes on sale Jan 2, 2019 and is available for pre-order at your local comic shop.
WELCOME TO THE PRO SHOW

Next month, the best Halo teams and players will make their way to the site of Alabama's latest national title for the HCS 2018 Finals at DreamHack Atlanta. On the line is the 2018 season title, eternal glory, and the lion's share of a $300,000 prize pool. It's a prize almost as cool as easily-accessible Chick-Fil-A, to be honest. You can follow all the latest details and frequently-asked questions at halo.gg/HCSFinals2018.
Top squads are still currently jockeying for prime position coming into the Finals, with online 2k tournaments currently ongoing. In a result that only serves to further showcase how closely contested the sharp end of the field is, Renegades completed a shocking sweep of London champs TOX Gaming to take the overall victory in the latest online competition. Led by incredible plays from Austin "Mikwen" McCleary, Renegades have put the rest of the field on notice heading into DreamHack Atlanta and are proving that the season's final fracas might just be its most exciting yet.
As always, for all the latest news and notes on the Halo Championship Series, keep your web browsers locked to Halo.gg and follow @HCS on Twitter. Plus, check out the awesome community-curated Halo Data Hive for updated player stats and match results.
ENHANCED NOSTALIGA

And of course, in addition to the top-flight Halo 5 headlining event, DreamHack Atlanta will also play host to an unbelievable undercard with the Halo 3 2v2 Showdown, a $10,000 H3 doubles competition that will see esports legends emerging from their proverbial cornfields to face off against new challengers in an old-school clash for the ages. If you're wanting to get into the spirit of things yourself, make sure you jump into the H3 Hardcore Team Doubles playlist in Halo: The Master Chief Collection to get practicing, as well as keeping an eye on your local MS Store for upcoming community competitions to help you hone your skills against regional rivals!
MIX MASTERS

Exciting work continues on Halo: The Master Chief Collection as the team continues to address issues and make further improvements based on player feedback. Since our last Community Update, two patches have been released for MCC which included a few critical fixes and several updates to Matchmaking playlists. Here's a quick recap of those most recent game updates:
Improvements to game stability (notably in Halo: CE campaign)
Playlist adjustments
Fixed a crash that could sometimes occur in Halo 4: Spartan Ops, Mission 9, Episode 1
Updated Snipers playlist
Update Halo 3 Team Hardcore Doubles
Updated Team Slayer in HCE Team Arena to be to 50 kills
Ban Hammer has been unleashed on rampant quitters
Rank matching adjustments for high levels
Party matching adjustments so it only forces party restrictions in ranked for teams of 4 vs other teams of 4.
Ban Hammer
Since the September update, the team has been tuning the rules behind the scenes for our auto-ban system to better address players who repeatedly quit out of matchmade games. Even though the automated version isn't quite ready for prime time, the Ban HammerTM definitely is. Following this week's game update, the team has issued the first wave of matchmaking suspensions to players who are actively and repeatedly quitting games.
If you are worried that this could impact you, we suggest, well, not quitting out of games. Repeatedly quitting out of matches really creates a poor experience for the rest of the players in the game. Don't do it. If you don't like the maps or modes being offered, spin up a custom game with the settings you enjoy (check out the "Looking for Group" feature in the Official Halo Club to find like-minded players!).
New Features
In addition to squashing bugs and fine-tuning playlists, the team is also hard at work on two exciting new features – both of which are the direct result of player feedback.
First up, we have the "Match Composer", which will offer players more control over the types of game experiences they want in Social Matchmaking. This is the "mix tape" matchmaking option that so many of you have been requesting and we're excited to roll this out into an MCC Insider Build for testing and feedback very soon. Here's how the Match Composer currently looks in our internal game builds: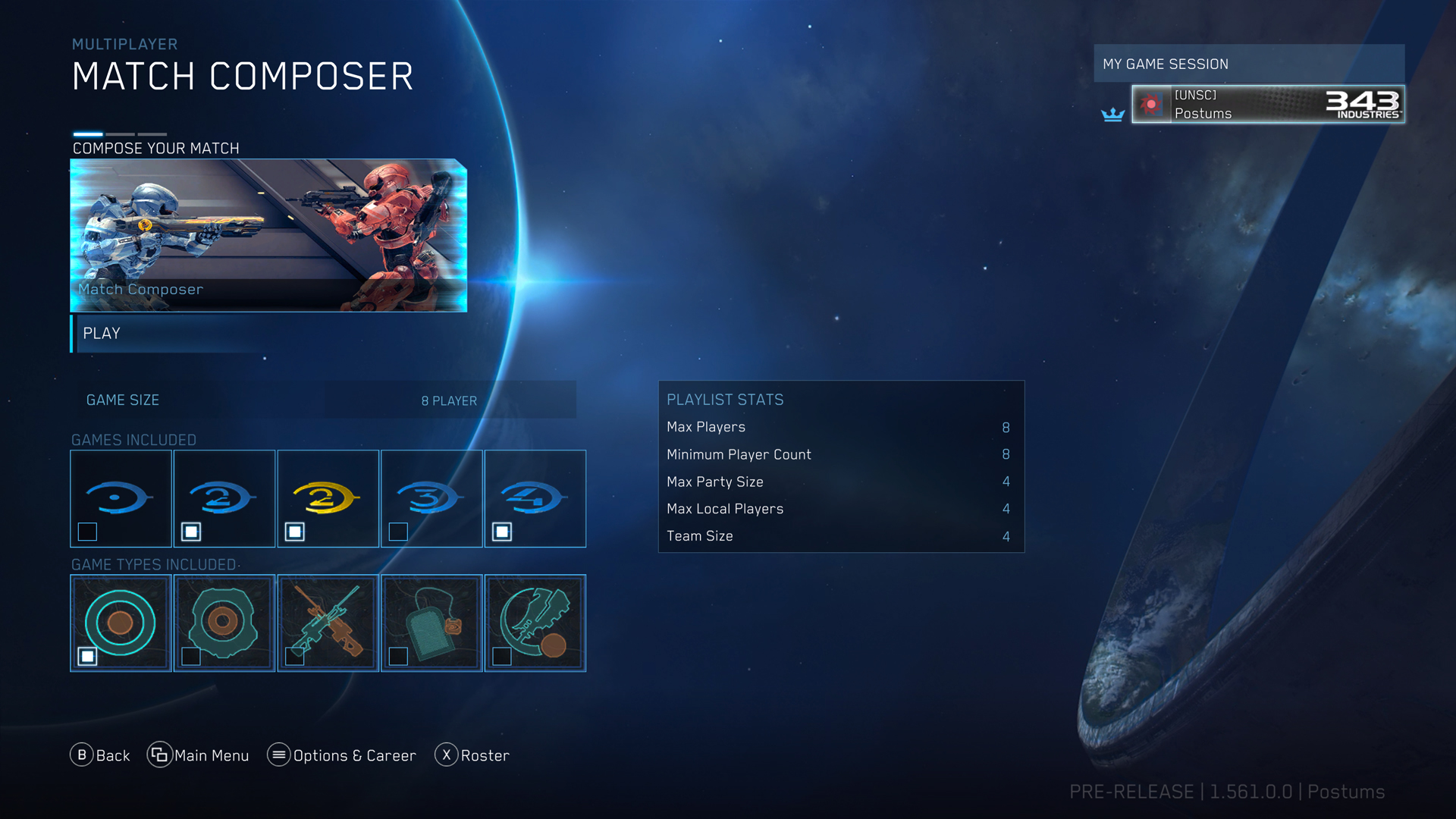 Once released, players can choose the player count, the game(s), and the mode(s) they wish to play and then Matchmaking will do the rest. This should be a great next step towards helping players tailor their matchmaking experience to their specific tastes. Looking further ahead, the team is still working on bringing a robust Custom Game browser to MCC but that feature is going to take more time to implement.
In addition to the Match Composer, the team is also implementing expanded controller customization options to allow players to better fine-tune their experience. Some players have expressed that some games within MCC don't "feel right" compared to the Xbox 360 originals and while the code itself is identical between the OG and MCC versions of each title, the "feel" of each game can vary based on a number of factors including TV latency, 60FPS frame rate, online latency, and the nuanced differences between the Xbox 360 and Xbox One consoles and controllers.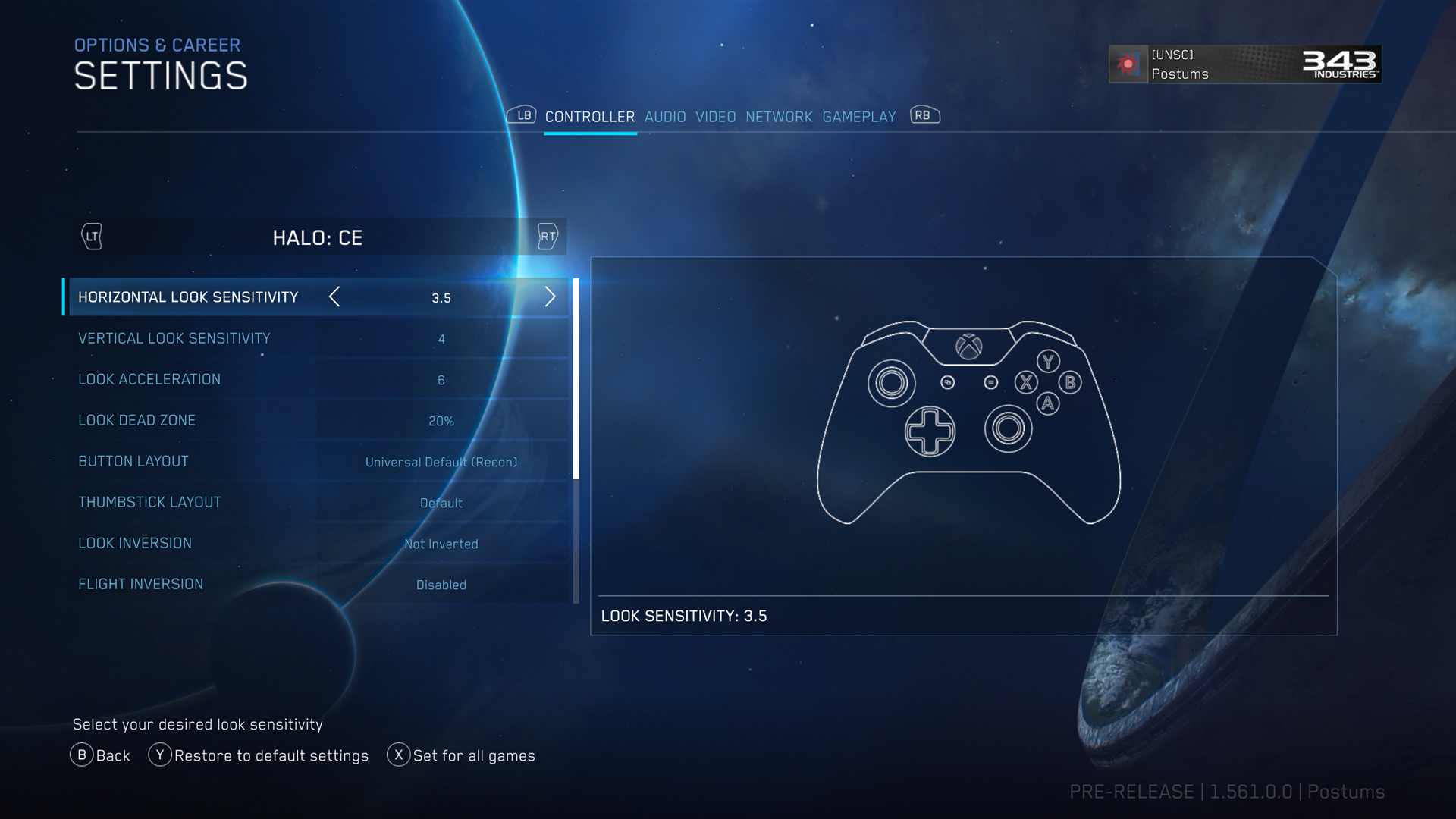 The team hopes that by offering more refined controller settings options, players will be able to better find the sweet spot that feels right to them.
Coming Soon: MCC Insider Flighting & Spooky Shenanigans
The Match Composer and the updated controller settings options are currently going through internal testing and the team is getting ready to roll out a new MCC Insider build in the near future (potentially as early as next week, pending final testing).
But that's not all! With Halloween right around the corner, keep an eye out for the return of Infection – targeted for a return to MCC with next week's update.
Stay tuned to Halo Waypoint for additional details on how, when, and where you can participate in the next MCC Insider flight and share your feedback on these new updates. And remember to bookmark the MCC Support Trello Board to stay up to date on current patch notes, known issues, and upcoming releases.
THE STREAM OF THE CROP
The 343 Social Stream continues to bring good tidings and great joy – especially if you're of a fan of bad jokes, deft question-avoidance, and super questionable quality-of-gameplay hosting talent. Regardless, we always have a blast, don't we?
Last week we handed over the hosting reins to bombastic and beloved community member DJ Blue PDX, who did a fantastic job of filling in and providing folks with plenty of laughs, good times, and great games.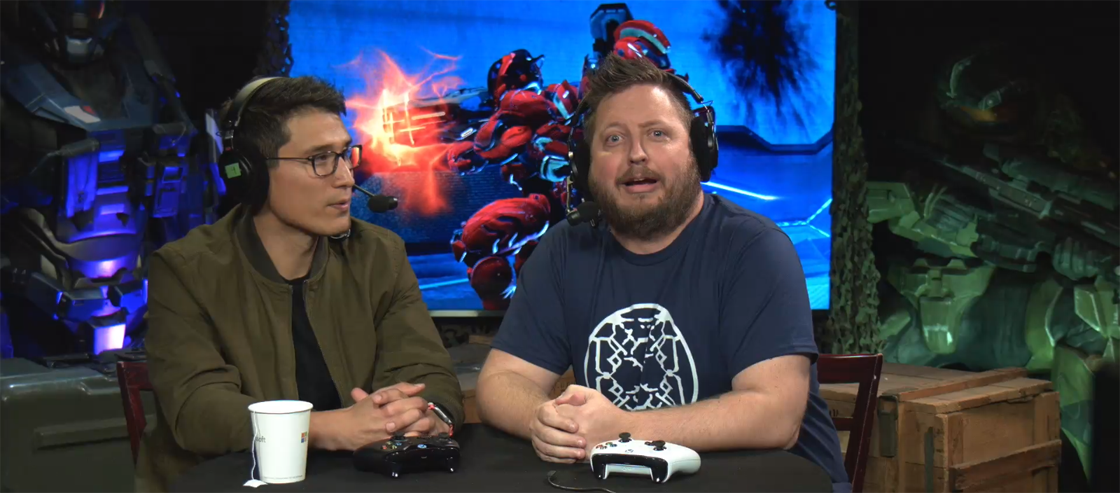 On yesterday's episode we had 343's Director of Insights and Strategy Sean Baron make his livestream debut to talk about how the studio is working to be more transparent and taking in feedback from all areas of the community – including the vast majority of folks who don't happen to spend a lot of time on social media. We had a blast answering questions, musing on the future, and (mostly) enjoying some Big Team Super Fiesta. Also, we discussed why avocados are gross and unfit for human consumption. That and apparently Jackals grow on trees. That might be canon. Probably not. Either way, obviously you should definitely give it a watch if you missed it live!
As always, the 343 Social Stream takes place each Wednesday from 1:30 – 3pm PT on mixer.com/Halo, so come join in and chat with us!
PLAYLIST PALOOZA

Speaking of Big Team Super Fiesta, if you haven't tried out this epic experience, you're missing out! It's the Super Fiesta shenanigans you know and love, but with more players, bigger maps, and badass vehicles. The rowdy rampage continues for at least another week to give even more players a chance to jump in and experience the full power of Halo 5's fully operational sandbox. Seriously, it's such a blast – particularly when I'm being blown up, usually. Jump in while it's still around!
In other H5 playlist news, Rock 'n' Rail stepped back behind the curtain to make room for the return of Triple Team. Grab a squad, hit the battlefield, and show those other teams who's boss. And if you're looking to maximize your Arena experience, keep an eye out for the limited-time return of the Arena XP Boost REQ Pack, which will let you turn a bunch of those excess REQ points you have lying around into more greatly-gained experience. The Arena XP Boost pack is slated to be available tomorrow through Tuesday (Oct 12-16).
ARK CHARGE
For Halo Wars 2 fans, our very own beloved Postums has provided us with details regarding the latest HW2 balance update as well as news on the community-run Halo Wars Championship League's Season 2 experience!
Season 2 of the Halo Wars 2 HWCL only has three tournaments left before The Banished hosts this season's Invitational 1v1 tournament final to showcase the game's best players! These community commanders have some of the most in-depth knowledge in the game and are always amazing to watch lead their respective digital armies into battle. The winner of this invitational will have the opportunity to request one balance change for Halo Wars 2 for a future update, subject, of course, to the testing and approval of the internal team here at 343 – no Second Yappenings happening quite yet. Plus, the Invitational winner will also earn themselves a super sweet limited-edition Halo Wars 2 poster signed by folks here at the studio.
To potentially compete, watch, or keep informed on these community-run competitions, check out the information below!
HWCL Season 2
If you don't want to participate but want to watch the action live, you can tune into Breaking the Clutch, Team Respawn, or The Banished Twitch channels on the days of their respective tournaments.
Balance Updates
Our update schedule for Halo Wars 2 has become more frequent and focused in nature. This is due in part to two key pieces: first, based on community feedback the title's current Leader and Unit balance is in what many players have called "the best it has ever been." Second, with the game requiring fewer balance changes, the resulting updates necessary are much smaller in scale and don't require as much time to build and implement.
For deeper details on the balance updates, including changes and timeframe, keep an eye on the Halo Wars 2 forum. The most recent set of patch notes can be found here.
FREE FALL
Also, if you (or any friends) have been on the fence about trying out Halo's RTS side of life, there will be a couple of opportunities soon to try it out with Free Play Days! Here's the schedule for you to try things out:
Halo Wars 2 (Xbox): Oct 18-21
Halo Wars: Definitive Edition (Steam): Oct 18-21
COMMUNITY SPOTLIGHT
Before we go, make sure you go and check out our latest Halo Community Spotlight, which came out last week. It showcased another amazing array of awesome community-created content, in a variety of different mediums. Give it a look!
And with that, we take our next leave of you. See you soon!
Until next time… Live well, play Halo, and find a charity to help out this month.
<3 Grim