What's up Halo community!? Happy Friday! Ske7ch here with my first ever Halo Community Update! As the newly christened 343 community manager I'm beyond excited to partner with Grim for my first update in a long, long time. Since we're going to be spending a lot of time together in the days, weeks and months ahead I want to take today to share a bit about who I am as well as respond to a large salvo of questions submitted by the community. I'll warn you now, I'm not known for being a particularly concise writer so get comfortable. After my wall of text, Grim is going to tag in with a look at some of our favorite Halloween creations from the Halo community, our community spotlight and of course the latest Play of the Week. Ready? Let's do this.
Ske7ch, Reporting for Duty!
Last Friday was a big day here on Waypoint as it effectively ushered in a changing of the guard as Bravo passed the proverbial torch to me to carry forward as he transitions into a new role on the team. I'll admit it was bittersweet as I'm really excited to take the reins but, like many of you, sad that Bravo will be stepping out of the spotlight after what's been an incredible run supporting and championing the Halo community.
For what it's worth my desk is still right next to him and he's still very much going to be involved in a lot of work behind the scenes. I understand there's been a longstanding tradition of coming up with variants of his name like "Barvo" and he's often been the subject of fun teasing over the years. I just want everyone to know that by no means do you have to stop with your periodic poking fun of Bravo. In fact, I think a great way to really show our thanks and support would be via some incredible Barvo Photoshop shenanigans. What say you, community? Can anyone help us out? Throw your tributes up on Twitter with hashtag #BravoByeBye and we'll be sure to circulate. Oh and please, keep it clean.
Ok enough about Bravo, let's talk about me! Some of you remember me from the nearly 10 years I spent with Halo back in the day, while many others are "ske7ch who!?" So allow me to introduce myself. My birth name is Brian but in terms of my community persona and gamertag I've been "ske7ch" for well over a decade (though the addition of the "7" happened specifically during my time at Bungie given the studio's fondness for the number and because "l337 speak" was cool). The origins of my nickname are kind of twofold – on one hand I've always considered myself a bit of an artist, always sketching and doodling something, somewhere. On the other hand, my friends would often tease me for "sketching out" over stuff all the time and being a little anxious / worrying / assume worst case scenarios for all number of situations. I'm happy to say I'm much more chill in my older age but still embrace and embody "ske7ch."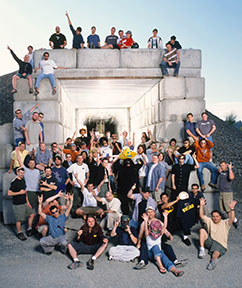 Way back in December of 2002 I applied and interviewed for a job at Microsoft for a community development manager position with a small internal team that had recently been acquired and relocated from Chicago to a pretty run down office complex near a rock quarry on the outskirts of Redmond, WA. The hiring manager was none other than Max Hoberman, one of the very first members of Bungie's Halo team and at the time, the lead for Halo online and multiplayer. I still remember the mix of excitement and intimidation sitting in that non-descript conference room as Bungie people rotated through to question and evaluate me. This interview ultimately spanned three full days with my final hoop being an hour sit down with Jason Jones himself (the co-founder of Bungie and "father" of Halo). Apparently, my mix of passion, charms, smarts and wits landed me the job and I officially became Bungie's community manager.
For the next five or so years I worked with an incredible team (including Frankie, who was hired shortly after me) to build one of the greatest gaming franchises and communities in the world, and had some truly incredible opportunities and experiences through the development and launch of Halo 2 and Halo 3. From 2007 through 2011 I continued to drive the community team for what was now "Bungie LLC" through the launches of Halo 3: ODST and Halo: Reach though much of my time shifted to focusing on marketing and PR as I traveled the world as the studio's key spokesperson.
Finally, after Halo: Reach was launched and the dust had settled and Bungie was officially focusing on what would become Destiny, I realized I needed a break. The years spent in the studio, at the tip of the spear with the fans, were incredibly exciting and I'll never forget those experiences or the truly wonderful and incredible people I worked with and met along the way. But through those years my wife and I had two children and the travel was often grueling and frequent, the hours relentless and as we closed the final chapter for Bungie's Halo it felt like the right time to step away and focus on my family and personal health and wellness. So, I essentially dropped off the radar, took a break from the public spotlight, from Halo, from everything.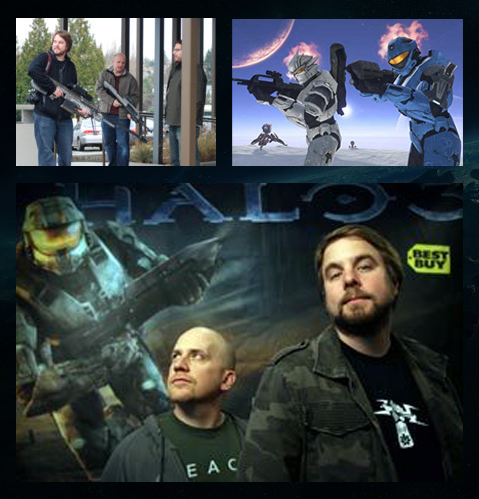 Eventually I found myself back at Microsoft in a completely different role, one that was totally behind the scenes working on executive communications and employee engagement within Xbox. I was drawn to the role mostly for the chance to have a seat on the sidelines with all the top executives as Microsoft's next console was being developed and eventually launched. It was a once in a lifetime experience.
That role was an interesting experiment and while it offered a lot of new challenges and learnings it ultimately pulled me further and further away from my true love: video games. As my job morphed and changed thanks to corporate re-orgs and shifting business focuses, I longed to return to a job that was fun again. A job that I could be truly passionate about. A job that put me with a team of super passionate creative people who devote their craft to bringing joy and entertainment to millions of people. I'd been hounding Frankie, Bonnie and other longtime friends and former colleagues for what felt like an eternity, hoping and waiting for the right opportunity to find a fit with 343 Industries. When Halo 5 came out I was blown away. It immediately rekindled my feelings for the franchise and made me really long for those old days – and all the hard work, fun and satisfaction that came from Halo and its incredible community. I continued to ping my contacts around the studio, waiting for any chance to get my foot back in the door. Then, suddenly I saw that opening with the posting of a community manager role and I knew it was exactly what I wanted to do. Now here I am, super thankful and grateful to be "back" in a world I missed and loved, working with an incredibly talented team and reunited with one of my all-time favorite game and entertainment properties. The morale of the story here is don't give up on your dreams; patience and persistence pays off.
Ch-ch-ch-changes
A lot has changed since the last time I was hired as a Halo community manager! For perspective, a few interesting factoids from back in the day:
The original Xbox and Halo: Combat Evolved were barely a year old.
The top grossing game of 2002 was Grand Theft Auto: Vice City (PS2).
The top song in the country was "How you remind me" by Nickleback (UGH).
The top grossing movie at the box office was Spider-Man.
The dedicated videogame network G4 was launched (R.I.P.).
The average price of a gallon of gas in the U.S. was $1.36.
Facebook and Twitter were still a few years away from being born.
343 Community Team member Uny was just a wee lad starting fourth grade.
Bravo was asking his parents to buy him this M-Rated game called "Halo".
Grim was still loud.
Frankie was still bald.
My first two weeks back have been a whirlwind but I'm genuinely loving it and look forward to coming in to the office every day, learning more and more about what I've missed and what's ahead, meeting great people across the studio and re-connecting with the community at large.
Bravo is helping me get better at The Twitter (@ske7ch) and my followers have already grown ten-fold from when I started (that's good, right?). I've still got plenty to learn and get caught up on but it's my mission to continue the extraordinarily high bar that's always existed for the Halo community and the great work that's come before. We're going to have a lot of fun together and while it may not always be easy, you have my word that my priority will always be you, the community, and I'll always focus on transparency and honesty above all else. And remember this is a two-way street, I want to hear from you and will be looking for your input as we start to think about bringing back community programs (the podcast!) alongside other brand new endeavors.
I truly appreciate the outpouring of support across the community. Thank you for welcoming me back with open gauntlets!
Taking Q's and Kicking A's
To kick start this new partnership between you, the awesome Halo community and me, the newly minted Halo community manager, I wanted to try and answer some of your most pressing questions. From deeply personal, thought provoking inquiries to light hearted Halo fare, you did not disappoint! I've answered many below, gathered from Twitter, Waypoint and r/Halo. I apologize if you submitted a question I missed but rest assured this is just the beginning of our ongoing discourse, and answering your questions is something I'll continue to do to the best of my ability across all of our channels.
@StonemanJB asks: "Has being on the outside of Halo changed your view of the franchise and what do you think of the direction it's been going?"
Being on the 'outside' of Halo for a few years has, at a minimum, given me a fresh perspective on Halo and in a way 'freed' me from the occasional blinders that one can inadvertently create from being so deeply rooted on the inside. It's been a lot of fun "just" being a fan for a period of time though I'm super excited to be back in the internal trenches again. As to the direction it's been going – I really enjoy Halo 5 and many elements are "best-in-series" advancements as far as I'm concerned. I think the team has done some tremendous work over the past year and from the tiny bits of future plans I've been privy to I'm definitely excited about where Halo is headed.
@xbl_xsk asks: "Where are the EU servers located? Nobody can or want too(sic) answer my question."
I can verify that the Halo EU dedicated server ISN'T this LED glowing tower PC that was installed at my desk prior to my arrival (which is good because my foot has kicked the power cord a few times already). I'm sorry nobody can or wants to answer your question but after poking around a bit I've found that the exact locations of Microsoft's Xbox Live global data centers are in fact a "I could tell you but then I'd have to kill you" level of secrecy.
@GreenTwatter asks "Why can't we get black undersuits?"
I was surprised to find that this is such a prevalent thing. But yeah, turns out a lot of folks just want a black techsuit for their Spartan, which I'll admit seems like a perfectly reasonable ask. Why can't you get one? I don't have a firm answer as I have to assume it's far less trivial from a production standpoint than it would seem to you or I. It's definitely a known issue though. In my first two weeks I've been in multiple meetings across the studio where this exact topic has come up and in some ways seems to have even become an internal meme of sorts. I assure you that the development teams are painfully aware of the community's sentiments surrounding the techsuit and I feel pretty confident that this will influence their work in the future.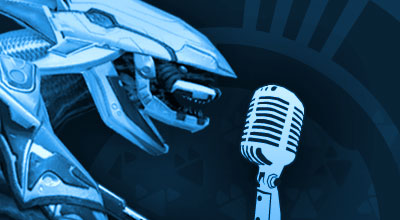 @Zeouterlimits asks "Is it time to dust off the podcast mics?"
It is indeed! I've already talked with Frankie and he's totally on board. Thankfully Grim has already put together everything needed to create a podcast (in fact it's used regularly to create the "HCS Listen-In" show) so this is definitely something we will be doing. When? I'm not totally certain yet but if we can't pull it together before the holidays then I'd expect it to begin in earnest at the start of the year. I'll be spinning up a thread on our forums to solicit your ideas and input on show topics, guests and more. Stay tuned.
Many people asked some variation of "will the Halo 5 servers be fixed?"
I think there are a few different underlying issues that parts of the player base have experienced that have been lumped into "fix the servers!" Overall the online experience for Halo 5 is pretty great but the team is aware of a few specific issues that seem to be increasing in prominence. As a commitment to sustaining a fun and enjoyable online experience along with a consistent and fair competitive landscape, the team is actively investigating these reports. In fact, I'm told there will be a very small update pushed out tentatively as early as next week that's strictly under-the-hood work to further assist in identifying the root causes of reported instances of higher-than-usual latency, disconnects as well as melee registration to help facilitate a fix. I expect to be able to share more on this front in the coming days.
@CMongerty asks "Will Action Sack get any sort of regular updates going forward?"
Earlier this week I was in a regular weekly recurring Halo 5 multiplayer experience meeting and refreshing Action Sack was an agenda item! So the short answer is yes, Action Sack will definitely get updates. As to when and how regularly, I can't say for certain yet but Uny and others are passionate about it and will make sure it gets the loving it needs. As I'm getting up to speed with many facets of Halo 5 ongoing sustain and operations I think it might be interesting to pull back the curtain on that process in a future update. Stay tuned.
@_xXBarthXx_ asks "Can we expect a classic playlist anytime soon? There are some amazing remakes on the Waypoint Classic Remake Submission Forum."
No kidding! Uny has already shown me some incredible remakes that really nail the Halo: CE feel. I don't want to steal anyone's thunder but it's safe to say you can expect a classic playlist relatively soon and at which point I fully expect "Why isn't X, Y or Z in the classic playlist!? and when will the classic playlist be updated!?"
@HossSauced asks "If you were stranded on Delta Halo for 7 days and could only have one UNSC weapon what would it be?"
It's admittedly a bit of a cop out but I'd probably have to go with the Halo: CE magnum for the sheer sake of its ridiculously unbalanced and overpowered lethality. (And yes, I know that Delta Halo was in Halo 2, not Halo: CE).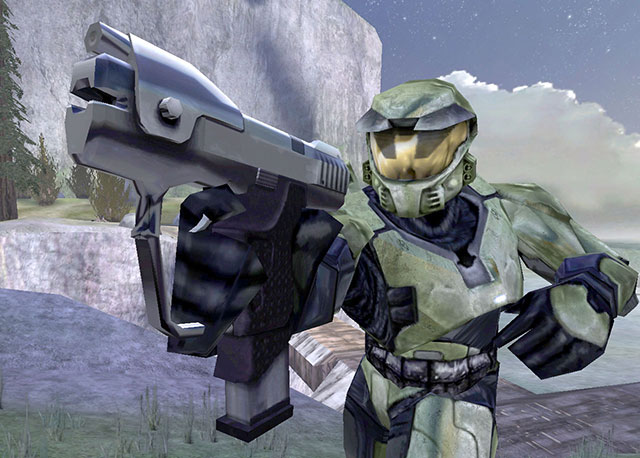 @D_Town_Ninja asks "boxers or briefs?"
Geesh, we just met! But of course it's boxers or sometimes I go hybrid with a boxer-brief setup. In keeping with tradition I only wear under-garments that aren't quite black.
Multiple people asked some variation of "What's going on with the Master Chief Collection?"
That's a great question and something I've been working to better understand during my first two weeks at the studio. What I do know is that nobody here has forgotten the launch issues and how it impacted the Halo community. It's something that everyone in this studio lives through every day.
MCC continues to be played and enjoyed by a lot of people to this day, and while its been greatly improved since release…it's not perfect. I know some people still experience oddities and inconsistent behaviors that hamper their enjoyment, while others play and enjoy it just fine.
Many of you just want to know what's going on and if you can expect further patches and updates in the future. While I can't definitively commit to specific fixes at this exact moment, rest assured that MCC continues to be discussed and researched internally as part of the broader "Halo sustain" plans and priorities, including the potential of playlist refreshes.
The studio as a whole shares my own personal desire to improve transparency with fans, so our community team will continue to help facilitate that dialog and share any and all news, even if it might not be what (or when!) the community ideally wants to hear, as soon as we have something to share.
@WARDOG asks "favorite HCS team?"
This is a bit of a loaded question, no? I'm still getting caught up with the current world of Halo esports but I'm really rooting for Final Boss to win it all!
@HiddenXperia asks "What's your favorite part of Bungie's vision of Halo and what's your favorite part of 343's vision of Halo?"
Interesting question! I know a lot of you will probably scoff when I say this BUT, believe it or not, Bungie's past vision of Halo and 343's current vision of Halo really aren't that different. In both cases it's about technically innovating, creating and fostering a rich, detailed, believable universe, telling riveting stories, delivering amazing game experiences and fostering fan engagement. That's always been my perception of the vision.
@HaloCollective asks "Favorite Halo vehicle?"

For me Halo will always be synonymous with the Warthog and now that I've been able to get up close and personal with 343's real-life Hog, I'm an even bigger fan.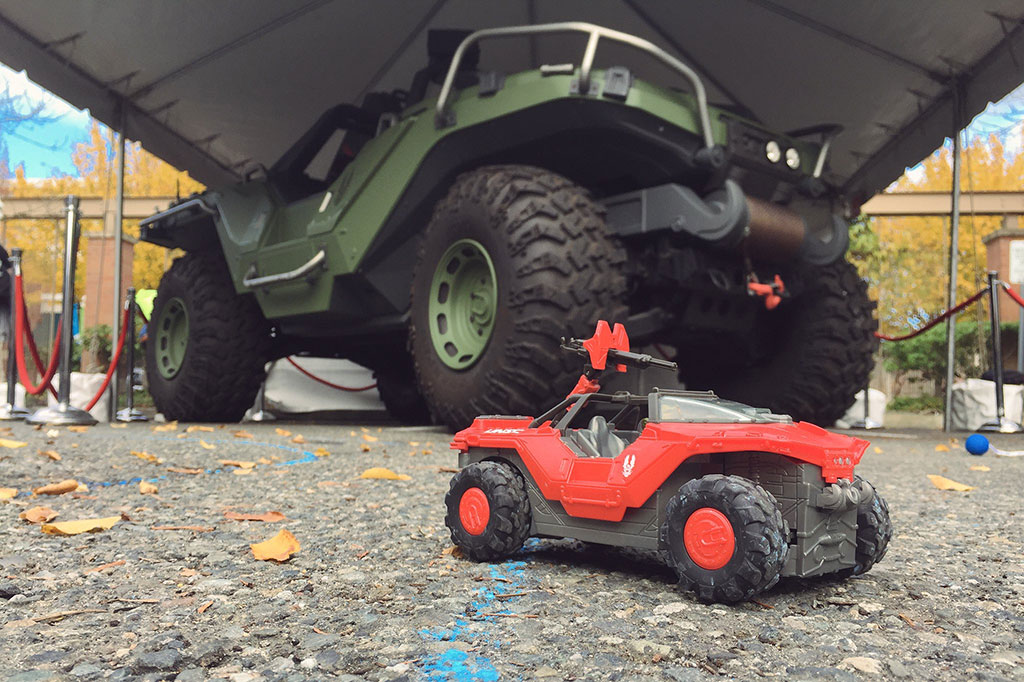 @Anim8rJB "you're back!?"
Anim8rJB! Yes, I'm back with Halo! Fun fact, JB is an old school Halo animator from Bungie that I recall sharing many shenanigans with. He's been a senior animator at Blizzard for a long time now and is good people.
@BadHaloGamer "When you put your pants on in the morning, do you do like everyone else and do one leg at a time?"
Well I wish someone had told me before accepting this job that pants were in fact a required part of the uniform… but yes, since I have accepted that reality I have found that one leg at a time is greatly preferred over the "jump in air both legs at same time" approach.
@HeylmSwat "Where have you been since you fell off the radar?"
I've been around, just crouching to avoid detection.
@supafloop "How is 343 Industries?"
343 Industries is fine, how are you? Seriously though, it seems great. There are many awesome people I've known for years who've been a big part of 343 since its inception and I'm meeting many more every day. The team works hard and plays hard. Everyone is passionate and dedicated to their craft. The community team I sit with is fantastic – super passionate, die hard Halo fans who work tirelessly to produce great content, represent the fans internally and help keep things rolling. The relatively new office space is super nice and well equipped, loaded with incredible Halo memorabilia and, as someone who LOVES ping pong and never gets to play, TWO ping pong tables in the lounge area. So far I'm really digging the vibe and culture at 343 and I'm excited to be a part of the team.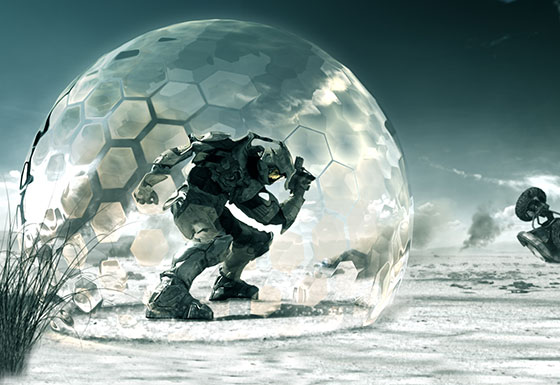 @FrostXCII asks "What's your favorite Halo game?"
Oh it's like asking which child do you love more?! But I'll give a real answer – for me it's Halo 3 and that's for a variety of reasons, half of which have to do with being deeply involved throughout every stage of development and all the great work we did up to and beyond launch, the people involved, the community experiences, the hundreds of hours spent playing before and after release and of course, finally getting to Finish the Fight.
@ncsuDuncan asks "Coming back after 5+ years, have you noticed any interesting changes to the community and the Community Manager's role?"
Definitely! There's a LOT more going on these days than ever before. The engagement is persistent on social media and the bar has really been raised in terms of the content being produced and the expectation of fans for near constant, immediate interactions. I see the landscape as being way more competitive – every game has a community team these days and what was once a fairly unique, competitive advantage for Halo/Bungie is now a bare minimum requirement for every game studio. The overall team is larger, the game development processes seemingly more complicated and the business models are constantly in flux. There's definitely a lot that's changed and those new challenges and opportunities were part of the appeal in "returning" to the community manager role again.
@majesticgaming6 asks "If you had the chance to save someone that is already dead on any Halo game, who would you pick?"
This one's a no brainer – Sgt. Johnson all the way.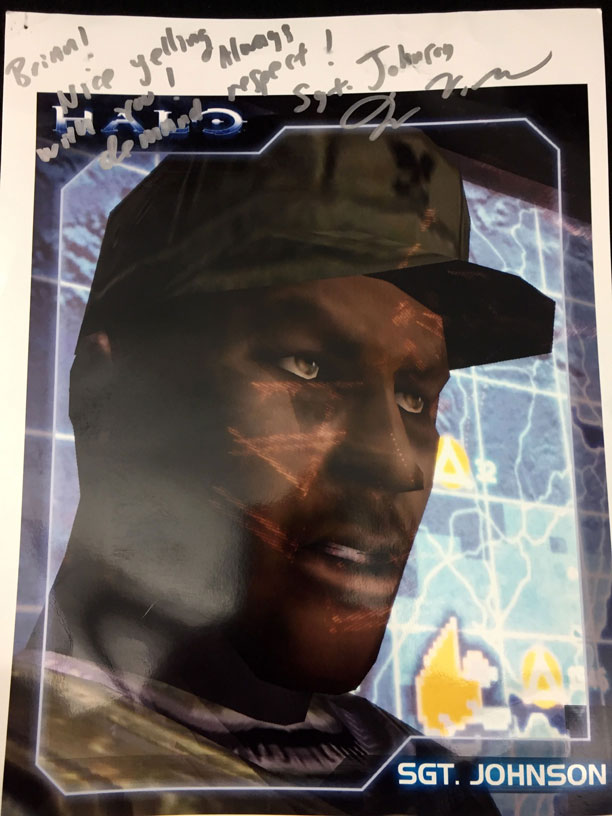 (My autographed photo of Sgt. Johnson signed by voice actor David Scully!)
@Unikraken asks "Once you settle in, what's day-to-day work going to look like for you?"
I'm still figuring this one out but at a minimum it's safe to say that a large chunk of my day-to-day is going to consist of meetings upon meetings all across the studio. I'm ok with that because it's a critical opportunity to stay in touch with all different aspects of the studio from the content production crew to the esports programs to the online experience designers to the multiplayer designers to consumer products and of course, most exciting of all, sneak peeks into exciting work on secret future stuff.
That said, I'll have to work to make time to actually 'work' in terms of staying current and active on the Waypoint forums, keeping tabs on community sites like /r Halo, outreach across our social channels, actually playing Halo 5 and Halo Wars 2, participating in studio play tests, writing content for the weekly update and other blogs, recording podcasts, producing live streams, traveling to events, developing and strategizing longer term community plans, supporting the other guys on the 343 community team and trying really hard to live up to the prolific Twitter standard set by Bravo. Oh and hopefully remembering to find time to eat lunch.
ArtooFeva asks "Do you plan on being the proactive and crazy fast question answerer that your predecessor was?"
I'm older and no doubt slower than Bravocado (am I doing it right?) but I will certainly strive to uphold the high standards he and the team have set. Thankfully Grim and Uny are both also super active and it's going to be hard to ever get a jump on those guys in terms of response time. Just the other day I read that people were playing Breakout after the seasonal rollover and placement matches weren't being recorded. I had to go to a meeting and when I came back I was quite proud that I'd be bringing up this critical issue to Uny who informed me "yeah we know it's been fixed and I already responded." Teamwork FTW.
K5cents asks "I'm noticing your Twitter feed is a little..er, inactive. Are you planning on continuing to use Twitter as a platform for Community interaction? Bravo was always fairly responsive on there."
I admit that I haven't had much need for Twitter over the past few years and even though I maintained an account I seldom ever used it. That's all changed now. When I was introduced last Friday I had less than 200 followers. Now I'm closing in on 1,000! I can feel my self-worth rising. But jokes aside, I absolutely am embracing Twitter as a great vehicle for two-way community engagement and will hopefully continue to get better at doing the Twitter under the tutelage of Bravo.
Spongejong asks "What's your favorite REQ weapon?"
I have a problem where I'm genuinely scared to actually redeem my REQ cards when I play. See I just know that the instant I plop down a sweet vehicle or power weapon I will instantly be killed. It's a weird conundrum to find myself in but believe it or not I've been too timid to ever wield any of the sweet exotic weapons and vehicles I've acquired. I wish I could just get a DMR cert though because then that would probably be my favorite REQ weapon.
MorphDusseldorph asks "Who would win in a fistfight, you or Bravo?"
We discussed this at great length the other day in our community pod. Is it a "street fight" or a more honorable "fist fight?" That distinction was important because I need to know if it means I can sweep the leg or kick him in his injured calf or if we're talking just stand up jabs. Brav has a lot of reach, generally seems way more fit than me and no doubt has me destroyed in the category of youthful stamina but you know even Buster Douglas got a win against Mike Tyson. In summary, I have no idea and I'm a lover, not a fighter.
Sp00nkyM0nk asks "What are your personal goals regarding the community?"
This is a great question that I think warrants a lot more thought and space than I can give it in this already dense Q&A. This is something I am and will be thinking a lot about in my first weeks here in this new role though. At a minimum I intend to carry forward the great work this team has already done (and continues to do) and for me Halo has always been synonymous with a passionate community and a close relationship with the developer. I really believe in transparency, honesty and consistency, even when we know it's not what fans want to hear. I believe in fostering long term relationships, supporting awesome community efforts and acting as a critical conduit between the fan community and the development teams. I want to help do everything in my power to foster the existing community, empower fans to participate and have fun and hopefully draw even more people into this giant family we're all a part of.
MetalHedSpartan asks "What do you like the most about Halo?"
For me it's always come down to gameplay even though I've loved the characters, personality, worlds, lore and music. It's the classic sandbox gameplay and interplay between Halo's weapons, grenades and melee combat. I love that Halo feels more deliberate and skillful in terms of 'time to kill' and the fact that simply seeing someone first doesn't automatically mean you win or lose. And of course I love how every facet of Halo is built with social connectivity in mind and all the great people I've met and played with over the years.
FIRESTORMFILMS asks "How can we make fun of your name the same way that we made fun of Barvo?"
Well I think the way it works is you take my tag, "ske7ch", and then come up with witty alternate spellings and puns. I trust everyone will quickly come up with some new ones (and remember you don't have to stop making fun of Barvo just because he's shifting roles).
YO ERK asks "With so much that has changed since being a community manager, how do you plan to keep this beast community going forward?"
Great question. I'm still getting acclimated and figuring that out but I'm grateful to be a part of a tremendous team that's been doing great work building and fostering this beast community for years. And it helps to have an entire studio whose culture is infused with a focus on their fans and creating game experiences we can all rally around.
HOTROD192 ask "Are you a cat person, or a dog person? And yes, there is a right answer!"
The right answer, is of course, dogs. I currently have a 3-year-old Golden Doodle and prior to that we had two black pugs (rest in peace).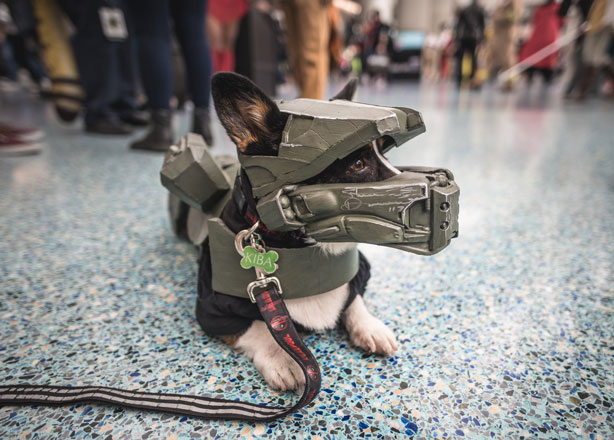 PROBABLY DRUGS asks "I'm just curious if 343 understands how unreliable and annoying the theater system is and if it plans on fixing that issue. I know our community montage creators would love that."
The team is aware of the feedback from parts of the community with regards to the theater system. I'm not aware of any current plans to release theater updates to Halo 5 but I know it's on people's minds as they think about the future.
WRAITH0912 asks "If you could add ONE new game mode idea to Halo 5 that ISN'T an old mode not present at launch (c'mon let's get some innovation up in here), what would it be?"
Wow well I suppose there's a reason I was and am a community person and not a designer because I'm not a great source of game mode innovation. But I'll play along – how about a Sims-style simulator where you play the role of a Grunt and go through day-to-day activities with the end goal of eventually becoming an overpowered ass-kicking Grunt Goblin wreaking havoc on the battlefield.
SPROCKET42 asks "will there ever be a solo Firefight mode in Halo 5 (like in Halo Reach), if not, will there be one in Halo 6?"
There are currently no plans to add a new "Reach-style" Firefight mode to Halo 5. As for the future, who knows, I haven't been here long enough to rank up my security clearance to know all the cool things the team is working on…. Yet.
CORRUPTKNIGHT7 asks "Will we see the return of forum based activities like "Caption This", "Community Member of the Week" and "Halo IRL"?
Sounds like a great idea to me! What other types of Waypoint community content would you like to see? I'm all ears (well clearly I have hands or I wouldn't be typing this but you get the idea).
BUTTSTEAMERS asks "How long have you been playing Halo?"
I've been playing Halo for over 15 years! If you do the math that means I've been playing Halo since before it even released on November 15th, 2001. When I first moved to Washington in pursuit of a job with Microsoft and Xbox a buddy of mine was working in Xbox Marketing and had a gigantic original Xbox development kit that he'd bring home and we'd play co-op on early builds of Halo. I had been aware of and following the game itself since its earliest reveals as a PC title but once I finally got to play I was instantly hooked.
DAXSEVEN09 asks "My question for you is will you try and organize 343i game nights with the community? They were a regular thing back during Reach, and I would love to see them return on a regular basis."
Heck yeah! We've already talked about this and it's going to happen. I'm personally excited to check out the upcoming Xbox platform update that introduces "Clubs" and "LFG" as new features that will hopefully make it easier to meet up and play with gamers across the Halo community. But we will definitely be having some new version of the old "Humpday Challenge" / "Game Nights" with scheduled games between 343 and groups across the Halo community.
SECRETJOHNDOE asks "What do you expect to happen as an active moderator of this site? Are you expecting to enforce certain rules here?"
I think Waypoint is a great site and continue to be impressed by how feature-rich it is and how active the forums are. I plan to be active in the forums and hope to see some others around the team also jump in more regularly. I'm grateful we have a team of volunteer moderators who do an admirable job keeping up with a ton of activity to help us maintain peace and order. In terms of rules, I think the most important principal for all of us is to make sure the forums are a positive place for fans to interact with each other and with the 343 team. On the internet that often requires a lot of rules and inevitably a lot of banhammer swings but we're committed to making people feel welcome and safe and facilitating civil discourse between fans. Uny is actually putting the finishing touches on some updated forum rules that will help us all clearly understand what is and isn't allowed, all with the goal of ensuring the Waypoint experience is positive.
Whew, thanks to everyone for submitting questions and don't fret, this isn't a one off thing – you can hit me up on Twitter and Waypoint forums any time and I'll do my best to either answer your question on the spot or flag it for a future Q&A update.
Over to you, Grim!