Annnnd the man in the back said 'the update is back,' and it turned into a ballroom blitz! Happy 2017 everyone! Welcome to our first Community Weekly Update of the new year! As you can probably tell, we've got blitz on the brain. Halo Wars 2 Blitz, that is. Read on for the latest on the upcoming beta, a bit of news on Halo 5 matchmaking, the latest info on Halo World Championship, a look at more amazing Forge creations, meet a 343 team member, and more.
Things have really started to heat up here around the studio as we returned from our winter break to find ourselves less than two months away from the launch of Halo Wars 2. This will be the the sixth Halo game I've shipped but the first one since I was with Bungie and we got Halo: Reach out the door. Thankfully I've found it's a lot like riding a bike - It was a little wobbly at first but in no time at all I'm cruising no-hands with obnoxious day-glow cycling gear, sipping from my camelback and crushing Washington's hilly terrain.
It's a real rush and something I've missed far more than I even realized. It's equal parts frantic, stressful, tough, exciting and ultimatley rewarding and I love every minute of it. It's pretty awesome seeing so many pieces come together so fast and the team working hard to put the final touches on a game that will very soon be in the hands of players around the world. Since we're all Halo Wars 2, all the time right now, we'll kick things off there....
Halo Wars 2

In case you missed it yesterday, we officially announced that the Halo Wars 2 Blitz Beta will begin next Friday, Jan. 20! The Beta will be available to everyone on both Windows 10 PC and Xbox One and features 1v1, 2v2 and 3v3 Blitz PvP multiplayer on the map Proving Grounds. Check out the official trailer and read more about the beta in this blog post from Dan Ayoub. For now though the most important thing to know is that it's available to download beginning Jan. 20 and we could really use your help to play Blitz and share your feedback with the team. If you have the first Halo Wars 2 beta on your console it should auto-update and be ready to go on Jan. 20. If not, no worries, you'll be able to download it from the store on either your Xbox One console or your Windows 10 PC.
In the days ahead we'll have a lot more info coming as we work to get you up to speed and ready to hit the ground running to get an early edge on your Blitz opponents. In the meantime, if you like that red hot Atriox artwork, here's a wallpaper to spruce up your desktop.
retailer pre-orders
As we get closer to launch, many of you are starting to see all sorts of pre-order offers popping up at your favorite retailers. If you haven't pre-ordered the game yet and are debating where you might make that purchase, check around because different retailers have different bonuses ranging from an Atriox statue to collector's pins to some in-game Blitz decks for digital purchases. And yes, I know that as a Halo Wars fan this kind of thing can be frustrating because hey, all of these cool bonuses are awesome and naturally we want ALL OF THEM. For better or worse, this is the nature of the games retail business as marketing teams around the world partner with retailers who obviously look to differentiate themselves and offer something unique to their customers. Grim himself is quite depressed that he may never get his hands on the awesome steelbook SKU we've seen being sold in Australia. [*shakes fist in broken-hearted frustration* - Grim]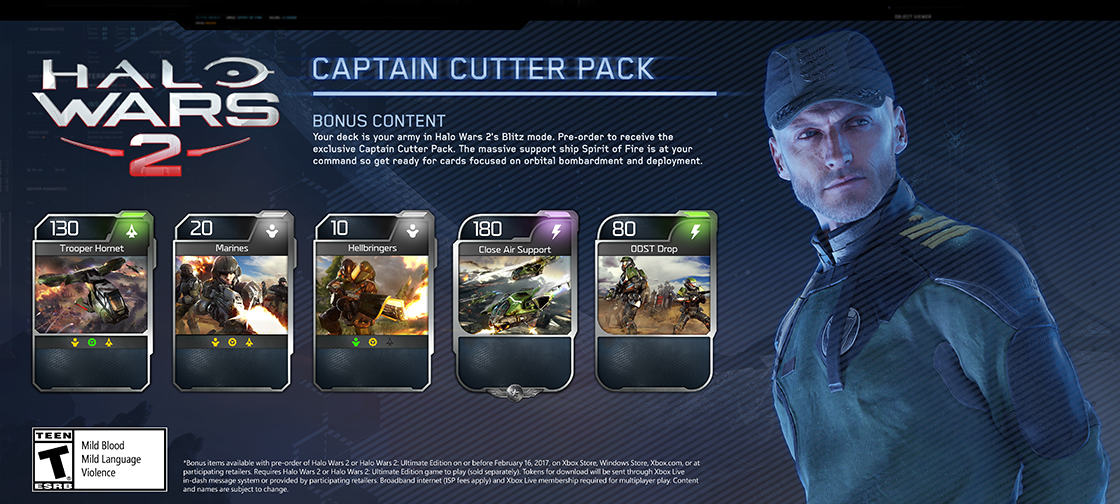 Many retailers are offering special digital pre-order incentives too, like Blitz card packs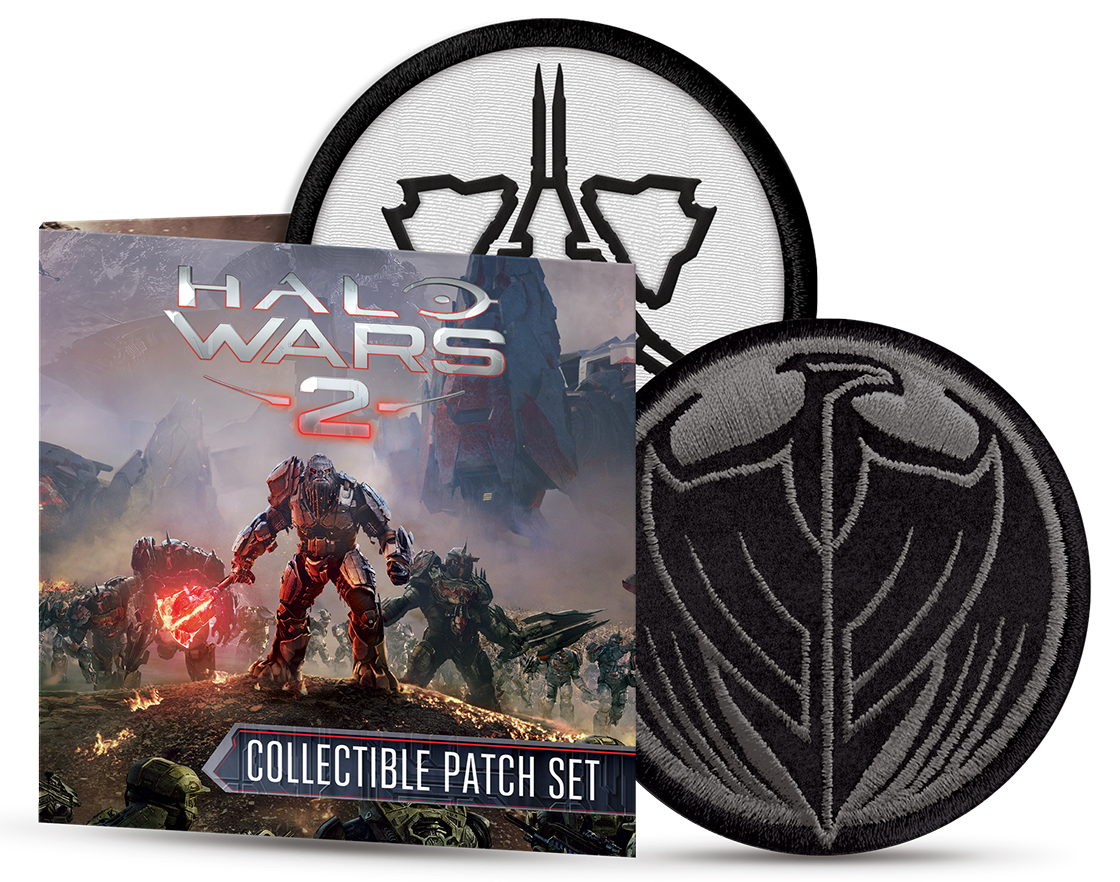 Collectible patches are one of several different retailer bonuses you can nab with your Halo Wars 2 pre-order
Keep in mind too that if you pre-order the digital version of the Halo Wars 2: Ultimate Edition you can still get a code for early access download of Halo Wars: Definitive Edition which is playable on Xbox One and/or Windows 10 PC. And yes, sorry to say, those Halo Wars: DE codes are still being sent out 7 to 10 days after your purchase so please set your expectations accordingly.
Halo Legendary Crate
Speaking of sweet Halo Wars 2 goodies, in case you missed it last week, some details were revealed for the next version of the Halo Legendary Crate which will be Halo Wars 2 themed! Check out this awesome poster: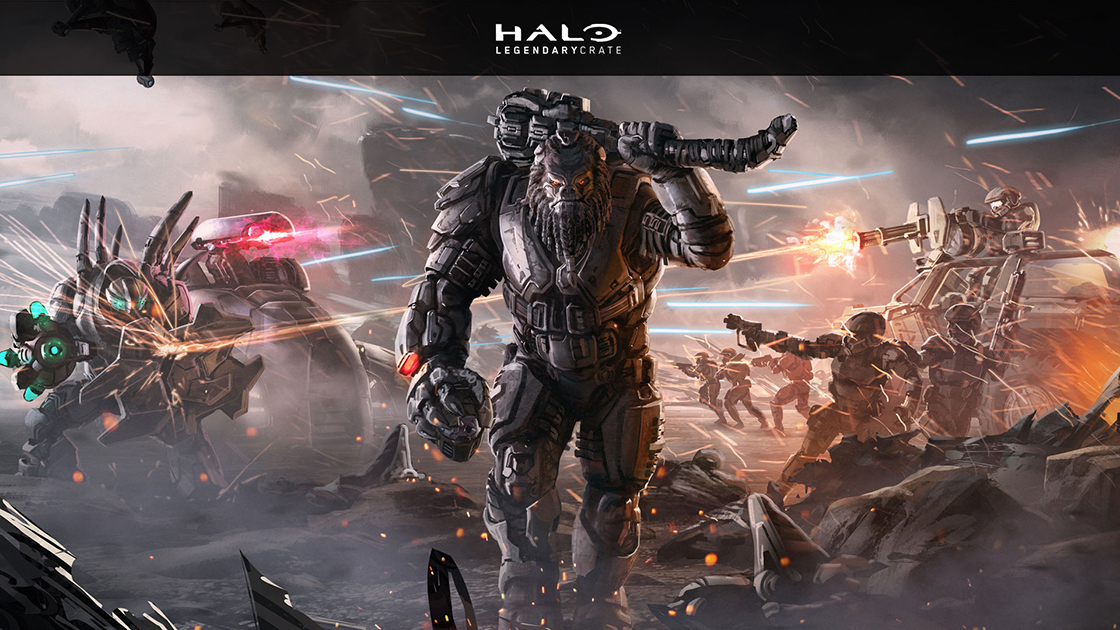 And here's what the next statue looks like: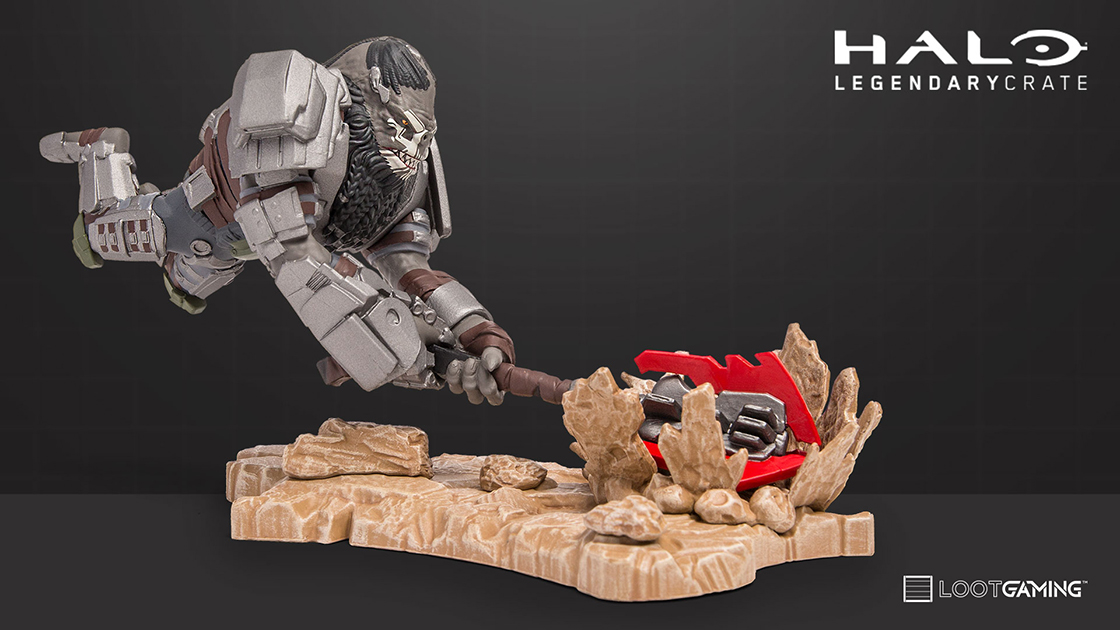 Heads up that you'll need to order by Feb. 15 at 9 p.m. PST to make sure you get in on this next, Halo Wars 2 themed, Legendary Crate.
THQ Nordic Publishing Partnership
You may have noticed a tiny bit of news around the interwebs on Wednesday as THQ Nordic issued a press release regarding a publishing partnership with 343 Industries and Microsoft for the physical release of Halo Wars 2 on Windows 10 PC. This isn't exactly newsworthy in its own right but this partnership does mean that fans who prefer a physical disc for the Windows 10 version of Halo Wars 2 will now be able to get it. Even cooler, this physical PC disc will also grant digital access to the Xbox One version via "Xbox Play Anywhere." Physical discs of the Standard and Ultimate Edition of Halo Wars 2 will be avaialable at retail stores with "high quality packaging" and the Ultimate Edition includes four-day early accss to the core game, a season pass and Halo Wars: Definitive Edition - just like the Xbox One version. One important point to note is that the physical version of Halo Wars 2 for WIndows 10 still requires a one-time, non-transferrable online activation at installation via a digital token.
Halo World Championship

We're just over a week away from the first official HWC 2017 event with the NA HaloWC 2017 Qualifier in St. Louis on Jan. 20-22. We'll have a detailed pre-event blog coming to Waypoint in the very near future but you can also head over to the official UGC page for more info. The event will be streamed via Twitch.tv/Halo starting at 10:30 a.m. CST, Friday through Sunday, and there will be some Halo 5 REQ codes given out throughout the weekend, so mark your calendars and be sure to tune in!
As a cool special bonus, Halo Wars 2 Blitz Mode will be avaialble and playable at the St. Louis event so be sure to check that out if you're in attendance. Also don't forget that anyone who attends an official HWC event will get the exclusive legendary emblem for their Spartan in Halo 5: Guardians.
This Saturday, Jan. 14, is the seeding cup for the St. Louis event. The seeding matches won't be officially streamed on our Twitch channel but we imagine many of the players will be streaming on their own so be sure to check their Twitter feeds and Twitch pages.
In case you missed it, last Friday Tashi posted a few updates including some great news about updated age limits for HaloWC 2017. With these changes we're definitely looking forward to seeing some new, young blood come out to compete this year!
Halo 5 Matchmaking
This past Tuesday, Jan. 10, ushered in the official start to the Jan-Feb 2017 Season in matchmaking. To coincide with this, Team Arena officially ended its "Preview" phase and now reflects the final map layouts and settings that will be featured in all HaloWC 2017 match play (check out this blog post for details on the final few tweaks that were made to this playlist). All of the official map variants are available in the "Official HCS" Gamertag's File Share if you want to grab them to practice custom scrims with your teammates. The team is working on getting these updated maps propagated across the rest of Halo 5's matchmaking playlists so hang tight, it's coming soon.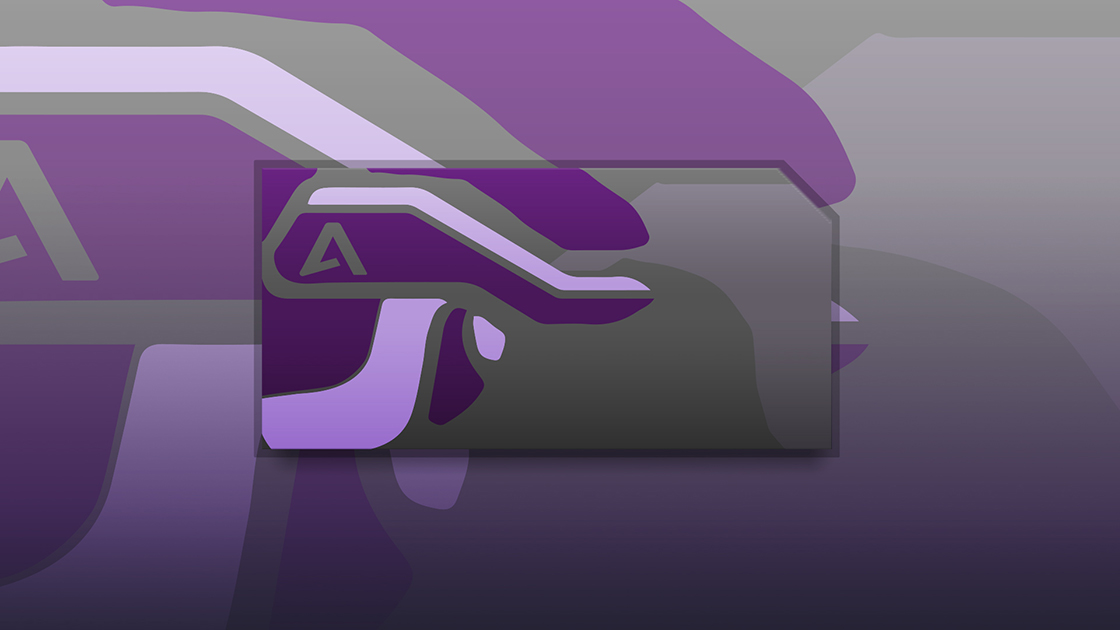 Behold the Jan-Feb 2017 season emblem - looks like an Elite head to me!
XP & RP Boosts
Beginning tomorrow, the team is making some changes to increase the amount of RP and XP earned in specific playlists as well as increasing the effectiveness and awards for all Arena boost REQ cards.
Last week the RP payouts for the weekend Mythic WZ Firefight playlist were increased but after further evaluation and feedback the team is going to turn the dial even further, resulting in an even higher payout in exchange for the tough challenge players will face. Additionally, Legendary Warzone Firefight RP payouts are also being bumped up slightly. The Warzone team will continue to monitor data and player feedback going forward. Stop by our forums and let us know what you think!
The amount of XP players will earn in the Infection playlist is also getting boosted starting tomorrow as part of some testing and evaluation on overall XP gains across multiplayer as a whole. Consider this a real-world test case scenario and let us know what your experiences are like as you earn bonus XP playing Infection. As with Warzone, the team will be monitoring this closely to see what impact this has and what player feedback is to help set some parameters for potential future adjustments.
Lastly, the amount of RP and XP being awarded from all boost REQ cards is being cranked up across the board for Arena. So your Arena Jackpot, RP & XP boosts, Win, Assists, Kills and Medals cards will all be awarding higher payouts. In most cases the reward has been doubled while some are slightly less or even slightly more than double.
All in all these are awesome, welcome changes that we hope players will enjoy as the team continues to monitor and optimize your Halo 5 multiplayer experience.
Warzone Fireteams
As you know, late last year the Warzone team instituted some changes to limit the Fireteam size for Warzone to six players to test out the impact on the experience for different player segments. In the weeks since we've heard a tremendous amount of feedback and we know this has been a divisive change across the community. Players who tend to play solo or in smaller groups have been very positive about these adjustments and our data shows that the instances of "blow out" wins/losses have decreased. On the other hand, Companies that have large rosters and have become accustomed to playing with 12-man pre-made Fireteams naturally are pretty unhappy with this change. The team has heard the feedback loud and clear and while they always have to optimize around the overall majority of players (which truthfully is individual or smaller Fireteams) we know that 12-man Fireteams are a still an active, core part of the WZ community and are looking for ways to accommodate them.
As this 6-man Fireteam limit test continues the team is working on testing out another idea for a special 12-man specific WZ playlist to accommodate larger groups that were negatively impacted by the reduction. We had every intention of releasing this test playlist prior to the winter break but unfortuantely a few bugs surfaced that forced the team to delay release. That work is still ongoing and right now it sounds like we're potentially still a few weeks away from it getting released. Once released we anticipate that this test playlist will likely experience longer match times due to the 12-person requirement but we're still eager to explore this idea and see how it meets the needs of players. We know this is a hot topic for a chunk of our community so please know that the team is working on it and we thank you for your patience and understanding.
Warzone Mythic Weekend
The Warzone Mythic Firefight playlist for Jan. 13-15 will take place on Raid on Apex 7. Round up your Spartan squad and dive in... if you dare. And don't forget, your efforts will be rewarded with even more RP!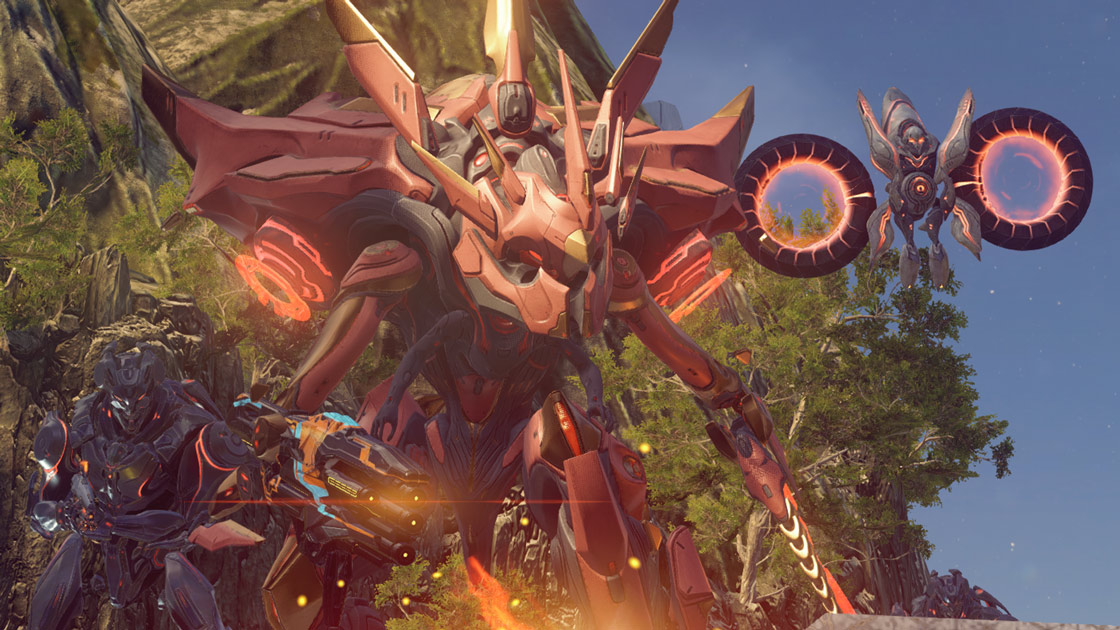 On the subject of Warzone Firefight - are you sitting down? Go ahead, I'll wait. Ok, get this - I just today found out that there's apparently an Easter Egg in Warzone Firefight that, as far as the team knows, has yet to be found. They'll give me more details later but for now that's all we've got to go on. I can tell you though that this has nothing to do with anything mentioned above (i.e. this isn't a cheeky "it's right in front of your face!" type of thing). And difficulty doesn't matter. Happy hunting!
Project "Haggar"
Earlier in the week there was a little dust up across the Halo Community as news broke about a canceled Halo title internally referred to as "Project Haggar." This project, dating back several years ago for Xbox 360, was something 343 and Mega Bloks explored together that ultimately didn't come to fruition. As someone who personally never knew this existed, I (like many of you) had a very positive reaction to the screens and videos that surfaced. I would love to play something like this with my younger son who isn't quite old enough to don Spartan armor in the mainline Halo series.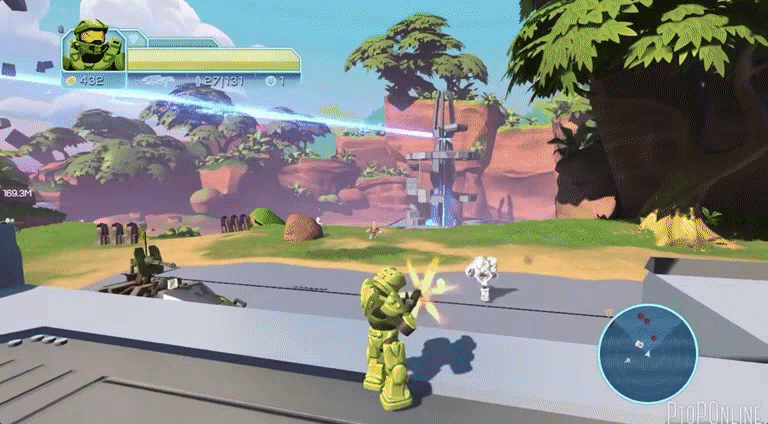 343 Founder & Studio Head Bonnie Ross took to our Halo Waypoint forums with the following statement in response to the outpouring of fan enthusiasm and inquiry:
Over the past few days, footage has recently made the rounds of an exploratory Xbox 360 project we worked on several years ago, known as "Haggar." Since then, we've received a lot of great feedback from the community. Haggar was something we prototyped with our friends at Mega Bloks that focused on the elements of action, exploration and user creativity found within the Halo universe. Haggar had a lot of fun ideas and invention behind it, but ultimately didn't progress beyond the early prototyping levels that are shown in the recent video. This is just one example of several similar projects we have evaluated throughout the years – a process that we continue exploring on an ongoing basis.
Who knows, with so much positive support and feedback coming to light, we may yet see Halo experiences along these lines at some point in the future.
343 Team Spotlight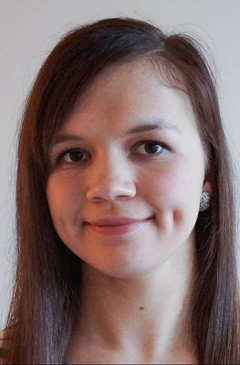 One new area I'd like to start adding to our weekly update is a spotlight on various members of the 343 Industries team. I myself am still getting to know people across the building and I think our fans should also get to know some of the people that help bring Halo to life. To kick things off I'm pointing the spotlight at 343's Olga Zinoveva who was just recently named to Forbes' prestigious "30 under 30" list for her work on Halo as well as her involvement with Microsoft Studios' "Gaming for Everyone" initiative to support diversity and make our first party games more inclusive!
We're super excited for Olga on this well deserverd recognition and she now joins 343's own Andy "Bravo" Dudynsky (a 2016 "30 under 30" designee) in this presitigous club. Forbes claims that the chances of getting chosen as a "30 under 30" person is "under 4%" and "even harder to get into than Harvard." Well what if I told you that Olga not only got selected but she ALSO got her degree from Harvard!? Read on for more, direct from Olga herself.
Hi Olga! To get things started, can you tell us a little bit about yourself – What's your role at 343? What does that job entail?
Olga Zinoveva: I am the producer on the Halo character team. My team is responsible for all the characters and enemy AI in the game, from grunts and soldiers to cinematic characters like Dr. Halsey. As a producer, the hardest task I feel like I have is truthfully and concisely describing what I actually do. Producers are, in a nutshell, product and process optimizers. Each of us works with a team of people who come up with great ideas that should go in the game, but unfortunately we usually only get a few years to make this game, and there are way too many ideas and way too few people, so it's up to the producer to figure out what we can actually achieve and make recommendations on what to make and what to cut. Because games like Halo are enormously complex, with a huge web of dependencies between teams, I have to work closely with other producers every day to make sure that our teams are staying in sync. Increasing efficiency in the team's day-to-day work is also a top priority, since working smarter means getting more features to the player at a higher quality level. I constantly evaluate how to make meetings (a necessary evil) more efficient, iteration on features more productive, and the team happier and more connected to one another. But beyond these official parts of my job, 75% of my day-to-day is patching up random problems, putting out fires of various sizes, and just generally making sure the character team and the larger 343 team are running smoothly.
How long have you been part of the team?
OZ: I have been on the team for 3.5 years. I joined in the early days of Halo 5 production.
What were you doing prior to joining 343? How does working at 343 compare?
OZ: Before 343, I was in a college hire rotation program at Xbox for 9 months (343 was my last rotation). On my two first rotations, I worked on an internal central media team, and then with a publishing team that brought World of Tanks to Xbox 360. Both of these rotations were awesome in their own ways, and very different from one another, but working at 343 has allowed me to get far more involved in the amazing, messy process of building a game, which I absolutely love.
What's your background?
OZ: I got a bachelor's degree in computer science at Harvard.
Did you always aspire to get into game development? What drove you to Microsoft & 343?
OZ: I have to admit that this was not always the case, because I have too many witnesses who would call me a liar if I did. I have played and loved games my entire life, though I was and am primarily a PC gamer. Game development wasn't something I even considered as a career path, so my first thought when I got to college was that I'd be a doctor. Then, over the course of my first two years at school, I drifted (as one often does in college) from my biology degree to computer science. I ended up doing an internship on Windows after my junior year in college, and meeting some folks who made me realize that I could actually work in games. I connected with some people in Xbox, went through some interviews, and ended up in the college hire program after graduating. From there, through a random assortment of luck, good timing, and a little effort, I ended up in a rotation at 343 and got the opportunity to stay here.
What traits / skillsets do you think are most important to succeed in this role?
OZ: The two core skills for any producer are problem solving and communication skills. Problem solving is critical because dealing with problems is the mainstay of this job - from small things like making sure bugs are getting assigned to the right people, to larger issues like ensuring major features achieve our quality bar. Communication skills are an extremely broad category, and different communication styles can definitely succeed at this role (it's as much about listening and connecting with people as it is about presenting and speaking eloquently).
What's the most challenging aspect of your job? What do you enjoy the most?
OZ: The most challenging part of my job is dealing with uncertainty. Game development is complex, and on a game like Halo, we are constantly trying to do something new and different than what we were doing before, so it becomes hard to predict how our efforts will turn out. Even if we do our best, we have to be prepared to fail sometimes, and determine how we can do it better next time.
My favorite part of the job, as corny as this probably sounds, is seeing content that my team makes end up in the hands of players. It makes what we do feel real and worth it.
What's one facet of your role that you think would be surprising to most people?
OZ: One thing people sometimes assume when they hear I'm a producer is that I produce all the ideas, including gameplay and story, and then other people on my team go and do all the work. This is definitely not true - game development is a highly collaborative environment, so there isn't really a single person who comes up with all the ideas and then delegates them out to others. While there are people who are more involved in creative decision-making than others - for example, the creative director, or the design leads and narrative leads - there isn't really a single feature that comes out of our studio that wasn't changed in a small or large way by the ideas and feedback of a lot of people from across all disciplines.
What's your favorite aspect of Halo? Do you consider yourself a multiplayer person or a campaign person? Do you have a favorite Halo game or moment?
OZ: My favorite thing about Halo is playing it with my friends - whether it be jumping into PvP together, or dying again and again to the same flock of crawlers in Legendary campaign co-op. I play both campaign and MP, and I feel like Halo does each of them really well, so I don't want to choose just one! I do, however, want to call out the MP in Halo 5 being something really special. As I mentioned, I've been a PC gamer my entire life and didn't really start playing Xbox until late in college, so I'm not particularly good and don't play much competitively online. What was amazing to me about Halo 5's Arena is how incredibly balanced and fair it felt. It's easy to pick up, and hard to master, which is just how I like my games.
How does it feel being included in the latest Forbes "30 under 30" list?
OZ: Awesome, but also kind of weird. When they first published the list online, I had a few people I hadn't talked to in ages reach out to congratulate me, which was really great. But honestly, the best part about it was that the nomination and recognition was really coming from my coworkers. It's amazing to me that the folks I work with every day think I'm good enough to write to Forbes on my behalf.
Looking ahead, how do you see game development changing/evolving vs. where it is today? How do you see the role of producer changing/evolving?
OZ: We'll all be replaced by robots, of course.
In all seriousness, though, I think the industry is moving toward a world where game sustainment will play a bigger and bigger role. Development and production have to adjust to this new way of making and delivering content. We have to keep planning for the big releases while also making sure we can incorporate player feedback and work more sustainably because we now have to keep making the game for a longer period of time.
We are often asked by fans for advice and recommendations to help them pursue their dreams and someday get a job in the game industry. What advice do you have for folks who want to someday do what you're doing?
OZ: One thing that makes talking about this complicated is the fact that so many people take completely different roads to get to where I am today. A lot of stars had to align perfectly for me to have a path to 343 open up. Other producers I've talked to in the past have come from all kinds of backgrounds - dev, test, art, audio. Many people started in different industries and different roles and slowly found their way here. A lot of it happens via a series of random opportunities, but one thing all of these people have in common is that they are very talented and among the best in the industry at what they do. So, something you can do to get your dream job is get good at some of the core skills that it requires, and take smaller opportunities along the way to help you get more experience and hone your abilities. When the dream opportunity finally comes along, you'll be prepared to take it.
Thanks, Olga! And congrats again being named in Forbes' 2017 "30 for 30" list!
Forge Spotlight
I've tried to keep my eyes and ears open for any signs of feedback from the Forge Community Commission Grim and I posted before the holiday but I haven't really come across anything beyond Ducain23's early tests (he determined that you can't trigger speed boosts for a Wasp since it's already at top speed). I'm not sure if the idea was bad (quite likely) or that nobody cares (also likley), but if you did make a Wasp race track/mode please let me know! (@ske7ch or message me on Waypoint!).
Of course just because nobody was working on our idea doesn't mean the community wasn't busy making more awesome Forge creations!. Here are a few that caught my eye in the past few weeks since our last Waypoint update:
"Mario Kart Item Boxes in Halo 5"
This is pretty sweet! RandomlyFish created functional "Mario Kart" style item boxes using Forge. You can check out a video over at his Xbox DVR page.
If I missed your awesome creation, please let me know! We're always on the look out for amazing creations to help highlight and share across the community!

Night of the Mantis
A game mode that's been taking the Forge world by storm, Night of the Mantis, caught our attention as well. In this minigame made by Julianoz1224, the only objective is to protect your base from waves of Mantises. While taking down Mantises, you earn points to purchase new weapons, grenades, and power ups that will in turn help fight off future waves. Julianoz recommends playing with four or fewer players, but the difficulty does scale for five to nine players, and then gets even more difficult with ten or more players.
Mantis Types
The different types of Mantis you will face. Each type will reward your team with different points, as seen on the table below.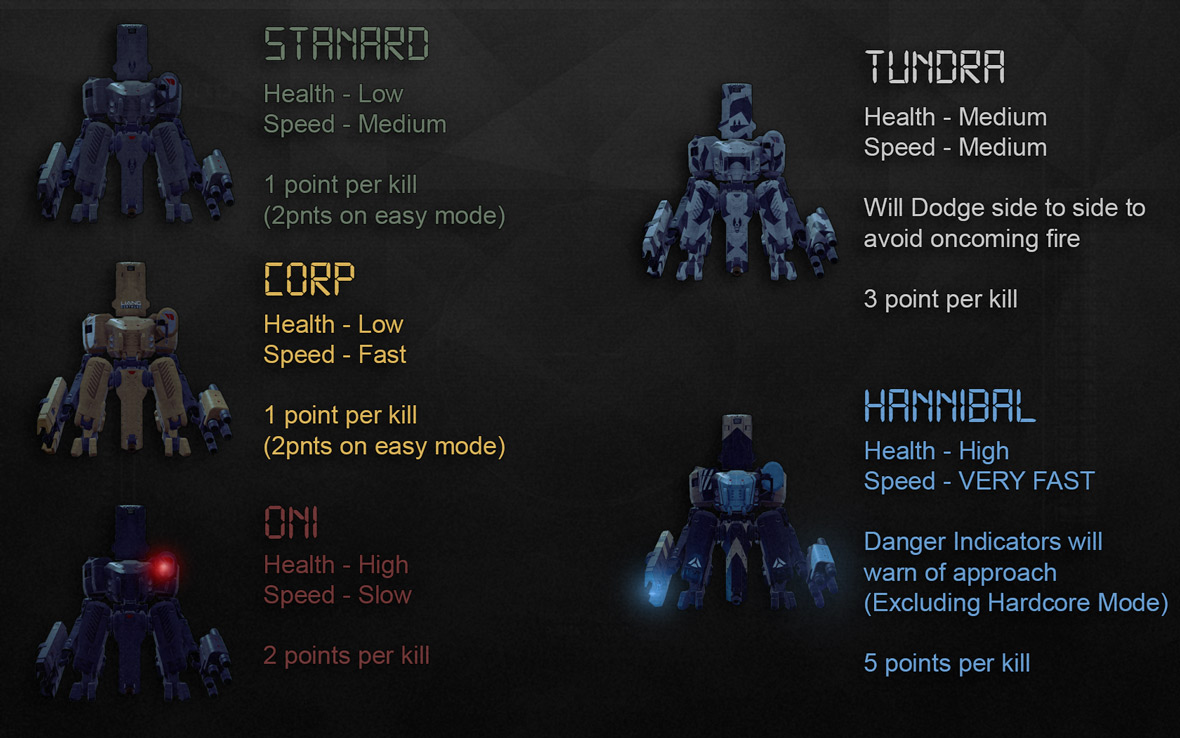 Progress Bar and Power Ups
Each wave is represented by the eight lights above the Terminal. When a wave begins, the corresponding light will turn yellow. Once it has been completed, the light will become green. The middle function is locked until all eight waves are finished. Additionally, there are two extremely useful, one-time-use, power ups that can be activated when needed.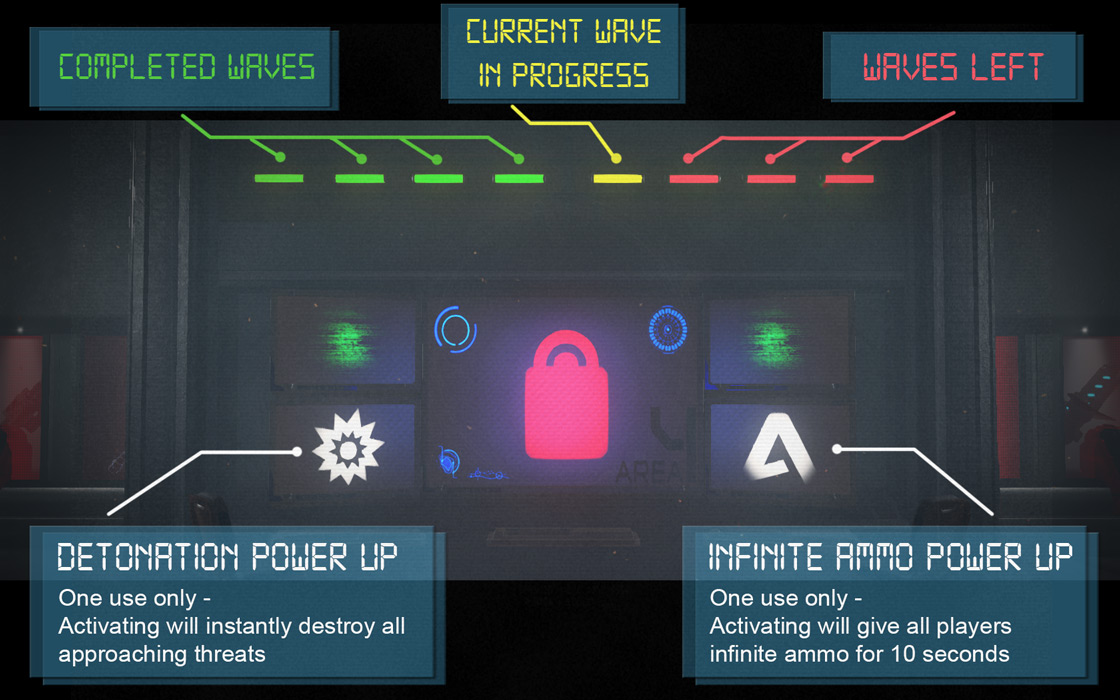 Weapon and Grenade Purchasing
See the graphic below on purchasing weapons and grenades. As a note, the cheaper the cost of the weapon, the faster it will respawn. This element will be a key factor in determining whether or not you survive.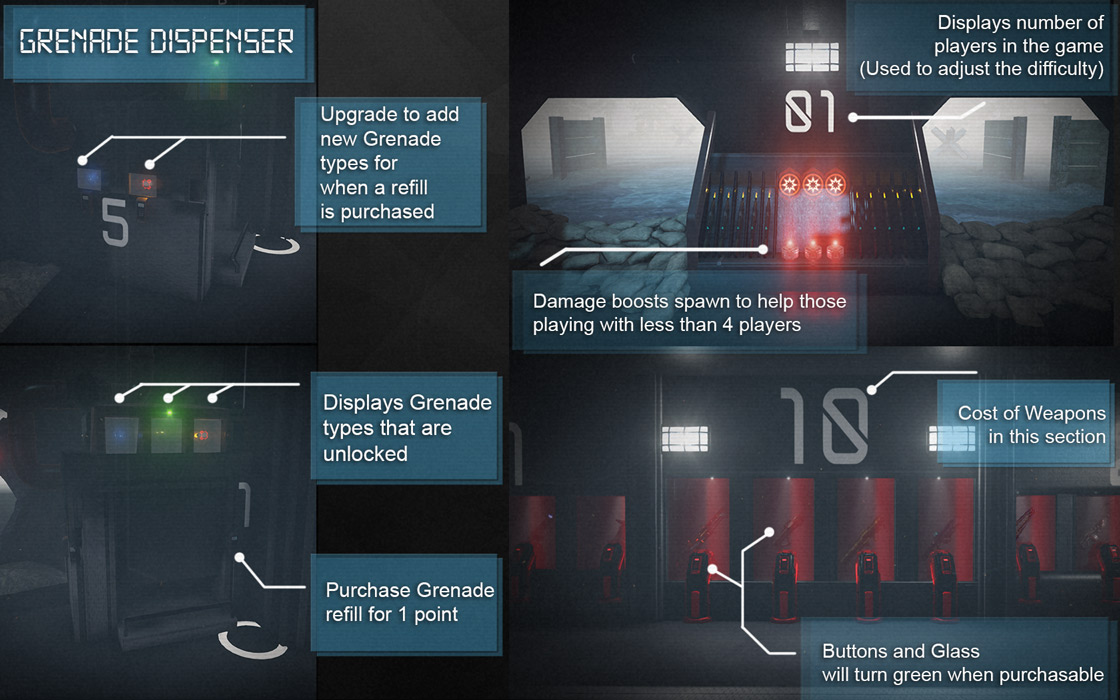 Difficulties
There are four main game mode difficulties that will change how the map plays.
Standard - The default game mode. Everything plays as normal.
Easy - Standard and Corp Mantises are worth 2 points each instead. Allowing for more weapons and higher tier purchases early on.
Hardcore - Both power ups are disabled and there are no Indicators to guide you. The Progress Bar will also be turned off so it cannot guide you. You will need to make an educated guess if a wave has ended and keep a look out for when it may start. You never know when a Hannibal might run up behind your back.
Turbo - You begin with 100 points and will not earn any more. Choose your weapons wisely as you will be fighting against a 5 minute onslaught of tough mantises right off the bat.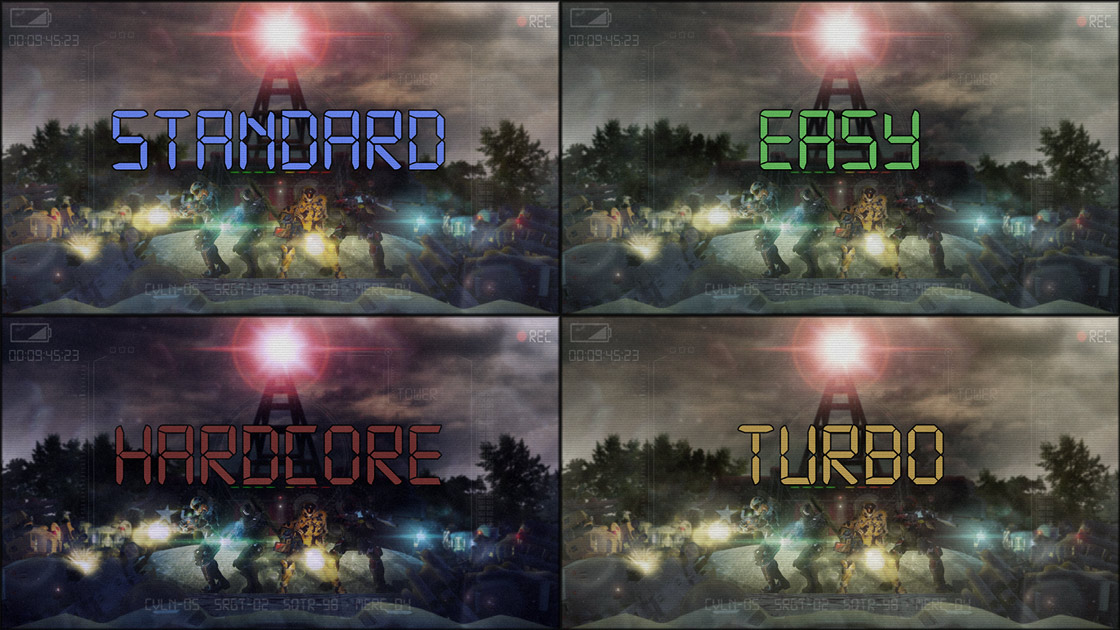 As if making the mode wasn't enough, Julianoz1224 put all of this information together so that we can give this mode the Community Spotlight feature it deserves. We'd also like to give a shoutout to those who helped him create such an awesome mode; ItsMeCrusty, HydroTurkey, UnwieldlyPillow5, ESKempken, Spartan 79813, swampyd0nk3y, PaddyLeaf873, Daynosss, and Fifi Opheliaere!
If you'd like to see Night of the Mantis in action, Forge Labs has an excellent video feature that covers the game extremely well, which you can find below.
To download the map, use this link on Halo Waypoint. To get the mode and all of its difficulty options, add Julianoz1224 on Xbox Live.
Play of the Week

This week's play goes to an entire squad of eight Spartans in Big Team Battle. The flag runner, Streaks, starts streaking out of the enemy team's base with what looks like only one teammate to help. Then, out of nowhere, a banshee comes and saves him from an attacker blocking their path. As the flag run persists, more and more enemies attack, while even more teammates run to his aide. While watching this minute-long flag delivery, it feels like an hour of close calls and near-death experiences. For the heart-pounding action, and the crazy amount of teamwork involved, it is our Play of the Week! Watch the full video here: http://xboxdvr.com/gamer/Streaks/video/25286212.
And that's a wrap! Thanks for stopping by and be sure to check back for our HWC St. Louis pre-event blog and some more info on Halo Wars 2 Blitz before the beta kicks off next Friday, Jan. 20!
Until next time,
-ske7ch