Hey all! We're back with another doling out of the latest Halo happenings. Your humble penman arrived back in Seattle (very) early Tuesday morning after a fun (and food) filled weekend in Louisiana with the team at HCS New Orleans. I could easily measure in pounds (or maybe even stones, for our friends across the pond) the amount of crawfish etouffee and seafood gumbo devoured when not behind the scenes at the tournament itself. It was absolutely glorious. Anyway, speaking of the tournament, let's kick things off there.
N'AWLINS BRAWLINS

HCS New Orleans featured top Halo esports teams from around the world battling it out for the lion's share of a $250,000 prize pool. And while the Grand Finals themselves might have ended in a seemingly predictable world championship rematch between Splyce and TOX Gaming, the path on which we arrived there was anything but predictable.
The was a number one seed getting upset and denied even a Top 4 finish. There was an epic underdog run through the Elimination Bracket. There were heated exchanges from bitter rivals. There was Berserker Esports making a historic run with a Top 8 finish – the first ever for a LATAM squad on U.S. soil. There was a Grand Finals bracket reset. New Orleans provided it all.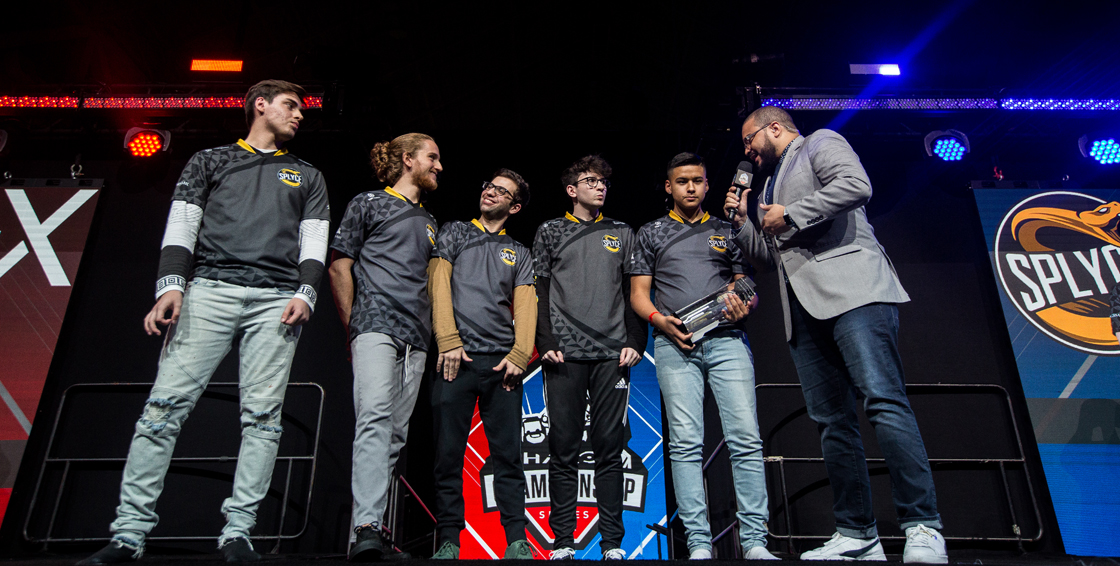 Photo by the awesome David Doran
In the end, Splyce would once more claim the crown as the team to beat, their squad of Shotzzy, Renegade, Eco, Stellur, and their coach Skeptical taking home their fourth straight major tournament title. It was another unforgettable event from our friends and partners at MLG, and was made even better by getting to hold it under the same roof as the Gears esports team, who were running an epic $250k tourney of their own.
To everyone the tuned in online – and turned up in person – to cheer on their favorite players and celebrate their favorite franchise, thanks so much. We can't wait to see you all again in London come September. For the full results and recap on the entire event, make sure you check out our official event recap blog. If nothing else, it will make me happy knowing you've read it.
TWOS IN THREE FOR TEN
One of the most exciting things to come out of HCS New Orleans was the official announcement of the HCS 2018 Finals, which will be held at DreamHack Atlanta, combining awesome Halo esports with other amazing aspects of humanity such as Chick-fil-a and SEC football. Teams from around the world will descend upon northern Georgia to battle for the Halo 5 crown and $300,000.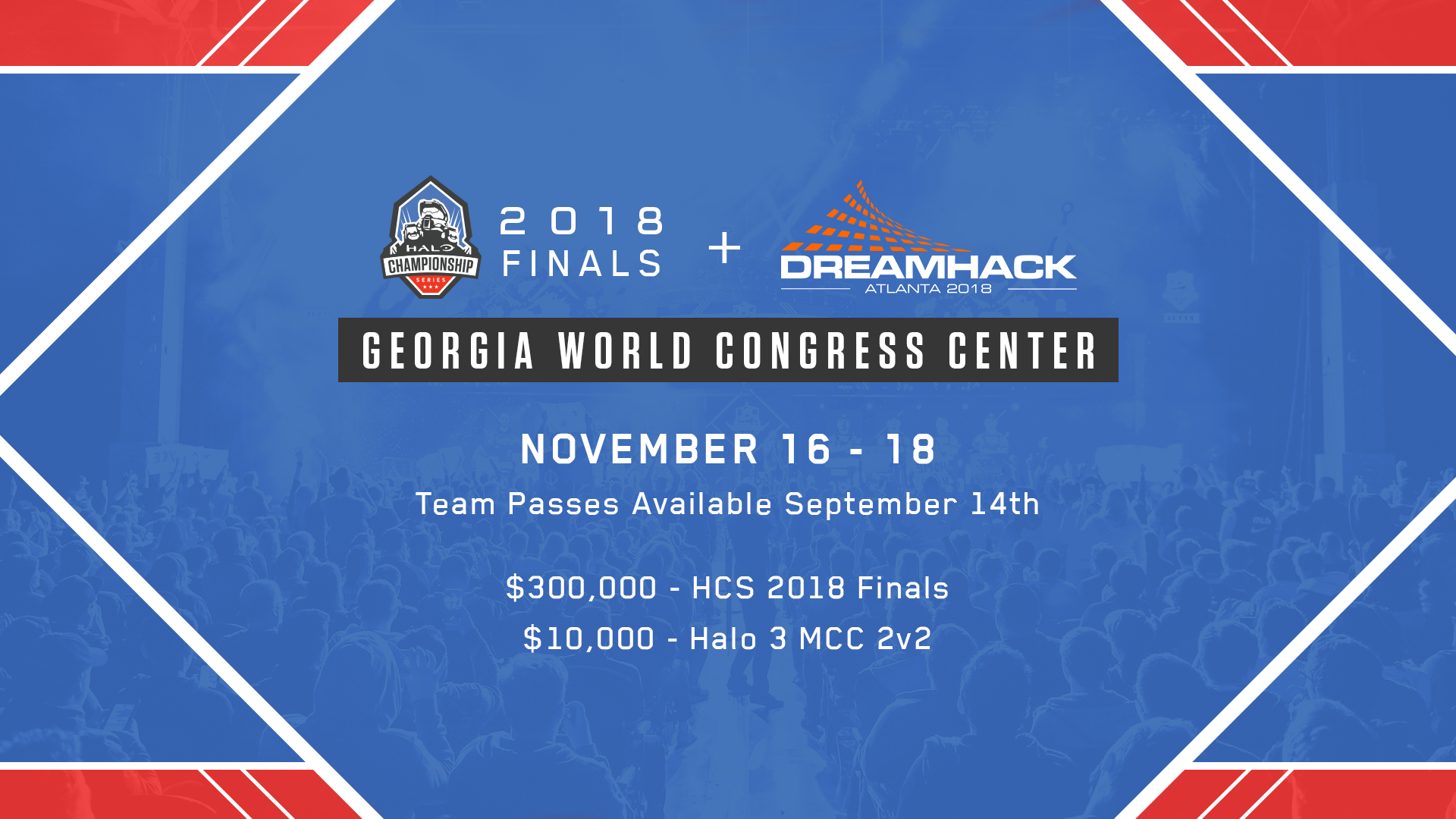 Speaking of 3, fans were in a bit of a frenzy over the addition revelation that the HCS 2018 Finals would also feature a Halo 3 Doubles tournament to be played in the updated and revitalized MCC, all with a $10,000 prize pool of its own. For more info on how you can get involved, make sure you keep an eye on halo.gg and @HCS on Twitter.
WHAT TO SEE AT SDCC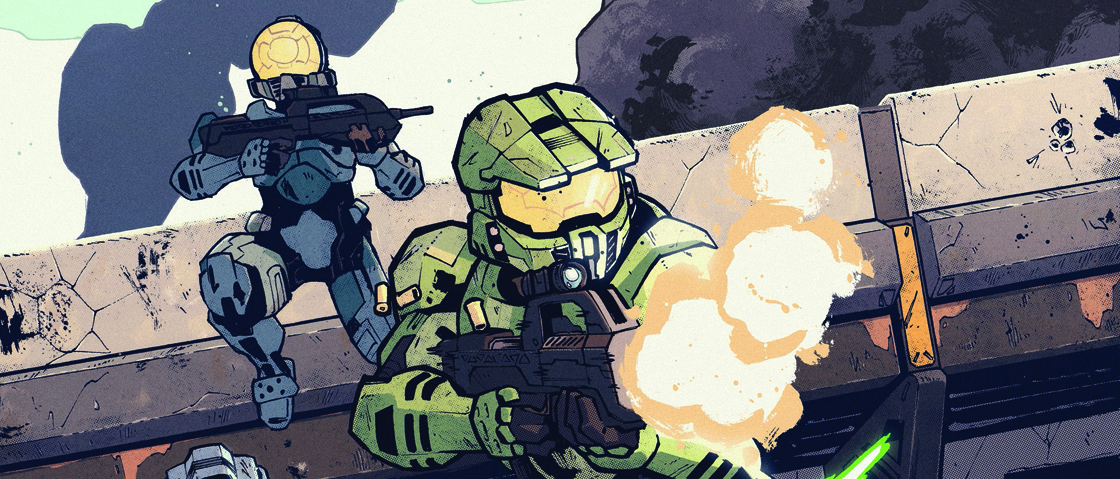 If you happen to be travelling to southern California to attend the San Diego Comic Con this weekend, there's at least a couple of Halo-related stops you should make.
DARK HORSE HALO SIGNING – Love recent Halo comics like Halo: Tales from Slipspace, Halo: Rise of Atriox, and Halo: Collateral Damage? On Friday (July 20), from 3pm-3:45pm PT, head over to the Dark Horse Comics Booth (#2615) and say hello to Alex Irvine, Jody Houser, Jonathan Wayshak, Tyler Jeffers, Frank O'Connor, and Kiki Wolfkill, get some signatures and chat Halo storytelling!
MATT FORBECK SIGNING – Mr. ForBuck- err, Forbeck will be celebrating the new release of Halo: Bad Blood with a meet 'n greet signing opportunity at the Simon & Schuster Booth (#1128), Friday (July 20) at 11am PT. Go say hello and get him to scribble his name on something!
XBOX GEAR BOOTH – The awesome Xbox Gear booth will have all sorts of awesome Xbox, well, gear, on sale and display – including a sweet new classy Needler shirt that I really need to get. Go see them in booth #100 in Hall A.
CRATED CARTER
This week we revealed the new Halo Icons figure, and this time Carter-A259 joins the fray. Make sure you secure yours soon!
PLAYLIST PERUSAL

Earlier today, Mythic Shotty Snipers went live in Halo 5 matchmaking, letting you play the role of Linda-058 and Kelly-087 by using the Nornfang sniper and Oathsworn shotgun to vanquish the sweatiest of foes.
Taking a little break from the action will be the Core Play playlist, the performance of which necessitated some time on the bench. On the flip side, next weekend will see the glorious return of Warzone Turbo! Get your REQ-fest on with supercharged energy gain and full access to your arsenal – the enemy core stands no chance.
And now, a word from our sponsors.