By 343 Industries -
*Update 8/11/20: Halo Infinite's release is shifting to 2021. Read more HERE.*
Today, I'm thrilled to share the world premiere of Halo Infinite Campaign gameplay with fans around the world. This demo is the culmination of years of work from hundreds of passionate developers across 343 Industries so I want to start by thanking each and every one of them. A lot has happened since we last spoke way back at E3 2019 – the team has forged ahead through unprecedented challenges as we've transitioned the studio and our partners to bring Halo Infinite to life remotely while working in our homes amidst this global pandemic. We've also felt the impacts of the social justice movement sweeping across the country and world, rallying together with our colleagues and communities to support equality and stand up against systemic racism. I'm also humbled and proud to share that the Halo community has helped raise over $600,000 the past month during our fundraising initiative to support the NAACP Legal Defense and Education Fund. Thank you.
Game development is never easy – it's always a challenging balance of ambition, passion, and creativity. This year has brought challenges unlike anything we've experienced before in our professional and personal lives. I'm incredibly proud of this team and what we've been able to accomplish together. Thank you.
ENTER THE BANISHED
Our campaign demo takes place several hours into the story of Halo Infinite, joining the Master Chief and the Pilot as their Pelican comes under fire from enemy anti-air encampments. While the discovery of the Master Chief floating in space initially brought hope – the situation has gone from bad to worse as they find themselves being pursued by the Banished. We're introduced to a new Brute War Chief, Escharum, who has led the Banished to victory over the UNSC's forces and taken control of a Halo ring. While Chief is no stranger to battling against Brutes, this is his first time facing the Banished and his most formidable opponent yet.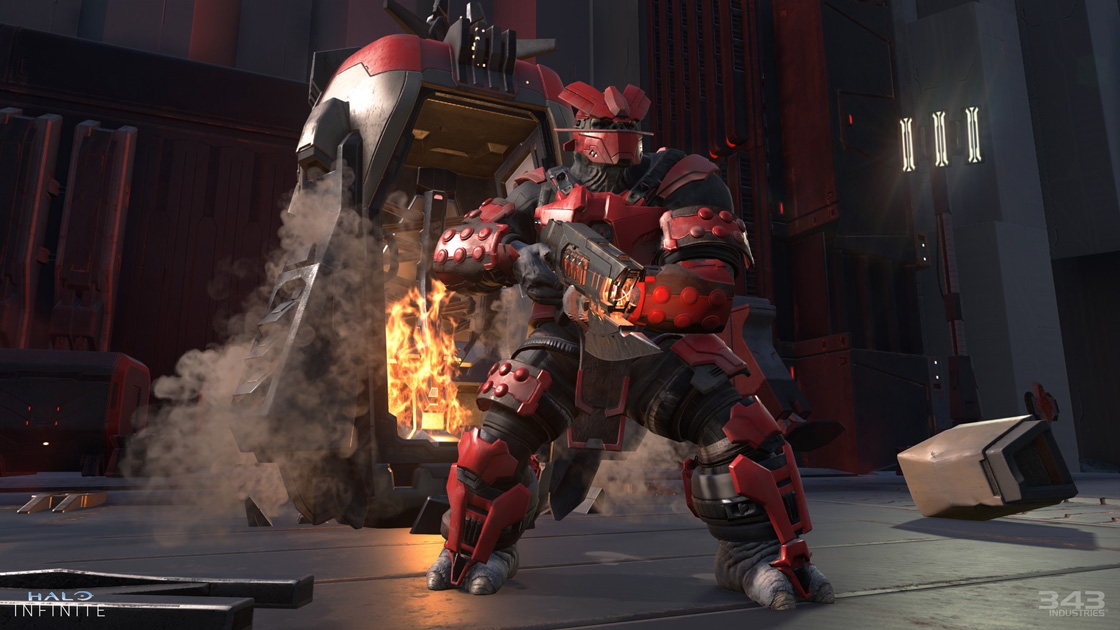 Our narrative team is crafting a story that will be entertaining and exciting for all players so don't worry if you're new to the Halo Universe or have no idea who the Banished are. From the beginning, our vision for Halo Infinite's "spiritual reboot" was to create a story and experience that's inviting to new players and welcomes them to fall in love with Halo the same way many of us did years ago without any prior knowledge required. Meanwhile, longtime fans will also pick up with the continuation of the events of Halo 5: Guardians and be rewarded with new mysteries to unravel. This carefully crafted narrative will be a great way for new players and fans alike to experience the Master Chief's story.
A Ring to Explore
When I first stepped out onto the ring in Halo: Combat Evolved all those years ago, I was transported and immersed in a mysterious, awe-inspiring alien world extending into the sky. It was a truly magical experience even if the technology of the time limited the extent to which we could traverse the world. With Halo Infinite, we're now able to give players more freedom than ever before to explore a sprawling Halo ring. This demo shows off just a small section of the open and expansive world we've crafted to deliver an epic Master Chief experience. The scale of the environment accessible to players is several times larger than that of the last two Halo games combined with opportunities to discover hidden rewards and assault Banished fortifications in brand new ways.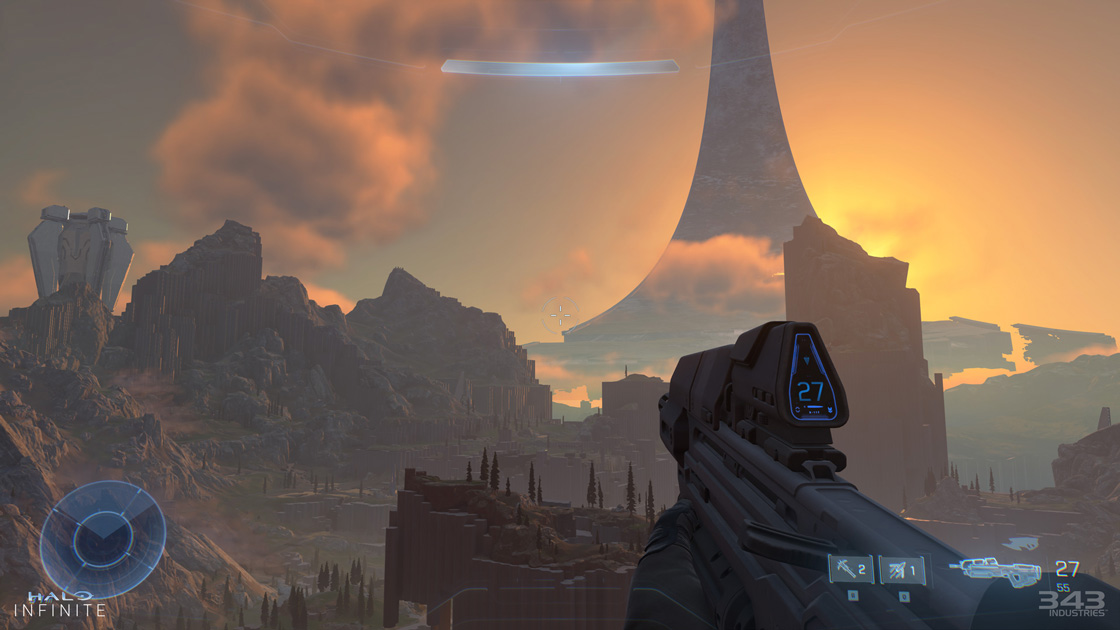 Halo has always been defined by its "sandbox" – the collection of weapons, vehicles, and characters that fuel emergent gameplay and freeform encounters throughout the campaign. In Halo Infinite, the team is building on the legacy of this iconic sandbox while evolving and infusing it with new offerings. The campaign demo showcases two pieces of new equipment that the Master Chief will be able to deploy on the battlefield – a portable shield and a grappling hook. The "Drop Wall" is a fast deploying cover that can be used to fend off enemy fire or even deflect a grenade as we saw in the demo. The "Grappleshot" opens up new traversal options while also providing new ways to engage enemies. Get up close and personal by grappling into an enemy for a satisfying melee, pull a Fusion Coil to yourself and throw it at your target, or grapple to a ledge to rain fire on enemies below. This new equipment, along with various new weapons, open up more freedom and flexibility for players to showcase their own playstyles. And yes, these new additions to the sandbox will also carry over to multiplayer, however they'll function a bit differently as equipment items that can be picked up on the map. We look forward to talking more about multiplayer details soon.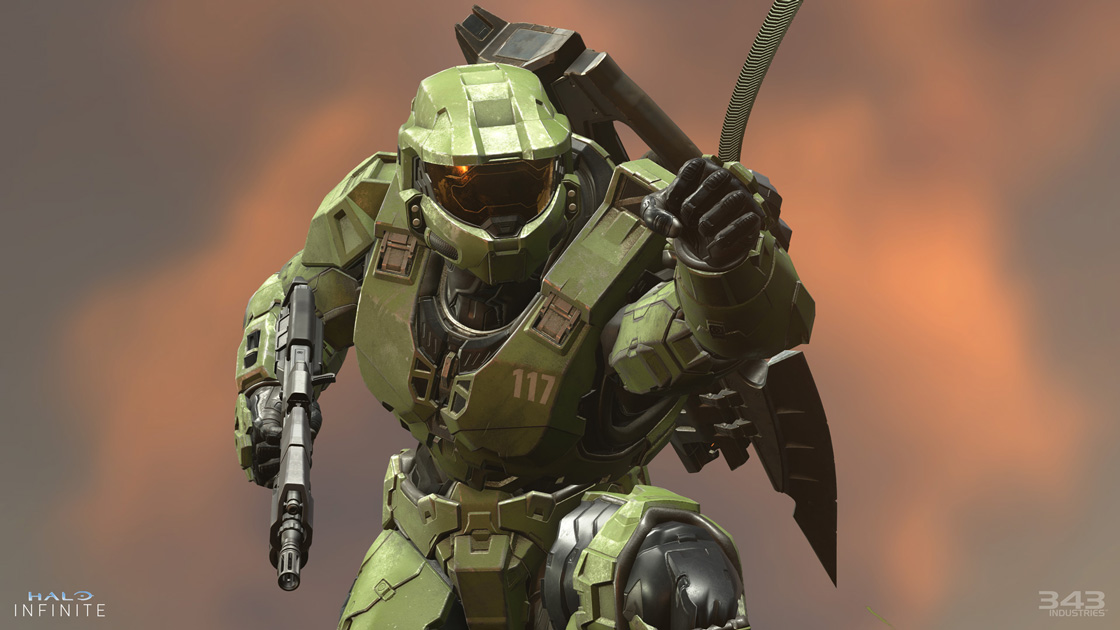 Welcome to the Family
Last year, with our "Discover Hope" trailer, we got to share some of the incredible musical score being created by our composer, Curtis Schweitzer. With today's campaign demo, we're excited to introduce our second composer – Gareth Coker. We're huge fans of Gareth, known most recently for his work on the Ori soundtracks. Gareth's work can be heard throughout the campaign including one of my personal favorites we refer to internally as "Escharum's theme." Gareth joins Curtis and our Music Supervisor Joel Yarger to bring emotion and richness to the Halo Infinite experience by building on the musical traditions of the franchise. I'd also like to formally introduce two new members of our voice acting family as well – our pilot, Nicolas Roye, and War Chief Escahrum played by Darin de Paul. We're thrilled to have Nicolas and Darin, who also voice some of our favorite characters in other games, join the legendary Steve Downes and Jen Taylor to bring Halo Infinite's characters and story to life.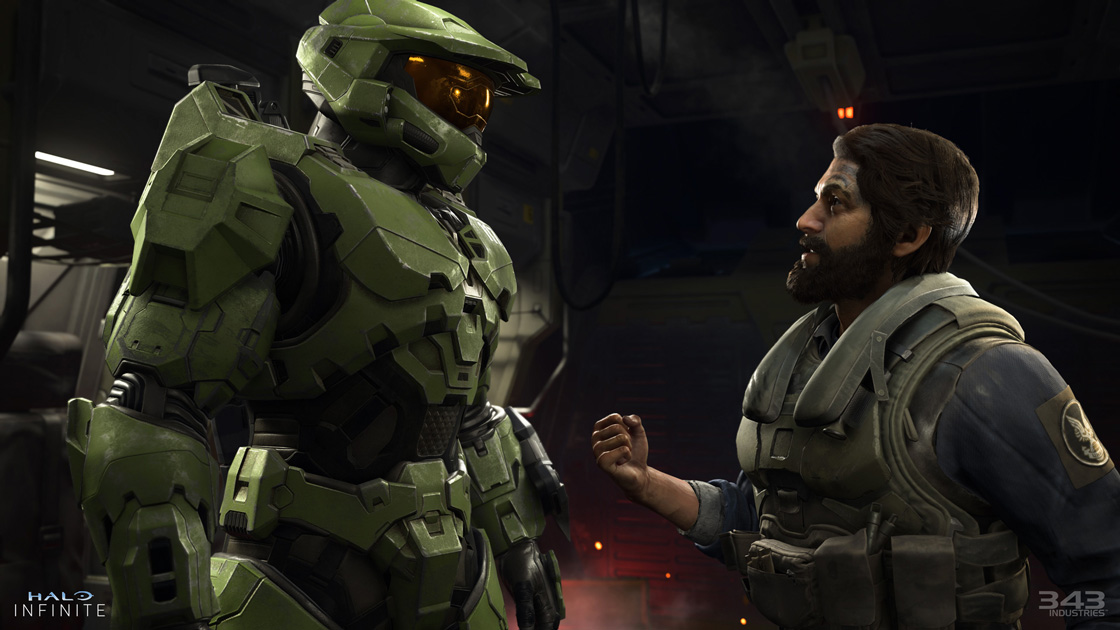 Now Entering Slipspace
Halo Infinite has been built entirely on our new Slipspace Engine, which was designed from the ground up to serve as the foundation for the future of the franchise. The technical enhancements of the Slipspace Engine are too extensive to truly get into here, but one callout is how we are now able to pack in 10 times the processing per pixel, creating the most visually rich game we've ever made to go with the most open and expansive environment to appear in a Halo game. That's just the start though, as Xbox Velocity Architecture brings near instant loading, Smart Delivery will pull the optimal version for your device, and we will be running campaign at 60FPS with up to 4K resolution. We are also designing Halo Infinite to grow and evolve over time so we can continue to deliver experiences to our players well beyond launch. This is the most technically advanced Halo game ever created, paired with the most powerful console on the planet, allowing us to create the most vivid and immersive way to experience our universe.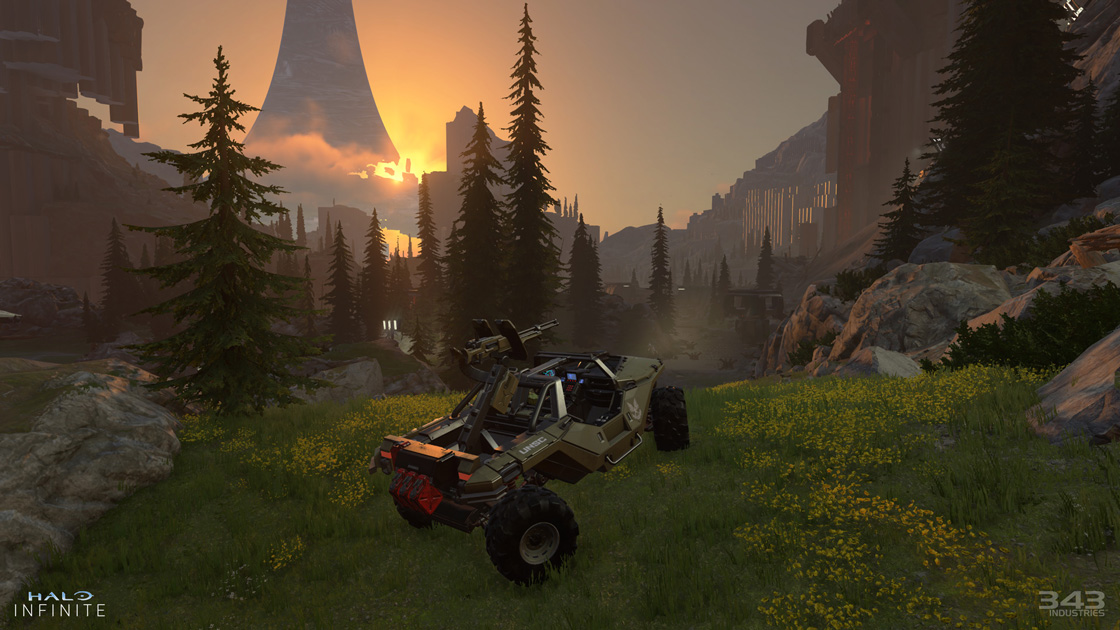 Building a PC Community
Late last year we launched Halo: The Master Chief Collection on PC and at the time, we hoped the Halo community would join us on the journey to this new platform. You have blown us away with your support, and I'm very excited that Halo Infinite will be available on Windows 10, Xbox Game Pass for PC (Beta), and Steam in addition to the Xbox Series X and Xbox One family of devices. A dedicated team at 343 is focusing on ensuring Halo Infinite offers a best-in-class experience optimized for the PC platform. We'll be sharing more specifics as we get closer to launch, so stay tuned for more info on specs, special PC features, and more.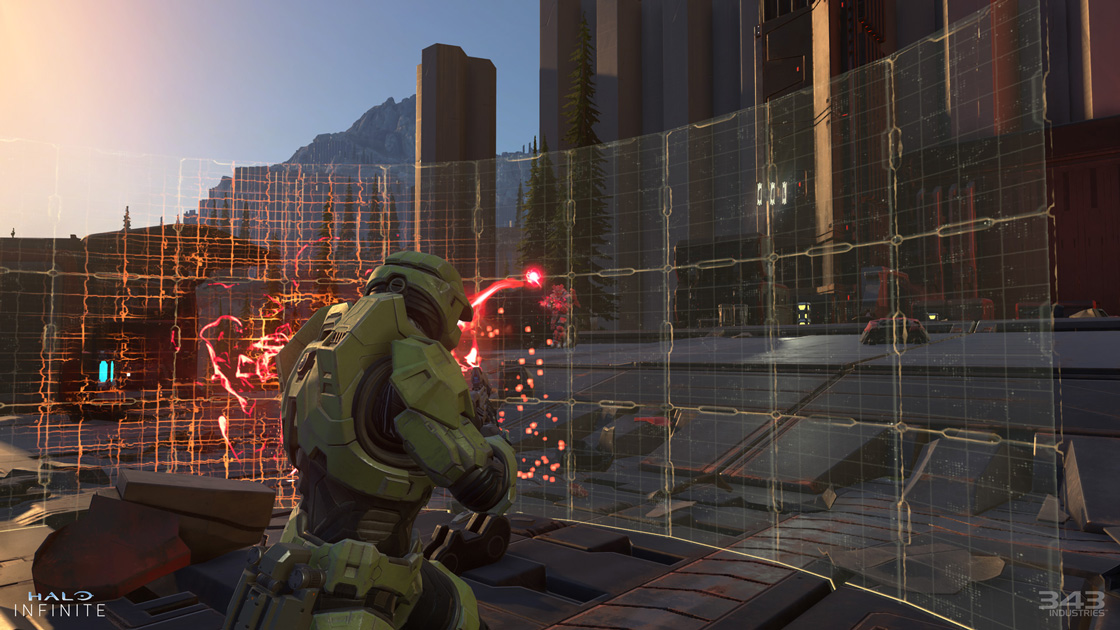 Flight Plan
When we first revealed Halo Infinite back in 2018, I spoke of our ambitions to kick off an early flighting program to bring the community along on our development journey. The Halo Insider program and public flights have been instrumental in bringing the titles in Halo: The Master Chief Collection to PC, providing critical feedback and input to help shape the best possible experience. With Halo Infinite, we are also committed to building the game in partnership with our community but given the unprecedented challenges of this year, we're not quite where we expected to be in terms of broader public flighting.
While not the full program we had envisioned, we have been working very closely with the community on nearly every facet of the project. From the earliest planning where we focused on broad feedback around art style and story to actual hands-on playtesting and focus feedback with confidential groups of community representatives over the past two years, Halo Infinite is being created in partnership with the community. The team is still working and assessing options for broader hands-on opportunities before launch and we'll share an update when we can, but this process doesn't stop with launch. In fact, in many ways, feedback and community flighting will be even more important after launch as we partner together to continually evolve and update the game into the future.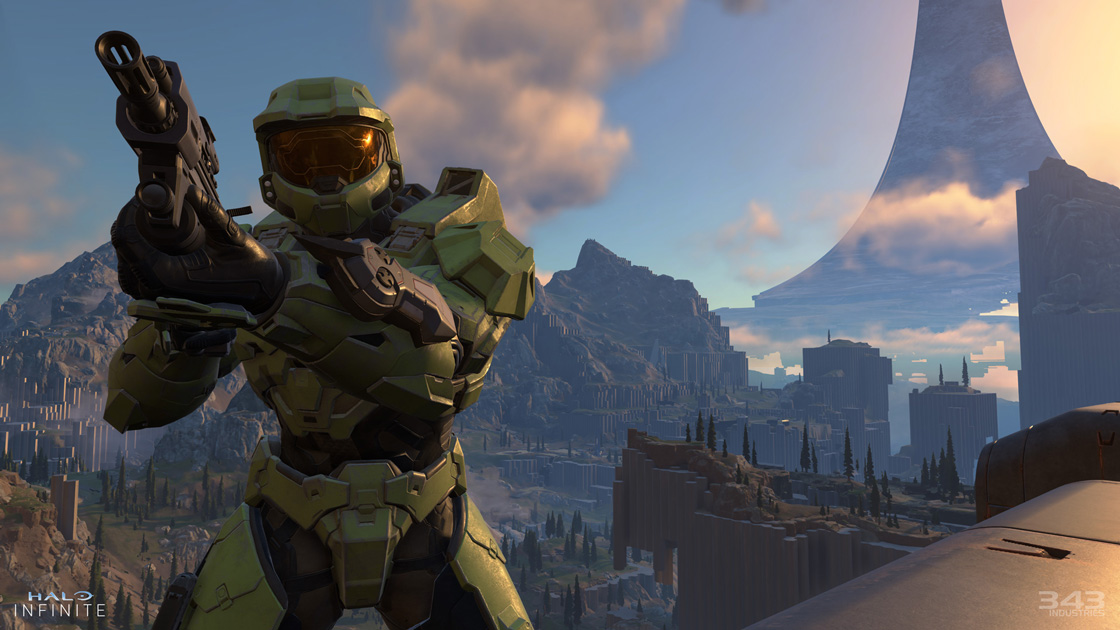 Much More to Explore
Thank you for coming with us on this epic Halo Infinite journey, and we hope everyone enjoyed today's campaign demo. We will be back soon with more news, including our first details on multiplayer. We're in the homestretch now and the team is working hard to put all the pieces together and polish the game while still navigating unprecedented challenges in our personal and professional lives. There's a lot of work to be done, but I'm so proud of how much the team has accomplished and the tremendous progress being made every day. We appreciate your patience and understanding as we focus on the road to holiday.
Seeing our social feeds overwhelmed with hope and excitement is inspiring and further fuels our ambitions to deliver the best Halo experience to date. We're incredibly fortunate to have such a longstanding and passionate community and it's not a responsibility we take lightly. This has been a long journey and one that will continue well beyond launch as we partner together to evolve Halo Infinite over time. Thank you as always for supporting Halo Infinite and 343 Industries, it was an excruciatingly long time for us to be able to show you this demo, and I am excited for our next opportunity to share more with you and eventually set foot onto a Halo ring together!
Chris
Studio Head, Halo Infinite