ISSUE 19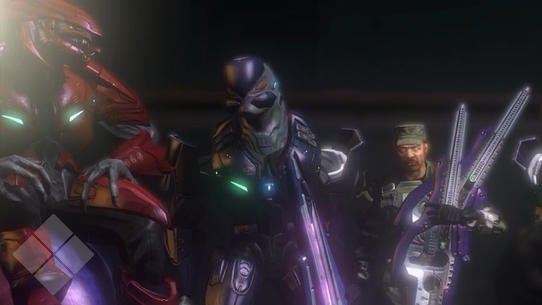 Grim tidings to you all, canonheads. Hopefully you all had a fabulous holiday weekend and now find yourself looking ever forward to all the Halo we've got in store for fans this year. This Canon Fodder is lovingly crafted within the WiFi realms of both the Las Vegas and San Antonio airports as I prepare to spend the next few days in the Lone Star State playing the role of GrimBestman One for one of my dearest friend's lifetime co-op celebration. As my mind dithered around all the potential stories I could bring up when the time comes to toast, I couldn't help but smile a bit as I passed another traveler wearing the Master Chief across his chest proudly. "Nice shirt." I told him. "Hey thanks, you too!" he replied, directing his attention to the Halo 4 Global Championship shirt I've been wearing for the past however many hours. It was a pleasant interaction between two Halo fans, and it served as a poignant reminder that amidst the tireless efforts poured into both creation as well as curation, we at 343 Industries are still at the heart of it all, fans.
Many evenings after getting home from the studio, yours truly can be found camped on the couch, partied up with a regular crew of GrimBrothers – some blood relation, some that might as well be. One of our favorite pastimes is co-op Legendary campaign, which sees the Covenant eventually fall against our relentless onslaught. That is, until someone inevitably initiates what we've come to call "the purge," where a mis-aimed plasma grenade ends up betraying one of us and the Covenant can only stand by in awkward curiosity as they watch four previously lethal Spartan supersoldiers quickly dissolve into a yelling, running, laughing, ball of betrayal that continues until a sleepy stupor claims our evening.
Invariably, throughout all the headshots and hot drops our conversations will turn to "top ten"-style discussions, where we talk about our favorite books, characters, games, stories, and more. Recently, while we were drooling over the "no, this is real life" collection of cutscenes found in Halo 2: Anniversary, we got to talking about our personal favorite cutscenes and cinematic experiences throughout the Halo games. There was discussion, there were debates, there were decisions, but no matter what, it was incredibly interesting to see what moments had made specific impacts on each of us. The more I thought about it, the more I thought it would be fun to share with all of you. Here are some of my personal favorites…
"Floodgate" closing (Halo 3) – An unsung cutscene hero, this one might be my favorite of all time. Beginning with Chief and 343 Guilty Spark meeting once again, the cinematic only gets better as we find ourselves standing within the Shadow of Intent; you'll have to pardon my inner fanboy. The key moment in the entire thing for me is the "weapon trade" scene; seeing this new but fragile alliance gain just the smallest amounts of traction as old enemies unite against new foes. So. Good.
"Arbiter" opening (Halo 2/Halo 2: Anniversary) – How can you not like this? Every time I watch it I'm transported back to 2004, a confusing and crazy time when the Lightning were Stanley Cup champs and the Covenant were suddenly more relatable than ever. There was a strange mix of emotions as we were introduced to a character that would become so beloved by fans, and such an integral part of the Halo universe. It only gets better as it transitions into the Phantom where Rtas 'Vadum is preparing his elite spec ops Sangheili for yet another moment of glory, and the interaction and exchange between the half-jawed shipmaster and the newly appointed Arbiter is just plain perfect.
"Invasion" (Halo: Spartan Ops) – The episodic adventure's seventh chapter got so many things right for me. From Halsey's nigh-perfect portrayal, to the expertly timed swell of the music just as she is made aware that John lives, to the insubordinate but inspired slap she quite literally hand delivers to Captain Lasky.
And there are so many more… from Lasky and Chief's heart-wrenching exchange on the deck of the Infinity at the end of Halo 4 to the still-invigorating "Monsters" cutscene from Halo Wars, which put true S-II awesomeness on full high-def display. I could go on and on, but instead I'll call upon my inner Levar and remind you that you don't have to take my word for it. Let's see what a few other well-known Halo-heads have to say about their favorite cinematic moments.
Frank O'Connor – Franchise Development Director
- Closing cinematic of Halo 4 because it is actually telling two separate stories, but uniting them under the Reclaimer perspective. Both the narrator and the Chief are candidates for that "position" and both of them are diminished, both of them have had a very real part of themselves destroyed.
- The Halo 2 bridge cinematic, because I can relate to Sgt. Johnson in that I know what the ladies like.
Josh Holmes – Halo Internal Development Studio Head
- The opening cinematic for Halo 4 because it retold the history of the Spartans and the Master Chief through the lens of conflicting ideology (Halsey and the interrogator interviewing her). I still get chills watching it and I've probably watched it hundreds of times.
- The Spartans vs Elites sequence ("Monsters") in Halo Wars because the action is awesome and Blur makes things look purdy.
Kiki Wolfkill – Halo Entertainment Studio Head
- Last cut scene of Halo 4 (not the Epilogue) when Cortana tells Chief what she has sacrificed for him. It's the first time we see Chief realize how much she means to him and is a beautiful contrast to my second fav…
- "Once more with feeling" from Halo 2 where their roles are reversed and Cortana is instead faced with the idea of losing Chief.
- RETURN TO SENDER!!! From Halo 2 – because Chief is going to GIVE THE COVENANT THEIR BOMB BACK! (See, I'm not all sap ;-) )
Kevin Grace – Narrative Design Director
- Halo 3: "Rescue". This short clip does an incredible job of conveying a long friendship and how important these two are to each other. It changed my filter on how I've listened to Chief/Cortana banter ever since.
What are your favorites? Make sure you hit the discussion link at the end of this week's issue and give us your thoughts!