Happy Thursday everyone and welcome to another installment of the Halo Community Update. This week we've got another jam-packed serving of Halo goodness spanning Halo Wars 2, Halo 5 REQs and helmets, Warzone, a new team spotlight, community egg hunters and more. Let's do this!
Halo Wars 2 Blitz Beta
Wow, it's hard to believe that ten full days of the Blitz Beta have come and gone so quick! Many, many players jumped at the chance to take Blitz for a test drive on Xbox One and Windows 10 and we've gathered a ton of great feedback, bug reports and game data to help the development team.
As the beta fades into the distance Dan Ayoub, 343's Studio Head of Strategy Games Development, passed along the following note for our community:
"On behalf of the entire Halo Wars 2 team I want to extend a huge thank you to everyone who participated in the Blitz beta! Your feedback and the data we gathered during the beta is critical to helping us make Halo Wars 2 as awesome as possible when it launches on Feb. 21. I hope you'll continue to share your thoughts and feedback for the rest of Halo Wars 2 when you experience the full game in just a few short weeks. See you online!"
I don't know about you but I love a good infographic. Thankfully the team has us covered with this sweet snapshot of some of the more memorable statistics from the Blitz Beta: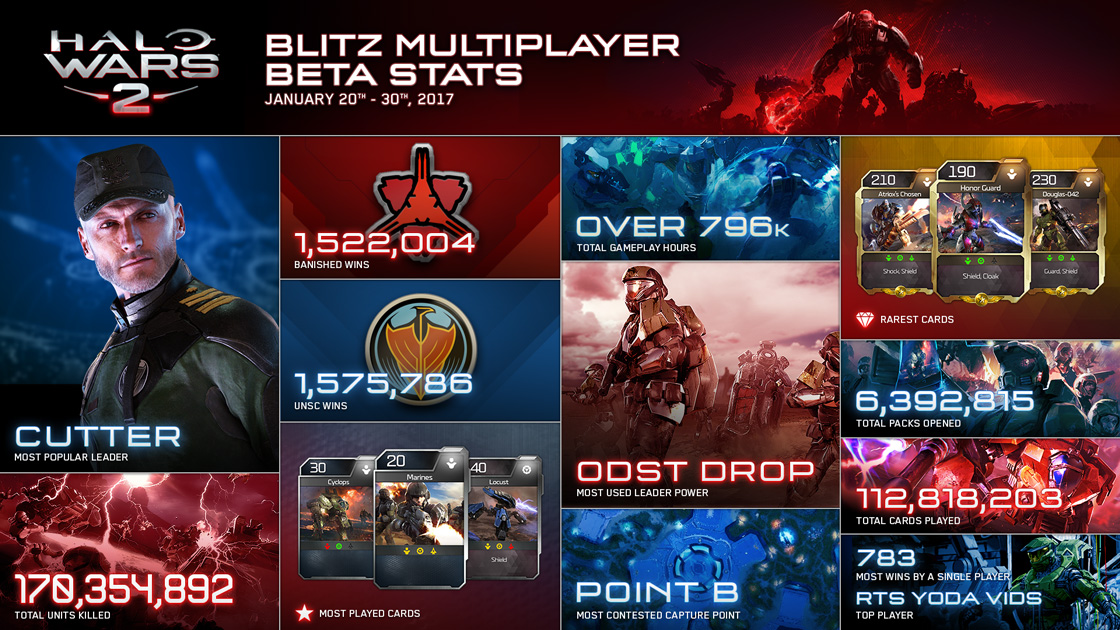 Top Players
A huge shout out goes to RTS YODA VIDS for earning the title of the player with the most wins of anyone in the entire Blitz Beta! That is a SERIOUSLY IMPRESSIVE amount of wins. I'd also like to give a shout out to our top standing players on our playlist leaderboards:
Windows 10
1v1 Playlist : Nib7221 w/ 279 wins
2v2 Playlist: SoH 44 Instinct w/ 226 wins
3v3 Playlist: S1E3P1E5SX77 w/ 204 wins
Xbox One
1v1 Playlist: xSSx Cryptic w/ 511 wins
2v2 Playlist: COOL Skidda w/ 370 wins
3v3 Playlist: RTS YODA VIDS w/ 598 wins
You can check out the final Top 10 for each leaderboard over in our forums right here.
Halo Wars 2 Live
With the beta behind us it's time to focus our full energies ahead and towards the impending release of Halo Wars 2. In case you missed it, we announced a special live event on Feb. 16 to celebrate the launch of Halo Wars 2. Save the date and plan to join us on Twitch, Youtube or Beam and help us usher in the next chapter in the Halo saga. More to come!
Halo Wars 2 ORIGINAL Art COLLECTION
As we get closer to launch the Halo Wars 2 marketing machine is going to start picking up steam. Case in point - today's kick off of an awesome original art series in partnership with three incredible world-class artists - Grzegorz "Gabz" Domaradzki, Craig Drake and Kevin Tong. I encourage you to head over to Xbox Wire and read the full article including insights into each artist and these amazing masterpieces. Here's a sneak peek of the Atriox and Cutter pieces created by Kevin Tong.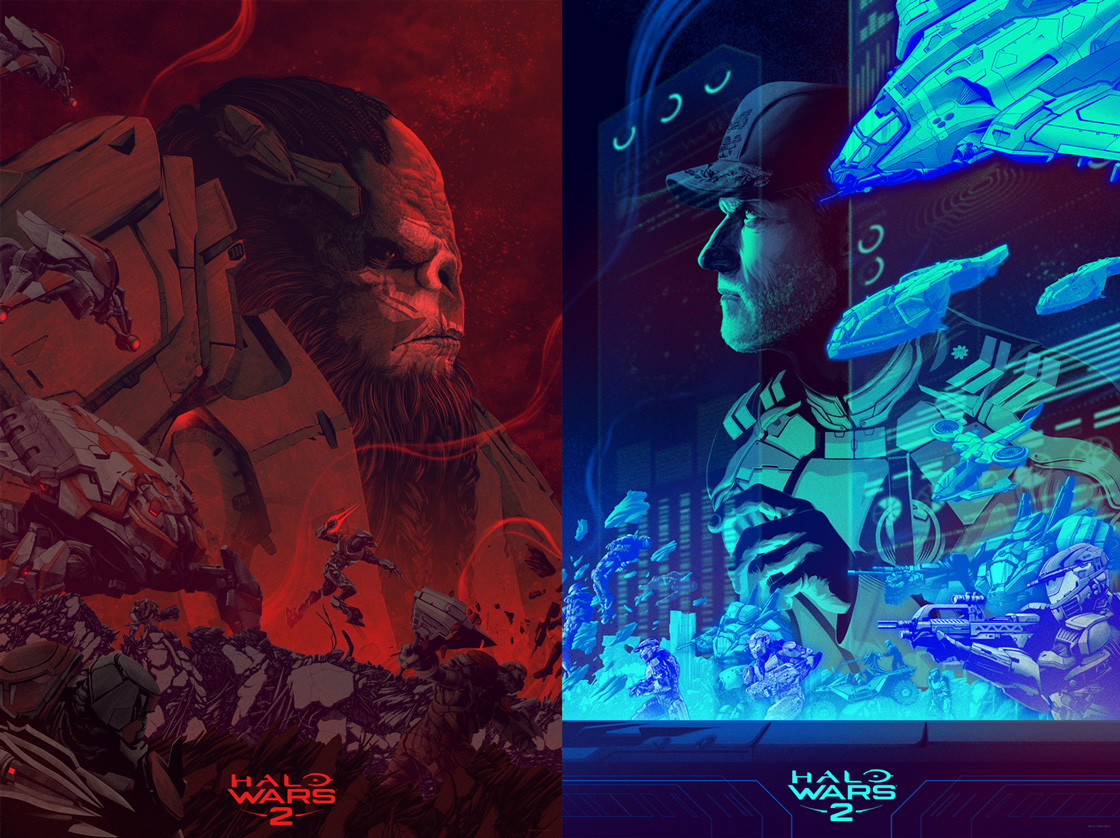 Here's a sneak peek of the Atriox and Cutter pieces created by Kevin Tong. Read more and check out more amazing art at Xbox Wire.
halo 5 REQ changes
Let's change gears now and jump to some noteworthy news and updates for Halo 5: Guardians. First up we've got more incoming REQ changes to look forward to in Warzone but before we go over new changes, here's a recap of REQ changes made last week:
Jan. 27 Halo 5 REQ Changes
Vehicles reduced energy cost:
Oni Gungoose to 3 from 4
Anti-Air Wraith stays the same REQ energy level but is more common in packs (modified to be Rare).
Banshee and Mantis to 5 from 6. (Note: should look at Mantis rarity, currently Ultra Rare)
Weapons reduced energy cost:
River of Light to 5 from 6.
Base Spartan Laser to 4 from 5.
All Turrets down by 1 EXCEPT Jorge's Chaingun and except level 2 turrets (no turrets become level 1).
Last week the team put out a call for feedback asking fans to share their answer to the question, "If you could change the energy level of any one REQ item, what would it be?" Many of you took to our forums to share your thoughts and we thank you for giving us feedback!
After pouring through feedback and reviewing game data, the team is preparing for another round of REQ changes. Before we go over the specifics, I asked the team to share some insights on the methodology used to arrive at these changes.
What prompted the team to look at adjusting the energy cost of REQ cards?
We routinely look at REQ card usage to understand how cards are used, the effectiveness of REQs, and how the cards balance against each other. After the holidays, we wanted to do a full pass in REQ balance taking into account all the new REQ content released in the past few updates.
Can you walk us through the overall process – how does the team come to a decision on what changes to make in-game?
We collect a LOT of data and have an excellent team of data scientists to help us analyze the data we collect. The main report we look at when analyzing REQ balance is our "Warzone Balance by Cost" chart which shows us kills per use and damage per use segmented by energy cost. We look at outliers in each energy band and decide to move them up or down. We also pay close attention to the weapons and vehicles available in the energy band before that level. In other words, "if we changed this REQ from 5 to 4, what's available in 3 to counter/balance the REQ being pulled in a few minutes earlier?"
Data is just a part of it. We have experts from Sandbox, Progression and Multiplayer weighing in on a ton of different gameplay factors.
What role does fan feedback play when the team is doing this type of work?
We check Waypoint, Reddit and YouTube and do pay attention to the feedback we get. We were on the fence about increasing Wasp energy cost. In general, we prefer to lower energy of weaker weapons/vehicles rather than increase the energy of effective REQs. Ske7ch's posts about REQ energy and the HUGE outpouring of feedback around the Wasp helped us make the decision to increase the Wasp energy levels by 1. We even sorted the Reddit thread by "controversial" to make sure the upvote/downvote brigade didn't drown out the voice of the people.
After decisions are made and a plan is agreed upon, how do you go about implementing the changes into Halo 5?
REQ energy balance is controlled entirely server-side. We are able to make the changes in our system and push them out without a patch to download. It's about the same process as updating the message of the day.
Should players expect more REQ energy changes in the future?
You bet! We have a cadence of "balance, analyze, re-balance". Keep that feedback coming!
Some fans might be upset to find that "their" suggestion didn't get included in this latest pass. What would you say to them?
Don't despair! Some REQs will stay the same energy level but may have better uses in the context of all the other changes. If not, let us know!
Upcoming REQ Changes (ETA Friday, Feb. 3)
Now, on to the changes! Here's what you can expect to change with Halo 5 REQs in the very near future (changes are targeted to go-live on Friday, Feb. 3).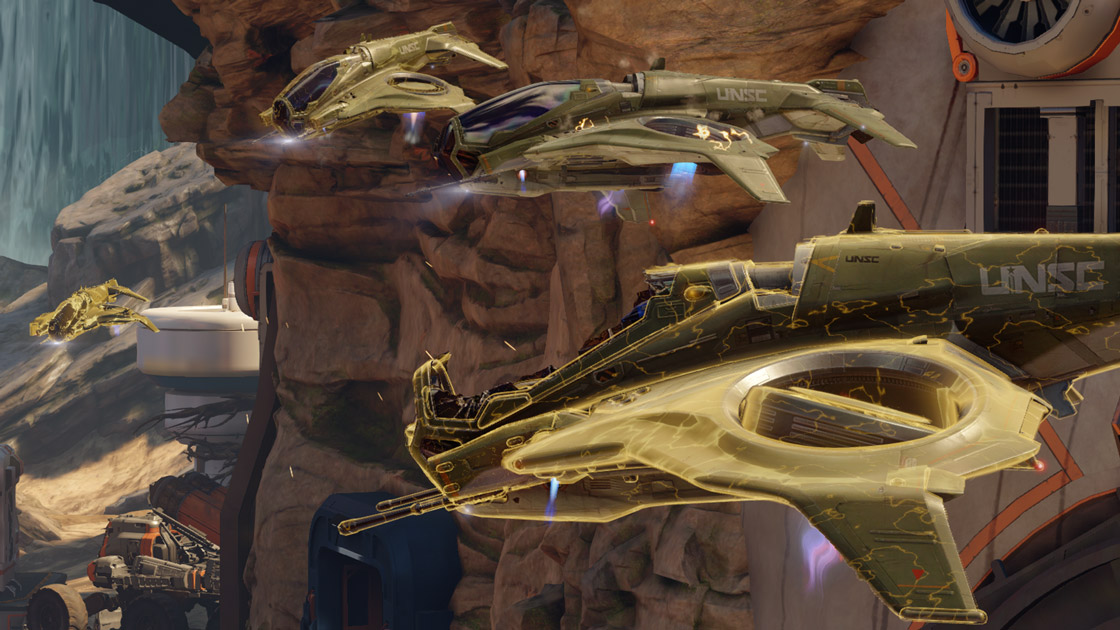 Here a Wasp, there a Wasp, everywhere a Wasp Wasp...
Wasps 3/4/5 -> 4/5/6

On some maps, a combination of the base assault and first boss can get most of a team to level 3 once the first armoury is captured. Moving the T1 wasp up a level avoids seeing half a team immediately spawn them. The Hannibal wasp's armament and dodging ability make it competitive with a sword banshee or scorpion, so it fits well at level 6

Base Phaeton 8 -> 7

Given its low health and the introduction of the Helios, the base phaeton fits better with the tier 3 banshees at level 7.
Gunfighter Magnum 3 -> 2

We saw that players were preferring BRs to the gunfighter magnum.
Tactical Magnum 4 -> 3

Level 4 has a silenced BR, so moving down to level 3 invites debate between the silenced pistol and non-silenced BR.

Morph Sight : AR 4 -> 1, BR 6 -> 3, DMR 8 -> 6, SMG 7 -> 4 (to the same as hybrid [carbine] sight)

Puts these sights in-line with the other sights of their REQ energy level

Base Plasma Pistol 3 -> 2

This will hopefully provide a better counter for players at REQ level 2 battling players at level 3 or above who are in vehicles
We're also changing the Random Weapon and Random Vehicle cards on Friday. Here's what's changing:
Random Vehicle (Ultra-Rare) 6 -> 7

Moving up a notch allows greater differentiation from the Random Vehicle (Rare) at 5

Random Weapons & Random Vehicles (All)

Tweaked probabilities to avoid over- or under-powered REQs for their levels
The team mentioned that the Ultra-Rare random vehicle REQ is a great way for players who haven't yet unlocked all of their certs to get their hands on the best vehicles in the game (including a particularly high weight for the Phaeton Helios).
Lastly, there will also be a number of changes coming to Armor Mods across the board. From the team:
We're spreading out the Armor Mod options across multiple energy levels to give players more choices as they level up in each Warzone game. Our team expects to see some fun combinations and some serious strategies arise from these changes, so make us proud!
REQ Energy Level 3

Death From Above
Grenadier
Patrol Case
REQ Energy Level 4

Auto-Medic
Speed Booster
Frag Grenade Expert
Plasma Grenade Expert
Splinter Grenade Expert
REQ Energy Level 5

Reflex Enhancers
Upgraded Thrusters
Increased Strength
REQ Energy Level 6

Advanced Sensors
Wheelman
Upgraded Shields
All of these changes are expected to go-live tomorrow, Feb. 3, but stay tuned to @Halo on Twitter for the final word once we've gotten the green light the work is complete. Once they're live, please take these REQ changes for a test drive and continue sharing your thoughts and feedback with us!
Halo 5 Classic Helmet REQ Pack
Last week we dropped more details on the upcoming Classic Helmet REQ Pack coming to Halo 5. In case you missed it, know that these sweet new helmets will be officially available in-game on February 9th. To help us spread the word and build up some excitement before launch we've asked Community friend Receptor17 to help us create some awesome screenshots to whet your appetite. Make sure to follow us @Halo for a new sweet helmet masterpiece every day leading up to launch. Here's what's been released so far:
It's great seeing so much excitement in the community and naturally the biggest question you all have is WHAT IS THE PRICE!? Last week I didn't have the final details, but now I do!
The Classic Helmet REQ Pack will be available for $9.99 from the Marketplace Store or in-game for 150K RP. Best of all, all nine classic helmets will be exclusively available in the one, single REQ Pack. Get hyped, only one week to go!
Thar She Blows!
Speaking of helmets, many of you might have noticed the recent emergence of "Timmy," a special helmet that guarantees a whale of a good time when adorned by your Spartan in Halo 5. Tom French has a thing for whales, apparently, in addition to a fondness for pigs. As John117Jr says on Twitter, all must pay tribute to Timmy the Whale:
While a lot of folks were surprised to find this helmet pack show up in-game on Tuesday, many more are wondering WHERE'S MINE!? The team is being deliberately coy (for now) around the exact requirements needed to earn this elusive cetacean headwear but suffice it to say that players who have enjoyed more than their fair share of custom games will eventually join Club Timmy. [For the record, 343 Industries does not condone the act of meleeing marine mammals - Grim]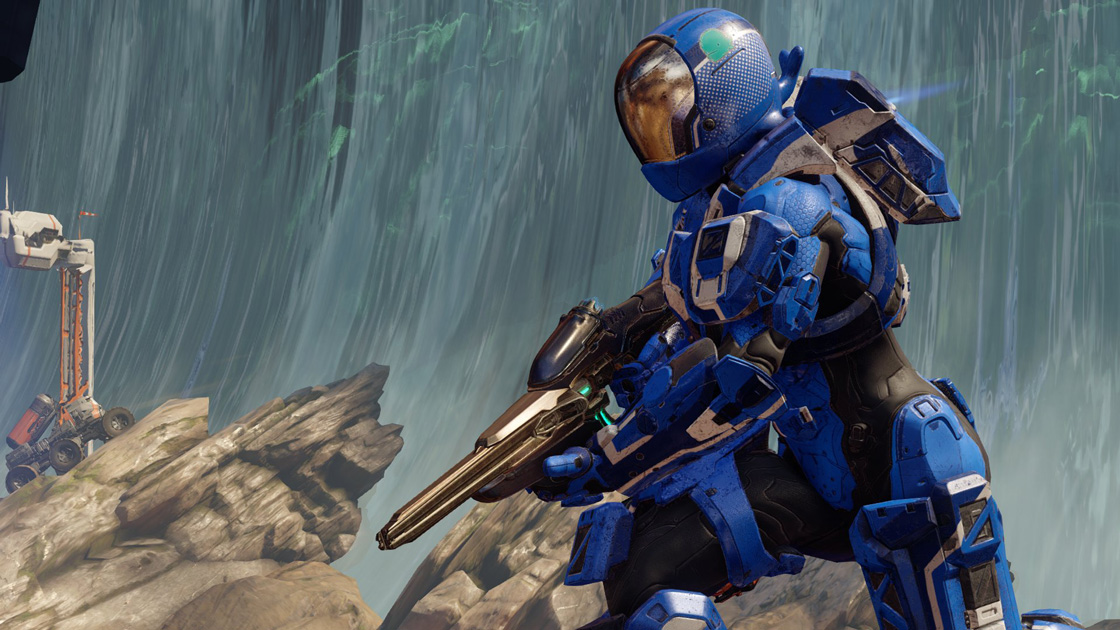 Please don't try joining/quitting customs ad nauseum in an attempt to improve your odds. It won't work. The team is working on formalizing the requirements and process for the Timmy Helmet and I'll follow-up with some firm details when I have 'em.
Warzone "Warlords" Update
Last weekend was the inaugural running of the "Warlords" Warzone playlist in Halo 5. Going into Friday the team wasn't really sure how this test would land – would players enjoy it? Would the population be large enough to support a positive matchmaking experience? Would the 343 Fireteam stand any chance when facing off against the most hardcore and grizzled Warzone squads in the community? We don't have definitive answers to all of these questions yet but with the Warlords weekend now in our rearview mirror the 343 team is regrouping and going over player feedback and game metrics to evaluate the net results.
One question we can definitively answer is that no, the 343 Fireteam did NOT stand any chance when facing off against the community. In fact, our 12-man team was absolutely destroyed. I'm not talking about just a loss, I'm talking about the kind of beating that makes a career Halo developer want to uninstall the game and rethink their life choices. Personally, I had no false expectations that we'd do anything but lose but it was even more brutal than I imagined and honestly, not very fun as someone who isn't particularly great at Warzone. I felt particularly bad for Uny who, as you well know, it's incredibly competitive and damn good at Halo 5, yet even he couldn't carry 11 of us to victory. Sorry we let you down, Uny!
While I didn't enjoy the ass kicking, I did thoroughly enjoy WATCHING the highest level Warzone play. It's almost an entirely different game and something I found totally fascinating. The level of coordination and calculated tactics and the "meta" employed by you seasoned teams was a site to behold.
So, what's next for Warlords?
Friday looked like it was an overall pretty good experience for everyone who came to play and the data shows that matchmaking was pretty good when there were many teams in the rotation. While the total number of players who participated in Warzone actually exceeded our expectations, it's still a very, very tiny fraction of our overall Halo 5 player population (and a small sliver of the normal Warzone population). By Sunday the population had all but dried up and the matching experience deteriorated dramatically.
Warlords was an interesting experiment at least in the sense that it was a really cool exercise to build an event and promote and drive a focused group of players toward one playlist at one time. And it was fun (despite the ass-kicking) for 343 to be right there in the mix as well. Friday afternoon and into Saturday was pretty cool to see and we think there's something to a potential Warlords offering being semi-frequent but spaced out enough to drive critical mass and allow teams to better plan and coordinate.
Right now the team is taking a look at player feedback and data but also wants to work on a few tweaks to try and improve the matchmaking experience. Additionally we're looking into a bug that surfaced with join-in-progress that prevented anyone from re-joining at all if two players ended up dropping. Assuming the team can iron out these issues we're looking at bringing Warlords back again for another scheduled test drive in a month or so. Stay tuned.
Warzone mythic firefight weekend
This weekend's Mythic Firefight takes you back to Prospect where you'll do battle with the toughest enemies in search of glory, honor and that sweet bonus XP.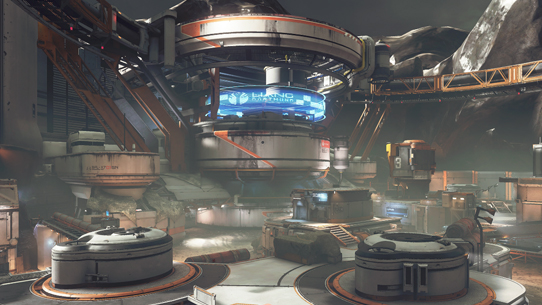 As usual, this playlist will go live on Friday, Feb. 3 at approx. 10 a.m. PST and come down on Monday, Feb. 6 at approx. 10 a.m. PST.

Here's a quick rundown of various odds and ends from across the Halo community and the 343 studio
Fans and players who have been eagerly awaiting the Halo World Championship Handbook should head over HERE and check it out!
Competitive Halo fans should also take note that the latest episode of the "Listen In" podcast was released on Monday. Give it a listen!
Some fans pointed out a few weeks ago that the Halo 2 Vista servers were no longer showing up in-game. Yes, people still play Halo 2 Vista. Who knew!? (seriously, I didn't really, but the team obviously does). It turns out that Halo 2 Vista servers are somewhat of an enigma. The 343 team is currently investigating the situation (we/343 don't actually manage these servers ourselves).
Some of you may already know that Josh Menke (Lead Engagement Designer) has returned to 343! Josh helped design a lot of the online systems in Halo 5 and is excited to be back with 343 and Halo again. You can share feedback with Josh about matchmaking and hear from him over in our forums.
Fans in non-English regions who are wondering about Voices of War should be aware that in light of an issue that was discovered a few weeks ago, the pack was immediately pulled from the store again until things can be rectified. We know many of you have been waiting a long time and we sincerely apologize for the delay. A fix is expected to be included in the next Halo 5 title update.
Speaking of Halo 5 updates, the team is hard at work wrapping up a series of fixes and improvements slated for a maintenance update tentatively targeted for early March pending final testing and certification passes. This is subject to change. We'll have more details as things start to get finalized.
I know many folks have been asking for an update on MCC. I've also promised to get you an udpate as soon as I had something of substance to share. Truth is that I have nothing new to share today beyond the fact that MCC is still being evaluated and discussed. I can't say what, if anything, will come of these reviews and assessments. As some folks explore feasibility for potential fixes, we are also looking at what may be possible in terms of a playlist update. If we get to a point where a decision is made - good or bad - I will certainly relay that information.
Canon Fodder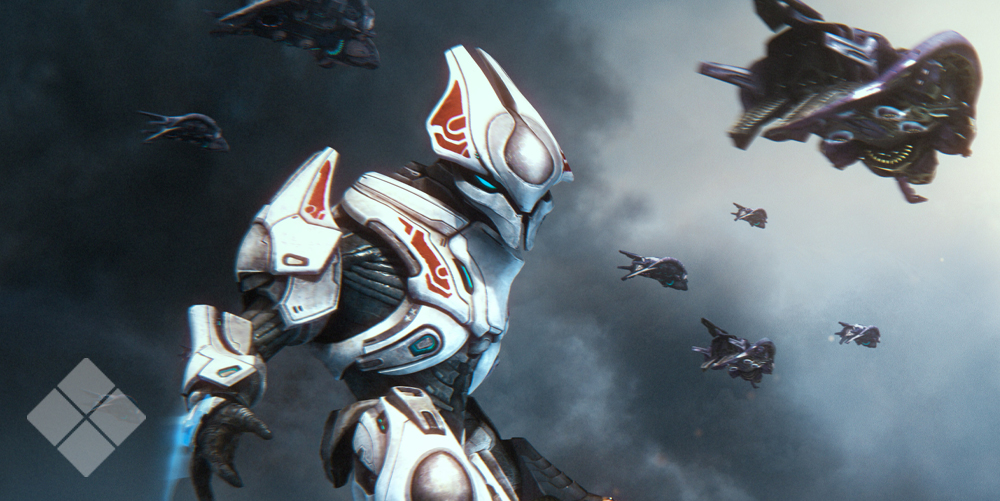 Fans of lore and general Halo awesomeness won't want to miss Grim's latest installment of Canon Fodder that dropped on Waypoint yesterday. Check it out!
343 Team Spotlight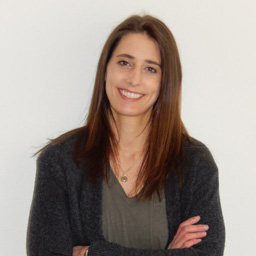 This week we point the team spotlight downstairs to the back corner of the 2nd floor and newly-hired multiplayer designer Sara Stern. If you enjoy any of Halo 5's many flavors of matchmaking, you'll definitely want to get to know Sara!
Hi Sara! First off, can you tell us a bit about yourself? What do you do here at 343?
Sara Stern: I am a multiplayer designer on our Halo 5 team. I work with the broader Halo 5 team on the updates we'll make to our maps, what we offer in both social and ranked playlists, and what Forge maps and modes we'll feature. Our team will be working on keeping Halo 5 content fresh and exciting.
What's your background?
SS: Before I came to 343, I was a Game Designer at Camouflaj, another Seattle-area studio. I got my undergraduate degree in Philosophy and attended a yearlong game design program after I decided to get into the industry.
What made you decide to come work for 343?
SS: I've played Halo since I begged my parents to let me have a copy of Halo 2. Halo is my FPS, and I jumped at the opportunity to work on a franchise I already loved. That said, the people at 343 are what convinced me to work here. I interviewed with a number of teams, and everyone was welcoming, proud of their work, and passionate about the Halo franchise.
Have you always aspired to work in the games industry?
SS: Yes and no. I had thought "if I could do anything, I'd work in games," but for some reason put game designer in the same category as astronaut – a job you might daydream about having. I pursued a number of different careers before one of my friends finally asked me why I thought a job in game development was so unattainable. I couldn't give him a good answer, and within three months I'd quit my corporate job and was learning how to make games in Unity.
What advice do you have for folks looking to someday follow in your footsteps and break into game development?
SS: Create something! Making something serves two purposes – you'll gain experience and start building a portfolio, but more importantly, you learn if you like the work enough to devote your energy to it.
Read some job descriptions and determine what kind of game development you want to be doing day to day. Once you've figured that out, work on a project specific to what you want to do. If you want to make levels, try creating a level in Forge. If you want to be a game writer, write a short, interactive story. If you want to program, code a small game.
Make sure you connect with others who love and make games as well. Breaking into the industry is hard (and sometimes lonely) work, and you will learn a lot from the other game makers in your community.
What's your initial impression of the 343 team? Any crazy stories or situations that you were shocked or surprised by? 
SS: I love the playtest culture here. In the playtest labs, the trash talk flies (always friendly, of course). Once the game ends, however, we're immediately giving each other measured, thoughtful feedback about how a certain map or mode played and how we could make it better.
I'm still getting used to the giant Spartan statues around the office. Having a life-size Master Chief greet you every morning definitely reminds you why you come into work!
I believe one of your areas of responsibility will be helping to get great Forge maps into Halo 5 Matchmaking? Is there anything in particular you're going to be focusing on initially?
SS: We're always looking for new content for our most popular social modes. Beyond that, we're still gathering player feedback and data to determine what our playlist priorities are going to be going forward. For future playlist refreshes, we may reach out directly to ask for maps of a certain type, so keep your eye out.
Forgers have continued to make a lot of great stuff since the Monitor's Bounty update – keep being creative and Forging stuff you want to play!
Managing the playlist experience in Halo 5 is obvioulsy a team effort. What does that working group look like?
SS: Ideas and suggestions are encouraged and welcomed from anyone across the 343 team! But in terms of driving the actual updates and playlist changes, it's generally a partnership between the multiplayer team, producers, testers, release managers and the community team.
Can you describe the general process and methodology behind making changes to Halo 5's playlists?

SS: There are a few different factors that go into making a playlist change. We look at a mixture of player feedback and playlist data before we make decisions. Any change we make is also heavily reviewed internally. When we consider adding new maps or modes, the team extensively playtests the new content as a group to ensure that it passes our own gut check and is something we'd be proud to release.
The process doesn't end when we push something live, however. We closely review the numbers and the feedback after we make a change, and meet to discuss whether we met the goals we had when we set out to make changes in the first place. Based on how our initial playlist change went, we'll make further adjustments and release updated versions once we feel we've gathered enough feedback and data.
That initial playlist change is the first step of an ongoing process of us adjusting to feedback to improve the Halo 5 experience, and we'll likely iterate on particular changes a few times.
Any tips or advice for would-be Forgers who want to contribute something to Halo 5?
SS: If you can, get other Forgers and players to playtest your maps with you. Something that seems perfectly clear to you may not be easy for another player to understand. The feedback you get from a playtest will make your map or game mode better.
Some promising Forge maps I see have what an instructor of mine called "perfection requirements." For example, a map might feature jumps or ledges a Spartan can barely reach if the player knows exactly when to press the button. Some Forged racetracks I've seen have such tight corners that you'd have to memorize the map to even complete the race, much less win. Making your levels a little more forgiving keeps your map from interrupting the flow of gameplay and contributes to the amount of fun people are having.
Do you have any favorite Forge creations you've seen out in the community?
SS: I love the lighthearted, funny Forge creations that stretch the boundaries of what Halo 5 is. If I had to call out some of them specifically, I love Sea Monsters by CaptainDireWolf and Sky High by kiwibardlol. I'm always scouting around for new Action Sack candidates and other fun things to try.
What's your personal favorite gametype to play in Halo 5?
SS: I like the teamwork required for Team Arena (I especially like Strongholds) and Warzone Firefight.
Any final thoughts / parting words for our community?
SS: Please give us feedback! We read through the Halo 5 forums on Waypoint and you can get in touch with a lot of the team on Twitter (mine is @se_stern). With more information from the community, we can make better decisions based on what you enjoy playing and want to see out of Halo 5 going forward. Certain things may not be feasible at this stage of Halo 5, but we'll try to let you all know if that's the case.
I also hop into the Customs Browser often to check out what people are playing and creating, so I'll see many of you there!
Thanks for taking time to joins us in the Spotlight, Sara! I'm sure I speak for many of you when I say I can't wait to see what she and the team start cooking up for matchmaking.

This week's spotlight is a little bit different in that we're highlighting a group of Community egg-hunters who joined forces last week to attempt to uncover a secret easter-egg buried somewhere in Warzone Firefight.
First, a quick setup: Back on Jan. 12 we learned that there was an as-of-yet-undiscovered Easter Egg hidden somewhere in Warzone Firefight. Initially we were given nothing else to go on yet sleuths across the community dove in and started hunting for this mysterious secret. After two weeks of solid searching and coming up empty handed, players started asking for another clue to aid in the hunt.
Last week, 343 designer David Ellis stepped in to offer another clue in the form of a poem:
On the holy place
In the verdant oasis
Away from attack
You'll find a lost foe
But show them mercy
And witness their bond
Vier their return
When foe becomes friend(s)
While I didn't know what to make of this thought-provoking prose, many of you wasted no time resuming your search in earnest. Turns out it didn't take long – David's poem was just what a team of hunters needed to promptly unravel the mystery of the last remaining Halo 5 Firefight Easter Egg.
Congratulations are in order to six Spartans - a Fellowship of the Egg - who unraveled the riddle and solved the mystery in a world-first discovery of what may very well be the last undiscovered egg in Halo 5.
The Little Moa
Ka Five
Matty McDee
Silver Zephyr
Imuoto Rebs
snickerdoodle
So how'd they do it? Well for starters, a lot of trial and error. From their write-up on Reddit, here's a few things they tried:
8 man Flawless run
Letting the time run out instantly by hiding and letting the Crawlers win
AR/Pistol only. No REQs, no armor mods, etc.
They were prepared to go even deeper and try even crazier things like a full melee only run or a Flawless run with AR/Pistol only but thankfully that ended up not being necessary. Once David's poem dropped the group had enough to narrow down their search and hone in on the prize.
"We narrowed the map down to Attack on Sanctum. After that, we were left with 'what next?'", explains snickerdoodle.
Here's how they did it:
Play through Round 1 totally normally. At the end, hang out by the Broken Pillars on the Desert/Red side of the map and just wait. Be patient! If you make your move too soon, the magic won't happen. Sit tight by the Pillars, play a couple rounds of tiddlywinks, and when the timer reaches 3:50, head over towards the Blue side and the broken Oasis - don't forget to take the man cannon shortcut. You should notice a plasma pistol hanging out on the ground and a Grunt in a Ghost - you know what needs to be done here. EMP the Ghost and the Grunt will hop out and be cranky with you. Don't kill the Grunt! You need him.
Shortly after you do that, a blue Crawler will spawn. Don't kill him either! You'll need him too. The Grunt will walk up to the Crawler and they'll both be shooting at you. Don't kill either and you'll eventually see them teleport away.
Shrug and go back to your match of Firefight and clear Round 3. After Round 3, during intermission, run back over to the Oasis and stand to the right of Red Garage and look at the Oasis. When Round 4 starts, you'll hear a Slipspace bubble and then you'll see it - A Grunt (a, dare I say it? a jockey) on a Crawler! He doesn't hang around long. You'll hear the Slipspace bubble again and then he's gone so wave farewell and then go fight the good fight.
Here's a video of their exploits, courtesy of Matty McDee:
As a special reward for their incredible accomplishment, we've already granted each of these 6 egg-hunters with 10 gold REQ packs. But that's not all – since this was such an impressive display of teamwork, dedication and sleuthery (totally a word) we're also going to be granting each of them a complimentary Classing Helmet REQ Pack when it launches on Feb. 9th. Congrats on a job well done!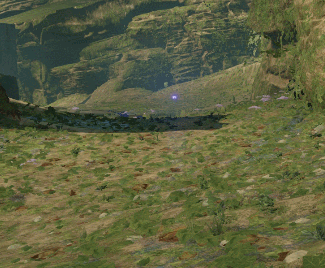 We also want to extend a special honorable mention to Atomic Jorge and Redbird1110 who cracked the code and uncovered this Firefight Easter Egg mere minutes after the first crew. For your efforts, we'll throw some gold packs your way, too.
Now over to Uny for another amazing play!

This Play of the Week comes from a Warzone hero that makes David Beckham's free kicks look like they go a stright line. TheRose93 uses the Ad Victoriam's guidance system to curve turn three rockets around and take down an enemy in a very stylish fashion. I've seen nice Ad Victoriam shots, but this one takes the cake. Enjoy! http://xboxdvr.com/gamer/TheRose93/video/26527211
Back to you Brian! - Uny
And that brings us to the end of the latest Halo update! Thanks for stopping by and do let us know what you think about the new REQ changes going into Halo 5 tomorrow! And be sure to stay tuned to @Halo for six more days of sweet classic helmet reveals.
Until next week!
-ske7ch