Growing up, I was always a fan of sports. I would devour competition anywhere and everywhere I could find it and would most often be found running around wearing some sort of jersey/hat combo of a favorite team reenacting epic moments on the biggest stages. It wouldn't take long for me to begin finding another passion to rival it – video games. As my Commodore 64 and Atari 2600 (I know, I'm old) eventually turned into newer consoles, my adoration for video games grew exponentially, and collided headlong with my love for sports as legends with names like Final Boss and Carbon began to erupt from my G4-blasting TV screen.
Fast forward to the Halo 4 Global Championship in 2013, I sat at the literal edge of my downtown Seattle seat watching Ace and Pistola perform a historic and deadly dance around Skyline for a cool $200k. This past weekend in sunny California, so many of those feelings came rushing right back as I watched Ace, Pistola, and a score of other modern Halo heroes from around the world clash for cash and glory at the Halo World Championship 2017 Finals. As millions around the globe tuned in to watch Halo 5 be played at its razor's-edge highest level, the HaloWC 2017 Finals proved yet again how incredibly epic competitive Halo truly is.
While every team showed their own particular moments of greatness, you can't really say enough about the now-two-time defending champs at OpTic Gaming. Lethul, Snakebite, Royal2, and Frosty have faced every challenge thrown their way, and come out unscathed nearly every time. They are very much the current New England or Alabama of modern day competitive Halo, and deserve the accolades heaped upon them – comparisons to the greatest teams in Halo esports history are apt. Can you imagine OpTic Gaming taking on Final Boss/StK, Carbon, Triggers Down, or Instinct? Tantalizing to say the least!
For their troubles, the OpTic squad netted the lion's share of the $1 million prize pool, but other elite competitors like Team EnVyUs and Team Liquid didn't do too shabby either. Here's how the final payouts were broken down: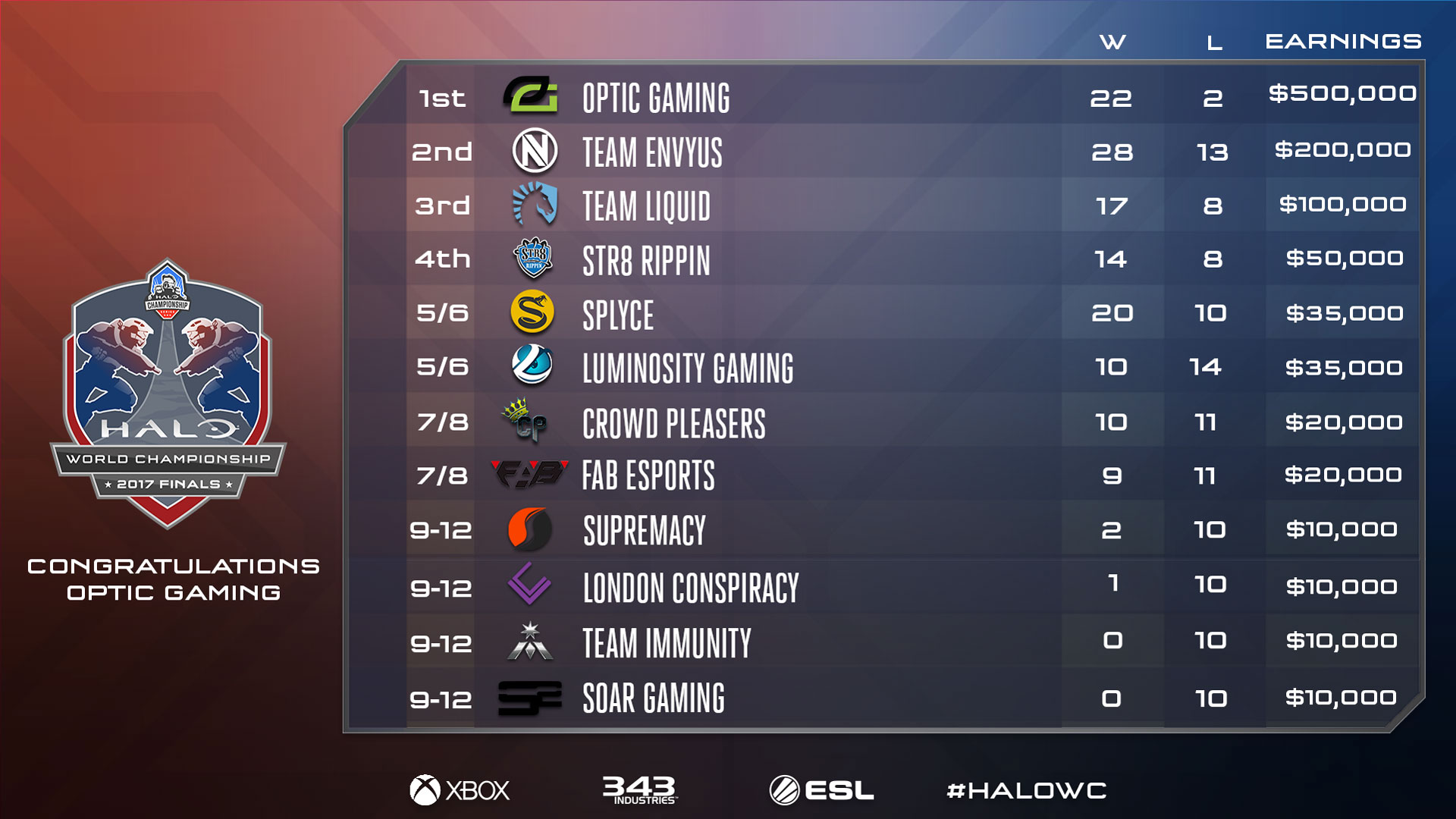 TOP STORIES
It's impossible to talk about each and every one of the literally hundreds of storylines that manifested themselves throughout the HaloWC 207 Finals, but here are a few that stuck out to us in particular…
OpTic once again proves they are still the world's best Halo team currently. Their teamwork, focus, and dedication is unparalleled.
Str8 Rippin went the distance in two of their most important series, winning Game 7 series against TMMT Crowd Pleasers and Splyce, punctuating an impressive Top 4 run for the beloved squad.
FAB Games put together an hard-fought Finals resume to finish in the Top 8, again proving that they are without a doubt the best team outside of North America. Jimbo, Mose, Respectful, and Tufoxy have plenty of unfinished business on the world-stage, and we expect even bigger and better things from them in the future.
One of the biggest stories early on in the tournament was Splyce announcing their presence with an exhilarating 3-1 upset of Team EnVyUs in Friday's Group Stage. Splyce's young squad would end the tournament in the top 5/6, and carry loads of potential into the future.
One of the most impressive stories of the weekend was Team EnVyUs clawing their way through the Loser's Bracket, tearing all opponents apart en route to a Grand Finals appearance. During their tear, nV 4-0 swept Supremacy, TMMT Crowd Pleasers, Luminosity, and Str8 Rippin, capping it off with a 4-2 Loser's Finals win over tournament-Achilles' Heel Team Liquid. Despite dropping the Grand Finals to the World Champion OpTic Gaming squad, nV ended the HaloWC2017 Finals having played a total of 41 games, and winning a tournament-topping 28 of them.
Speaking of nV, Mikwen had arguably the best tournament of his career – and on the biggest stage – putting up huge numbers in both Slayer and Objective gametypes, and ending up in the Top 3 for both damage dealt and total kills in the tournament.
SHOTS FIRED
Enjoy a selection of on-site images, taken by our own ske7ch and Drew Benz! I'm a particularly big fan of the Unggoy exposition and Spartan sketch by 343 artists Josh Kao and David Heidhoff respectively...
HCS DAYTONA

An announcement that is hot off the proverbial presses today is one that is especially exciting for Florida boys like ske7ch and yours truly – our next (and fast-approaching!) Halo Championship Series event is HCS Daytona, an epic open event taking place on May 12-14 at the Ocean Center on Daytona Beach, FL. That's right, east coast, baby! HCS Daytona will feature a $75k 4v4 prize pool, and a $5k FFA tournament. More details can be found in our announcement blog here, but in the meantime, get hyped for some epic Halo brawls at the beach!
PLAYS OF THE WEEK
In keeping with the theme, this week's selection comes from the HaloWC 2017 Finals, featuring some of the highest-level Halo 5 play you'll ever see.
COMMUNITY SPOTLIGHT
Another one of our favorite little moments throughout the weekend was the presentation of a particularly awesome and unique Spartan helmet from the 405th to our very own Bravo. From meme to Mjolnir, the BARVO-class helmet is an epic manifestation of the passion – and compassion – of the Halo community. Here's some deeper details from the r/halo headwaters. And of course, what would a new piece of armor be without a little lore-laden Fodder-flavor added to it?
Developed as a one-off prototype for a legendary champion of War Games competition, the BARVO-class helmet incorporates the latest GNNR-platform VISR for elite threat-detection, as well as an aerodynamically sculpted rear decklid for high-altitude insertion ops. Developed by Beweglichkeitsrüstungsysteme, and tested in Operations: WEASLEY and HERODUCK, the BARVO-class helm features a highly-adaptable sensor suite that leaves plenty of room for requirement when necessary.
Pretty sure it's canon now, I mean, isn't that what italics means?
From meme to reality...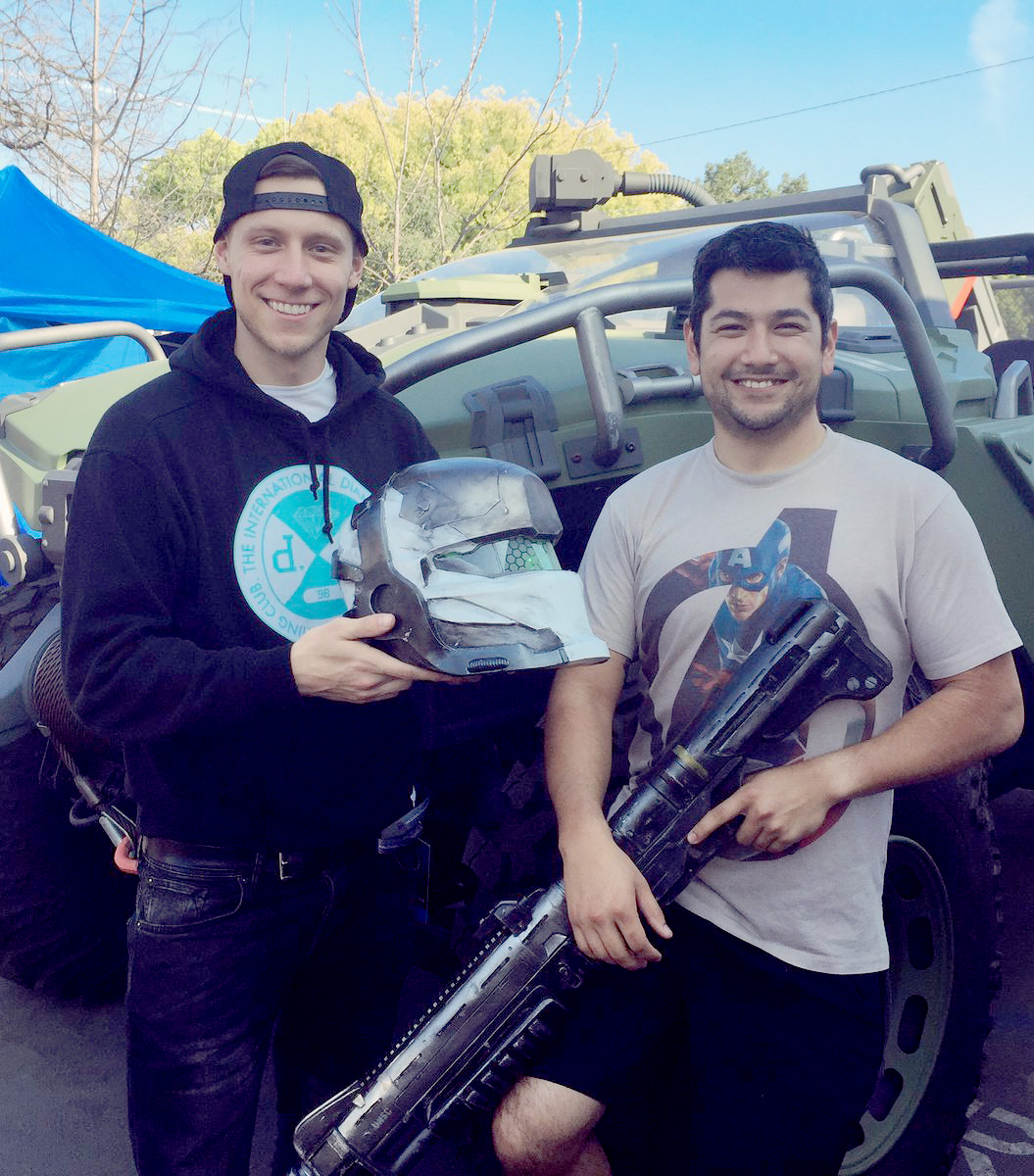 The final result...
Also, as a bonus Community Spotlight, check out god-tier montage-maker Snipetality's epic look back at the HaloWC 2017 Finals. Seriously, so good. Check it out!
And that will do it for us this week. The HaloWC 2017 Finals was an epic all-hands-on-deck experience for your friendly neighborhood 343 crew, and it was an absolute blast to get to spend actual quality time putting faces with so many names, handles, and Gamertags. Moments where we all get to celebrate Halo together are our favorite kind, and we can't wait to make more of them with you in the future. Join us next week for more news and info on some pretty awesome happenings around the Halo community. See you then!
Until next time… Live well, play Halo, and don't ever underestimate Huke with a Needler, or Uny at a Japanese BBQ joint.
<3