We're not in Kansas anymore, eh? Anyway, welcome back, Halo faithful! And good news – if you're reading this, that means I wrote it, and if I wrote it, that means that I didn't go blind by doing anything particularly irresponsible during this week's epic solar eclipse. Like many of you, a large contingent of the studio marched inexorably up to the top of the parking garage to unite in our common curiosity and admiration of the celestial celebration. As someone who spent nearly two decades in science education entertainment pre-this Spartan life, I was particularly stoked to share a passion for real science alongside all the wonderful folks I help create fake science with each day. And while the solar-observing ocular aids may have been in short supply, the inevitable oohs and ahhs were not. I can only hope that wherever you are, you were able to experience some of the wonder and majesty of creation, whether observing in person or streaming awesome images online. After all, there was a giant halo in the sky.
This week, we've got a smattering of subjects to tackle and talk about, so let's get right to it. To begin, we head to the beautiful Köln, Germany for an update on a few Halo Wars 2-related bits and bobs we shared at gamescom.
GAMESCOM
Just this morning, we dropped some juicy new details and assets for the upcoming Halo Wars 2 expansion, Awakening the Nightmare. One of the biggest specific newsbeats was the announcement (or confirmation, for the particularly internet-savvy) of the Awakening the Nightmare release date, which is only almost exactly a month away! You'll be able to take control of Banished forces, and take on the Flood, on September 26 for both Xbox One and Windows 10 PC.
To recap, the Halo Wars 2: Awakening the Nightmare expansion includes new Banished campaign missions, a new co-op multiplayer mode in Terminus Firefight, two new Banished leaders – Pavium and Voridus – with new units and abilities, and two new multiplayer maps. For the full skinny, check out our official gamescom update HERE.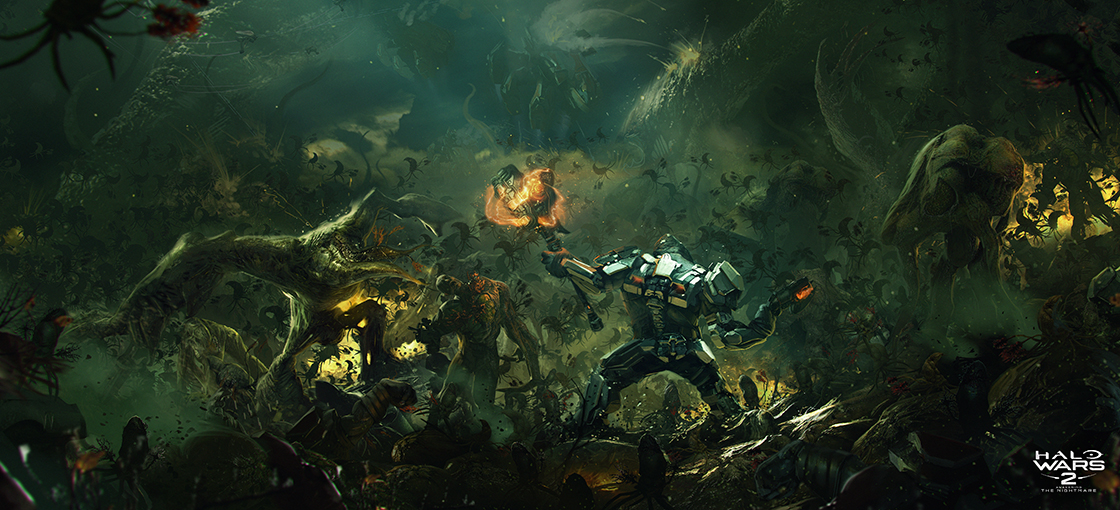 NEW DIRT
Hello, it's me. I was wondering if after all these days you'd like to meet to go over everything – they say that time's supposed to reveal stuff, but I ain't done much revealin'.
It's that time again, the time of the week where we parse out the next tidbits of some upcoming sandbox tuning updates to Halo 5. So, without further Adele, here's top community confidant ske7ch with new details!