Hey everyone! Next week will be a bit crazy around home base with both ske7ch and myself out of town for various recon missions, so we thought we'd take the chance to drop a quick Update this week instead of next. With all the mileage we're racking up these next couple months, regular editions will definitely be catch-as-catch-can. Regardless, this week we're rounding up some rad happenings going on around our favorite franchise, from new MCC update deets to HaloWC info, additional awesome content from the community itself, and more. Let's dive in!
MOAR LORE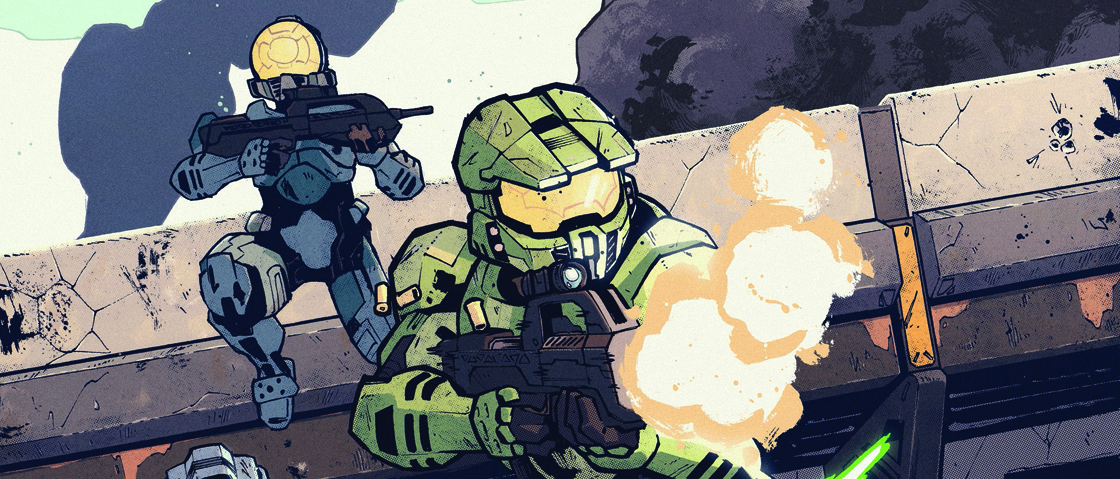 This week we announced a new comic mini-series with our friends at Dark Horse. Halo: Collateral Damage is a new Master Chief story that focuses on Halo's most iconic hero (and recent birthday boy!) and some of his untold exploits during humanity's war with the Covenant. For a few more details, check out the announce blog HERE.
Halo: Collateral Damage #1 (of 3) goes on sale June 06, 2018 and is available for preorder at your local comic shop.
However, that's not the only little narrative nugget we've got for you today (I mean c'mon, look who you're talking to). Many of you might remember our cover art reveal of the upcoming Halo: Bad Blood by Matt Forbeck back in Canon Fodder Issue 100. Today we're excited to share the story synopsis with eager fiction fans. Interested? Thought so.
Just hours following their climactic battle on the Forerunner planet Genesis, the Spartans of Blue Team and Fireteam Osiris find themselves running for their lives from the malevolent machinations of the now-renegade artificial intelligence Cortana. But even as they attempt to stay one step ahead, trouble seems to find Spartan Edward Buck no matter where he turns.
A secret mission enacted by the Office of Naval Intelligence could possibly help turn the tide, and has Buck reluctantly agreeing to reform his old team, Alpha-Nine. Because if the band is really getting back together for this one, that means everybody—including the Spartan who Buck never wants to see again, the one who committed the ultimate betrayal of trust….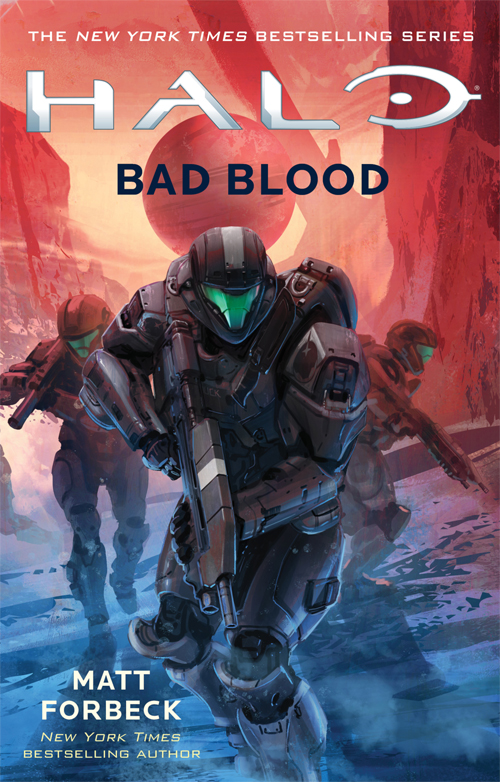 Halo: Bad Blood is slated to hit store shelves and digital drives on June 26.
MCC UPDATE #2

Yesterday, our dear ske7ch dove into the development foxholes with the Legac- err, Publishing Team, all of whom are tirelessly hard at work churning away at evaluating and testing updates to the Master Chief Collection, with the aim of turning it into the timeless treasure-trove of Halo happiness it deserves to be.
Lots of things are discussed, including information on flighting, feature requests, answers to some frequently asked community queries and more. For the full skinny, make sure you check out the full feature HERE. Plus, the more you click on things, the cooler our website becomes to the internet.
HALOWC UPDATES

The Halo World Championship continues to power through its globe-trotting tour, with the HaloWC 2018 Sydney Finals next up on the docket. The finest fireteams in the Australia-New Zealand region will be battling it out for the chance to earn a spot in Seattle's big show come April. Of course, the $20k prize pool for this weekend's tournament doesn't hurt either.
With the action taking place down under, this weekend's festivities are fittingly taking place in the future as far as we're concerned, so the action kicks off today for those of us in the US, seeing as it's already Friday in Australia. The fourth dimension is weird, yo.
You can get all the details on the Sydney Finals in our official preview, and catch all the action live at mixer.com/Halo, twitch.tv/Halo, and live.twitter.com/Halo.
EVENT & BROADCAST SCHEDULE
Thursday, 3/08/18 – 4PM PST – 2:30 AM PST
Friday, 3/09/18 – 3PM PST – 12:00AM PST
Saturday, 3/10/18 – 3PM PST – 12:00AM PST
And don't forget, right after Australia the tour heads to Mexico City for the HaloWC 2018 Mexico City Finals, an open regional final where any competing team from Latin America can register to play, and taking the top spot will earn you a trip to the HaloWC Finals in Seattle. For more details, check out our Mexico City Event Hub.
And it doesn't stop there, following Mexico City (March 17-18) is the Columbus Finals (March 23-25), and then the big one, the HaloWC 2018 Finals in Seattle at the Century Link Event Center on April 13-15. Get hyped!
STRATEGIC ENDEAVORS

Recently, 343 denizens Tyler "Postums" Davis and Matthew "Wrensi" Jordan have been doing some incredible work within the Halo Wars 2 community, helping both gather feedback and answer questions as well as work behind the scenes to try and implement new balance adjustments and quality-of-life improvements for the Halo strategy experience. In addition, they've also joined us in efforts to evolve the competitive HW2 scene, as we continue to look at ways to not just highlight many of the awesome community-curated competitions going on, but also through official tournaments online with the Xbox Arena feature. Let's hear from the guys on some of the things they've been seeing.