Welcome to October 2015, Halo fans.
We've entered a historic month. In just 25 days, the next Halo title will release, and years from now, similar to past game launches, you may remember the lead up to the game's launch, the midnight release, and the days and weeks that follow. We've been providing you with consistent drops of Halo 5: Guardians details, and we hope you've enjoyed what you've seen thus far. Earlier this week, you saw more Warzone gameplay as well as REQ info, and without fail, our friends at r/Halo have all of the details and videos. You've seen another sneak peek at new REQ Cards, and maybe you're even caught up with all of the intense action of Season 2 of Hunt the Truth. A quick glance at the massive, jam-packed whiteboard next to my desk tells me that there's a lot more on the way between now and the end of the month, and I'm excited for each and every screenshot, tidbit, and gameplay clip that is on the way.
Over the past few weeks, we've learned a great deal about the development of Campaign missions as well as Warzone and Arena. This week, we'll take a deeper look at something we haven't talked much about in the weekly update: the fast-paced Arena mode Breakout.
Breakout Breakdown

I recall first seeing design specs when I first joined the studio nearly three years ago, but few know that the first development and design of the mode actually began around 2010. This week, we'll hear from Multiplayer Design Director Kevin Franklin and Multiplayer Designer Quinn DelHoyo on how Breakout came to be, how it changed over the course of development, and where it is now.
Kevin Franklin, MP Design Director
I'm a huge fan of the intense moments offered by an elimination mode and it's always been something I've wanted to build in Halo. The original pitch for Breakout was heavily inspired by my experiences playing Speedball [competitive paintball with inflatable bunkers], and a lot of LAN party gaming with friends.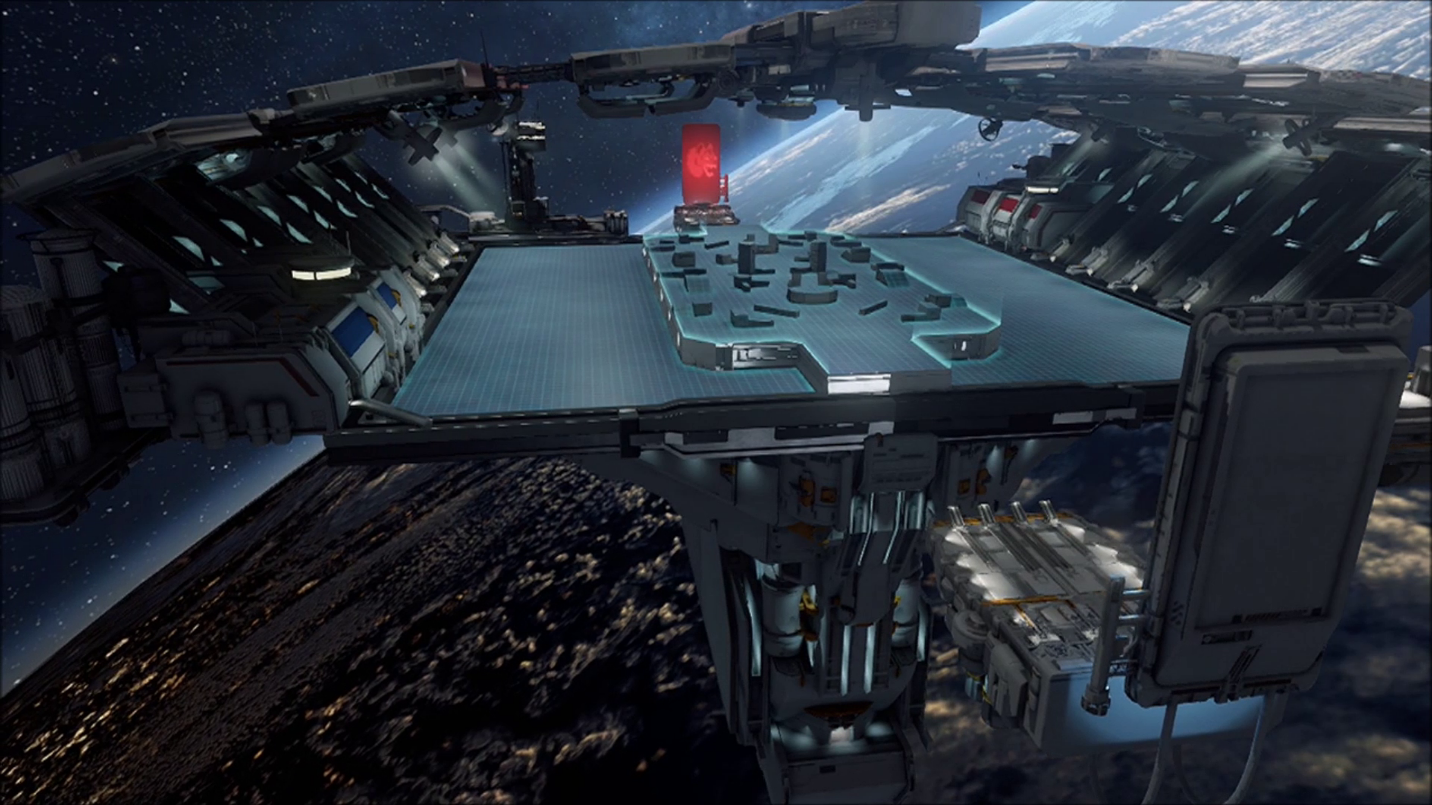 An early work-in-progress look at Crossfire, circa 2013
"Elimination" refers to the no-respawn setting in Breakout. There's an incredible feeling that comes over you when you're the last player standing on a team. I love playing as and watching the last player standing, especially in close situations - the pressure's on, you've got your whole team watching you and cheering you on. It's an adrenaline rush for sure.
Breakout is a round-based game mode, where the first team to win five rounds secures the victory. Your team wins a round by eliminating the other team, or by pushing the flag to the other team's base. One of the awesome things about a round-based mode is that it's not over until it's over. Some of the most exciting games of Breakout we've seen feature truly epic comebacks, and you can never write off a team until the game is complete.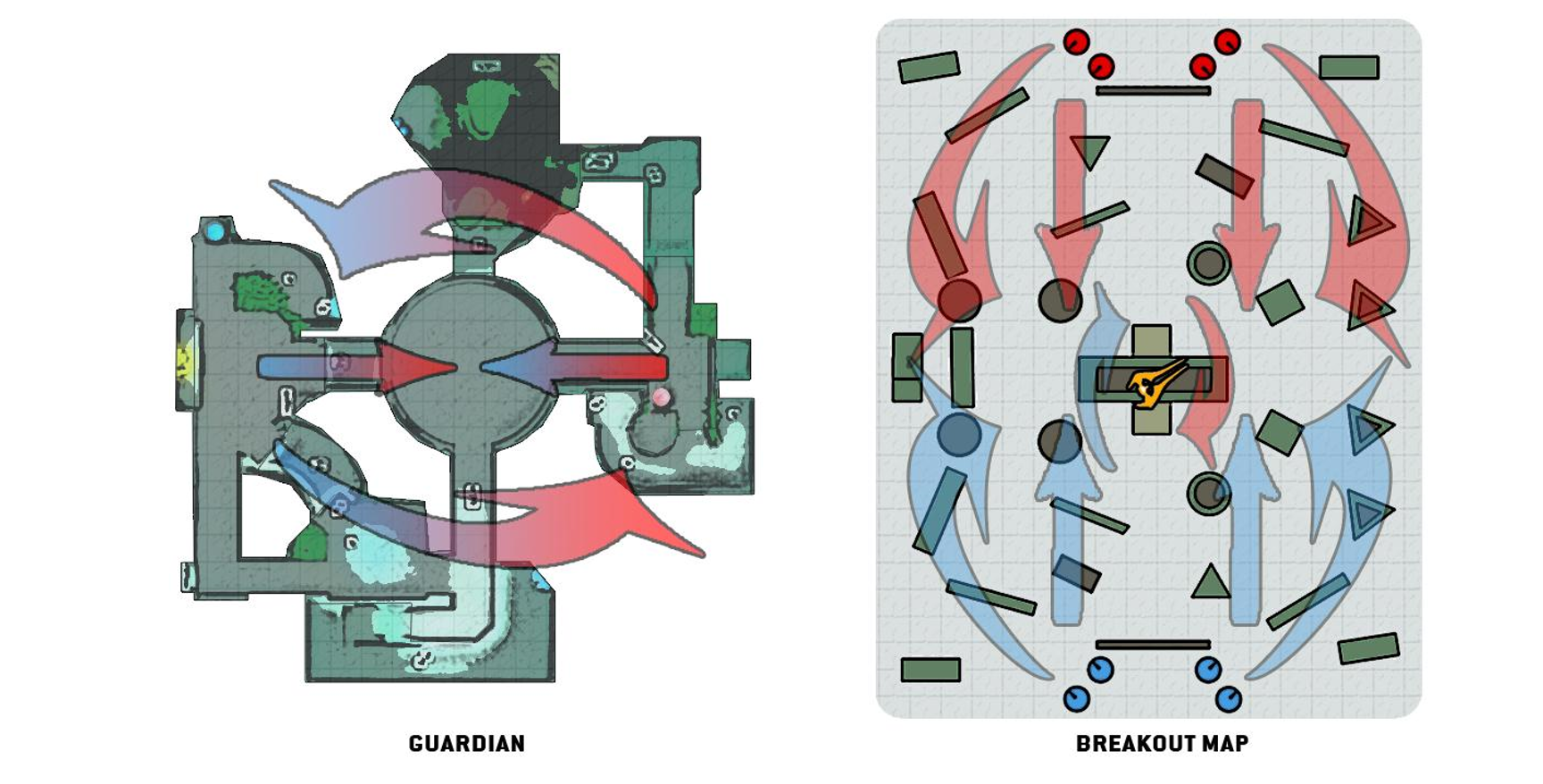 An early design doc reveals the "push-combat" of Breakout contrasted with the circular, cycling combat of Halo 3's Guardian.
One of the first things we prototyped early in Halo 5 development was the running start in Breakout. The running start propels you through the air and into the court. The running start is really big on setting the stage for the match, and it's not just for show - the way players "Break Out" into the court is what helps each game play much differently.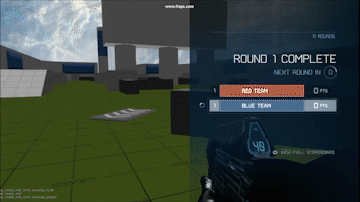 We also want players to strategize about their openings and use the weapons around the map to define their team's strategy each round. This is something we tried to visualize early in some of the original design documents for Breakout. These are over five years old, and Breakout has come a long way since these, but I thought they would be cool to show how we have progressed.


My biggest hope for the Breakout is that it's a mode that will evolve with Halo, and incorporate great ideas from the community. Pro Team has done a great job of building several of the launch maps for Breakout, and we're really excited to see what the community can come up with as well.
Quinn DelHoyo, MP Designer
Whenever you set out to create a new experience, there's always lots of experimentation. Breakout was no different. Everything from the game rules, starting weapons, objects on map, etc were all heavily experimented with. Besides the addition of the flag objective, the most notable change from the early days until now is the level design of the Breakout maps or courts. One of our early prototype spaces was a map called Speedball, named after the paintball variant Kevin described. It was a very simple map that we used extensively throughout the first year of Breakout's development cycle. Some of Speedball's features established the guidelines we used in creating future Breakout maps. These features include:
Risk versus Reward – This is something you'll find in all Breakout maps. Speedball really helped establish this guideline with its dividing wall in the center of the map. Players had to make an aggressive move to slide into that location. Once there they can easily shoot any opponents trying to flank but at the same time it was difficult to move out of because everyone saw the player make that aggressive move. It's this type of risk/reward gameplay that we knew we had to integrate into all of our Breakout maps going forward. Some examples are: Making a move for the Shotgun in the middle of Trench, trying to get the Active Camouflage on Gambol, or using the Gravity Lifts on Altitude to attack the opposing team's location.
A strong front and "No Man's Land" – This design is key to Breakout as it allows a team to easily identify friendly and enemy territory. This also compliments the risk/reward guideline of Breakout. Crossing the No Man's Land can be dangerous but at times is necessary in order to flank an opponent. Breakout maps that utilize strong fronts the best are Crossfire, Trench, and Altitude.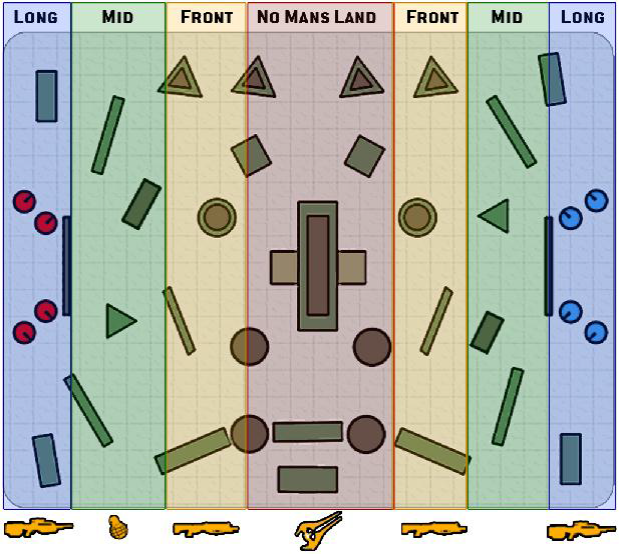 A "Feature Depth" overhead map showcasing different zones throughout the Breakout map, circa 2010
Running Starts – As Kevin said, every Breakout round begins with the opposing teams running full speed into Man Cannons that launch them into the map. This is an exhilarating moment that gets both teams to hit the ground running towards their desired location or weapon. Speedball was the map where we prototyped this new way of spawning players into the world and really solidified "Running Starts" as part of the Breakout DNA.
Positions – One of the bigger lessons we took away from Speedball was the need for roles or teammate positions on the map. Speedball was overly flat and didn't offer enough distinction between cover pieces, high/low ground, and weapons. This is something we set out to address when we built Crossfire as the direct sequel to Speedball. Crossfire features much more distinction in locations that promote different types of playstyles. There's a tower on each side of the map with a Battle Rifle, a platform with a stash of grenades, pyramid alley that has an Assault Rifle, the house that fosters close quarters combat, and there's the stage which requires an aggressive move but is relatively safe if a player successfully gets there. All of these ideas around positions are found in every Breakout map.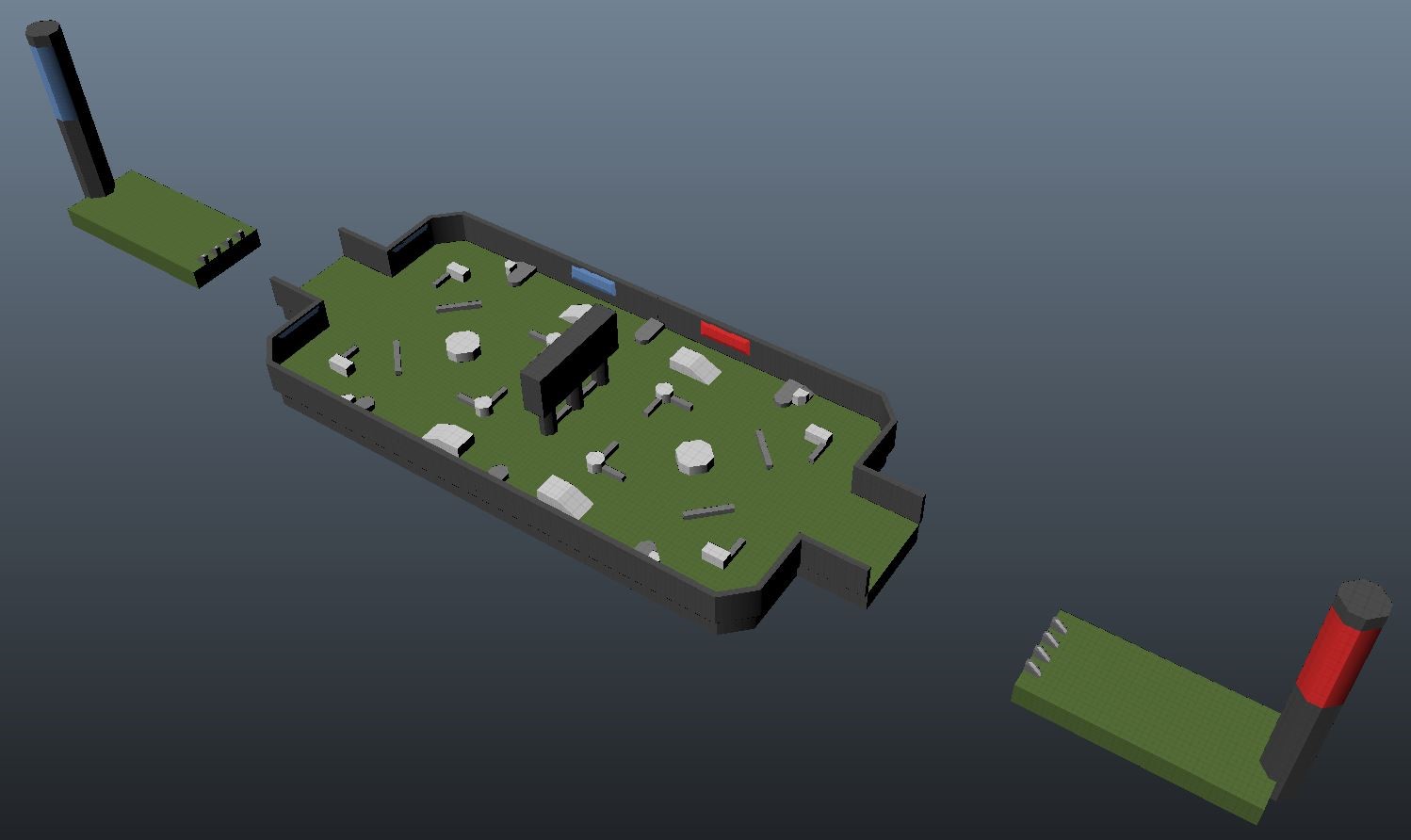 Speedball – Isometric View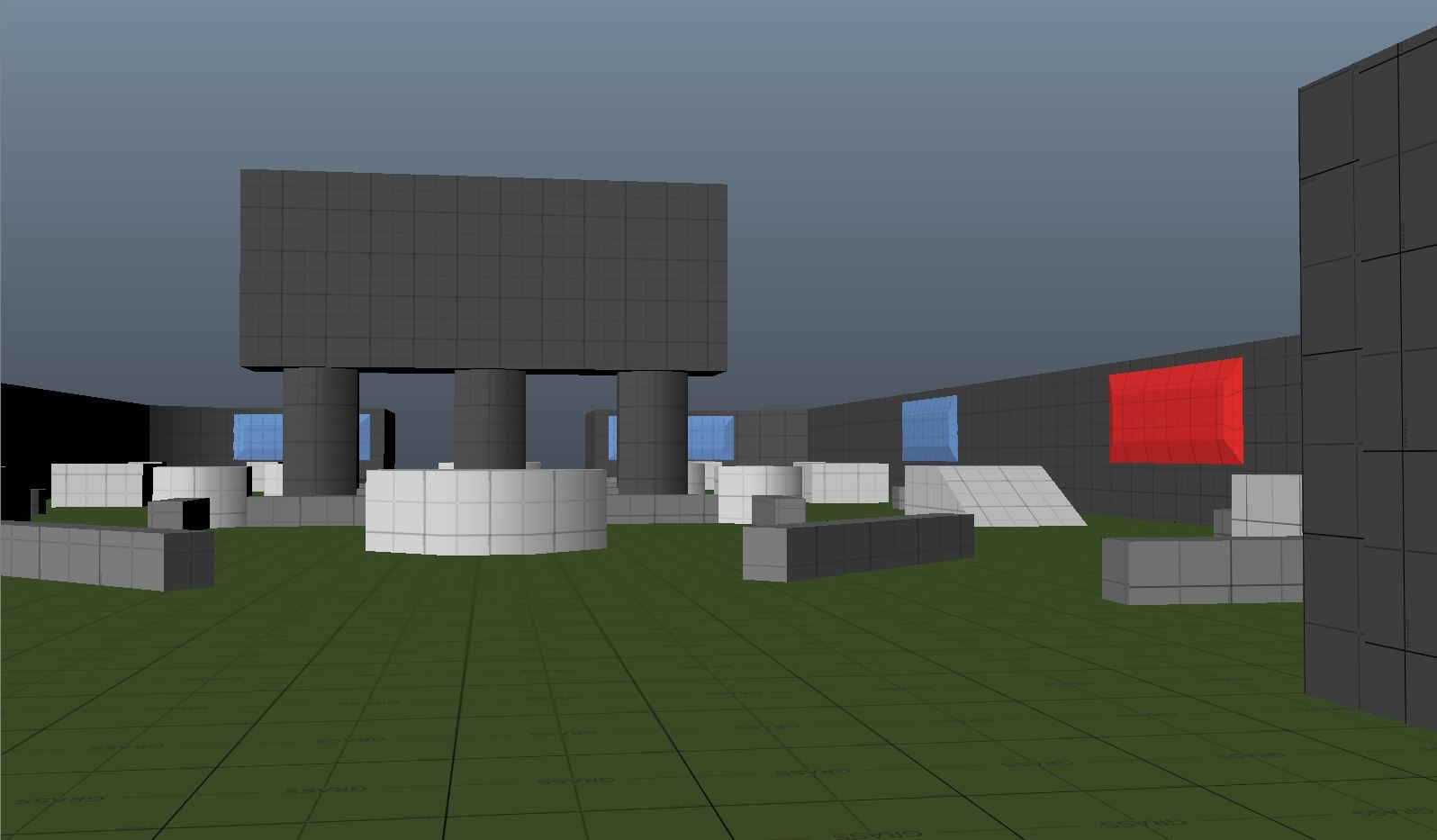 Speedball – Red Yard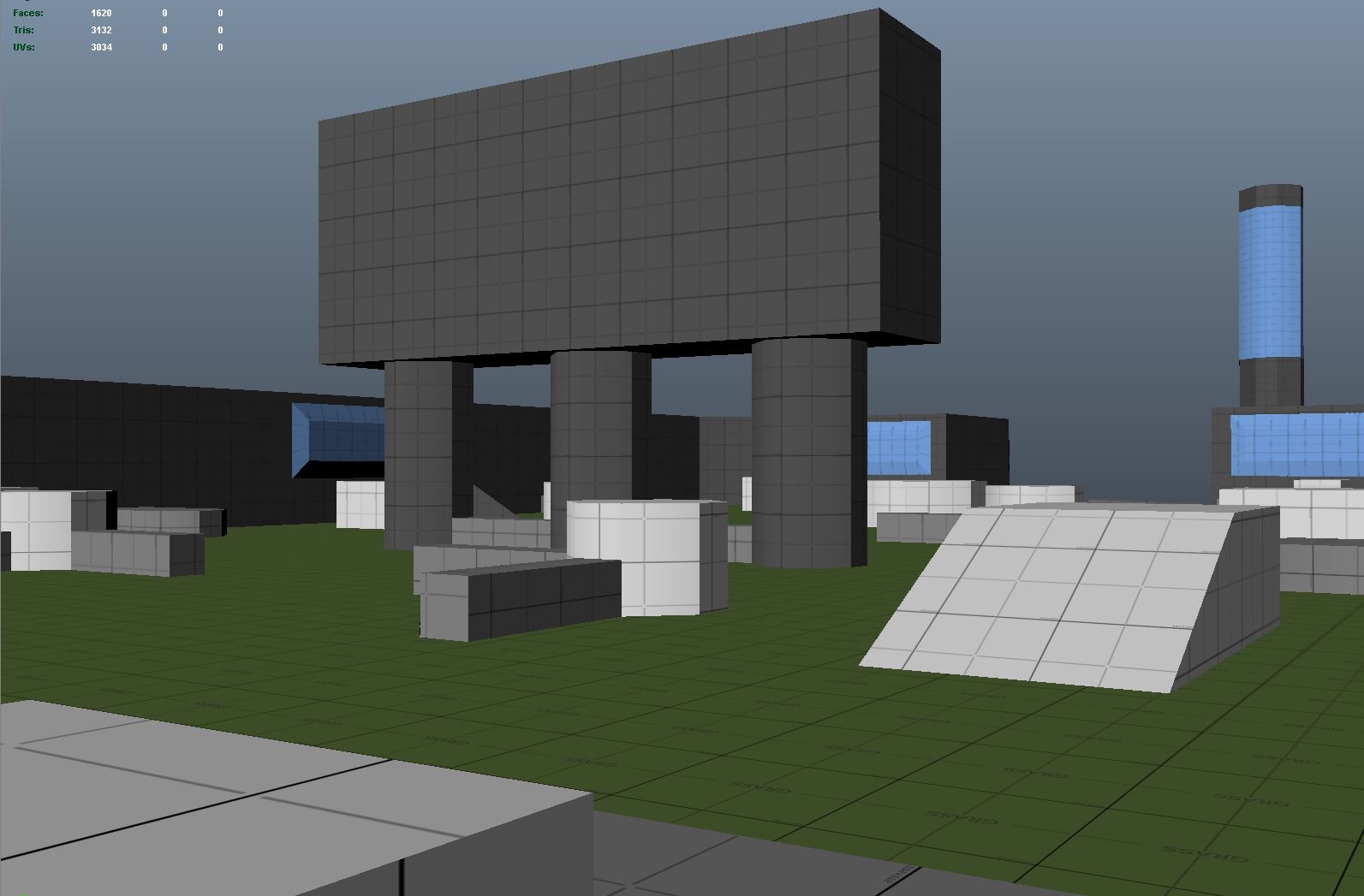 Speedball – Red Corner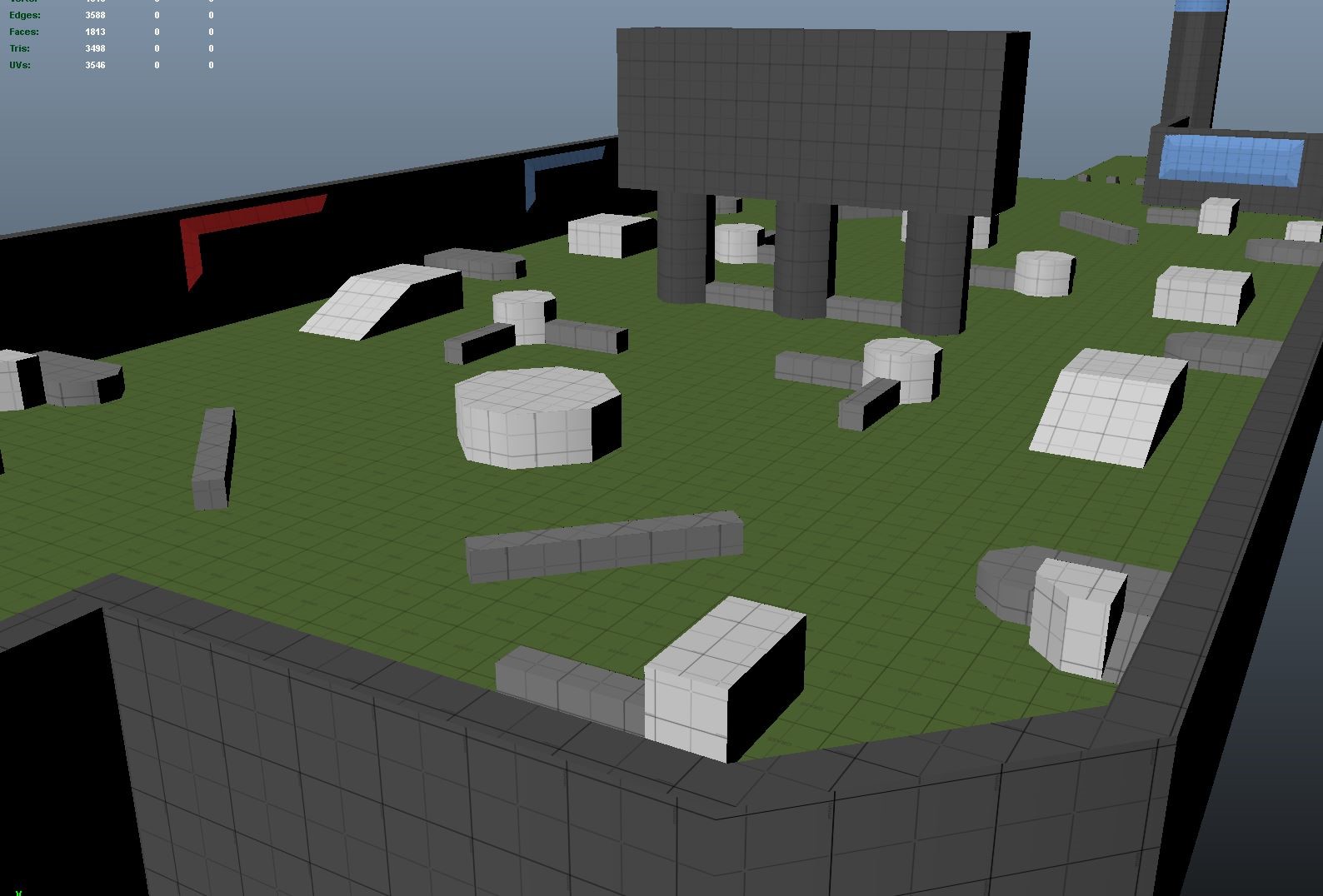 Speedball – Isometric Red Yard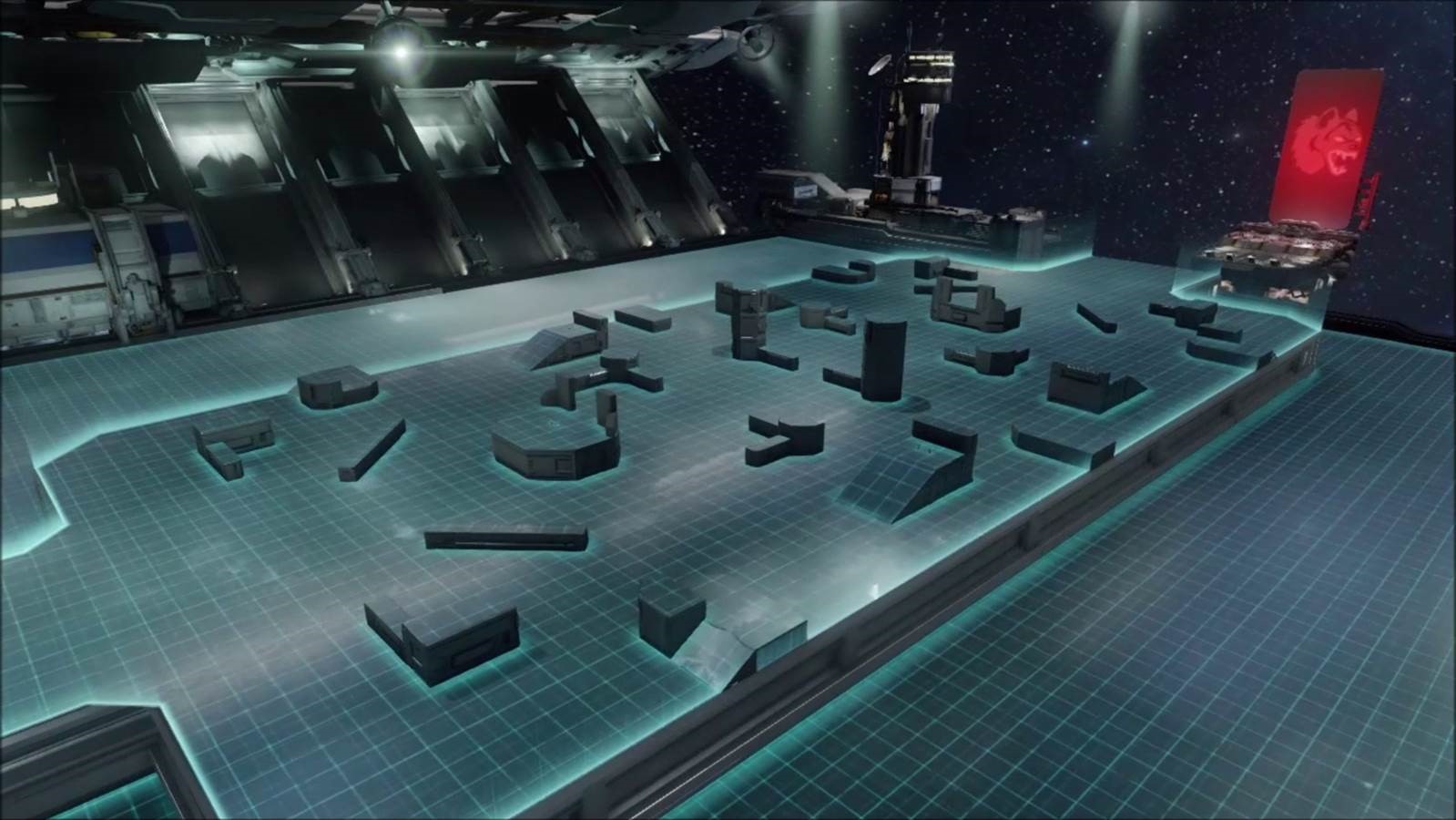 Speedball -> Crossfire
The Neutral Flag objective was a big change that we made after our Arena Multiplayer Beta earlier this year, and we love the results. It offers teams another way to win a round by taking the flag and pushing it into the opposing team's starting location. Not only does this add depth to the mode as a whole, but it also can create hero moments where a player stealthily pushes the flag and wins a round right under the enemy team's noses. My favorite aspect of the Neutral Flag is how level design determines its prevalence during the course of a match. For instance, Crossfire is very open thus making flag pushes very difficult. But on maps like Trident and Gambol, teams must really respect the flag due to how much more verticality and sneaky routes those maps offer.
As with making games there is always lots of experimenting and prototyping, and Breakout was no different. Some of the experiments make it all the way through to the shipping game while others hit the cutting room floor. In the early days of Breakout, we were experimenting with what we called "Land Cannons" – they can be seen in the above GIF. They resembled fast moving conveyor belts that would shoot a player forward really fast. We placed them on the map to help players get to their positions quickly, but we also were using them for aggressive flanking maneuvers as well. In the end we thought they were fun but they also detracted from the risk/reward nature of Breakout as players were zipping around too much. Who knows, maybe we'll get back to experimenting with Land Cannons again at some point.
--
Stay tuned for more on Breakout, as well as tips from our Multiplayer and Pro Team as we get closer to launch.
Halo: The Master Chief Collection

Work has completed on the upcoming MCC content update, which will be entering the certification process within the next few days. The update will include improvements to ranking and other areas, new systems and temporary bans for negative behavior such as quits, betrayals, and idling, resolutions for getting stuck at the "Downloading Latest Data" screen, and more. The update will be made available as soon as it clears certification, and we'll also provide full patch notes at this time. Keep an eye on Waypoint and @Halo to find out exactly when the update goes live.
The playlist team continues to tune existing experiences as well as create new ones, including Halo: CE 4v4, which will be the next rotational playlist after Infection, Head to Head, and more. Here's a list of the current changes (so far) for the next playlist update, which will focus on improvements and additions to the Big Team Battle playlist, including the addition of more BR-start game types.
Team Slayer:
Big Team Battle:
Adding Hang 'em High CTF (Halo: CE)
Increasing appearance of Halo: CE Blood Gulch CTF (Halo: CE)
Adding Containment 1-Bomb Assault BR (Halo 2)
Adding Containment 1-Flag CTF BR (Halo 2)
Adding District Crazy King BR (Halo 2)
Adding District 1-Flag CTF BR (Halo 2)
Slightly increasing appearance of District Team Slayer BR (Halo 2)
Slightly increasing appearance of Uplift Team Slayer BR (Halo 2)
Adding Uplift 1-Flag CTF BR (Halo 2)
Add Uplift 1-Bomb Assault BR (Halo 2)
Slightly reducing appearance of Stonetown (H2A)
Slightly reducing appearance of Remnant (H2A)
Slightly reducing appearance of Bloodline (H2A)
Removing Ghost Town (Halo 3)
Adding Last Resort 1-Flag CTF BR (Halo 3)
Adding Longshore 1-Bomb Assault BR (Halo 3)
Adding Sandtrap Multi-Bomb Assault BR (Halo 3)
Adding Standoff Territories BR (Halo 3)
Add Valhalla Multi-Bomb Assault BR (Halo 3)
Slightly reducing appearance of Valhalla Crazy King (Halo 3)
Slightly reducing appearance of Dominion (Halo 4)
Adding Harvest CTF (Halo 4)
Add Exile CTF (Halo 4)
We'll continue to provide regular updates on the upcoming MCC content update as well as playlist updates. Stay tuned for the latest.
The NECA Needler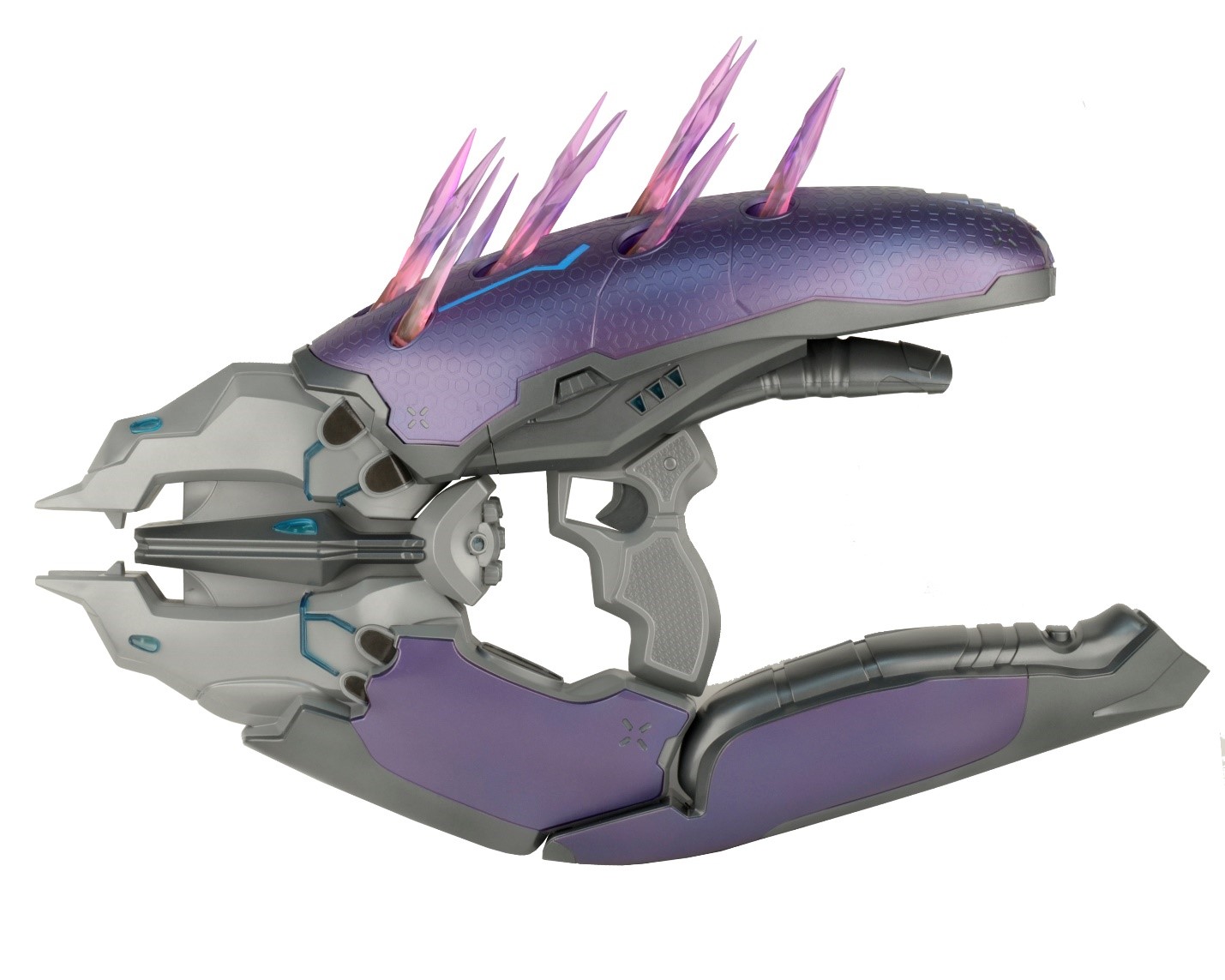 Have you ever wished for a huge, true-to-scale Needler to call your own? Us too. We recently got our hands on the final version of NECA's Needler replica, and we really like it. So much in fact, that we even took it out for a test spin on Installation 04. Read on for the official description.
Complete your Spartan armor with a colossal 1:1 replica of one of Halo's most iconic weapons! From the award-winning video game series, the Needler is now available as a limited edition, full-size 1:1 replica featuring LED lights, in-game sounds and over a dozen motorized "crystal shards." When you squeeze the trigger, the crystal shards retract in sequence to simulate being fired. To reload, simply travel to the Sanghelios moon of Suban for extra crystals (or press the reset button located in the grip).
For more, check out NECA's page here.
Halo Channel Update
For those of you who love to feed your Halo head in a more mobile-minded way, the Halo Channel mobile app has some pretty exciting new updates for you to check out. You now have the ability to view your favorite Halo news and blog content directly within the Halo Channel app, including the latest in development news, your lore-lovin' issues of Canon Fodder, and Community Updates like the very one you're reading. Plus, you can now explore the deeper details of Halo's story, characters, vehicles, locations, and more with direct access to the Halo Waypoint Universe encyclopedia right in the palms of your hands. It's just our way of trying to let you digest the Halo you love in the coolest ways possible. Check it out!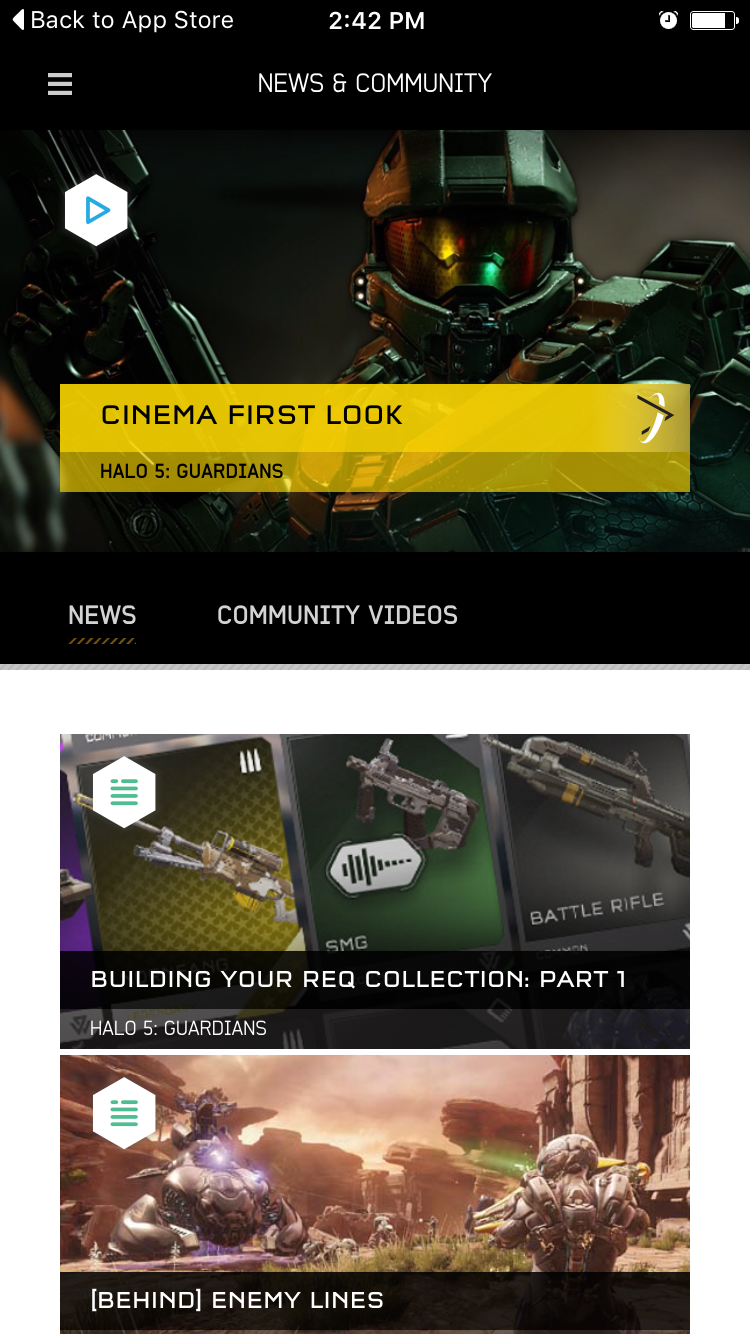 Community Spotlight: Need for speed[running]

I first became fascinated with speedrunning when watching some of the world's finest pull off some incredible tricks, such as Delta Halo's Ghost Flip, The Truth and Reconciliation's Triple Grenade Jump, and more maneuvers that require precision accuracy and timing. Last year, I was fortunate enough to meet both Mister Monopoli and goatrope, two of the world's top runners, and ask them all sorts undoubtedly ridiculous questions about the world of speedrunning. We also agreed it'd be a fantastic idea to share the art of speedrunning with the world, so they were kind enough to sit down with me for an interview this week. Read on for that conversation.
Hey, guys! Thanks for joining me today. To kick things off, how'd each of you get started in the world of speedrunning?
goatrope: Back in 2004 Halo.bungie.org was hosting a speedrunning competition called "Going Nowhere Fast" which was the first major speedrunning event for Halo. It piqued my interest enough that I started trying out some runs, and I got close enough to the other contestant's times that it triggered a hunger in me to be the best. I spent my whole summer grinding out runs for that competition and ended up winning two of the 10 categories there and it left me with a love for speedrunning.
Monopoli: I got into speedrunning a little later around 2006 or so. I saw people on a site called High Impact Halo and I used to post a lot there, and I was really into glitching, rather than speedrunning. But their forums held a subsection for speedrunning, so I ended up making my way over there, I saw a few videos by some runners like scurty and I was really, really impressed with the tricks, especially the Halo 2 tricks, so I started speedrunning Halo 2. And kind of similar to goat, I got really close to world records, and once you get that taste of being the best, it just kind of hooks you and you can't really stop.
At what point did you know that you could become world record holders for your respective games?
Monopoli: After about a month and a half or two of speedrunning - the games were much less optimized back then - but they were still optimized, and you needed to be good at the game and you needed to know the tricks and stuff but after about a month of playing I realized that I could do exactly what the people in these videos were doing and I tried my best to recreate it, tried my best to improve on it, and eventually I was able to take records.
goatrope: I was in a pretty similar boat. I mean, I started so early there were maybe 15 of us in the entire world doing this and nobody had really done it before so there was still so much to develop. It hadn't evolved as a hobby yet. We just got "default" world records because we were the first people doing it. But after I took a break and I came back in 2013, I was totally out of the loop. A bunch of new shortcuts had come out, a bunch of new strategies had evolved, and it was my buddy Scott aka "LePhoque" who held the world record at the time who kind of took my hand and showed me everything new. He taught me so well that after a couple weeks I just felt really confident in all the tricks and I thought "Yeah, I can do this."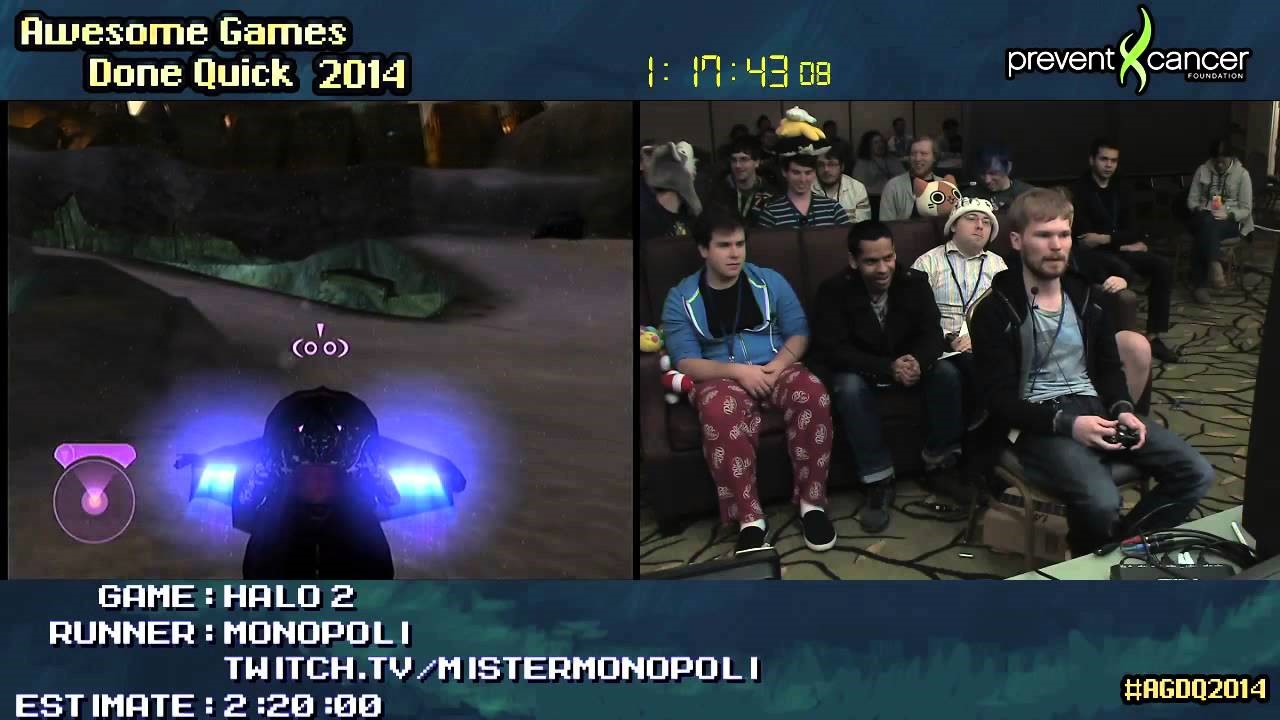 Mister Monopoli runs at AGDQ 2014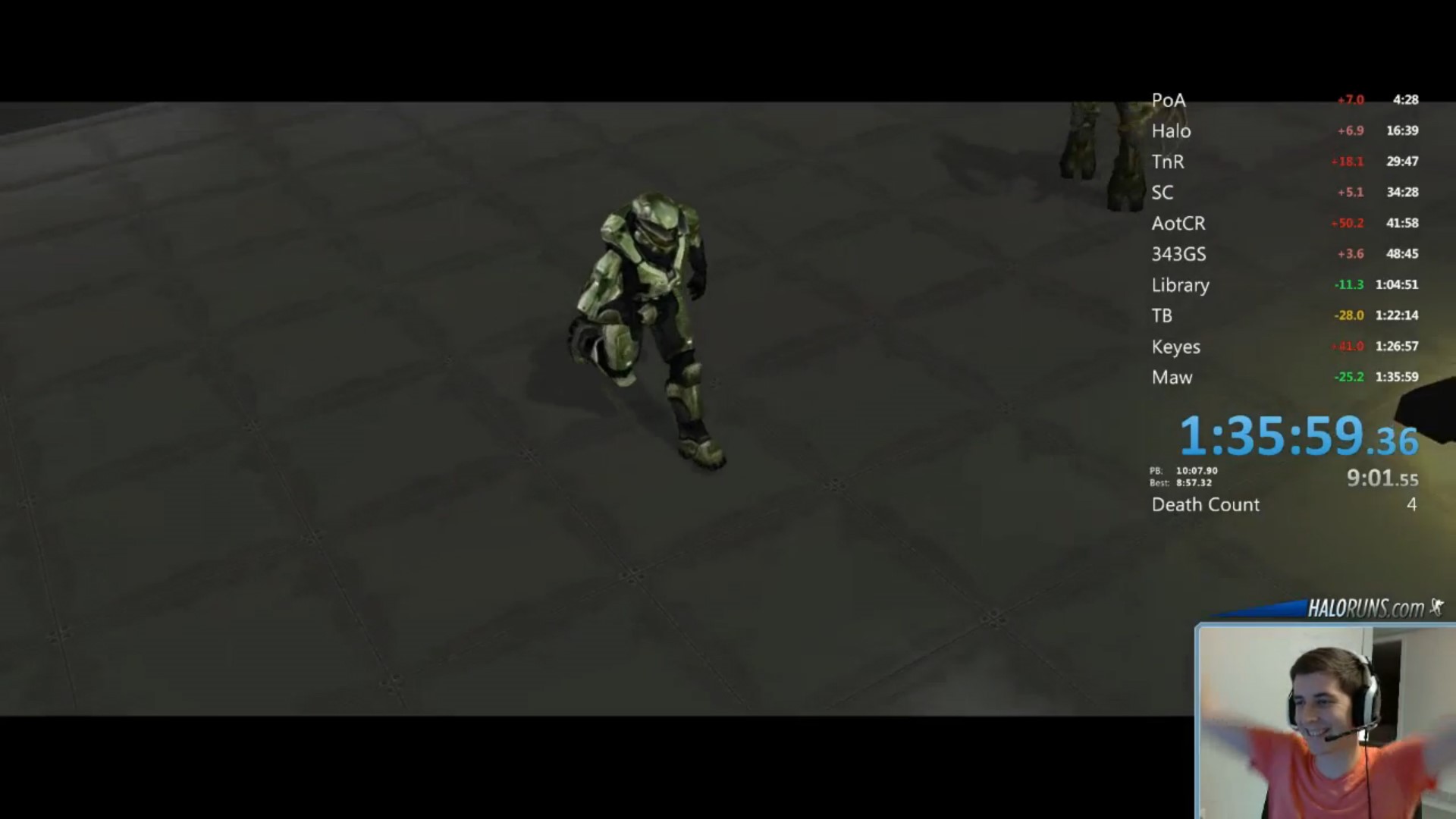 Goatrope finishes a Halo: CE run in 1:35:59. (Click here to see his personal best, former world record time of 1:34:57)
For me, one of the coolest things about speedrunning is the ever-evolving development of new tricks, shortcuts, and maneuvers. What are some of the most exciting developments that have changed the speedrunning game?
Monopoli: It's exciting every time something new is found. If you think about the Flood bump it ended up not being the most exciting thing to happen to Halo: CE, but the day it was found was super exciting because there were dozens of people trying to recreate this trick that we didn't completely understand. It brings the whole community together when something's found that we know can change the game. It really evolves everyone, and the way that we all play the game.
Monopoli: Sword flying was always kind of known but new flies kept getting added to the route every week when I was running the game. When I picked up the game and started taking world records there were almost none in the route and then I realized that I got better and better and better at them so I was like "Oh, I can do one here. I can do one here. I can do one there." And now there's probably like 50 of them in the run, where before there was like one or two.
goatrope: For sure, if you go back and look at the Halo 2 speedruns from 2004, 2005, 2006, people weren't good at sword flying - myself included. You'd see people run out, and then stand still, look at where they want to fly, and then slooowly do the sword fly and then they'd go over and it'd be fine. Nowadays people just do it mid-fight. Like they're fighting Regret at the end of the level and it's just part of combat. You're just flying around any time you want. There's dozens and dozens of people now who can do it better than anybody could 10 years ago.
Monopoli: What's even crazier about that is that scurty used to be considered the best at sword flying, and he did it with TWO hands. He would take his left hand off of the left joystick so that he was standing completely still, and he would fly using two hands to press the button combination to sword fly. And he talked about his strategy so that he wouldn't lose as much time, because if you take your left hand obviously you're losing time. So he would jump so that he kept his forward momentum and then take his left hand and try to do the sword fly while mid-air. It was very, very weird back in 2006.
Shifting gears a bit – is there anything specific you're excited about for Halo 5 speedrunning?
goatrope: For me, speedrunning has always been about the people and the community. We saw it with the release of The Master Chief Collection: all of a sudden, EVERYBODY in the world was searching "Halo speedruns." They were watching YouTube videos, they were watching Twitch streams, they were posting on Twitter. People were going wild for Halo speedrunning and I know that the exact same thing is going to happen with Halo 5. I'm super excited to see all the new faces who are going to liven up the scene and find all sorts of crazy new things that we wouldn't be able to discover on our own.
Monopoli: Yeah, I'm kind of in the same boat. If you look at the current leaderboards, I think more than half of them on all the Halo games - not just MCC - are new people that came after November's release of Master Chief Collection. It definitely livens up the community any time new faces get in there.
goatrope: And it drives the level of competition that much higher, and the runs get that much better.
If fellow fans want to get into speedrunning, where's the best place to start? What should they first check out? Any tips for beginners?
goatrope: Well there's a fantastic little website you may or may not have heard of called HaloRuns.com that has a wiki with a bunch of tutorials and videos in it, but really the best way is to go into Twitch streams and talk with the actual runners - get involved! Communicate with these people. Make friends. And show people your videos! Watch other people's videos. Compare, discuss. It's such a new opportunity we have to function as a community as speedrunners, and man, if you're not using that to your advantage you're missing out as an aspiring speedrunner.
Monopoli: Yeah, I definitely agree with that. Go into Twitch streams. HaloRuns.com is a great place to see these streams - there's a cool little feature at the bottom where you can find all of the people speedrunning Halo at the time. You can just pop into their chat and say "Hey, I'm a new runner!" and almost all of the runners will be cool to give you links and teach you how to run the game. It's really, really cool.
goatrope: Everybody's super friendly. It's great.
Thanks for joining me today, gentlemen. We look forward to watching your future runs of classic games, and the runs that lie ahead for Halo 5's campaign.
Monopoli: Thanks for having us!
--
That'll do for this week's update. We'll be back with more news and details on all things Halo very, very soon.
Bravo