What's up, you handsome and heroic Halonians? It's that time again, time for us to deliver a patiently portioned pallet of newsy bits and bobs for you to CTRL+F, dissect, discuss, and discern. It's a revered galactic pastime, really. Today we've got an eclectic assortment of happenings to hit on, so let's not waste another moment.
SPARTANS INBOUND

Art by Darren Bacon
Like countless others, many of us here at 343 have been impacted in a variety of ways by the seemingly unending string of challenges reality has thrown humanity's way recently. From the Gulf Coast to Puerto Rico, from hurricanes to earthquakes to wildfires, there's been no shortage of unbelievable hardship suffered by folks from all walks.
If there's one thing I've learned about the Halo community though, it's that when the hour seems darkest, help is always on the way. With that in mind, this morning we launched the Relief & Recovery REQ Pack, the proceeds from which will go to GlobalGiving in effort to aid those still in desperate need of some assistance and respite.
In addition to assisting with recovery efforts, the Relief & Recovery REQ Pack will receive five permanent REQs selected from the most popular visual customization REQs of ultra-rare or better rarity, if available, as well as ten rare or better boost cards. You can grab the pack from Oct. 12-23 both in the Halo 5 in-game REQ Store or in the Xbox Live Store for $9.99 USD.
And to any community members directly affected by these recent disasters, know that we're rooting for you every step of the way. You've got Spartans on the ground, and we're not going anywhere…
IT'S A LIVE…

…stream, and you should watch it. Like, seriously, try to catch this one. Oct. 17, 4PM PT. Put it on your calendar, keep it secret, keep it safe. We'll have some updated info on the recently announced Halo World Championship 2018, as well as new deets on Halo 5's upcoming November update (4K, Weapon Tuning, etc.). You can catch it both on www.mixer.com/Halo and www.twitch.tv/Halo. We'll see you then.
STORE V FOUR
This past weekend, the initial salvo of awesome grassroots Microsoft Store Halo 5 tournaments wrapped up with a slew of intense 4v4 matches held in over fifty different MS Store locations. To give us an inside wrap-up on the current program, here's some perspective from HCS's very own Tashi:
Thanks Grim! Earlier this Summer when we were working with the Microsoft Store team and putting together the plan for the three monthly tournaments, we didn't know exactly what to expect in terms of community reception, but were excited to finally kick things off. Each month since launching in August, thousands of passionate Halo players and fans flocked to their local Microsoft Store to join the community, hang out, and have some fun playing Halo. We were, and are still completely blown away by the response. As I'm sure a lot of you can relate - many, if not all of my friends today, are people I share Halo memories with. These tournaments are meant to unite the local communities around the game we all love, and it's been an absolute honor to play a part in that.
On Sunday, I went back to the Microsoft Store at Bellevue Square here in Washington for the 4v4 – and I have to say it was pretty special. I saw a lot of new faces, as well as some familiar ones that I had seen from the earlier MS Store tournaments. Players told me stories about how they met their teammates at the 2v2 in September, or that their team was comprised of their best friends in High School. It was also great to see some female players competing at the store in Bellevue – shout out to Hayley and Ann B!
While next week's Halo Livestream will talk about what's coming for the Halo World Championship, we'll also talk about what's coming to your local Microsoft Store next. We're really excited to share more, and hope you'll join us on Tuesday.
Back to you, Grim.
DENVER DREAMIN'

Thanks Tashi! Of course, the pinnacle of modern competitive Halo is the Halo Championship Series, and on Oct 20-22, the best teams and players in the world will descend upon the Mile-High City for the HCS Fall 2017 Finals at DreamHack Denver. There's loads of intrigue going into this tournament – will Team EnVyUs parlay an undefeated Pro League season into another tournament (and repeat their Fall 2016 Finals result) victory? Will Splyce slough off their 4th place regular season finish to recapture the glory they earned in Atlanta at the Summer 2017 Finals? Will OpTic Gaming get off the snide and back to their tournament winning ways? They've lost their last two major tournaments – and to the two aforementioned squads to boot – and the #GreenWall will no doubt be looking for their heroes to rectify that situation sooner rather than later.
Head over to the official Event Hub for more info, and stay tuned soon for our tournament preview at halo.gg.
SHORT-TERMINUS COMMITMENT

For Windows 10 PC players looking to get an initial hands-on glimpse of Halo Wars 2's latest co-op experience, you can now download the Terminus Firefight demo that was showcased at conventions and trade shows earlier this year! This fun, fast, curated experience will give you just a small taste of the epic action in the full mode included with the Awakening the Nightmare expansion. Download it today and check it out!
RADAR BLIPS

With Our Powers Turbined – Warzone Turbo (maybe the best kind of Warzone, TBH) is back! Zooming into the latest rotational slot beginning Friday will be everyone's favorite fast and frenetic big-squad revolution of REQitude. Don't miss it!

Make it a Double – and speaking of which, what could be better than racking up REQ energy twice as fast? How about racking up twice the XP while doing it? Double XP is back, with Warzone Turbo and Infection slotting into the featured slots.

Win Ten – The awesome community-creation collectors at ForgeHub are celebrating their own tenth anniversary soon (FHA confirmed!), and have some really cool celebratory scenarios planned. Head over to their site to check out all the details and info on how you can get involved!

File Fixin' – Good news, Halo 3 Fileshare functionality is back online and ready for further use. Woot!

Legends of the Mighty Space Monkeybearilla – The community-acclaimed comic mini-series, Halo: Rise of Atriox, will release its third issue next week, Oct 18. I've got it sitting on my desk currently, and have already read it three times through. Here's the official description: Atriox looks to Decimus to find others who can help the Banished expand their tech and maintain their fleet as the number of Banished continues to grow. Decimus recalls a Kig-Yar scientist named Sig Raan who resides in a secret Covenant facility on the planet Otraak. Is Sig Raan still loyal to the Covenant or will Decimus be able to convince her to help the Banished?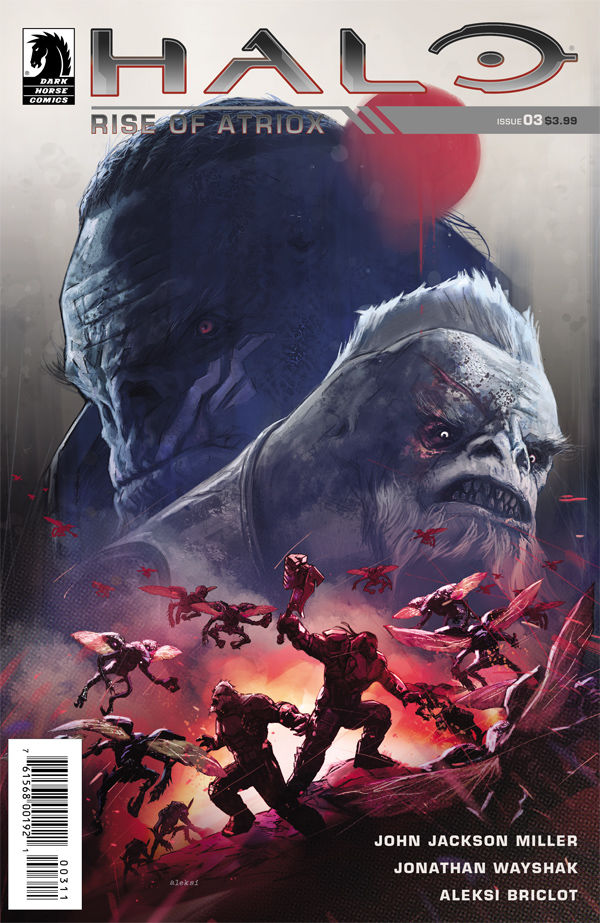 COMMUNITY SPOTLIGHT
Kicking us off in this week's Community Spotlight is a very cool retrospective piece from lore-extraordinaire haruspis, who takes a look back at Halo: Nightfall. I know, right? Trust me, it's definitely worth a look.
Next up is a really neat grassroots community corner focused on a particularly potent passion for Halo's Sangheili species. I love the super dedicated and directed focus, and the humble nature of the destination by the aptly-monikered @ValeIRL. Give it a visit!

Next up is a rather sweet Forge puzzle map created by unsorted guy and A Squid Loaf that helped facilitate Halo fan Matthew Durr in his quest to secure his beloved co-op partner. It's awesome and creative, and deserves both a spotlight and a congratulations! Check out Unsorted Gaming's preview vid and overview below, and check out Matthew's full video and subsequent lifetime party invite here.
Last week, we put out a call for Brute-related screenshots, and you guys delivered some pretty awesome ones. Let's check out some of our favorite submissions!
That will go ahead and do it for us today – don't forget to tune in for the Halo Livestream on Tuesday, Oct 17 at 4PM PT. See you then!
Until next time... Live well, play Halo, and Happy Birthday to Uny, Frank, and Frosty!