Boys and girls, Sangheili and Kig-Yar, Yonhet and Yanme'e, welcome back for another Discovery Dispatch – your favorite Waypoint-written way to learn about the upcoming elements of the greatest live Halo experience ever… of all time. Before we continue, if you're wanting to get an overview of the Outpost Discovery travelling fan experience itself, make sure and visit HaloOutpostDiscovery.com or revisit our original announcement blog, where you can learn about everything from features to ticket info and more.
Today, we're going to take a look at the Ring Experience. And my oh my what an experience it is.
I'll be honest, we're probably not supposed to have "favorite" aspects of the show, but let's be real, we all do anyway. From a canon-curating perspective, the Hall of History holds a very special place indeed, but from a sheer wrap-yourself-like-a-burrito-in-the-Halo-universe standpoint, the Ring Experience is like no other. Let's find out why.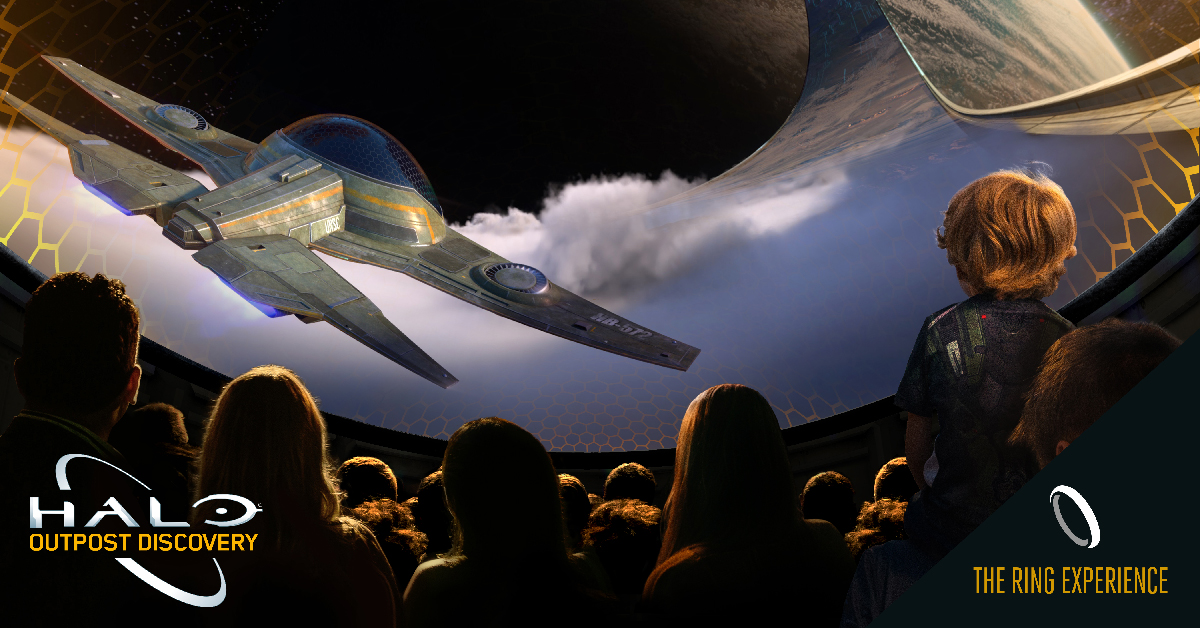 THE RING EXPERIENCE
One of the coolest things about video games is the ability to explore areas we would never get to otherwise. Incredible worlds, unimaginable vistas, it's the ability to step into a creator's imagination. It's almost cliché by now, the idea that everyone remembers that first time stepping out of the Bumblebee lifepod in Halo: Combat Evolved, gazing at the ring arching up in the distance and wondering what adventures awaited us. The Ring Experience at Halo: Outpost Discovery is meant to evoke that exact sense of unbridled wonder, but this time in a brand new way – and in a way that puts old-school Halo fans and brand new folks on the exact same playing field.
The Ring Experience begins with a tour of artifacts related to and retrieved from ring installations, including an Aggressor Sentinel – there is no appreciating the size of these things until you are right up close and personal with one, trust me.
The experience culminates in a tour of a Halo ring like you've never seen before. Projected on a dome eight meters in diameter is a direct feed from a UNSC Honeybee drone, giving Outpost visitors a full wrap-around fly-through view of the ring's environments and substructures. Did you find yourself watching Halo 2: Anniversary-style cinematics and wishing that you could just break the camera away to explore the ring itself a bit? This is going to be your jam.
We've partnered with our friends at Falcon's Creative Group to digitally visualize elements in the Halo universe that many fans have likely only daydreamed of wanting to catch a glimpse of, and the incredible vistas that have come as a result are nothing short of breathtaking. If you haven't seen it yet, here's a little taste...
Of course, the Ring Experience is just one of the awesome elements of Outpost Discovery that you'll be able to spend time in this Summer, and we'll be talking about some of those other attractions soon, so definitely stay tuned.
THE INNER CIRCLE
The Ring Experience is going to be one of those attractions that Halo fans in particular are going to want to visit again and again. One way to make sure you get to swing through as many times as possible is to grab yourself a VIP ticket, which – among other very cool things – can net you exclusive additional time within the Outpost, perfect for making sure you experience the ring fly-through facing every different direct possible. If you missed our earlier informational salvo where we outlined all the goodies involved with the VIP pass, you can catch up on it right HERE.
WHAT KIND OF ANIMAL HAS TUSKS?
And just like last time, if you're interested in how a lot of this stuff is brought to life, make sure you check out our behind-the-scenes video series, where you can tag along with yours truly and go onsite with some of our production partners helping build Outpost Discovery. In last week's Dispatch, we mentioned the presence of a Spartan-scaled, real life Warthog included in the Hall of History. Below you can ride along our latest adventure, where we check in on Parker Brothers Concepts on Florida's Space Coast to get a glimpse of said Warthog being constructed. Give it a watch!
MAKING THE ROUNDS
As always, we're incredibly excited about what we're cooking up for Halo: Outpost Discovery later this year and can't wait for you to experience it right alongside us.
As a reminder, here are the 2019 tour dates and locations:
July 5-7 – ORLANDO
July 19-21 – PHILADELPHIA
August 2-4 – CHICAGO
August 16-18 – HOUSTON
August 30-September 1 – ANAHEIM
Head to HaloOutpostDiscovery.com and @HaloOutpost on Twitter for the latest official news, ticket information and more on the Halo: Outpost Discovery summer experience. For all things Halo, stay tuned to Halo Waypoint and @Halo on Twitter and Instagram.