Hi there! We're back with another edition of the Discovery Dispatch, where we take a few moments to highlight some of the many exciting elements that will be part of Halo: Outpost Discovery when the upcoming travelling fan event begins touring later this Summer. For an overview on the whole shebang, from attractions and dates to ticket details and more, make sure and visit HaloOutpostDiscovery.com or revisit our original announcement blog.
While the main focus of Outpost Discovery will be bringing the Halo universe to life in a from-digital-to-physical type of way, today we're actually going to highlight one of the ways that you'll get to combine both physical and digital immersion for a Halo multiplayer experience unlike any you've probably ever had before.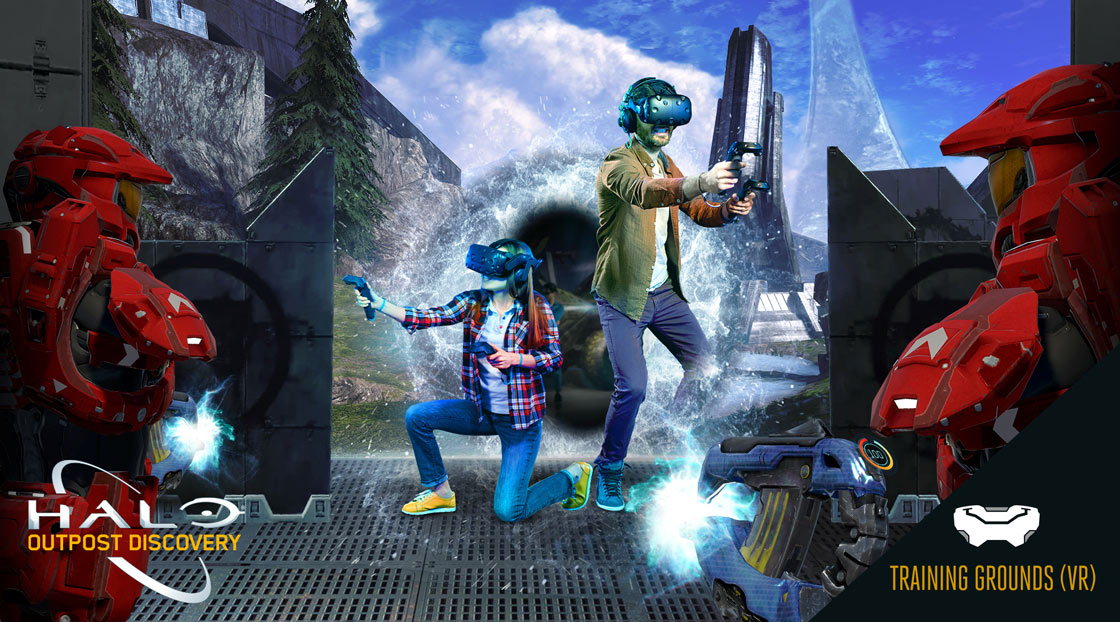 WE ARE IN THE VR
Outpost Discovery will feature a unique and unforgettable competitive virtual reality experience developed with our friends and partners at VRstudios right here in the Seattle, Washington area.
Let me try and set the table here for you. In the Outpost Discovery Training Grounds, teams of three will simulate what it takes to be a Spartan, in an immersive, Halo-themed combat training environment. Imagine pulling down your virtual reality headset and being transported onto a bespoke combat platform above the beloved Halo multiplayer playspace of Valhalla. Armed with a Plasma Pistol, Energy Shielding, and your wits and stamina, you'll set out to out-blast your friends and fellow Spartans in a high-octane and hilarious no-holds-barred plasma-flinging shootout.
The best way I can describe it is if you and your friends dropped into a Halo multiplayer match and an episode of Red vs Blue broke out. Or maybe even the other way around – I'm not quite sure. Either way, you'll be treated to a fun and frenetic Halo multiplayer experience that will combine the real and virtual world in a uniquely immersive way. You just gotta try it.
In fact, you actually might have recently seen 343's own Chief of Staff and resident Pittsburg sports connoisseur Rob Semsey wax poetic (and share some behind-the-scenes pics!) about his time testing the experience out with some of your other favorite 343 denizens like Bonnie Ross, Kiki Wolfkill, Frank O'Connor, Sean Baron, ske7ch, Uny, and more. Needless to say, everyone involved were respectful, kind, and very good sports about the inarguable results.
See what a fun and friendly good time they all had? This could be you at Outpost Discovery this Summer!
TIME EXTENDED
As we've mentioned before, one way to make sure you get to spend as much time as possible fragging friends in glorious virtual reality it all out is to snag yourself a VIP ticket, which – among other very cool things – can net you exclusive additional time within the Outpost. This means extra matches in the VR Training Grounds if you play your cards right! In case you missed our last Discovery Dispatch where we outlined all the goodies involved, which you can read HERE, and check out the new trailer below for more information on all the cool things that await visitors to the Outpost!
THE TRAINING GROUNDS ARE VIRTUAL, BUT THE OUTPOST IS REALITY
As always, we're incredibly excited about what we're cooking up for Halo: Outpost Discovery later this year and can't wait for you to experience it right alongside us.
As a reminder, here are the 2019 tour dates and locations:
July 5-7 – ORLANDO
July 19-21 – PHILADELPHIA
August 2-4 – CHICAGO
August 16-18 – HOUSTON
August 30-September 1 – ANAHEIM
Head to HaloOutpostDiscovery.com and @HaloOutpost on Twitter for the latest official news, ticket information and more on the Halo: Outpost Discovery summer experience. For all things Halo, stay tuned to Halo Waypoint and @Halo on Twitter and Instagram.