Regular season play of the HCS Pro League in Europe and North America has come to end, and all eyes now turn to DreamHack Atlanta for the Summer 2017 Finals by ESL on July 21-23. Today, we're providing some insight into what to expect, as well as some updates on other HCS items. Let's jump right in!

VENUE
If this is your first time attending a DreamHack event, you'll be heading to one of the biggest and longest-running gaming festivals in the world. Halo will be just one of the exciting games featured, with thousands of passionate fans playing and watching their favorite titles and professionals. We encourage everyone in attendance to show just how amazing the Halo community is -- let's get hyped, let's get fired up, and let's also be friendly and welcoming for anyone who might be dropping by our tournament area for the first time.
For Friday and Saturday, all Halo action will be taking place at our tournament area at the Georgia World Congress Center, which includes the open bracket stations and featured stage for the big show. For Day 3, the final matches of the championship bracket will be taking place on one of DreamHack's mainstages, located directly next to the tournament area used on Days 1 and 2. While the tournament area will still be open for free play and some of the remaining FFA matches on Day 3, we encourage all Halo fans in attendance to join us on the adjacent mainstage to catch Championship Sunday of the Summer 2017 Finals. We're expecting some incredible matches, and we hope to see the community out in full force to support and cheer for their favorite teams and players.
CHAMP BRACKET AND PRIZING BREAKDOWN
When the Finals format was first announced, the championship bracket featured just 12 teams, with only two of those coming from the open bracket. Upon reviewing feedback and further evaluation together with ESL, we've increased the championship bracket to 16 total teams. Here's how it breaks down:

● The top 6 NA HCS Pro League teams
● The top 4 EU HCS Pro League teams
● The top 6 Open Bracket teams
With the bracket finalized, we're also excited to reveal the prizing distribution for the HCS Pro League Summer 2017 Finals! Thanks to REQ crowdfunding, this $200,000 tournament is the biggest HCS open prize pool to date.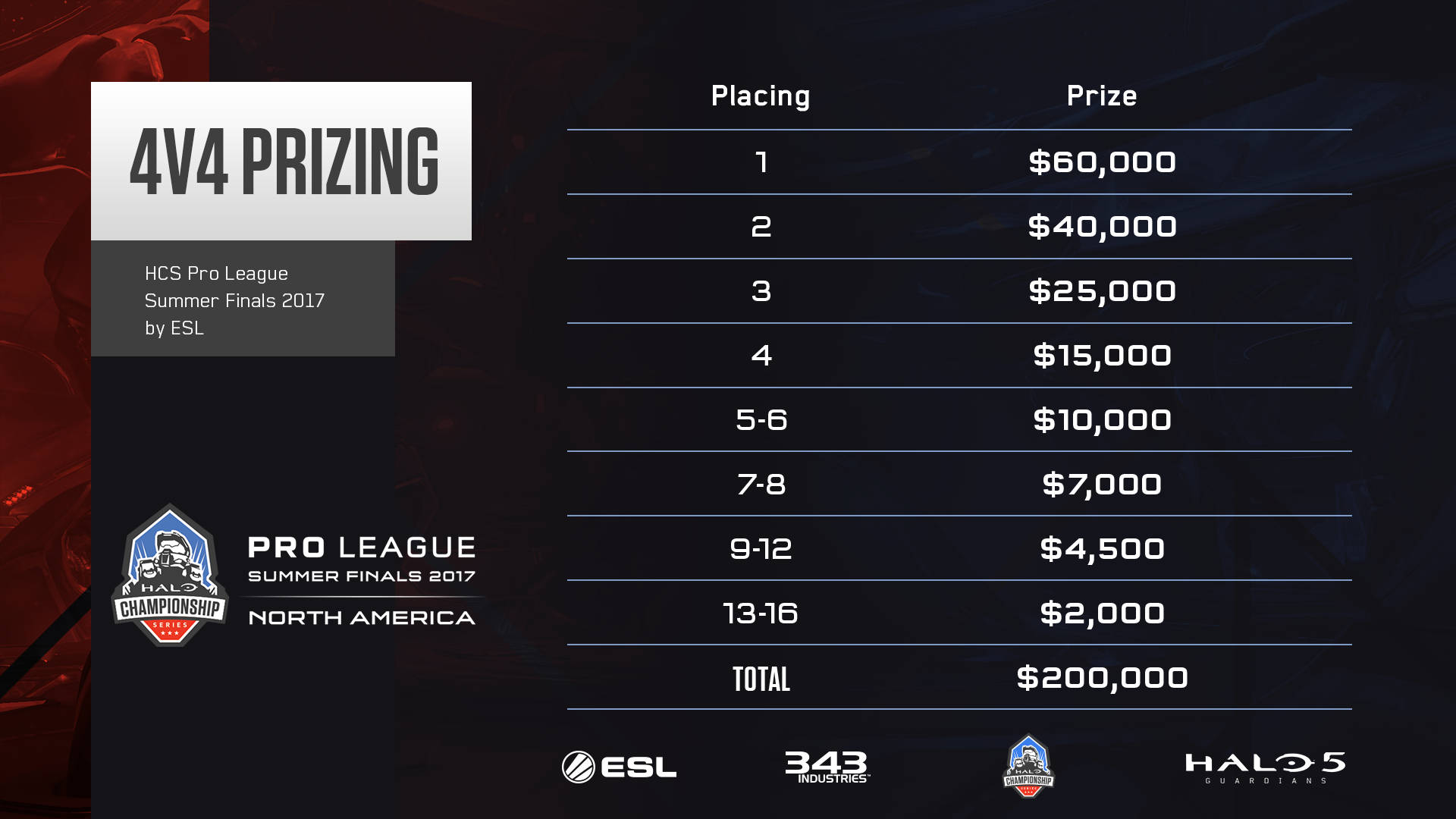 TALENT LINEUP
For the Summer 2017 Finals, we've got a great talent lineup to match the amazing games we'll see on display.
Richard Simms
Kyle "Elamite" Elam
Michael "StrongSide" Cavanaugh
Dave "Walshy" Walsh
Dan Gaskin
Eric "GH057ayame" Hewitt
Isaiah "Butters" Baldonado
Alex "Knighty Knight" Irwin
Harry "Wonderboy" Channon
Bil "Jump" Carter
SCHEDULE
Whether you'll be joining us down in Atlanta or watching online, we hope you're as excited as we are for the HCS Pro League Summer 2017 Finals at DreamHack Atlanta! Here's a look at the schedule:
July 21 - Day 1 - Friday: Open Bracket play

8:00AM – 11:00AM – Check-in
10:00AM – 12:00PM – Doors open + warm-ups
12:00PM – Winner's Bracket Round 1, Heat 1
Open Bracket play continues until Winner's Round 6 and Elimination (Loser's) Bracket Round 8

July 22 - Day 2 - Saturday: Open Bracket play concludes; Championship Bracket and FFA begin

10:00AM – Doors open + Warm-ups
10:30AM – Open Bracket continues with Winner's Round 7 and Elimination (Loser's) Bracket Round 9
Championship bracket begins and continues until Winner's Bracket Round 3 and Elimination (Loser's) Bracket Round 4

July 23 - Day 3 – Sunday: Championship Bracket on the DreamHack mainstage and FFA both conclude

10:00AM – Doors open
12:00PM – FFA Finals
12:30PM – Championship Bracket play concludes!
FREE FOR ALL
DreamHack Atlanta will feature a Halo 5 Free-For-All tournament open to all attendees (must have purchased any DreamHack Atlanta attendee pass). The Free-For-All tournament will begin on Saturday at 10:30AM and continue into Sunday until a champion emerges, which will be broadcasted first on Championship Sunday. The tournament will be capped at 196 competitors, and free registration is open online now and will also be open at the event. Read on for more details below.
Saturday:

8:00AM – 10:00AM - FFA Check-In Registration
10:00AM – Doors Open
10:30AM – Round 1, Heat 1
FFA matches continue until Round 2, Heat 2 is completed.

Sunday:

10:00AM – Doors Open
10:30AM – Round 3 – Top 48 players
Round 4 – Top 24 players – FFA Quarterfinals
Round 5 – Top 12 players – FFA Semifinals
12:00PM – FFA Finals (Broadcasted on the mainstage)
Players can register online here at esl.gg/DHATLFFA, or in-person to until 10AM on Saturday.
Note: This FFA tournament is capped at 196 competitors.
A $5,000 prize pool is on the line. Here's what the finalists will be taking home:
1st - $2000
2nd - $1250
3rd - $750
4th - $500
5th - $300
6th - $200
FFA Tournament Format:
196 players max
Single elimination
2 games played per round; points earned per placing
6 players per game
Top 3 players with most points advance to next round
12-minute games
Rotating between 2 maps: Truth and Regret
Only a few weeks separate today and the naming of the Summer 2017 champions. We hope to see you there in-person, or joining us online! For all the latest on the Halo Championship Series, keep it locked to Halo.gg and follow @HCS on Twitter.