Week after week during the European HCS Pro League Summer 2016 Season, the squad from FAB Esports (FABE) proved that they were standard by which European Halo esports should be measured. Finishing the regular season an undefeated 10-0, all focus was turned on finishing their fight in the EU Summer 2016 Finals. Joining FABE in the final four were Team Infused, XMEN, and Vibe – all looking to put together the perfect run it would take to deny FABE a dominant ending to a perfect season.
WINNER'S BRACKET
Unsurprisingly, FABE opened up the Summer Finals with a dominant 4-0 sweep of Vibe, while on the other side of the bracket, things were a bit closer between XMEN and Infused – XMEN taking their opening series 4-2. Moving on to face FABE, XMEN tried their best to rally behind several inspired performances by Jimbo, particularly during a Slayer match on Truth where the skilled Spartans contested back and forth across the control room of the Undiminished Entelechy – the lead changing hands multiple times until Mose went on an incredible late run with the Fuel Rod Cannon to put the game away for FABE. From there it was all FABE on their way to a 4-0 sweep of the Winners Bracket finals to await one last challenge in the Grand Finals.
LOSER'S BRACKET
In perhaps the most closely contested series of the entire day, the Loser's Bracket Semifinal match was a nail-biting, back-and-forth affair between Team Infused and Vibe, including a full game replay after a deadlocked 2-2 tie on Coliseum CTF. Both squads dug deep to bring the series even at 3-3 and force an epic Game 7, where Team Infused nearly pulled off an incredible Slayer comeback, falling just short to send Vibe through to the Loser's Bracket finals to face off with XMEN.
Opening up with a dominant 3-0 CTF win on Coliseum, Vibe found themselves outgunned in Game 2, as XMEN took the Slayer match on Eden to even the series up at 1-1. After rattling off two more suffocating performances of 100-2 and 3-0 in Strongholds and CTF respectively to go up 3-1, XMEN closed things out on Plaza to earn a rematch with FABE in the Grand Finals.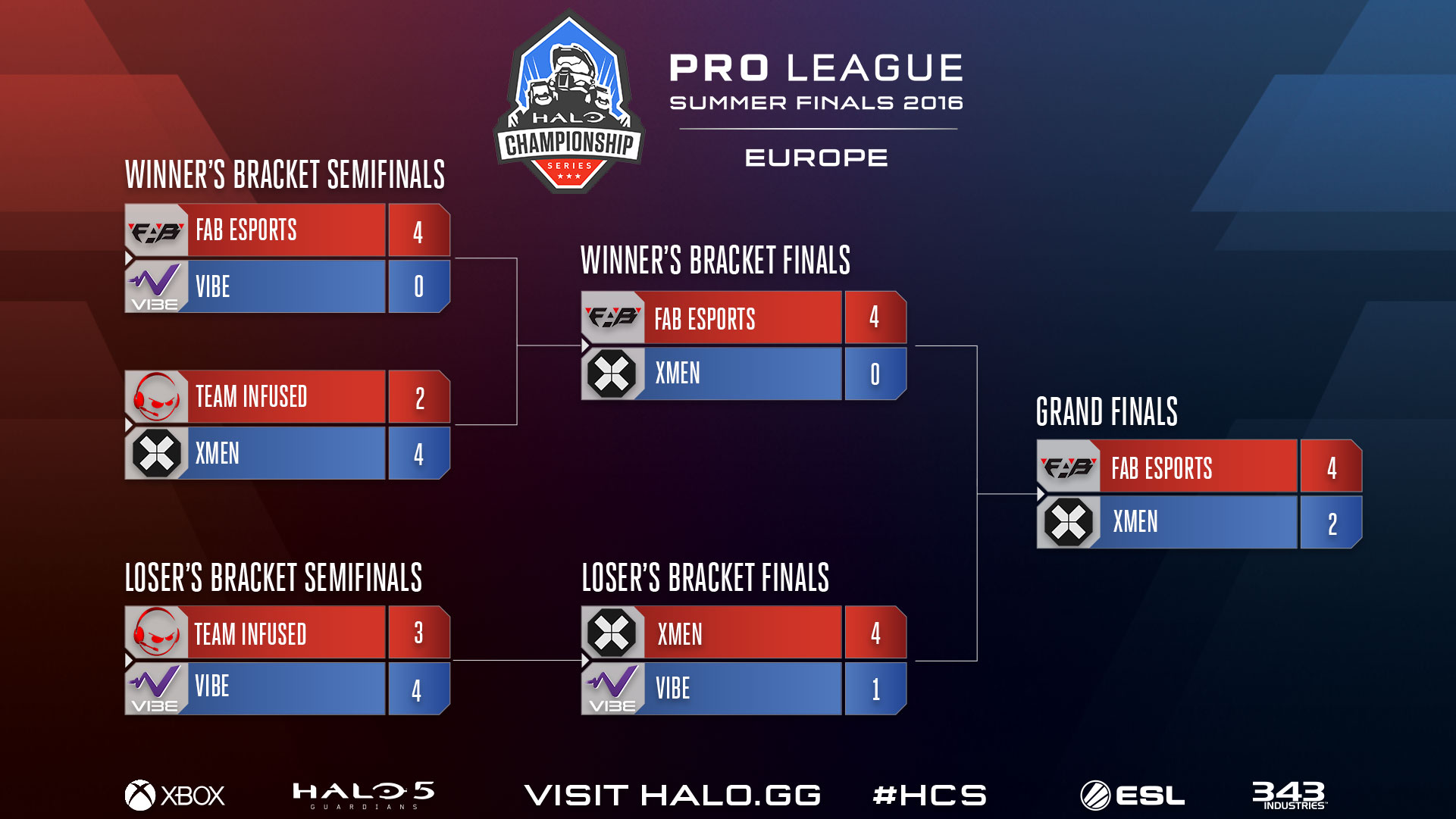 GRAND FINALS
The Grand Finals would get off to an unexpected start as XMEN handed FABE their first map loss of the entire tournament with a fantastic 3-2 CTF win on Fathom, anchored once again by a legendary performance by Jimbo. FABE would shake the blow off quickly however, evening the series at 1-1 with a strong Slayer victory, and then immediately making it 2-1 thanks to a dominant round of Strongholds on Plaza.
Next up would be CTF on Truth, and though XMEN took the lead quickly with an early flag pull, FABE almost immediately answered back with two quick flag captures of their own to regain the advantage. Not content to go quietly into the night, XMEN responded in incredible fashion, getting two late caps of their own to take Game 4 and even the series at 2-2.
Game 5 brought the action to Plaza for a Slayer match, where FABE simply proved too deadly, taking a resounding 50-33 win to send XMEN to the brink of elimination, and in Game 6, FABE removed all doubt with a dominating statement 100-25 Strongholds win on The Rig to become the first EU HCS Pro League champions.
In the end, the dominant team all season long were the same to hoist the hardware, and FAB Esports answered every critic along the way to an incredible undefeated run. Now, as eyes turn towards the North American HCS Pro League Summer 2016 Finals next weekend in Los Angeles, the question on everyone's mind is just how far FABE can take their success – perhaps all the way to the Halo World Championship?
For all updates on the Halo Championship Series, follow @HCS and @ESLHalo on Twitter, and keep it locked to Halo.gg.