Hey everyone! It's about that time again, eh? It's been a couple weeks since our last readable rendezvous, and a fairly-packed fourteen Terran rotations it's been. From inside info on new lore to an evolved take on some high-stakes matchmaking, there's plenty to cover. Oh, and a new Halo World Champion was crowned. No big deal. Let's dive in, shall we?
IT HAD TO BE SNAKES
The Halo World Championship 2018 Finals took over the Pacific Northwest as the sixteen best Halo teams in the world descended on the CenturyLink Field Events Center in downtown Seattle to crown a new competitive king. When the digital dust had settled on the epic event, the slithering slayers of Splyce proved without a doubt that they were the new standard-bearers in Halo esports. Shotzzy, Renegade, Eco, and Stellur took down every challenge thrown their way and emerged victorious by way of a dominating Grand Finals performance over the two-time defending world champs at TOX Gaming.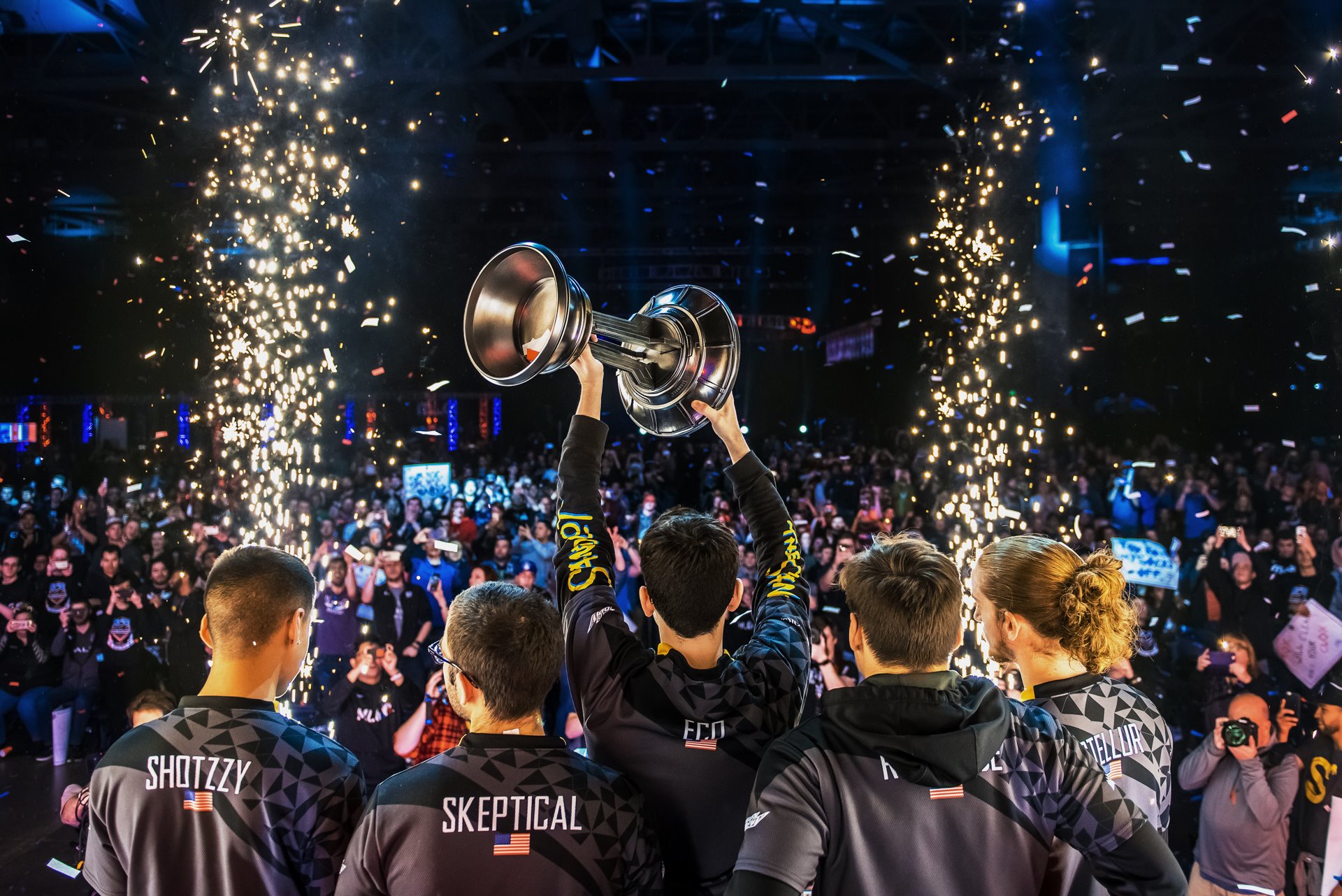 The intense action on the stage was only the beginning though, as fans from all over the world in attendance were treated to an epic experience that leaned on Halo's legendary legacy to provide folks with an unforgettable weekend. Fancy a picture with members of Noble Team? Check. Feel like watching a concept artist whip up some amazing Halo art live right in front of you? It was there. Oh, you wanted to sit down and get steamrolled by OGRE 2 playing Halo: CE 2v2 on a four-million-pound CRT television? Dreams do come true, my friend.
Speaking of that live art, here is one of the pieces created that weekend, this one by 343's David Heidhoff. It's freaking ridiculously cool – my personal favorite detail is the Seattle skyline in the visor reflection.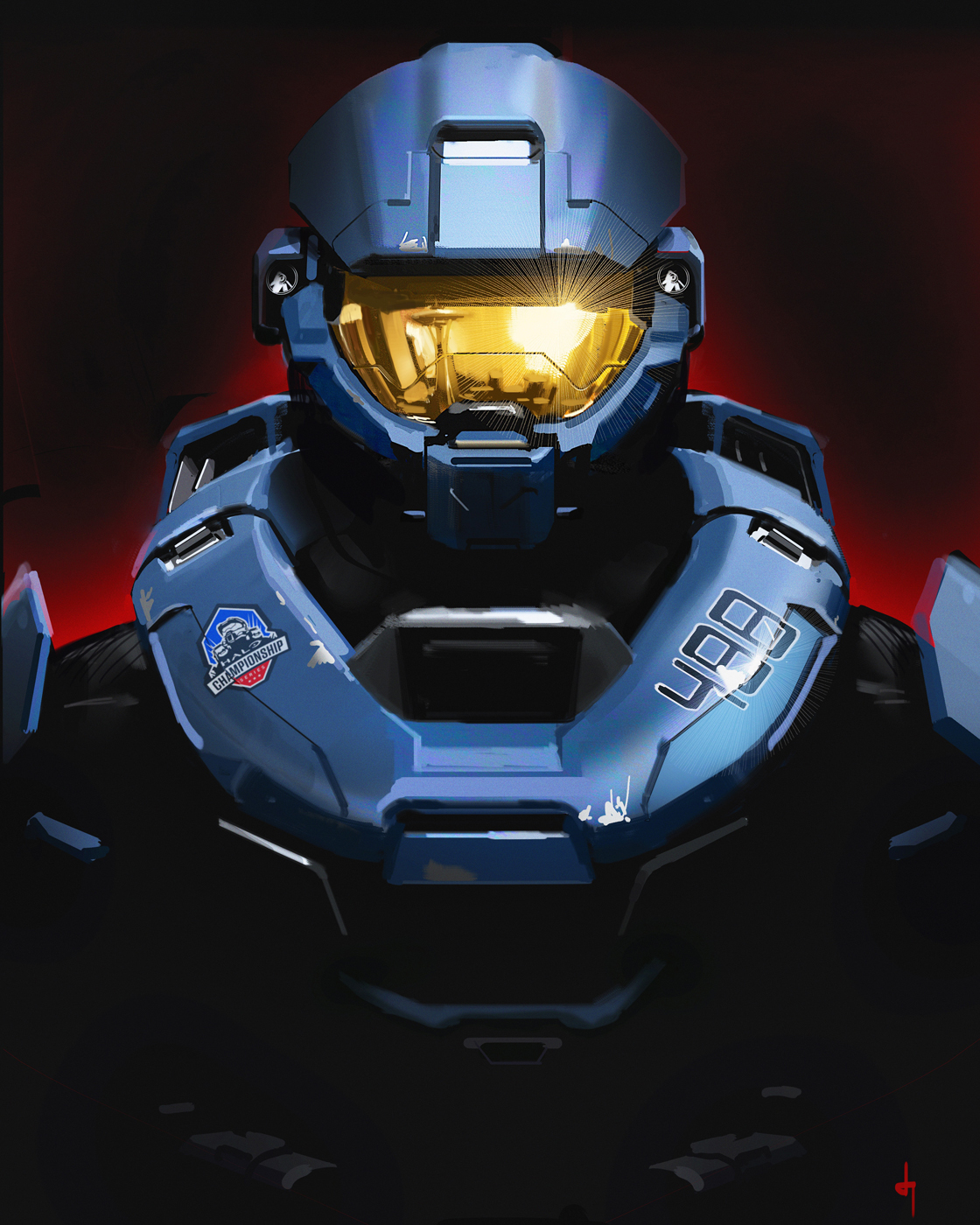 All in all, it was an incredible few days – made all the better by getting to spend it with some of you fine folks. Thanks so much to everyone who made sure to say hi, grab some pics, and have awesome conversations about all things Halo. If you want the full skinny on the weekend's results and festivities, make sure you check out our official recap RIGHT HERE.
MCC DEVELOPMENT UPDATE #3

Last week, ske7ch delivered the third installment in our MCC Development Update blogs, which you should definitely check out. It covers new updates on overall progress, an initial look at scope for the first patch, some thoughts and explanations from the bug-squashing trenches, and much more.
Also, our new MCC Insider Hub is now live on Halo Waypoint, letting you take a look at all of the development updates and flighting details all in one handy place. Bookmark halowaypoint.com/MCCinsider to check it out. Oh, and speaking of flighting info, this weekend the first wave of in-the-wild community tests goes live – if you're wanting to get in on the action, make sure you check out all the details on the MCC Insider program right HERE!
PROPHET OF LOOT
Recently, we revealed the latest theme for our upcoming Halo Legendary Crate: Truth Foretold. As the name so implies, the overall theme of the hierarchs and their reign over the Covenant empire. In it, you'll bag yourself another awesome and exclusive Halo Icons figure (I love these things), an "illuminating" t-shirt, and more. Make sure you order by June 15 at loot.cr/halo to secure yours. And before you go, check out this theme's awesome and iconic artistic depiction of some battle-ready Covenant warriors.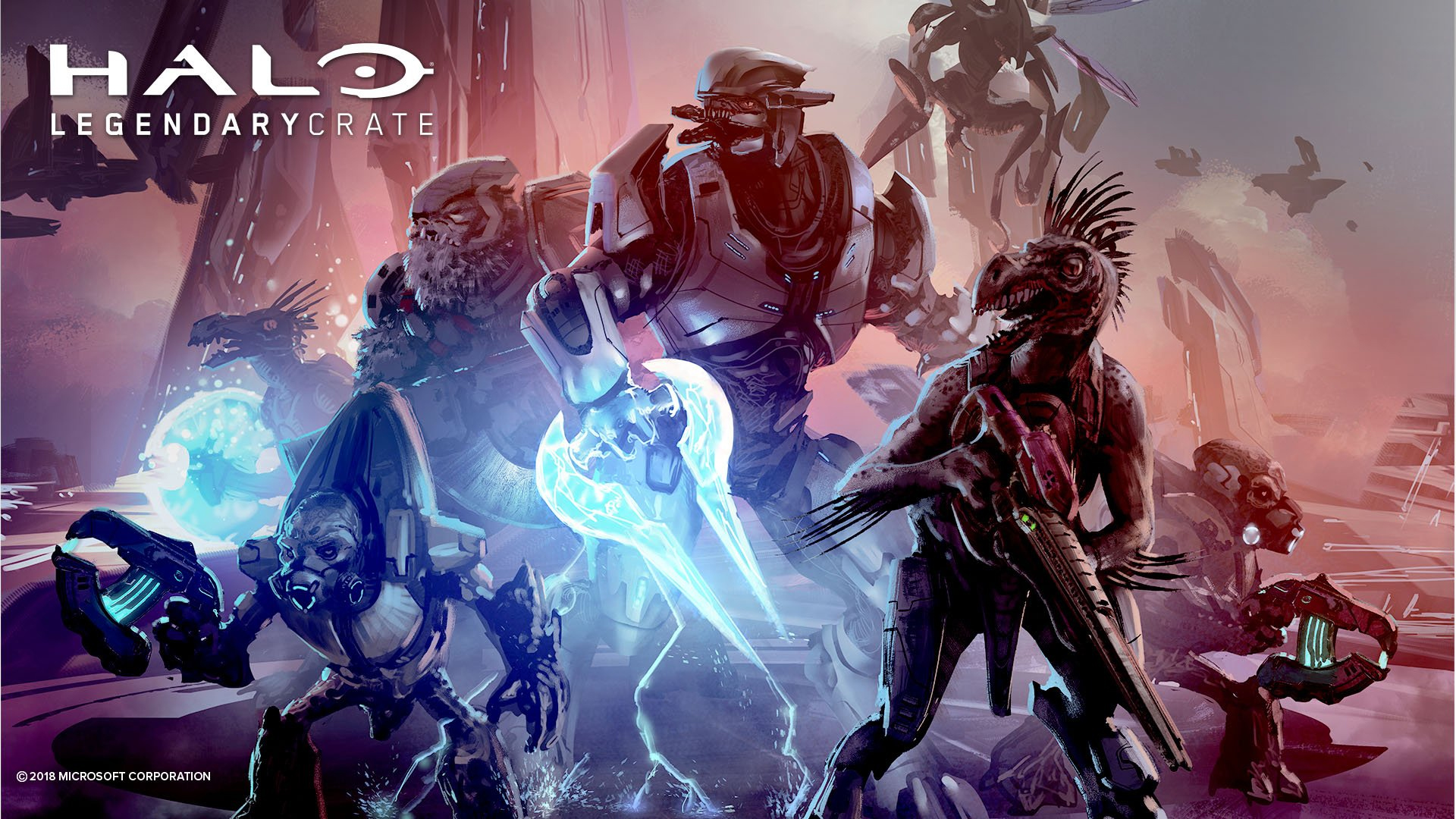 GOING OUT ON ELIM

Very soon, H2 BR Slayer will move aside to make room for Shotty Snipers in Halo 5's Social experience. In addition, Unyshek posted a blog detailing all the new changes coming in the Summer 2018 Arena Season. The highlight of the piece is a brand-new playlist called Elimination, which collects the fan-favorite Extermination mode along with Breakout. Which version, you ask? HOW ABOUT BOTH? That's right, the Great Schism is over (for now at least), and lovers of both Breakout and Breakout 2.0 can enjoy this new round-based and ranked experience. The new playlist – and Arena season – goes live May 1. In the meantime, go get all the details in the blog HERE, which also includes a pretty substantial deep dive into the recently-enacted TrueSkill 2.0. Check it out!
PUTTING THE STREAM IN EXTREME
Next week, May 2 at 1:30pm PT you'll want to tune into mixer.com/Halo as Uny will be joining yours truly to hang out, have fun, and play some of the new Elimination playlist online as we kick off a new social stream series. Come and watch me get destroyed as I get haplessly thrown to the high-ranking wolves thanks to having to match in a party with the Warzone Warlord himself. It won't be pretty, but it will be fun. Besides, we'll be doling out 343 Ice Unicorn weapon skins along the way. See you there!
COMPETITIVE COMMUNITY COMMANDERS

Yesterday, we shed some light on a cool new community-created competition for Halo Wars 2, brought to you by three of our most passionate RTS communities. Breaking the Clutch, The Banished, and Team Respawn have joined forces to create the HW2 Championship League, a community-curated tournament where fans can look to prove themselves the mightiest commanders in all the land. Check out all the details in our blog right HERE.
IT'S NOT A CATAPULT

A while back in Issue 71 of our Canon Fodder series, we highlighted a cool Halo conversion mod called Sins of the Prophets, which let's you turn your Sins of the Solar Empire PC game into a really rad Halo spaceship experience. Today we'd like to highlight another cool project that's similar in tone, but trades in slipspace drives for glorious ground assaults.
Set in the darkest years of the Insurrection, Operation: TREBUCHET (OPTRE) allows you and dozens of your closest friends to band together and fight in massive combined-arms campaigns that give a new, brutal perspective on Halo warfare. Built on the popular ArmA 3 PC platform, OPTRE features not only features a huge amount of Halo weapons, equipment, and vehicles, but compatibility with a huge range of ArmA 3-specific features (such as the Zeus gamemaster mode) and dozens of other mods.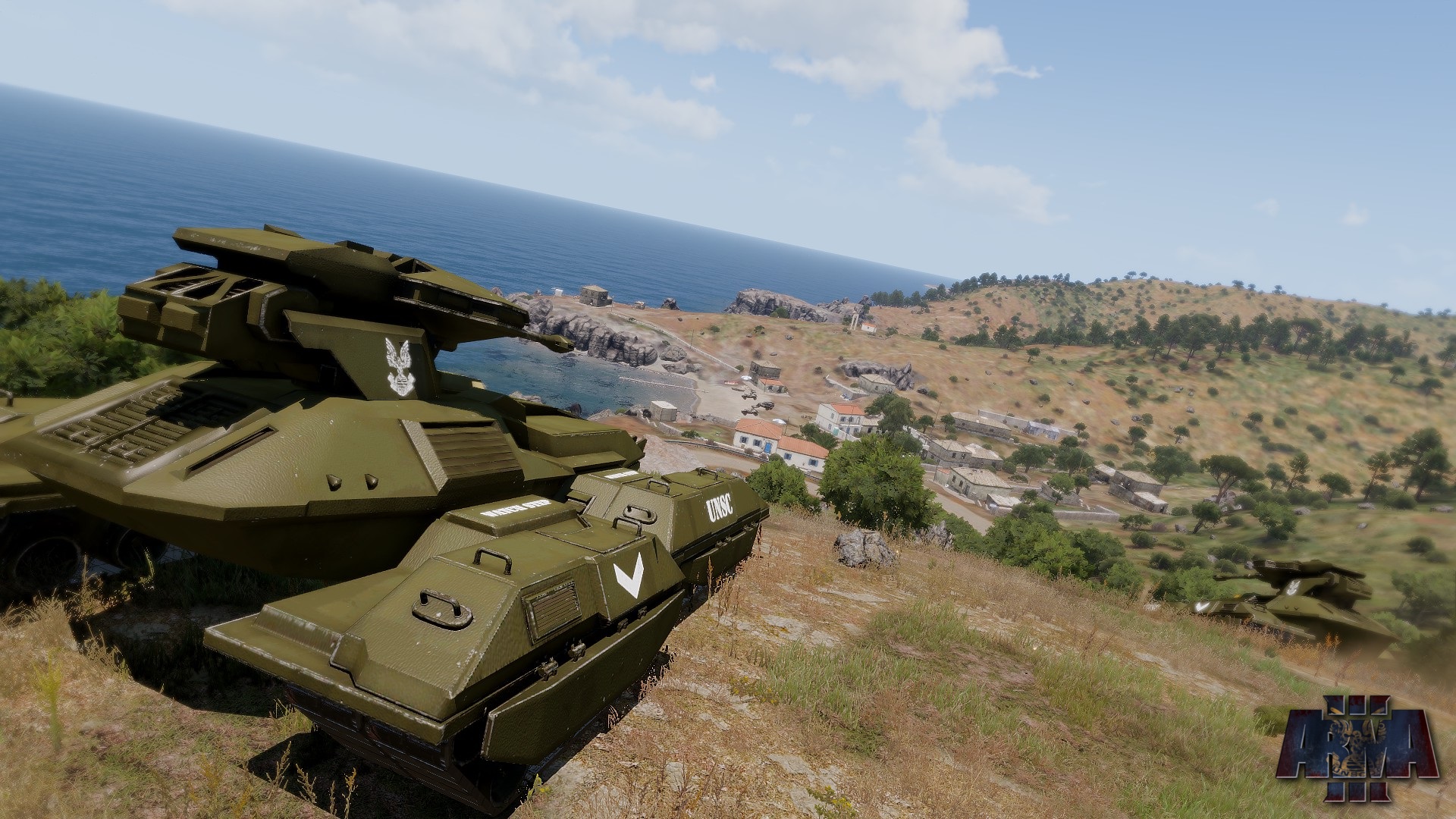 Make no mistake, OPTRE aims to be a total modification that brings the Halo Universe into a military simulator environment, but you can also take advantage of the wider ArmA 3 modding community to do some truly inspired combinations! You M808 greenhorns want to see a T-90 tank up close? Well, here's your chance!
Leading the OPTRE team is Tyrone Hudson (Scorch_052), and he's joined by both veterans of the video game industry and talented hobbyists who have made a gaming experience that every Halo fan will find quite amazing. After watching videos of Operation: TREBUCHET operations, we simply had to play it ourselves and sit down with the group behind this amazing mod to learn more. With his personal background and gameplay preferences a firm fit for this experience, we had fellow 343 partner-in-prose Kenneth Peters reach out to the OPTRE folks to ask them some burning questions we had. Let's meet the team and find out more about the project!
343 KEN: First of all, it's very impressive what the Operation: TREBUCHET team has accomplished, so congratulations! Can you tell us a bit about the origins of OPTRE and how the team was assembled?
Tyrone: So, OPTRE came about originally as a different mod, still for ArmA 3, with the same idea of bringing Halo to ArmA. Some of us were originally members of that dev team, but we split off to start Operation: TREBUCHET as our take on the premise. This move was spearheaded by TheDog88 and myself and, over time, we managed to build up a respectable team of skilled artists and coders. Some members have come and gone, but by this point we've established a solid core group that consistently works on the mod. Since 2015 the mod has grown from just a few simple assets to a full and comprehensive conversion mod that offers a totally fresh experience from standard ArmA 3 gameplay.
343 KEN: Sounds great! Can you introduce us to your team?
Ben: My name is Benjamin "Zero" Weis, and I am an asset creator for OpTre, specifically weapons and a few map props. I have the MA5 series rifle, M41 rocket launcher, M7 SMG and M6 series pistols under my belt, as well as a few ordinance items. I am also the lead developer of the Homeworld 2 mod Homefront, and also actively collaborate with Sins of the Prophets (I'm responsible for assets including the shiny Assault Carrier titan, among others). I joined the team back when it was known as The Eridanus Insurrection back in 2014 as one of the original contributors because I wanted to play with a Halo sandbox in a sim game outside of an arena shooter.
Peter: Hi, my name is Peter "Lumnuon" Paas and I am from Germany. I originally joined the team out of interest for a MilSim perspective on Halo games. Since I joined I have handled the terrain editing of the mod, which I have been doing for almost 4 years now.
Kayla: Hello, I'm Kayla or better known as Zephyr Souza. My role within the OPTRE team is as a 3d Artist and Texture artist. I joined OPTRE in late 2015 and have been working on the project since. I mainly use Zbrush, 3d Coat and 3ds max when modeling and a mixture of Substance painter and photoshop when texturing. OPTRE Has been a massive influence on my professional life. With the support of my fellow developers and community I was able to drive myself to learn more and with that knowledge I was able to get a job in the simulation industry.
Drake: Hello, I'm "DrakeDaeron" and I do 3D models and texture work. I have been a part of the team for 3 years. I joined the team after attempting to start a standalone mod called "Call of the Prophets" (now known as OPTRE First Contact) to include the Covenant troops in ArmA 3, but the team offered to help if I joined the team.
Alex: My name is Alex "HKUrban" Urban. I joined the team back in 2015 around when Operation: TREBUCHET split from TEI and have been an off-and-on contributor since then. I'm sort of a jack-of-all-trades contributor doing modeling, texturing, some configuring, and map design. I also do a lot of research in terms of the lore behind the Insurrection era and finding references to help our modelers accurately recreate assets from the Halo games and other media. I served seven years in the Army National Guard and I am currently writing a Military Science Fiction novel about a group of Marines fighting on Mars, based largely on the current conflicts in Iraq and Afghanistan.
Chris: My name is Christopher Mauro but I go by TheDog88 or simply Dog. I am one of the original founders of OPTRE and am also one of the 3D artists. Over the years I shifted between static props, vehicles and most recently to characters. I also help with texturing donated assets and implementing them into the game itself. When I'm not working on OPTRE I work on several other projects in Unreal Engine and Unity and have a released VR game on steam. Professionally I have been serving on active duty in the US Army for over a decade.
Tyrone: My name is Tyrone "Scorch052" Hudson, and I am the lead developer and configurer for OPTRE, which basically means I take the things all our artists create and make them work in-game. I've been with the team since its very beginning as The Eridanus Insurrection in 2014 and helped lead the shift over to a new team under myself and TheDog. While I may hold the title of lead developer, my efforts are a very small part of a huge collaboration that has made OPTRE what it is today.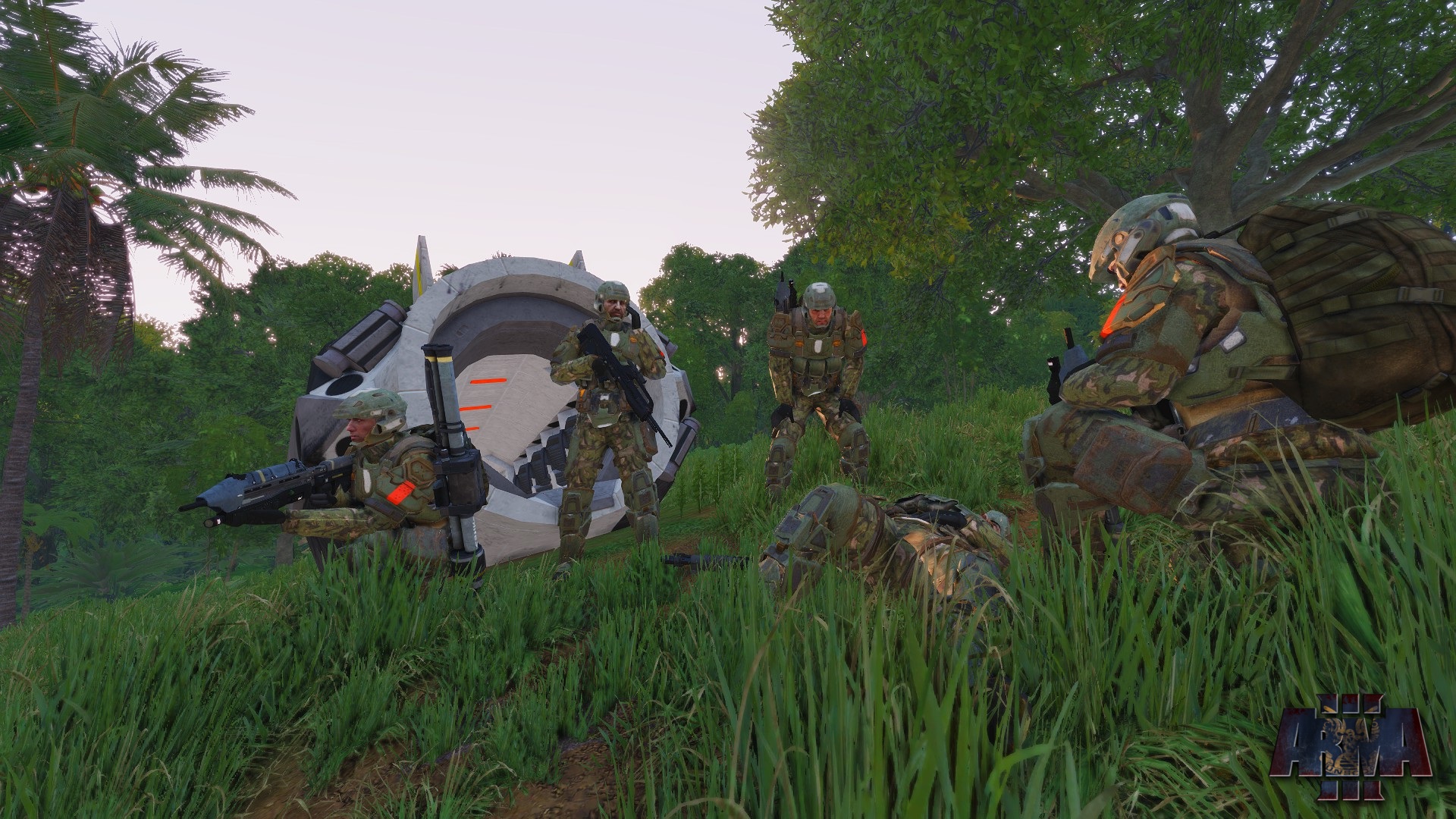 343 KEN: Sounds like a pretty awesome crew indeed. So, getting a project this ambitious off the ground obviously requires a lot of blood, sweat, and tears. We'd love to hear what about Halo has inspired them to work on this mod?
Ben: For me, there has been a lack of development on the infantry side of things. Aside from ODST and the novels, people only really see through the eyes of a Spartan. The mortality of infantrymen really interests me and modding for ArmA is a good outlet to experience what that might be like.
Peter: If anything, the reverse is true for me, I've never played a Halo game besides H2/H3 before I joined, and my biggest interest was the Halo universe at large. The original reason I joined the mod was me coming from a MilSim Playstyle and wanting to see the Halo universe from a grunt's perspective.
Kayla: I always enjoyed the lore outside the Halo games. When I read the book "The Flood" I enjoyed the parts that told about the experiences of the marines trapped on the Halo ring. Fast forward to 2015 when I saw a mod for Halo in my favorite game I had to join! I started modeling and having looked back ever since.
Drake: I've been a fan of Halo since Halo CE. I find that the military-futuristic universe fits well into ArmA 3, the UNSC and the Covenant have a wide range of vehicles, weapons, and equipment. I find this diversity is perfect for ArmA 3.
Alex: Halo was a big part of my childhood growing up. Many of my Middle and High School birthday parties were basically Halo CE and Halo 2 LAN parties and couch tournaments. Even before I enlisted, the Marines and ODSTs were my favorite part of the Halo universe, and I have been quite fond of the novels that expand upon the military aspects of the UNSC like Eric Nylund's The Fall of Reach. I'd been playing the ArmA series for a while and dabbled in modding when I first saw some of the screenshots of UNSC Marines and Warthogs patrolling ArmA's fictional "Altis" Island. In that moment I never realized how much I needed this mod in my life. It was clear the potential the ArmA engine had for letting players act out the massive combined arms battles that tend to take place in the background of the Halo games, and I knew I wanted to help make it happen.
Chris: Halo has always been my favorite sci-fi universe. My fondest childhood gaming memories are certainly playing through Halo: CE with my older brother on the original Xbox. Being in the military myself I always wanted to know what it would be like for a regular soldier/ marine to go into combat in the Halo universe. ArmA provided the perfect platform as it had both scale and realism. There's just something about sitting in the back of a pelican, flying across a several kilometers of land to be dropped off into combat as a UNSC trooper. The time period we focus on is the other intriguing part for me since the original games barely touched on this. It gives us a good amount of creative freedom which is great as an artist.
Tyrone: I've always been obsessed with everything Halo ever since my father and I stayed up all night playing Halo CE split-screen when I was a kid. I've always wanted to know more, see more, and do more in the Halo Universe. Seeing the opportunity to, at least partially, fulfill that wish was a no-brainer for me.
343 KEN: Operation: TREBUCHET focuses on the pre-Covenant War period, with UNSC forces engaged with the various Insurrection forces fighting for colonial independence. What was appealing about this era of Halo history?
Tyrone: We saw the Insurrection as a nearly untouched canvas that we could use to bring the Halo feel to ArmA, while also affording ourselves a little bit of freedom to test new things and see what works within the scope of ArmA. Also, while the Halo games tell an epic story, it's a very black and white affair. There's very little moral grey area in the games. Creating a mod set during the height of the Insurrection gives us the unique opportunity to explore Halo in a (morally) darker and more relatable setting that gives players the opportunity to come up with or re-enact stories they've only been able to read about in the past.
Chris: As mentioned the creative freedom we get from addressing a fairly unexplored time period is really great. The other thing that appeals to me is the perspective that the player gets to experience. Instead of fighting as a super soldier who can jump around with shields you get to fight as a regular human being. It makes things more brutal as now tactics become more important for survival. Running around spamming grenades and bunny hopping would get you killed easily, a regular trooper has to make tactically sound decisions to make it out alive.
343 KEN: You obviously have the iconic Warthog and Scorpion, but what other vehicles do you have, or plan to implement?
Tyrone: Our first priority was getting those iconic vehicles that all Halo fans know and love in-game so that people could see the potential there and we could figure out what gaps we needed to fill with concept or less common vehicles, or even entirely new vehicles like the Bison APC we have, that fills the APC/IFV role that was, up until Halo Wars 2, somewhat lacking in options. We're planning on releasing a comprehensive list of planned assets soon and are welcome to suggestions for anything missing from that list.
343 KEN: You recently added Spartans to the mod. ArmA 3 doesn't feature shields or super-soldiers, so how have you implemented our iconic warfighters into OPTRE?
Tyrone: Bringing Spartans into Arma 3 was a unique challenge for us. We wanted to properly simulate how powerful they really are, without throwing balance out the window. We've managed to find a nice middle ground where they feel like powerful force-multipliers but aren't unstoppable. As time goes on, we intend to implement shields by way of ArmA's robust back-end scripting engine, which we've already used to implement a variety of features such as working HEV pods and a custom ODST helmet HUD.
343 KEN: What put Operation: TREBUCHET on my own radar was a video by community member Jester814 who was Zeus (gamemaster) on an ODST mission, in what I soon discovered was not an RTS game but was instead a massive group of players all working towards a military objective. As a former Marine, what really got my attention was the players were obeying proper radio protocol and a displaying a high level of in-game organization. I've been told that role-playing with full immersion is a common way to play ArmA 3, and I'm interested in hearing how you approach combining Halo with a different genre and audience play style.
Chris: One of the greatest experiences in arma is that high-level coordination across massive terrains in full spectrum operations. I would say the average ArmA player enjoys playing tactically and it feels great when a coordinated plan executes without a hitch. We focus on the time period where humans are still fighting each-other and war is a lot more like modern day combat. This nests OPTRE nicely within the ArmA-verse and it just works. The key for us as developers is to present the player with everything they need to physically engage in this play style. This means we have to provide them with the tools in game to execute their missions. Simply creating weapons and uniforms is not enough to create a legitimate mod in ArmA. The full package comes from adding in the scenery, the vehicles, the items such as radios and medical gear, and even a full-size frigate that is enterable, so they can deploy as ODST's.
Alex: Another great thing about ArmA is it's a "sandbox" game. It gives the players the ability to create their own scenarios that are as big or as small as they want. I've had fun playing as a single Marine taking part in a massive invasion of a city or as a small team of ODSTs using stealth to rescue a captured pilot or ONI operative. You can be any part of that operation, from a medic to a tank gunner to a Pelican or Longsword pilot. With ArmA's editor you can create story-driven Single Player and Cooperative missions or simply place down a bunch of UNSC and Insurrectionist AI and watch them fight it out.
Tyrone: The key thing for us is options. Ensuring players have all the tools they need to make whatever scenario they like and having a good experience with the mod. While we don't have the manpower to accommodate every request or suggestion, we pride ourselves in how closely we work with our community to deliver them new and exciting content with every update.
OK. Pop quiz time! Now we don't want to start any team drama, but I'd like to ask each member what their personal favorite Halo game is. And… go!
Ben: My favorite Halo game has to be Halo 2, for sure. I'm pretty sure it's purely nostalgia because I was never good at the multiplayer (can't BXR to save my life!). The atmosphere and aesthetic of the game is what I hold as a focal point for the series, even if it is from 2004. If I were to say multiplayer, Halo 3 for sure!
Peter: I only recently bought an Xbox One for the MCC, and I'd have to say that I enjoyed Halo: Reach the most. Although I have to confess the I have only finished H2/H3 and Reach so my judgement is anecdotal at best.
Kayla: I loved Halo 3 ODST. I felt the Firefight mode was the perfect blend of tactical gameplay and halo funtimes. I enjoyed playing as someone who isn't a Spartan and feeling a bit more vulnerable. It changed how I approached a situation and offered a new experience.
Drake: Halo 2, without hesitation, it's the only Halo game that allows us to play as a Sangheili, the Arbiter! This is something I've really missed from the other Halo games.
Alex: Man, it's hard to pick just one. They were all great in their own ways. I think Halo 2 is when it went from an interest to an obsession for me, from the first foray into Xbox Live to the many quotable one liners that I can still recite from memory. "Dear humanity…" In terms of story I think I'd go with Halo: Reach though. It showed UNSC forces other than Marines and gave us an unflinching look at humanity's brutal war for survival and the sacrifice it took just to buy a little more time.
Chris: Reach, without a doubt. While Halo CE is certainly what drew me in Reach captured me in a new way. When it released my team leader at the time came banging on my door and handed me a copy of Reach. He asked me to play through it with him and of course I couldn't say no. In the military the guys left and right of you become family, so to me it was like playing Halo CE with my brother all over again. What intrigued me about the story was that it finally showed Spartans getting killed… I mean going MIA. I hate when movies or games stick to the cliché of having the heroes survive for the sake of a happy ending.
Tyrone: Halo: CE. I'm convinced there will never be a level better than the Silent Cartographer.
343 KEN: If a fan wanted to help contribute to Operation: TREBUCHET, what advice can you give?
Tyrone: The easiest way to contribute is by joining our Discord server and seeking out a developer. From there we can assess your skills and find a good task for you. Our policy for new members to the team is that you create an asset or system, from start to finish, as requested, then you're on and good to go.
Chris: Also, we don't mind if you are an industry pro or if you are just getting started. We all had to start somewhere and with dedication and motivation it's not too hard to learn new skills. We don't have an issue helping newbies out a bit in the creation process. We learn from each other and feedback throughout the team is important and valued greatly.
Tyrone: Exactly. We have a lot of assets we have planned, and they range from super simple to very complex. Even if you don't feel confident creating huge assets from scratch yet, something as simple as a box or a table could still prove useful to us.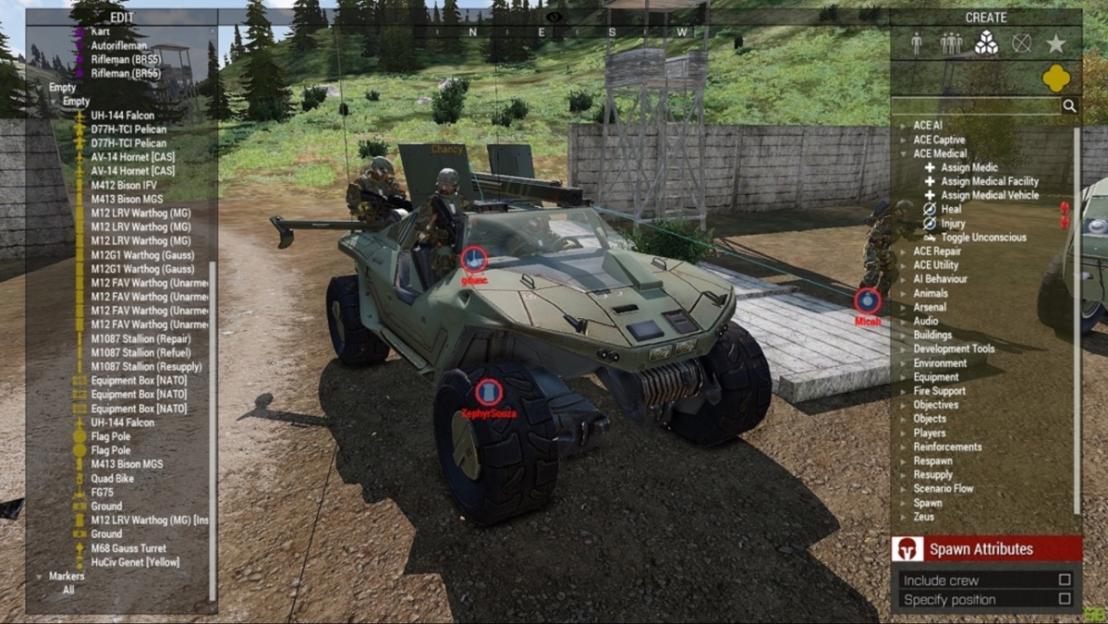 343 KEN: I purchased ARMA 3 specifically to download and play Operation: TREBUCHET, but can you recommend other mods or places for a new player to learn the ropes?
Chris: Some of the most important mods to grab up are certainly CBA, ACE and TFAR. CBA is a requirement for most major mods out there and it simply opens up the engine a bit more for mod makers. ACE brings a lot of realism with it and is highly used across the arma community. Lastly one of my favorite mods is TFAR. It basically brings working military radios into the game. Imagine having several different groups operating on the map and they all have to communicate somehow. TFAR lets you set radio channels, power output etc to make sure that you get the most realistic communications experience possible in a game. Most players use these 3 mods daily, be it with OPTRE or any other major mod for ArmA.
Tyrone: Furthermore, for the best ArmA 3 experience, I'd recommend new players see about joining a community of some form. Always having people to play with makes the experience far more enjoyable. You can find various ArmA 3 groups on the /r/FindAUnit subreddit, but we also have a space for groups exclusive to OPTRE on our Discord server if that's what you're looking for.
343 KEN: The potential of Operation: TREBUCHET speaks for itself, but can you give any hints as to what updates are being worked on?
Tyrone: Well, just this past weekend we released a pretty large update that added a few new weapons and overhauled the equipment used by the marines and soldiers. Going forward, we're going to be working hard to standardize all of our assets and better organize our workflow and communication within the team. This should mean more frequent updates and an overall higher and more consistent level of quality in the mod. For the next update, we're planning on fleshing out the Insurrectionist factions a lot more and giving them some new vehicles and equipment to work with.
343 KEN: Any final words?
Tyrone: We're really proud of how far the mod has come and we're excited to continue working on and improving it. We look forward to seeing new players and helping them to relive their favorite Halo experiences in ArmA 3 or create entirely new ones.
Thanks guys! Needless to say, we can't wait to see this mod get even bigger and better and hope more Halo fans try it out. To jump in now you'll need a copy of ArmA 3 and you can then subscribe to Operation: TREBUCHET on the Steam Workshop to get the latest updates and content. You can learn more about the mod and the community on their Facebook page or on their Discord channel.
*Ken's Shameless Plug: To see Operation: Desperate Assault where I was an observer in (as a Zeus) with Theron's unit see me in (in)action in this video. You can get their modpack here and join up with them here.
RADAR BLIPS

Unfortunately, it's Nachos – At some point over the past several days, you've likely heard something about a project called "El Dewrito," a fan-borne modification of the shuttered, internationally-intended Halo: Online experiment from a couple years ago. As a general rule, we here at the studio are pretty much always excited to celebrate community-created passion-to-production efforts – like the Operation: Trebuchet mod we highlighted above. In this case however, some boundaries were overextended, resulting in understandable action taken by the Legion of Litigation. We go into significantly more detail in our blog post HERE, which you should definitely check out if you're interested in the overall process. And while this particular chip may have sailed, one shouldn't entirely lose hope for the future.

For Give-ness – This weekend, April 28-29, the always-awesome Gamers for Giving event celebrates its ten-year anniversary. In case you don't know, Gamers for Giving is a weekend-long competitive gaming tournament, LAN party, & streamathon that helps raise money to support the Gamers Outreach charity programs. Ticket sales and donations from the event and its surrounding festivities help provide gaming and entertainment devices to hospitalized kids, brightening a whole lot of lives during some pretty tough times. Halo has long been a mainstay of this event, with everyone from community members just like you to high-profile pro players participating in intense and exciting tournaments and having an amazing time both making friends and helping folks in need. For more information on how you can attend or just be involved with a good cause, check out gamersforgiving.org.

Chari-tee – Speaking of good causes...
Collateral Movement – Issue #2 of the three-part comic mini-series from Dark Horse, Halo: Collateral Damage is now available for pre-order, and with it, a new piece of cover art to ogle over!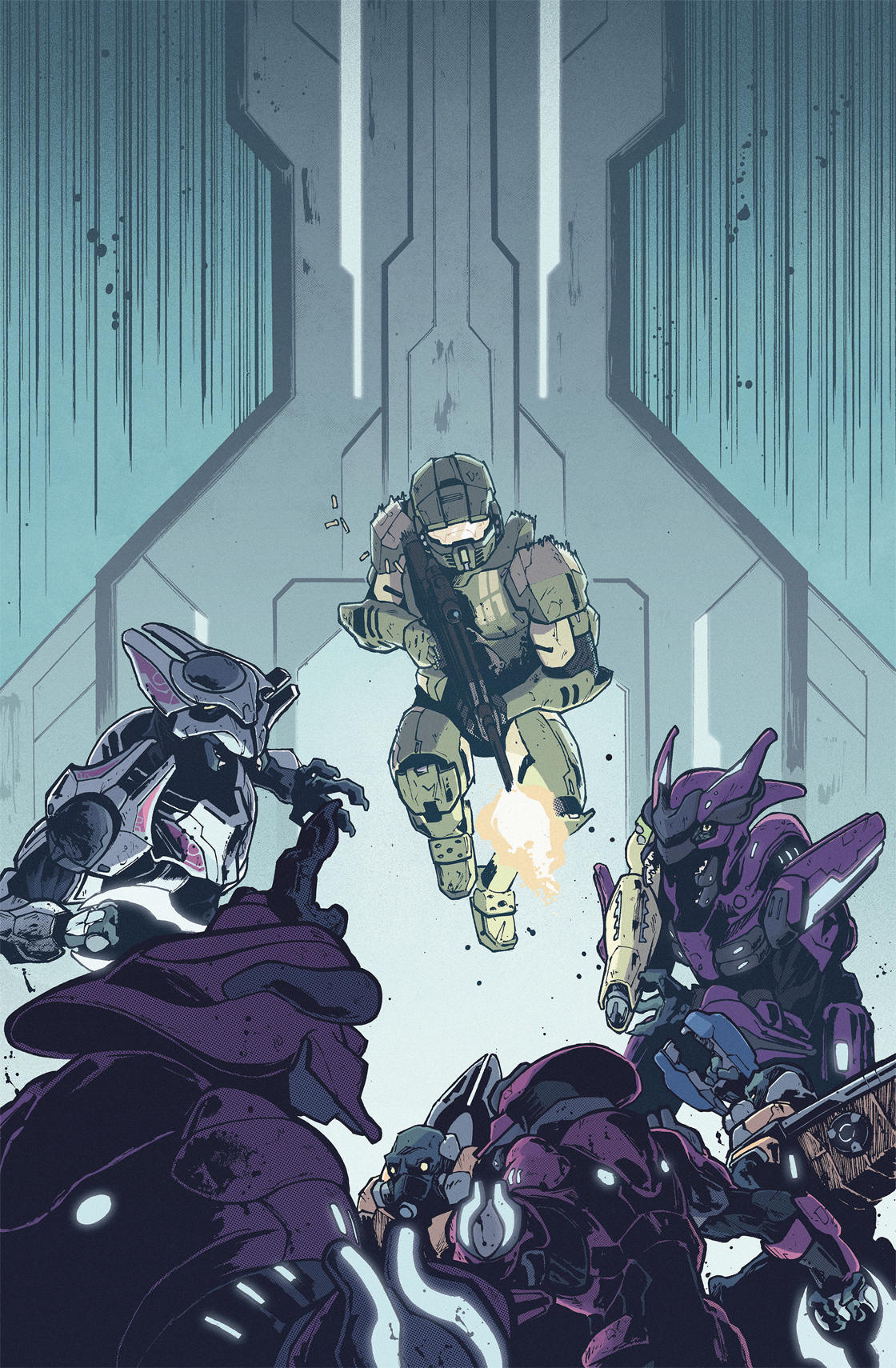 COMMUNITY SPOTLIGHT
Let's kick things off with a perfect video to talk about community interactions from Halo Cluster.
Minolta1034 put together this awesome community recap of the HaloWC 2018 Finals experience. Definitely worth a watch!
Bartelson1337 has been rattling off some really neat stylized halo art lately, like this one of Chief. Very cool!
#HALOHOTSHOTS
Aaaaannnd that will do it for us this time around. Thanks as always for spending a little time hanging out and listening to us blabber on about this universe we all love.
Until next time… Live well, play Halo, and who is your favorite NFL team going to take in this year's draft?