So, E3 amirite? This week's Halo Community Update arrives amidst an eventful adventure at the 2017 edition of gaming's ballyhooed annual teleprompter convention. It was a watershed moment for the Xbox platform, as Scorpio emerged from its final molt to become the Xbox One X (X Box One X = Illuminati confirmed!). Fueled by nitrous oxide, tortilla chips, and the nascent energy of unborn suns, the newest member of the Xbox family showcased a range of incredible titles brought to life in 4-quintillion hypermechaflopping glory. I'm pretty sure I've preordered four of them already, and plan on using the three not connected to my TV to run a clean energy reactor that will power the emerald city for the next millennia. In other words, it's pretty rad.
That being said, for some people – like most who are still reading this blog – the Xbox media briefing was bandied about as much for what it didn't show, as what it did. Specifically, a new (or old-made-new) Halo title. For some folks, their despair stemmed from a lack of remastered fight-finishing. I know I know, we should have told you ahead of time to not expect anything like that. Others were hoping for a tease of things farther off to come. While there's little to nothing that can be said on that front, it's been made clear that we won't be talking about Halo's next major title for quite some time. And no, that doesn't mean Gamescom. Or PAX. Trust us, when we're ready to begin pulling back that proverbial curtain, you'll know. It won't be soon.
However, one of the absolute best things about Halo is that it isn't confined to one medium, or to one genre – the Halo universe is diverse and wide-ranging, and E3 was a pretty awesome celebration of the next chapter in the Halo Wars 2 experience – a brand new expansion succinctly titled Halo Wars 2: Awakening the Nightmare.
DELUGE
This past Monday afternoon, we debuted the teaser trailer for Halo: Awakening the Nightmare, featuring terrifying and ominous snippets from the magnificent Blur cutscenes that bookend the expansion's five-mission story campaign. If you haven't seen it already, you should defi- actually even if you have already seen it, watch it again. It's Blur, gorramit.
Halo Wars 2: Awakening the Nightmare is a full expansion experience that features a new contained story, set after the events of the main game's campaign (and after the events of Operation: SPEARBREAKER), and a brand-new addition to the fan-favorite mode family with Terminus Firefight, where players will build bases and defend objectives against ever-increasing threats. Trust me, when the Flood swarms in, it swarms in. It's kind terrifying, like watching a horde of fresh baby spiders erupt from their egg casing and swarm across your room.
The expansion will also include two additional new Banished Brute Leaders, which when all is said and done will bring Halo Wars 2's grand total to a whopping 16 total Leaders and respective armies to lead into battle.
Plus, Halo Wars 2: Awakening the Nightmare – in addition to being in desperate need of adequate abbreviation – will also usher in the arrival of two new multiplayer maps for Halo Wars 2 that will be available in all standard MP modes and available for all players, for free, regardless of whether they own any additional DLC.
In many ways, this expansion is much akin spiritually to Halo 3: ODST – cool new campaign, new mode (hey, Firefight even!), new maps – but minus the full-price tag. We're stoked about the content contained in this new adventure, excited about a new canonical chapter in the Halo mythos, eager – and terrified – of encountering the Flood, and can't wait to talk more about specifics soon.
For now, we leave you of yesterday's first look at Terminus Firefight gameplay from Xbox Daily Live @E3 2017 for your viewing and dissecting pleasure. Also, for more details on the Halo Wars 2: Awakening the Nightmare announcement, don't forget to check out our announce blog here.
WELL-SEASONED
We saw a lot of confusion this week after announcing the Awakening the Nightmare expansion for Halo Wars 2 as it relates to the contents of the already in-progress Season Pass goodies. Confusion often leads to anger, and in hindsight, we could have explained things a bit better. To that end, let's tackle that 800lb Jiralhanae together, shall we? The Halo Wars 2 Season Pass was designed to accent and enhance the core Halo Wars 2 experience, bolstering it with six months-worth of awesome content, including new Leaders, abilities, and units to use in all Halo Wars 2 multiplayer modes, as well as an expanded campaign experience – something that single-player/story-focused fans like yours truly are always most eager to gobble up.
That last part especially is something that we haven't talked much about, and frankly, we should have done more of earlier but as you probably realized already, we're kind of at the mercy of E3 to some degree and had a responsibility to our partners to announce it then, which certainly exacerbates the reveal feeling "out of order." Ordinarily we like trying to showcase things closer to their release to help balance hype and anticipation with not making players wait very long to experience the very thing they just learned about. Unfortunately, that approach combined with the timing of an obvious showcase moment like E3 meant that some mixed messages were sent to fans who had lovingly invested in the Season Pass, and we're not thrilled about having frustrated those that did.
That being said, we're still extremely excited about both the content and the value contained within the Season Pass – all of which will be released before the arrival of Awakening the Nightmare. Here's what's been added to the core Halo Wars 2 experience so far:
February – Sgt. Forge (Free for all players at launch)
March – Morgan Kinsano
April – Colony
May – Sgt. Johnson
June – Jerome-092 + Arbiter Ripa 'Moramee
July – Unrevealed Leader #7 (UNSC) + Operation: SPEARBREAKER (additional UNSC campaign missions)
August – Unrevealed Leader #8 (Banished)
Plus, we added two free new visual themes for the Proving Grounds map for Blitz mode, and will be adding two brand-new full multiplayer maps for everyone – for free – when Halo Wars 2: Awakening the Nightmare launches.
On the E3 show floor, we showed off this month's DLC Leaders, Jerome-092 and Arbiter Ripa 'Moramee – the OG Halo Wars antagonist but with a Banished twist. Both Jerome and Ripa are included in the Season Pass, and plan on seeing more info on these awesome additions next week as we prepare for June's impending double DLC drop.
Very soon, we'll be taking a closer look at Operation: SPEARBREAKER, a two-mission story-based addition which follows a squad of ODSTs attempting to thwart a dangerous Banished plot following the events of the main campaign (don't tell anyone I told you).
DREAD PIRATE ROBERTS NOT INCLUDED

This week, we launched our newest Featured matchmaking playlist a day early to coincide with Flag Day. Why, you ask? Because Castle Wars, baby. Castle Wars' lineage dates back to its origins as a hilarious and awesome custom game back in the Halo: Reach era. Fast-forward to modern times, and Castle Wars has quickly become one of the most popular custom games in Halo 5. The mode's basic layout consists of two big bases (the "castles" – sometimes literally) that are connected by a single bridge. To win, each team must push across the bridge to storm the opposing team's castle and steal and capture the enemy flag. It's an absolute blast that you've got to grab a group of friends to try it out with.
Not only is the mode itself awesome, but the map rotation is pretty incredible. Featuring bespoke playspaces designed specifically for the mode, these Castle Wars maps cover a variety of awesome themes found throughout the Halo universe, with each one having a distinct aesthetic flavor and playstyle. Big shout out goes to community member Omarlotrc for helping spearheading this effort – for more info on the maps and mode, make sure you hit up Unyshek's official playlist blog, which includes info on another upcoming opportunity to earn yourself a 343 Fire Unicorn skin as described immediately below.
COMMUNITY PLAYDATE
Yes! There will indeed be a Community Playdate for Castle Wars! Jump into the playlist on Monday, June 19 at 2PM PT for a chance to storm Team 343's Castle and capture our flags. As always, if you match us during that time, you will receive the 343 Ice Unicorn Skin. We hope to see you there!
RADAR BLIPS

This week's smattering of neat news nuggets, all conveniently collected.
Dream On – Last Friday, we launched a pretty sweet event hub for the HCS Summer 2017 Finals taking place at DreamHack Atlanta. Make sure you hit it up for all the information on how you can be part of the action, whether you are competing or spectating. Check it out HERE.
Got Dem Plat-Plats – Got a bunch of REQ points sitting around gathering digital dust? This morning we added a new way to increase your REQ arsenal should you be so inclined. The new Platinum REQ Packs will set you back 20k RP, but will include 3 permanent unlocks, and raise the floor to include only Rare, Ultra Rare, and Legendary REQs. Try 'em out at your next Warzone Firefight sesh!
Be Late, No Crate – Just a friendly reminder that TODAY (June 15) is your last chance to order next month's Halo Legendary Crate. Head to www.lootcrate.com/halo to snag yours!
I Read it for the Articles – Some of you may have noticed a cryptic tweet from yours truly this week to herald the arrival of the beautifully-bound Halo: Escalation Library Edition Volume 2, which collects issues of the Halo: Escalation comic series, with additional commentary by members of the Escalation creative team and Halo Franchise team. It's big, it's beautiful, and it's on sale now at specialty shops across the land, with major online retailer availability beginning on June 27. Check it out!
COMMUNITY SPOTLIGHT
Today's Community Spotlight features another salvo of unsurprisingly awesome creations from Halo's talented community.
MASTER BUILDERS
I just... I just can't even. Or odd, for that matter.
VIDMASTERS
Teh Spearhead continues his hilarious mockumentary romp through the Halo universe with his latest addition to the "Lives Of..." series.
HOW GREAT THOU ART
Reddit user dnewbold added inks to an already-awesome interpretation of some classic Halo aesthetic.
SCREENCAP-TAINS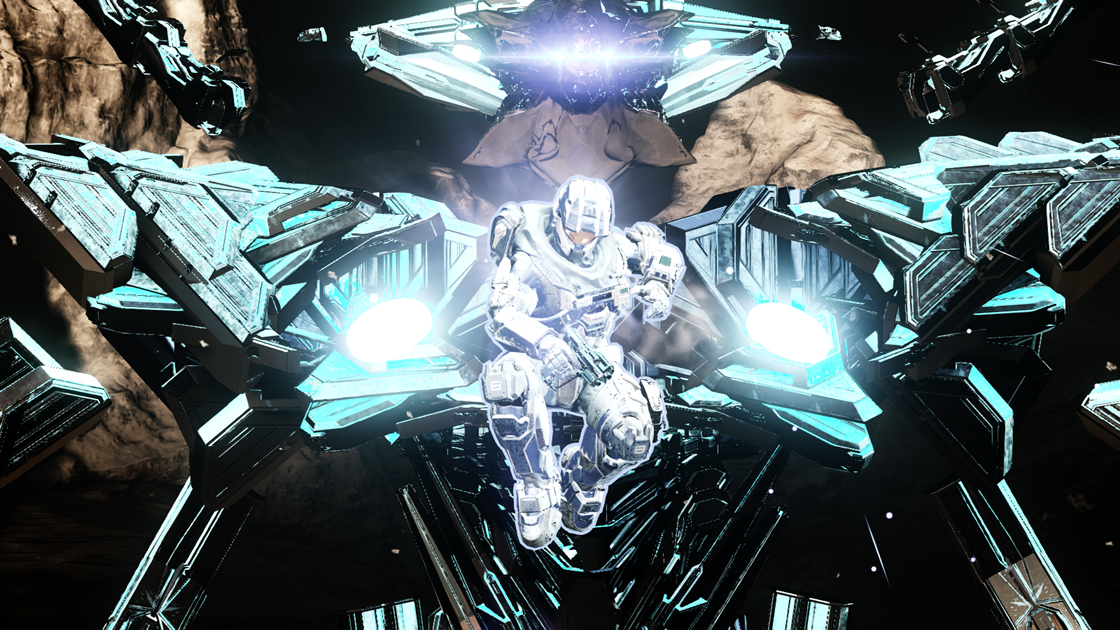 This gorgeous shot is from Shooter750. Love it.
PLAY OF THE WEEK

This week's POTW comes from invarianthawk, who had nearly given up. Good thing he didn't.
And with that, we tip our cap goodnight for another short spell. Hope you have an awesome weekend – I'll be hanging out with One.1 and watching the 24 Hours of Le Mans.
Until next time… Live well, play Halo, and Happy Fathers' Day to Grim Prime, and to all the fathers – and father-figures – out there. Much love <3