Greetings, fair franchise followers! Welcome back to another installment of your most favoritest official Halo community update in the entire world. Your huggable, hairy-faced, lore-lovin' co-pilot is back at the narrative helm this week to bring you a collection of news bits, updates, and a slew of awesome community content sourced straight from Halo's furious fount of creativity: you guys. We've got a decent bit to cover, so let's get right to it!
HE KNOWS WHAT THE LEADERS LIKE…
Last week, ske7ch and I decided it was too hard to keep our next big Halo Wars 2 reveal a secret, so we whipped out our headsets and let loose with an impromptu stream of Johnson-filled goodness. That's right ladies and gentlemen, it's been a long time coming, but the UNSC's cigar-chompin'est badass is back in action, and ready to make up for lost time by taking out his aggressions on Banished forces scattered all across the Ark.
Available for Halo Wars 2 on both Xbox One and Windows 10 PC, Sgt. Johnson is included in the Halo Wars 2 Season Pass, or available as a separate purchase in the Store. For a handy dandy high-level overview of all the sweet deets involved with Sgt. Johnson's arrival, make sure you check out our official launch blog here.
FODDER FEATURETTE

ISSUE 98.2
In our aforementioned launch blog, we outlined some of the biggest details on Johnson's awesome new battle-hardened units. The Sergeant Major has always known how to deliver the big guns when they're needed the most, but this time he's upped the ante with a myriad of mechanized mayhem. But while the launch blog covered some of the most important gameplay implications, it didn't dive into much of the all-important backstory behind many of these sweet new tools of destruction. Fortunately for you, Luke, I am your Fodder. For those of you who haven't taken the chance to dive headlong into the associated Phoenix Log codex entries accessible right within Halo Wars 2's campaign menu, we've got you covered right here – with perhaps even a bit of bonus coverage.
Let's get this out of the way first. Canonically, Sgt. Johnson is still deceased. He dead. Super ded. Like, not even falling into the Domain would bring him back. Well, probably. Pretty sure at least. And remember, the multiplayer in Halo Wars 2 isn't a canonically-wrappered simulation situation – it's just good old fashion, fun-havin' multiplayer. It gives players the full capability to treat it as a battle simulation for sure, but having the multiplayer exist outside of all that also gives us the opportunity to do awesome stuff like have Avery Johnson and John Forge join the fray. At any rate, here's the Phoenix Logs fiction for Johnson's big and deadly unit.
"Green Machine"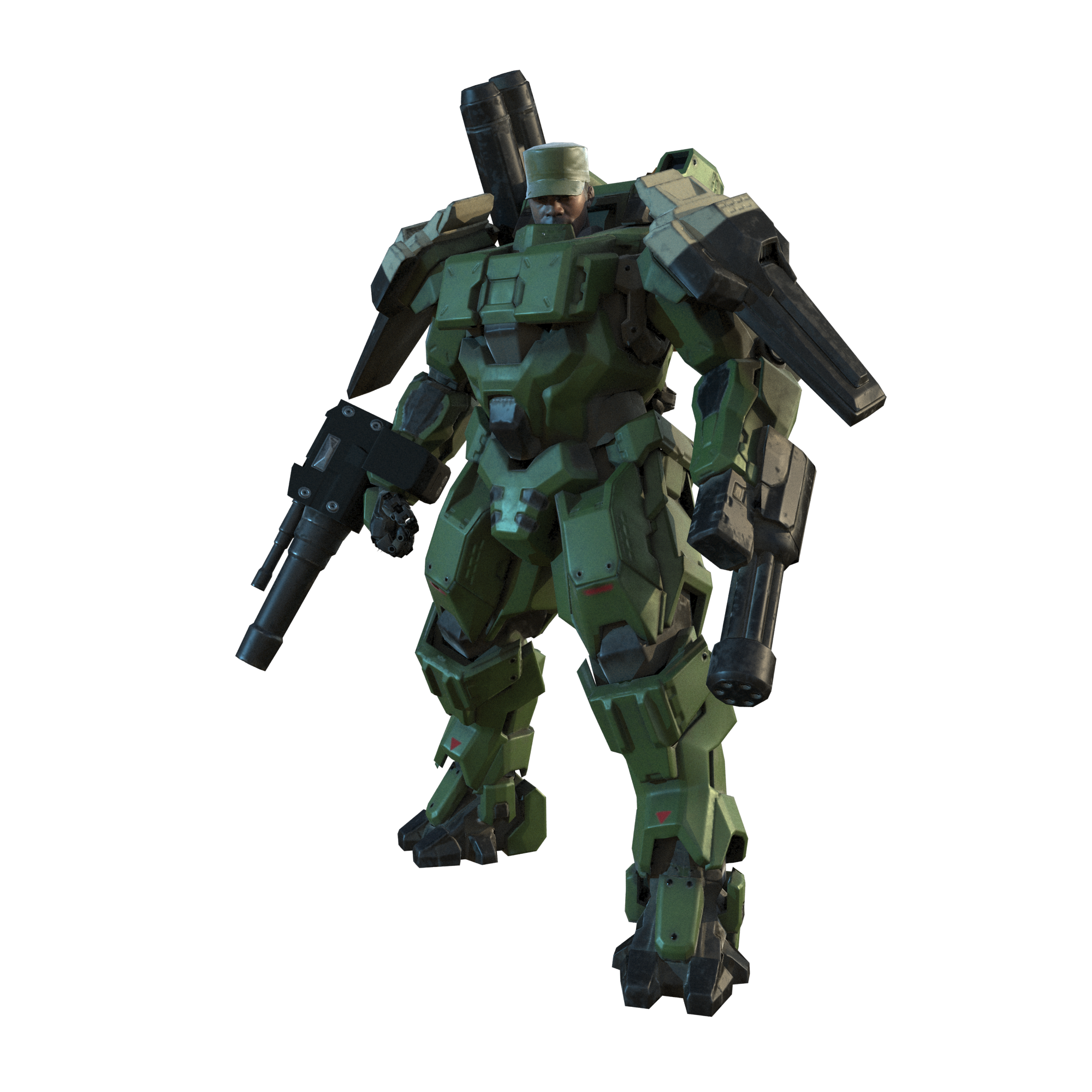 HRUNTING/YGGDRASIL MARK I[J] Armor Defense System.
When Sergeant Johnson joined the Corps they didn't have any fancy-schmanzy power armor, but he's a quick learner. He drops onto the Ark in the "Green Machine," a bipedal weapon system custom-fitted with an array of miniguns, phased-plasma fusils, sonic blindwolf repellers, repair beacon pods, and fast- regen energy shields. He keeps a sharp stick handy as a backup weapon. The energy shielding rapidly regenerates after it hasn't been hit for a few seconds, which plays well with Sergeant Johnson's preferred tactics of hit-and-run raids and well-timed combined-arms strikes. The suit's repair beacon ability heals up to ten nearby allies with constructor beams tuned to a pleasing Marine Corps- approved green color.
The suit can be upgraded in the field, further enhancing the Green Machine's killing power. The Gauss Chaingun upgrade adds specialized high- power ammunition while the Beacon Shield pairs the repair beacon with a bubble shield, reducing incoming damage for those inside the repair radius. And last—but certainly not least—the suit can be upgraded with a Smart Missile pod for dealing with pesky nuisances at long range. Why doesn't he wear a helmet? Well, would YOU hide behind an armored faceplate if you had Sergeant Johnson's rugged good looks?
Keen-eyed fans will note the lineage between this upgraded suit and the one seen in the "Prototype" animated piece of Halo: Legends. Looks like maybe, just maybe, not all information from Algolis was lost when the colony fell to the Covenant.
COLOSSUS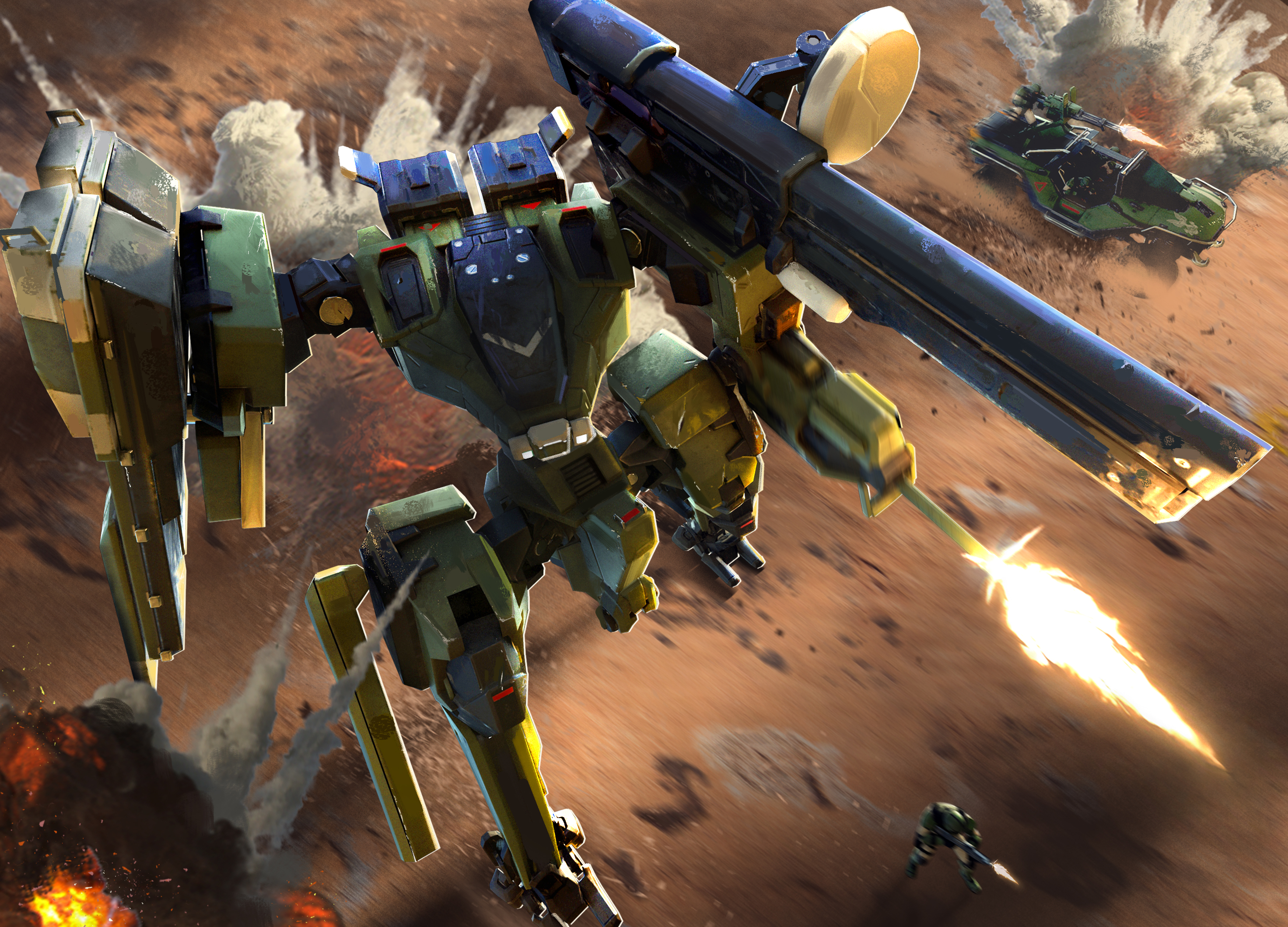 The Colossus is a superheavy vehicle unit which can be deployed by Sergeant Johnson in place of the Scorpion. It is relatively slow, but fitted with a devastating arsenal, capable of taking down almost any foe. The Colossus' primary weapon is a long-range heavy railgun, a massive weapon originally designed for installation on fortified structures. While the rail cannon can only target ground units, its autocannon has an all—environment engagement profile. After upgrades the Colossus can use Stomp, sending out a shockwave that stuns and damages enemy ground units.
The Colossus is a next—generation exoskeleton combat unit designed by Materials Group and Hannibal Weapon Systems for the UNSC Army. Isabel retains its manufacturing templates from her supply-chain training on Earth, though manufacturing these massive combat machines represents a considerable burden on the Spirit of Fire's supplies. Sergeant Johnson claims to have acquired the materials for his Colossus units via the classic Marine Corps logistical expediency of 'borrowing' equipment that isn't nailed down [or couldn't be pried free], but his actual source for these machines is a mystery wrapped in an enigma, protected by shield generators and several tons of Titanium—A armor plating.
The Colossus shares an interesting design kinship to the "mega-Mantis" Mk. II (D) ADS seen aboard the CAA Heavy Burden in the Halo 4 map "Adrift," but is definitely not the same vehicle. However, it does finally give players a chance to control a bipedal mech of similar size against enemy forces.
MANTIS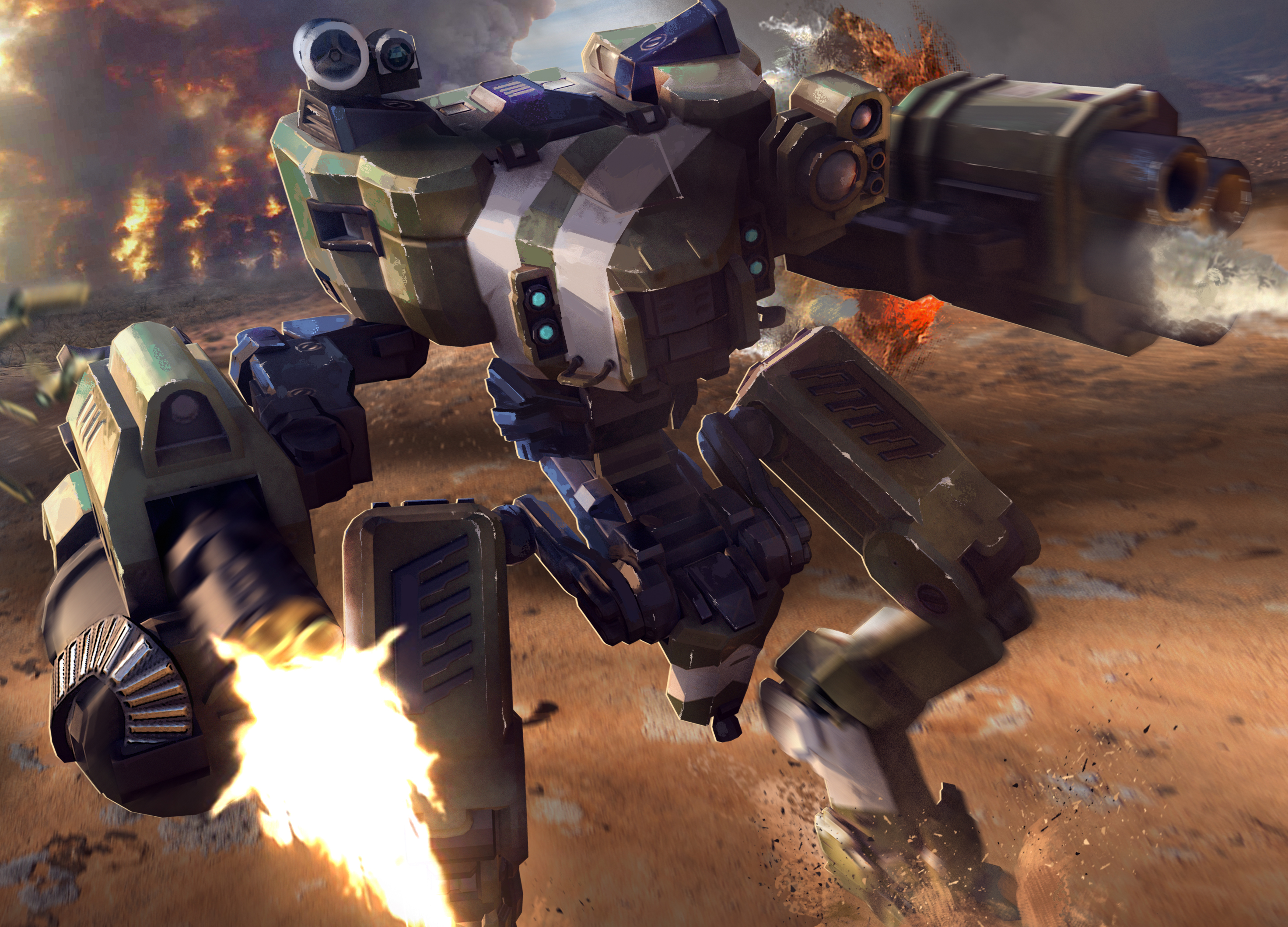 Mark IX Armor Defense System
The Mantis is a combat vehicle used in a number of different configurations by the UNSC and licensed security forces. The Mantis replaces the Warthog in Sergeant Johnson's force. Its default weapon is a chaingun, which can target both ground and air targets. The Missile/Shield Requisition upgrade increases the number of missiles the Mantis can fire and adds energy shielding, while the Gauss/Designator Requisition upgrade replaces the conventional chaingun with a gauss repeater and adds a networked target designator. The target designator allows the Mantis to "paint" a single unit and coordinate attacks using the local battlenet, increasing all damage the target takes from friendly units. Groups of Mantis walkers will smart target their designators.
Highly mobile, well-protected, air-droppable, and reconfigurable, the Mantis represents the state-of-the—art in infantry walkers. Mantis units were stationed at the Henry Lamb Research Outpost for site security, but many were destroyed in the initial Banished attack. Well aware of their combat potential, Isabel has begun producing a modified version of the Mantis for the use of Spirit of Fire's ground forces, with adjustments to reuse parts produced for the Cyclops and Colossus. While capable, these units lack the neural interface control systems installed on contemporary UNSC models; a necessary concession due to the Spirit of Fire's older manufacturing technology.
Oh, and before we put Johnson away to move onto other pressing matters, community stalwart and fiction freak Hidden Xperia put together a rather awesome look at the good Sergeant's intriguing – and somewhat shrouded – backstory. It's definitely worth giving a watch, so, well… watch it!
HCS UPDATE

Last week, several members of the 343 Community, esports, and Multiplayer teams made trip down to the east coast of Florida for HCS Daytona by UMG. Being a proud sunshine state native myself, it was a blast to get to attend an event on "home turf" so to speak, and get to hang out with both my blood-related family, and my Halo-related one.
As if that weren't enough on its own, the competitive action itself on display was incredible all weekend long, culminating in a 14-game marathon Grand Finals for the ages that saw Team EnVyUs dethrone the mighty OpTic Gaming for the HCS Daytona crown. For a detailed skinny on the event, check out our full recap here.
But that's not all – this week also marked the opening week of regular season match play in the North American HCS Pro League by ESL Summer 2017 Season. You can get the full breakdown in our preview right here, and check out today's broadcast schedule right here – including a tantalizing rematch between nV and OpTic in our Match of the Week. Action began at 4:30 PM PT on beam.pro/Halo and twitch.tv/Halo. And of course, for all the latest news on the HCS Pro League, follow @HCS and @ESLHalo on Twitter, and keep it locked to Halo.gg and ProLeague.com/Halo on the web.
And before we go, check out another awesome community-sourced piece of content, as the folks at the Halo Breakdown YouTube channel showcase their own recap of their adventures at HCS Daytona. It's incredibly well-done and well-deserving of your eyeballs – check it out!
PLAYLIST ROTATION

So, if you're like me, you may enjoy watching the pros play Halo at its razor-edge-ridiculous highest level, but know that your own personal matchmaking tastes are interested in a whole range of different experiences. With that in mind, we've got another round of awesome activities taking their turn in the matchmaking rotation.
Warlords
Starting Friday, May 26 (tomorrow!), the biggest and baddest Warzone squads come a callin' as the Warzone Warlords playlist takes over the weekend. Parties of 6 and 12 can jump in and test their might against the best players – and equipment – the mode has to throw at them. If you think you've got what it takes, squad up and load in!
Community Slayer
Also in the rotation currently is our latest bout of Community Slayer, featuring awesome community-created maps that were each finalists during our Ghost in the Shell Forge Contest. It's a cool film-themed experience that provides an interesting break from the standard fare map rotation – hop in and try it out!
TELL US HOW YOU REALLY FEEL...
One of the biggest themes you'll find throughout our time spent together today is community. Whether it's releasing a fan-favorite character for epic multiplayer fun, putting community-designed maps into the matchmaking rotation, or showcasing incredible screenshots, videos, content, and more, it's our pleasure to put your passion on full display. Of course, it's not just your screenshots and montages we want, it's your opinions – and trust us, we know you've got them. We see tons of well-thought-out essays, critiques, videos, discussions, and everything in between – all focusing on the things you love, and don't, about the Halo experience.
One of the best ways to get involved in an official way is to sign up for the Halo Community Feedback Program, when you will have the opportunity to take part in surveys that touch on large variety of aspects of Halo. Whether you've been part of the program for a while, or you're just getting started, it's a perfect time to jump in, as we are gearing up to solicit feedback on more and more topics in the near future – several of which we've seen discussed at length on forums, social media, and more. Also, since we love having as large and diverse a pool as possible to gather thoughts and experiences from, it's important to remember that this is players and fans of all walks and skill-levels. Don't think that just because you aren't a seasoned four-shotting pro or legendary lore-lord that your voice isn't just as valuable!
So if having the opportunity to provide feedback directly to the folks here at 343 piques your interest in the slightest, head over to the HCFP page, sign up, and stay tuned…
RADAR BLIPS

Mixing it up – Just today, the team over at Beam made some pretty sweet announcements, starting with a new name change: Mixer. Perhaps the coolest part of the whole thing is some awesome new features, including my personal favorite, Co-Streaming, where up to four streamers can combine their streams into a single viewer experience! Not gonna lie, ske7ch and I have already been scheming up ways to take advantage of these new features in the near future. And yes, that should probably make you nervous.
Pass it on – This week, Xbox announced the official launch of the Xbox Game Pass, which allows players access to a huge array of titles on a monthly subscription basis. A free 14-day trial is available right now for Xbox Live Gold members, and the program kicks off for everyone on June 1 – full details can be found here. Among the 100+ titles already in the available library is none other than Halo 5: Guardians, which means that you'll very likely see a swath of brand new (or even returning) Spartans joining the fray!
Full sale ahead – This week also marks the Microsoft Studios publisher sale, including a number of sweet deals on Halo related content. Both Halo 5 (50% off standard edition, 60% off digital deluxe) and Halo Wars 2 (35% off) are on sale, plus discounts on REQ Packs (including Gold packs, Warzone REQ bundle, Arena REQ bundle AND Voices of War) and Blitz Packs.
Double XP Weekend – To celebrate and welcome our influx of new recruits, this weekend we're also providing double (well, as mathmatically close as our algorithms can achieve) XP to all Halo 5 matchmaking playlists this week, so get in there and get your grind on!
COMMUNITY SPOTLIGHT
This week's Community Spotlight is a cup overfloweth – all thanks to the incredible array of fan creativity Halo boasts. Let's take a look at this week's bounty…
PRO(SE) LEAGUE
Stalwart scribe Haruspis poured himself into a fantastic three-part character study on the Master Chief, giving an excellent, multi-faceted critique of the Halo hero's journey so far. It's awesome, it's deep, it's well worth the read.
VIDMASTERS
For new recruits looking to tackle Halo 5's campaign on Legendary difficulty, fabled taskmaster Mythic Tyrant has some super helpful tips for taking on one of the campaign's most… challenging encounters.
HOW GREAT THOU ART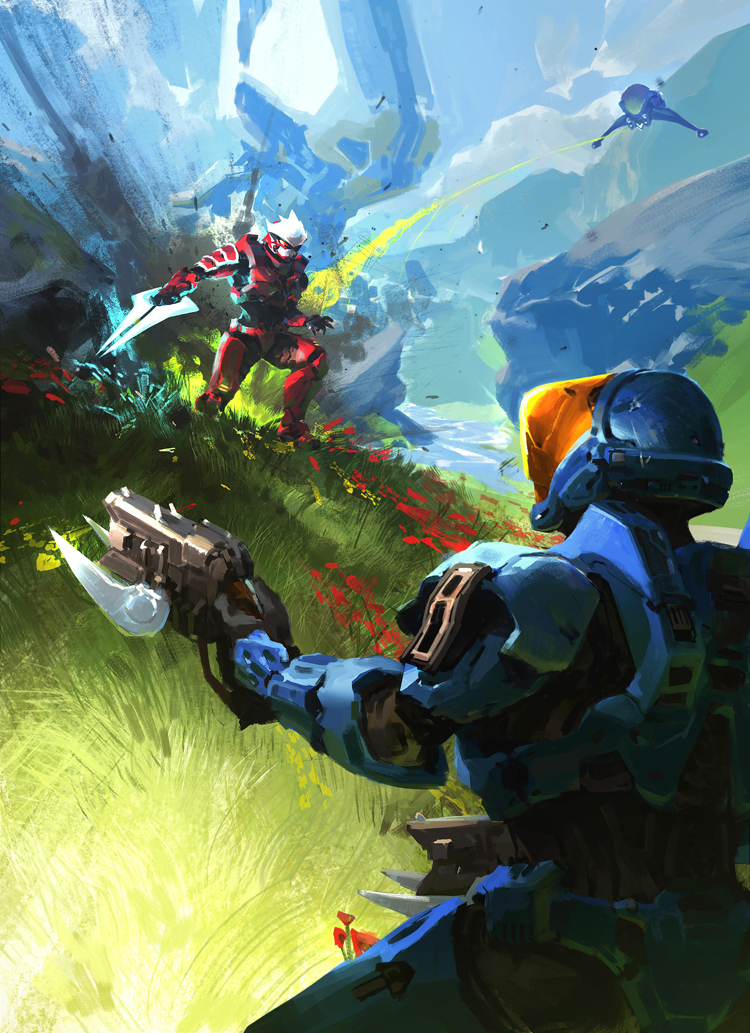 Garrett "TD Spiral" Post continues to bless the Halo community with his incredible art, and his latest piece, created to celebrate the anniversary of the Halo 3 Beta, is absolutely brilliant.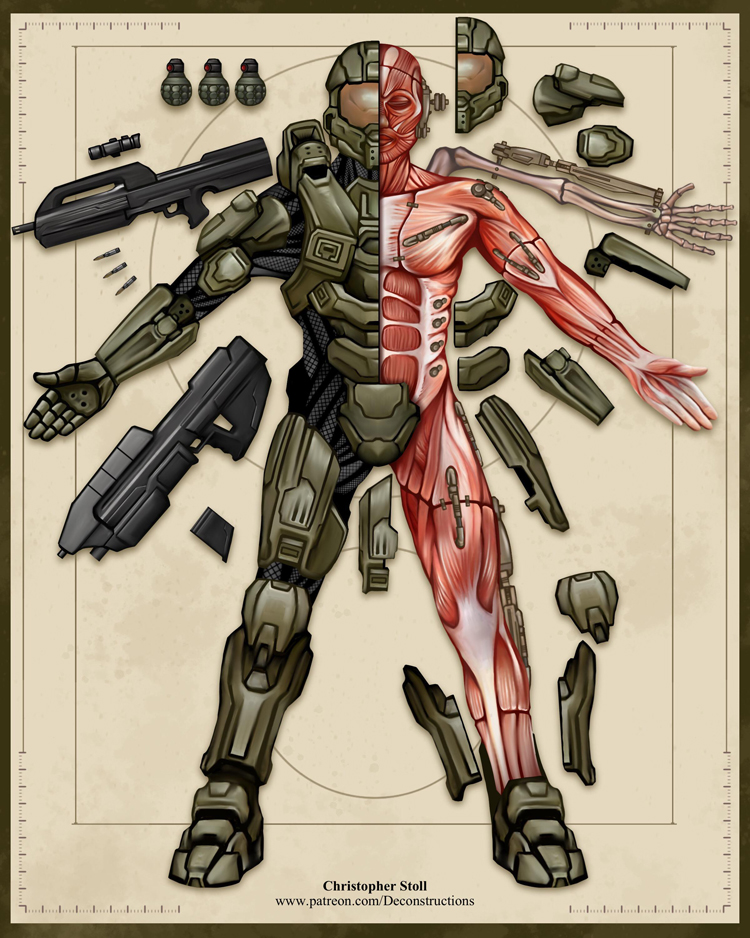 Christopher Stoll created this ridiculously cool "digital dissection" piece on his freaking iPad (what am I doing with my life?) – it's awesome, and deserves the attention of your adoring eyeballs.
SCREENCAP-TAINS
Seriously you guys, we can't keep up with your awesome shots.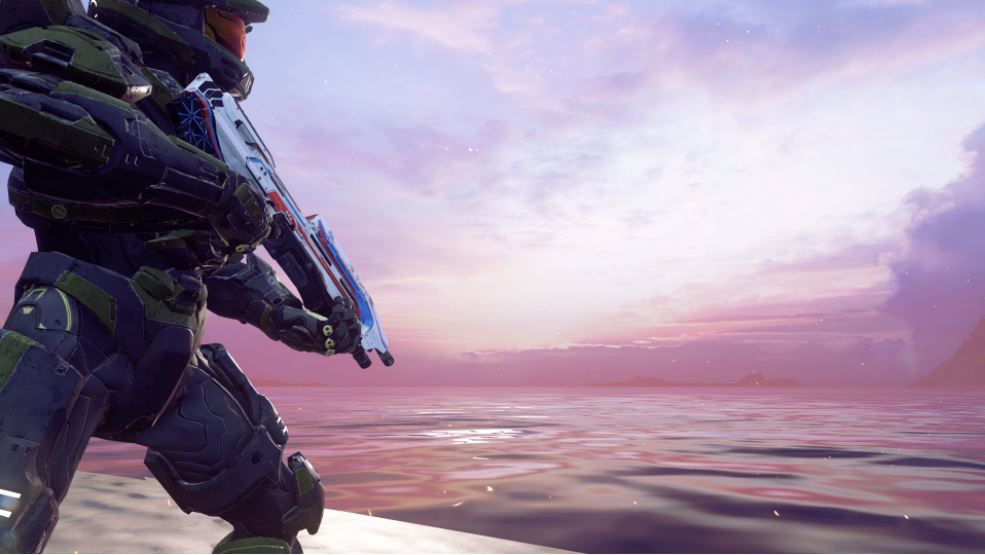 MasterGamer_105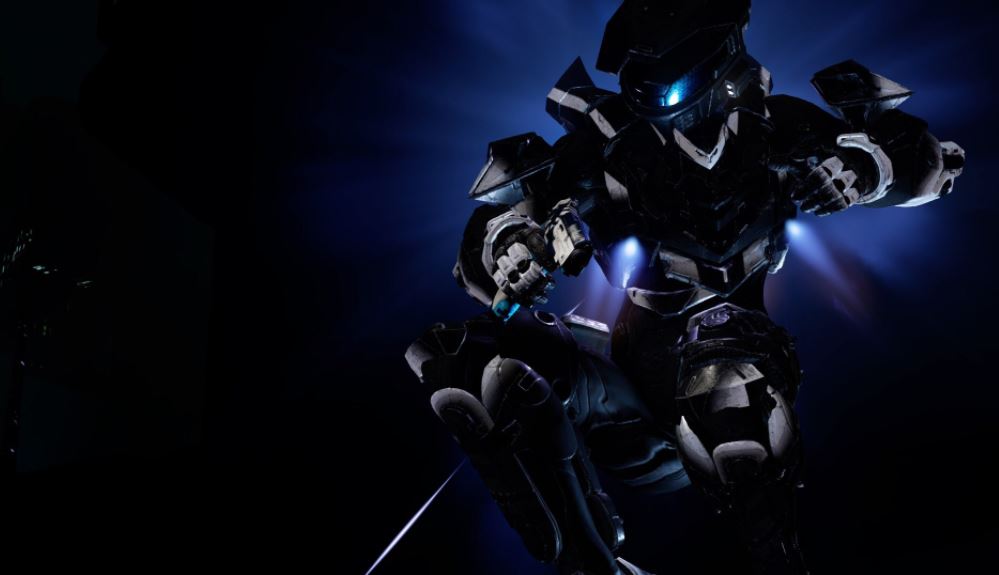 Plazma_kill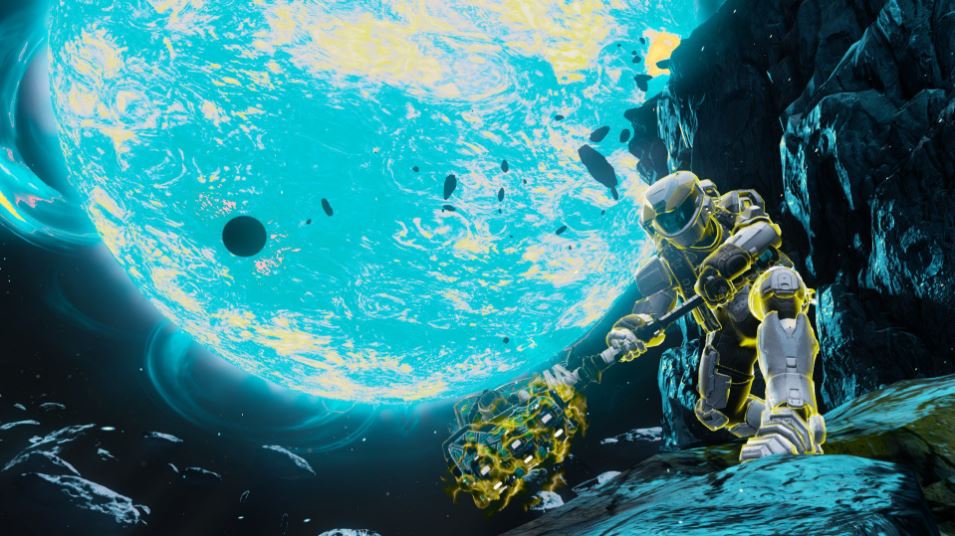 Timmy the k1d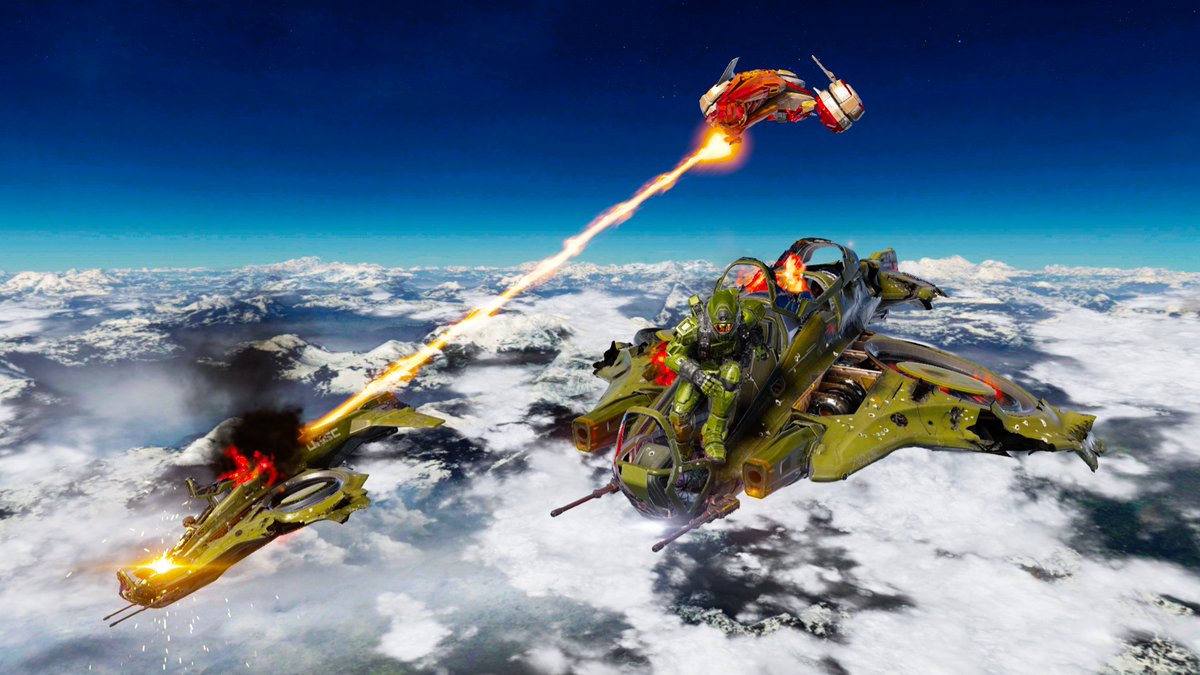 I couldn't decide between these two Timmy the k1d screenshots... so I used both.
SCATTERSHOT
Con-graduations! – A couple of redditors adorned their graduation headgear with some truly legendary accoutrements. Check out koenigseggfire and cryptidman117's epic grad-caps.
Pod Squad – The awesome auditory crew over at Halo Podcast Evolved recently revamped and relaunched their website, and have also reached their milestone 117th episode! Give 'em both a look and a listen at halopodcastevolved.com.
Well, that does it for us this week. If you're gearing up for school finals, good luck! If you're already a working stiff, have a great (hopefully) long weekend! If you don't fit into either of those categories then, well, we love you too. Ciao!
Until next time…Live well, play Halo, and remember to smile – while you've got something to smile about.