This past weekend the Top 8 teams in the Halo Championship Series made their way to a sold out ESL Studios for the Season 2 Finals. What ensued was 3 days of legendary Halo competition that won't soon be forgotten. Overkills, Killing Frenzies, Exterminations and Environmentalist medals were earned as these teams duked it out for their share of $150,000 and title of Season 2 Champion.
DAY 1
In the first day we saw the top teams in the tournament such as Evil Geniuses, Denial eSports, CLG and Winterfox cruise into the 2nd round of competition as expected. In the loser's bracket, we would see two teams be eliminated on this day. Cloud9 would send the 8th seed eXcellence home early, and the final loser's bracket match of the day would be between Team Liquid and OpTic Gaming. Liquid came out of the gates strong and quickly took a lead in the series, catching OpTic Gaming and the audience off guard. OpTic Gaming would recover however and clawed their way back into the series sending the match into a final Game 5. IN this game we saw OpTic Gaming employ a new strategy that Clete "Assault" Lorusso pitched to the team just minutes before the match started. OpTic Gaming pulled this all-new strategy off without a hitch, secured the Active Camo powerup, and opened up a 12-0 lead which included a triple kill from captain Michael "Flamesword" Chaves. Liquid would never recover, and were the 2nd team eliminated from the tournament that night.
DAY 2
In day 2 the action heated up as we saw 3 more team eliminated. Evil Geniuses and Denial eSports, the top 2 teams all season long advanced as expected sending CLG and Winterfox down to the loser's bracket. Awaiting the teams were Cloud9 and OpTic Gaming. Cloud9, off of stellar performances by Justin "iGotUrPistola" Deese would upset the 3rd seed Winterfox sending them home much earlier than most anticipated.
In the other match CLG took the lead against OpTic Gaming and never let it go sending OpTic Gaming home in day 2. One match remained and only one team moved on to Championship Sunday. CLG faced off against Cloud9 and their fire power proved to be too much to handle. In the end, it was CLG that took the series 3-1 and Cloud9 went home with 4th place.
DAY 3 - CHAMPIONSHIP SUNDAY
Championship Sunday arrived and only 3 teams remained in the tournament. In the winner's bracket, it was Evil Geniuses against Denial eSports. IN this series we saw what makes these two teams so special. Never in Halo 2: Anniversary had we seen this level of purse skill on display before. Here's a look at what many are calling the play of the tournament from Evil Geniuses' captain Eric "Snip3down" Wrona.
This series would go the distance and in Game 5 it was Denial that would fall and be sent to the loser's bracket. Awaiting them were the surging CLG ready to pounce on Denial and gain entry into the grand finals. After Denial's grueling match with Evil Geniuses, it appeared as though they were out of gas and CLG was able to seize the opportunity, cruising passed Denial and into the Grand Finals for not only a rematch of the Season 1 Finals.
In the Grand Finals CLG came out swinging and took the first two games against Evil Geniuses. Viewers at home and in the audience wondered if CLG would be able to reset the bracket and for a final best-of-5 series. Evil Geniuses were not about to let that happen however. They fought their way back into the series to force a Game 5. In this Game 5 it was LCG that took charge and held off Team EG. With incredible plays by Matthew "Royal 2" Fiorante, CLG were able to force a final series to decide it all.
All bets were off at this point and it was anyone's championship to take. Evil Geniuses dominated all season along and wanted to prove in the final Halo 2: Anniversary tournament that they were the undisputed best team in the world. In the final series of the tournament, Evil Geniuses did just that. The level at which EG performed in the match of the season was that that we had not seen in Halo 2: Anniversary. With incredible slaying prowess, objective efficiency and exception communication, Evil Geniuses dominated Game 1, Game 2 and finally Game 3 as they would sweep CLG and be named the HCS Season 2 Champions! Winning 5 LAN tournaments in a row dating back to Season 1, there was no question that Evil Geniuses were the best Halo team in the world.
Congratulations to Evil Geniuses!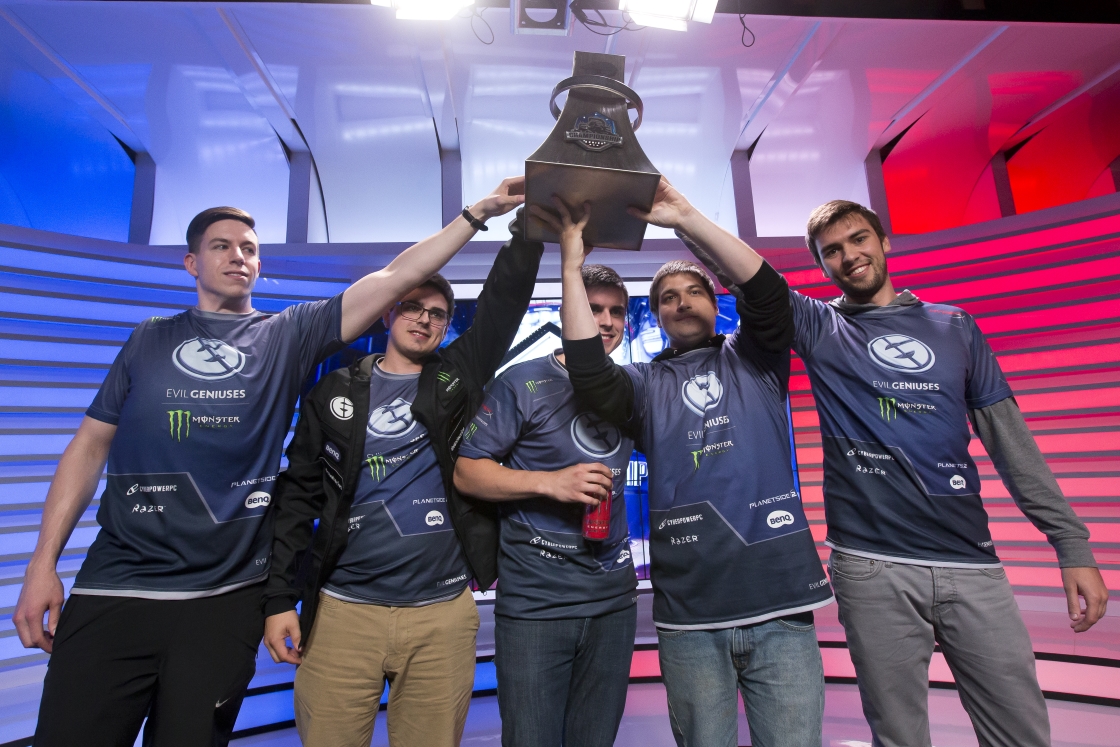 Photo Credit: ESL
Here's a look at the final standings:
1. Evil Geniuses - $75,000
2. Counter Logic Gaming - $30,000
3. Denial eSports - $15,000
4. Cloud9 - $12,000
5/6. OpTic Gaming - $6,000
5/6. Winterfox - $6,000
7/8. Team Liquid - $3,000
7/8. eXcellence - $3,000
The Halo Championship Series kicked off late last year with Halo 2: Anniversary, and after two unforgettable seasons this chapter has come to an end. A new chapter in HCS and competitive Halo is about to be written however with Halo 5: Guardians. Join us on August 7th in Cologne, Germany for the Gamescom Invitational. Three of Europe's finest will go toe to toe against North America's OpTic Gaming in the first official Halo 5: Guardians competition. For all updates on Halo 5: Guardians and the Halo Championship Series, stay tuned to @Halo and HaloWaypoint.com