This week, we're digging back into the latest on MCC content and playlist updates as well as the latest progress on Relic. Let's get to it.
Halo: The Master Chief Collection Content Updates
Over the past few weeks, we've been completing work on the upcoming content update, which will improve stability, matchmaking, the party and invite system, and more. As we announced previously, this content update includes fundamental changes to the aforementioned systems, and making and validating these changes requires substantial time beyond what was required for prior updates. We're happy with the progress on the next CU, with significant progress being made on big and small issues, and we're being diligent in gameplay and stress testing to ensure that it is a meaningful update. While we haven't yet locked an exact release date of this CU, the work is in its final stages of testing and bug squashing is well underway. The next time we communicate regarding the status of the upcoming CU, we will provide a definitive timeframe for its availability.
Halo: The Master Chief Collection Playlist Updates
Last week, Team Snipers replaced SWAT as the featured playlist, and we expanded Rumble Pit to add Halo 3 and Halo 4. Many of you have asked why SWAT nor Team Snipers have Halo 3 variants included, and this is due to a Halo 3-specific issue regarding non-default map variants that we're working to fix. Once resolved, custom map variants (tournament maps, maps with specific on-map weapons, Forge maps, etc.) will be included into permanent and featured playlists. We'd also like to thank you for your feedback on the newly added playlists, and which games and game types you'd like to see swapped or added. Lastly, we'll continue to keep you updated with what's coming in the future via this blog – stay tuned for more on upcoming playlists and updates to the current lineup.
Relic
Artists, developers, multiplayer testers, and more continue to hammer away on the reimagining of Relic in Halo 2: Anniversary. This week, the talented folks at Certain Affinity provide us with a bit of background on the inspiration for the remake, where it's headed, and also a new visual sneak peek.
The Halo 2 multiplayer map Relic is based on the concept of a lone, ancient Forerunner monolith standing amid a vast ocean on Delta Halo. While this new incarnation of Relic certainly stays true to its origins, there are several thematic updates which should provide a new experience in familiar territory.
The mysterious weathered Forerunner architecture has been updated to reflect the aesthetic depicted in Halo 2 Anniversary.
The mood and drama of the environment has been increased significantly; thick cloud cover dots the island terrain with dapples of cool shadow, while ominous thunderheads loom on the horizon.
The island itself is revealed to be an underwater landmass of sand, rock, and coral that has been recently exposed by significant tidal changes.
The UNSC have built a modular research platform atop the remains of the Forerunners' ancient monument.
Ultimately, as with the other multiplayer maps produced for Halo 2: Anniversary, the goal is to add yet another layer of depth and mystery to what are already memorable, fan-favorite locations.
- Michael Pedro, Lead Concept Artist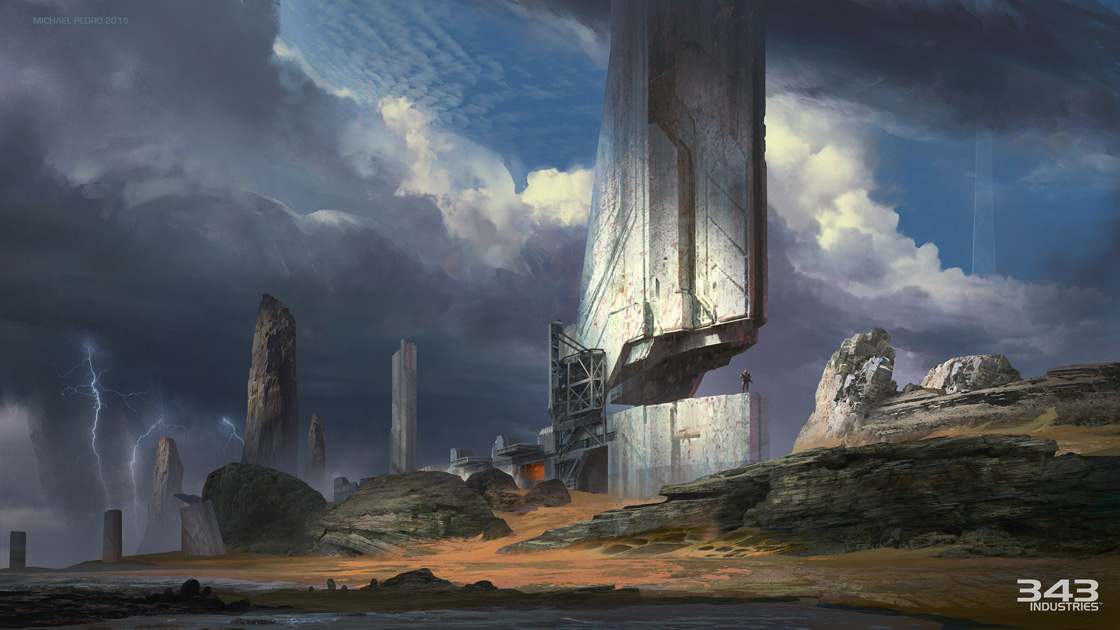 A new look at Relic
I'll be back next week with the latest on the above and more. Until then,
- Bravo