Over the past week, you've gotten brand-new glimpses at the Halo 5: Guardians story. You've read bits and pieces about new experiences that await. You've been brought inside studio walls to not only meet new characters, but also the developers who are bringing them to life. With the help of GameInformer, we've continued to show you what the team is spending long days, nights, and weekends building. To catch up the cover story and new interviews, screenshots, videos, and more, head over to the Gameinformer Halo 5: Guardians Hub, and be sure to stay tuned for the month-long rollout, because there's more on the way.
If you've been following the news and info drops each day, you're undoubtedly asking questions – and likely hoping that the answers are just around the corner. In some cases, this is indeed true. E3 2015 is now less than three days away, and we're quite excited for the week ahead. Let's make sure you're plugged in.
Xbox at E3 2015

The Electronic Entertainment Expo, the annual don't-want-to-miss-this gathering of game publishers, developers, media, and fans starts this coming Monday. Here's a quick look at what to watch in order to keep up with all things Xbox:
Xbox Media Briefing
Monday, June 15
12:30 PM EDT / 9:30 AM PDT
Streamed live on Spike TV, Xbox Live, or Xbox.com/E3
The Xbox Media Briefing is the annual E3 kickoff for Xbox, with in-depth looks at what's to come in 2015 and beyond. We have a feeling you won't want to miss it. The Media Briefing will be taking place this Monday, June 15 at 12:30 PM EDT / 9:30 AM PDT, and will be viewable on Spike TV, Xbox Live, or Xbox.com/E3. If you'd like to set yourself a reminder and add the event to your calendar, just click here.
Xbox Daily: LIVE @ E3
Monday, June 15 – Wednesday, June 17
7 PM EDT / 4 PM PDT
Streamed live on Xbox One or Xbox 360, Xbox.com
The Xbox team is once again putting the finishing touches on the Xbox Daily: Live at E3 show, which will cover all Xbox-related news during the week at E3. I'll have the pleasure of joining the likes of Xbox Live's Major Nelson, Acey Bongos, Blair Herter, iJustine, Goldenboy, and more, as we bring you breaking news and announcements, new trailers, daily recaps, interviews with guest stars and developers, and more. Whether you're trying to get your Xbox fix for the day, or anxiously awaiting new details about upcoming games, you won't want to miss Xbox Daily each day. Lastly, for those of you who cannot watch live, I'm hearing that recaps and full VODs will be available each day. For a sneak peek of what to expect from the show, head here.
Oh – and if you'll be in the LA area, you may want to swing through the LACC South Hall entrance throughout the week – the brand-new, just announced Ford F150 Halo Sandcat will be there as well. Take a look at the sneak peek below: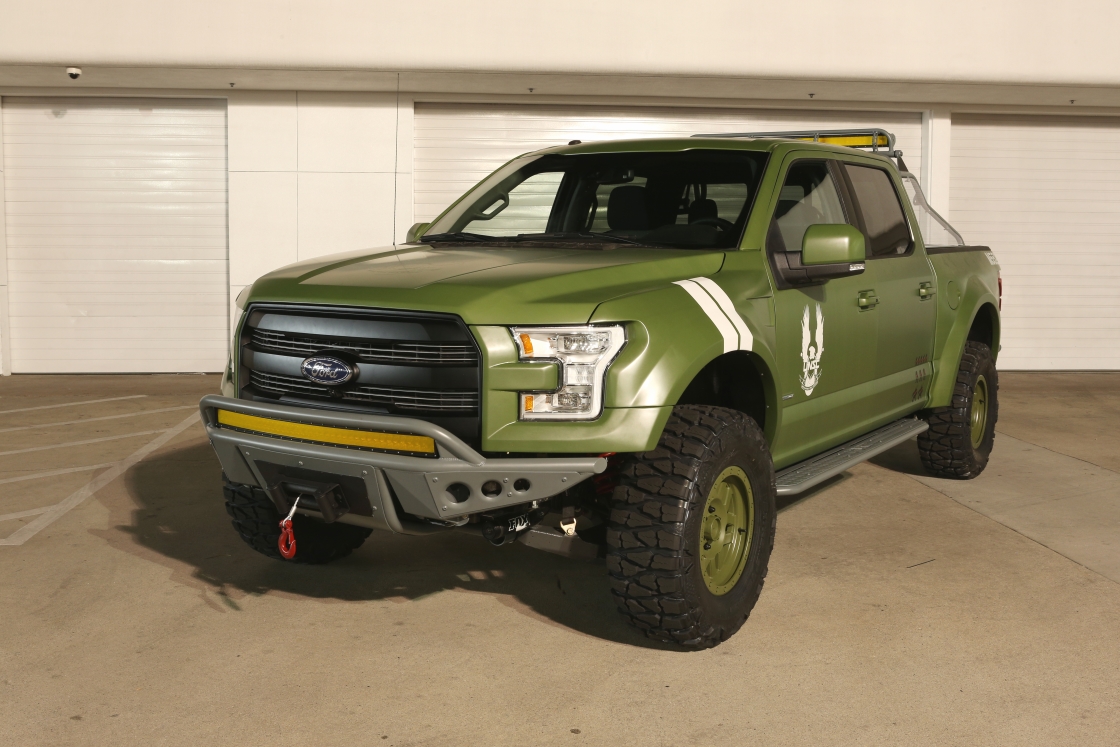 Lastly, be sure to keep your eyes glued to HaloWaypoint.com, Xbox Wire, and Twitter.com/Halo, where we'll have coverage all week long. We've been preparing for this moment for quite some time, and can't wait for the days that follow. Speaking of preparing for E3…
The Sprint to E3

If you're like me, and you could not handle the wait for the Halo 5: Guardians Beta this past winter, there's a good chance you caught Season 1 of The Sprint, our Halo Channel series that follows the Halo 5: Guardians development team through thick and thin as we work towards various milestones, specifically two week "sprints," in which deliverables and assets are tracked. We haven't told you until now, but since the Beta, the cameras have continued to roll as the team pushes towards E3 deadlines. If you've ever wanted to see what it's like inside the studio walls, The Sprint may just be for you. See below for the Season 2 trailer, and be sure to head to the Halo Channel on June 17 for the return of the series.
Playlist Updates

This week, we made some minor but important matchmaking updates. The first of these came on Tuesday, when final ranking backend work was complete, and ranks were pushed live for the Halo 2 Classic, Halo 3, Halo 4, Team Hardcore, and Team Doubles playlists. As we mentioned previously, Team Slayer is now unranked, to ensure a balanced mix of ranked and social play. Additionally, just yesterday, we released a hotfix that resolves the aim assist issues with Halo: CE by keeping the good, and ditching the bad. This means that four-grenade starts, original weapon placement, and smaller things like the loading bar are here to stay, but the aim assist has been reverted to the previous setting, as doing so allowed us to get things back to normal as fast as possible. With this update, we've also now added ranks to the Halo: CE playlist. Lastly, the CU also includes some added improvements to Halo 2: Anniversary stability. We hope these quick fixes improve your experience, and look forward to hearing your feedback and thoughts.
Speaking of, we'd like to continue to thank you for the playlist feedback sent over Twitter, posted to the Waypoint forums and Twitter, and elsewhere – this feedback continues to shape our future playlist updates, the next of which will be hitting in the near future with the return of Team Snipers as a featured playlist. Also, the team is working to resolve issues that are preventing Halo 3's Hardcore variants from being brought into matchmaking, but these do indeed remain a priority. Stay tuned to these updates for the latest on what's to come in the world of playlist updates.
To close, if you've been following #HUNTtheTRUTH on Halo Channel, Soundcloud, or iTunes, you're well aware that this weekend's episode is quite an important one. If you'd like to marathon the episodes and catch before E3, head here, plug in some headphones, and dig into the tales of Benjamin Giraud.
Due to E3 happenings, there will be no official community update next week, but we'll have plenty of content for you – as mentioned above, be sure to tune into the Xbox Media Briefing, Xbox Daily, HaloWaypoint.com, GameInformer, and Twitter.com/Halo for all of the goodness all week long.
We'll see you in just a few days. Until then,
Bravo