Over the past few weeks, teams at 343 and Xbox have been putting the finishing touches on the upcoming show at the world famous San Diego Comic-Con. As I put together this update, many brave souls are already in sunny Southern California, preparing the Halo 5: Guardians booth, the all-new Breakout Arena, a couple of Halo panels, and more. Let's talk about exactly what that more entails, because there's lots. We're coming for you, Comic-Con, and we can't wait for the doors to open.
Halo @ SDCC 2015

We've got a jam-packed week ahead, and we can't wait to get started. Whether you'll be joining us at SDCC, or will be following the news from home, we want to make sure you're ready for what's to come.
Panels
Join us for the following panels this weekend, with special guests from 343 and more:
Hunt For the Truth: Following the Trail of the Halo 5: Guardians Story (Room 6BCF: Friday, July 10, 10:15 a.m. – 11:15 a.m.)
Join us as we examine the storytelling in and around Halo 5: Guardians. This panel will bring new insight into the mysteries surrounding the Master Chief, and sneak peeks of the stories we have yet to tell.
Panelists will include:
Kiki Wolfkill – Studio Head, Halo Entertainment
Frank O'Connor – Franchise Development Director
Morgan Lockhart – Narrative Designer
Noah Eichen – Creative Director, Ayzenberg
Ian Kirby – Founder, The Sequence Group
Building the Halo Universe with the Collectible Mega Bloks Series (Room 24ABC: Sunday, July 12, 2:00 p.m. – 3:00 p.m.
With over 65 million Halo game titles and over 35 million Mega Bloks Halo sets sold, some of the world's biggest Halo fans bring our universe to life through construction, helping to shape this legendary world in their own way. Fans can expect teasers of the new Mega Bloks Spring '16 line and a look back at the history of Halo and Mega Bloks, info on how the games become builds with behind-the-scenes stories and making-of moments, why Halo chose Mega Bloks, and what's next for both brands.
Panelists will include:
Frank O'Connor – Franchise Development Director
John Friend – 343 Consumer Products
Kevin Hurd – HaloCollector.com Creator
Andrew Sparkes – VP Global Brand at Mega Bloks
Joe Lawandus – VP Global Brand at Mattel
Gary Swisher – SVP Design at Mattel
Jay Frechette – Moderator
The panels will not be streamed, but we're working with the folks at Comic-Con to make the VoDs available following each panel.
Xbox Lounge

By now, you've probably seen a few of the things we've got planned for this year's Xbox Lounge, one of which is the Halo 5: Guardians Breakout Arena. The experience, which is presented by BOOMco, will put you into real 4v4 Arena combat – you'll be suited up into armor, handed a Halo BOOMco blaster, and given an opportunity to face off with and against fellow Spartans. The Arena itself is a real-life recreation of the Halo 5: Guardians Breakout map Crossfire, which you may remember from the Beta. To give you an idea of what we're talking about, here's an early render of the Arena, complete with two-dimensional humans who were engineered purely for scale purposes: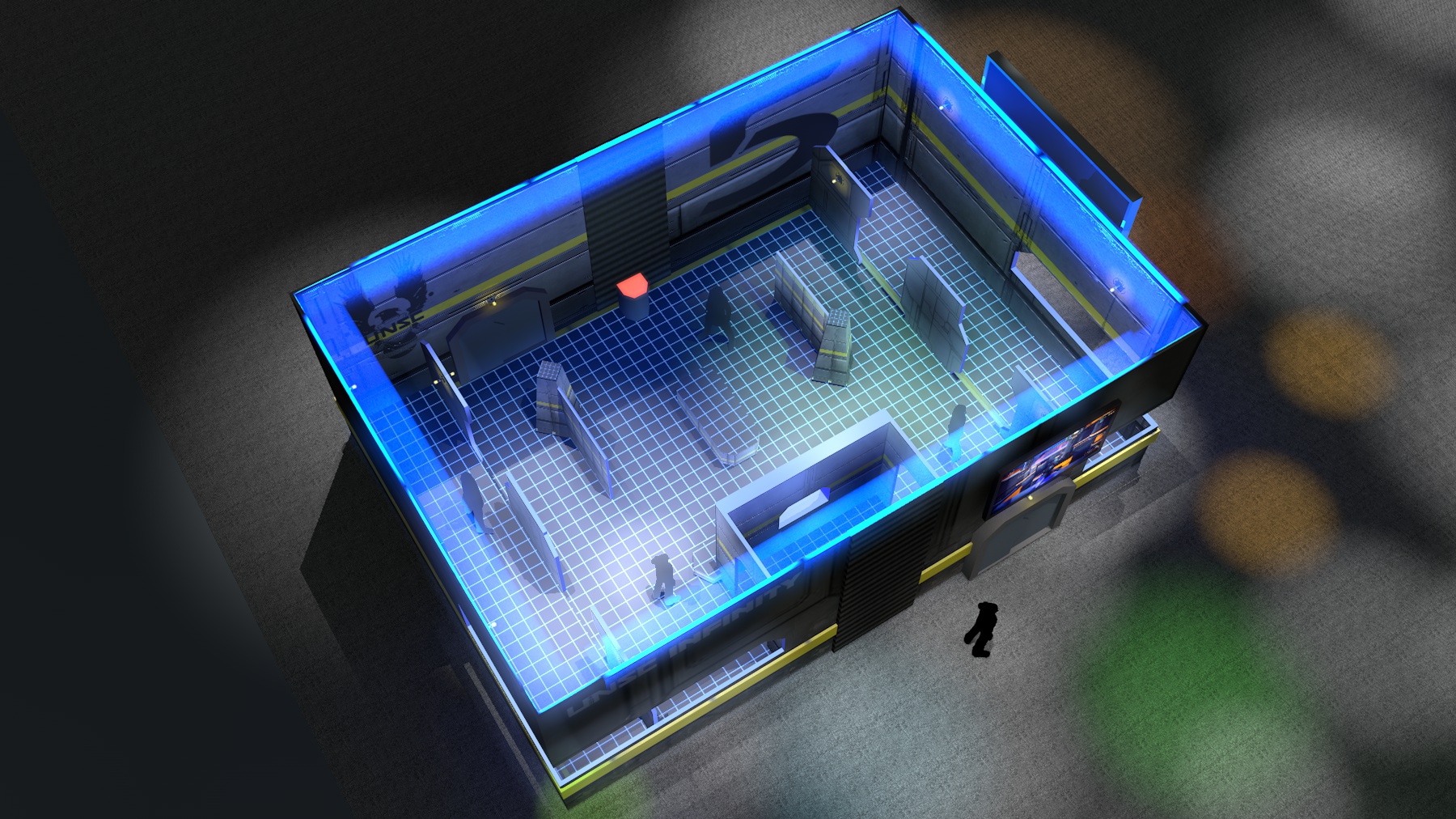 Stay tuned for photos, videos, and (hopefully) amazing slow-mo GIFs from Halo fans throughout the weekend.
You may have caught Major Nelson's blog which mentioned that a new Warzone map will be revealed in the lounge via a massive 6′ x 6′ map constructed by Mega Bloks – more on that this week. Also, Xbox will be showcasing the recently announced Xbox Elite Wireless Controller with hands-on testing, and we'll have some new Halo 5: Guardians pins available for the first time in the lounge this weekend. Stay tuned for details on how to grab one.
The Xbox Lounge will once again be located in the second floor of Manchester Grand Hyatt, in the Seaport Ballroom. There will also be Xbox signs, banners, and fans everywhere, so you really shouldn't be able to miss it. Here are the Xbox Lounge hours (as a reminder, a Comic-Con badge is required to access the lounge):
Thursday, July 9: 11:00 a.m. – 8:00 p.m.
Friday, July 10: 11 a.m. – 8:00 p.m.
Saturday, July 11: 11 a.m. – 8:00 p.m.
Sunday, July 12: 10 a.m. – 5:00 p.m.
Lastly, as we mentioned last week, we're giving away a one-of-a-kind SDCC exclusive Halo 5: Guardians Xbox One, and there are a few different ways to win – even if you're not attending the event. To get the details, head here.
Play Warzone
Very few Halo fans have had the chance to play Warzone, the new massive-scale multiplayer mode coming to Halo 5: Guardians. Luckily, we're bringing Warzone with us to SDCC, which means that it will be the first public appearance of the mode. Warzone will be playable at the Xbox Booth (Booth #100) on the SDCC show floor – be sure to arrive early and beat the line!
Wait, there's more!
In addition to the above locations and events, we've teamed up with a variety of partners to ensure that Halo goodness is spread far and wide through the Comic-Con show floor. Below, you'll find a detailed list of everything that's going down – whether you'll be attending in person or following the event from home, here's your master scavenger hunt list, with just a few pictures to whet your appetite.
Halo on the SDCC Show Floor

BOOMco – Mattel Booth 3029/2945

In addition to the BOOMco Breakout Arena in the Xbox Lounge, BOOMco will have their SDCC-exclusive Halo UNSC/Covenant Battle Pack available. Swing by the booth to grab one!
MEGA - Mattel Booth 3029/2945
Celebrate the upcoming release of Halo 5: Guardians with a limited edition micro figure 3-pack from Mega Bloks. This SDCC exclusive includes highly-decorated, articulated figures of the Master Chief, Spartan Locke, and the Arbiter. Also, be sure to swing by the Mattel Booth at 11am on Saturday – Frank and myself will be hanging out, and we don't want to be all alone.
Sandboxr – Booth 3513
Get your SDCC exclusive Halo 5: Guardians 3D Printed Spartan the Sandboxr booth! You'll be able to use the Sandboxr App to customize your Spartan with a personalized message, gamertag or name, pick a male or female Spartan, and choose between five weapons, four armor sets, and three poses.
Dark Horse – Booth 2615
One of the UNSC's most prominent troop and material transports will soon be available as an authentic, fully painted 6" miniature replica in an SDCC exclusive bronze finish. Check out the Halo UNSC Pelican Dropship Replica at the Dark Horse booth!
Xbox Store (Located outside of the Xbox Lounge)
The Xbox Store will have a collection of Halo merch, including an SDCC exclusive Halo 5: Guardians t-shirt design. Get 'em while they're hot.
Square Enix – Booth 3829
Our friends at Square Enix will be showcasing the Halo 5: Guardians Play Arts Kai figures – featuring Master Chief and Spartan Locke.
NECA – Booth 3145
Swing by the NECA booth to see the official reveal of the 1:1 scale Needler Prop Replica!
Simon and Schuster - Booth 1128
Come by the Simon Schuster booth where you can pick up copies of the all-new Halo novels Halo: Hunters in the Dark, and Halo: Broken Circle.
McFarlane – Booth 2729
Come by and check out the Halo 5: Guardians Series 1 Action Figure line! The series will include our returning hero - The Master Chief, a rising star in the UNSC ranks - Spartan Locke, plus some exciting new and returning characters from the Halo universe.
Kotobukiya – Booth 2601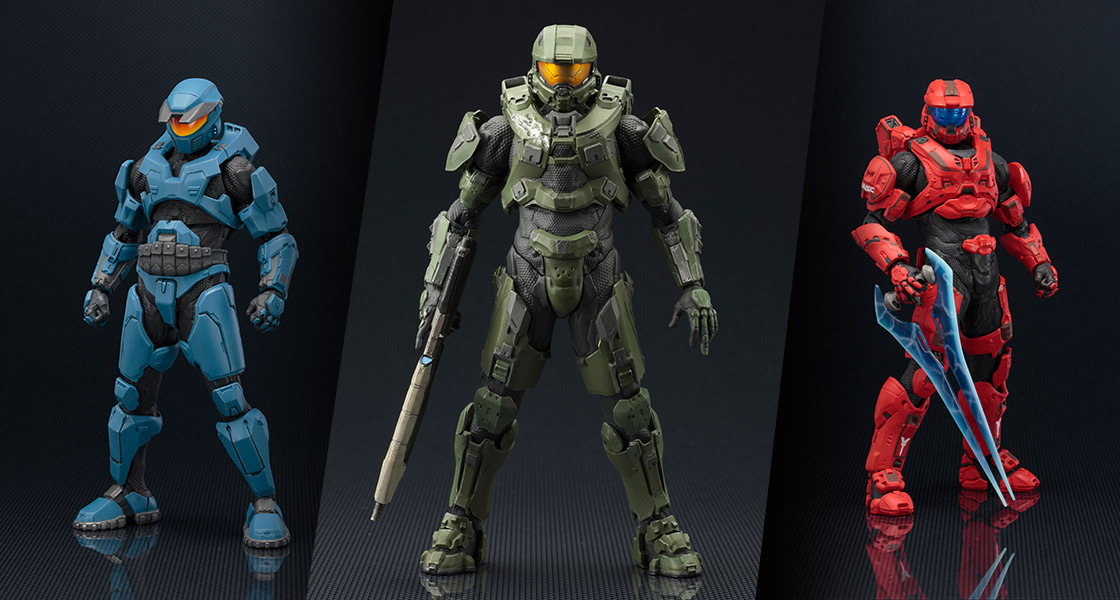 Kotobukiya will be showing off the latest and greatest in Halo ARTFX+ Statues, including the Master Chief. The Halo ARTFX+ Master Chief includes a tech suit body with armor that slides and snaps into place - live demonstrations at the booth will show the modular armor suits in action.
Bandai – Diamond Select Booth 2607
Bandai America will be showing off their latest Halo Series 2 Sprukit – Spartan Locke.
--
It will be a busy week for us down in San Diego, and we can't wait for the festivities to get underway. To stay up to date on the latest announcements, be sure to keep an eye on @Halo and @MajorNelson on Twitter, Xbox Wire, and of course, stay tuned to Waypoint throughout the week for more coverage and info. We'll see you soon, San Diego.
Forum Features

Last week, the web team pushed out some improvements to the Waypoint forums, including a new feature which allows you to follow forum topics and receive notifications. You can now subscribe to hourly, daily or weekly notifications, meaning you'll get an email to alert you to replies to your followed topics during that timeframe. Here's the breakdown of recent updates:
Forums
You can now navigate to Forums from the top navigation
Added "OP" tag to highlight the original poster in a forum topic
Forum Notifications
You can follow a topic by clicking the "follow" button when viewing a topic. To receive email notifications, you can now enter an email address and notification frequency on the user profile page. Here's a bit more information about this feature:
The Favorite Topics page has become the Followed Topics page. Your old favorites are now your followed topics.
You can now change your email address at any time. All you need to do is overwrite the old email address, and complete the verification process again.
When following a topic, you will receive email notifications only when someone has replied to that topic since your previous notification.
If you subscribe to hourly notifications, you will receive emails on the hour
If you subscribe to daily notifications, you will receive emails every day at ~12pm Pacific.

If you subscribe to weekly notifications, you will receive emails at ~12pm Pacific on Fridays.
This new feature will help in the organization of your forum-going and discussions as we get closer to sharing more details on what's to come with Halo 5: Guardians and beyond.
Before we close, we'd like to thank you for your continued feedback and interest as we draw nearer to the release of Halo 5. Even well before the beta, we've kept a very close eye on your thoughts and reactions to the experiences we've shown you. One item that I wanted to specifically mention and respond to is that of the Halo 5: Guardians Limited Collector's Edition. As we stated shortly after E3, the LCE will be released on October 20th – a week prior to the official launch date of October 27th, so we're including a digital copy of the game so that you'll have the benefit of pre-downloading to be ready to play immediately on launch day. However, as you may have seen on Twitter, we've heard feedback and understand that some of you prefer a physical disc in the LCE, and we are actively exploring options. We'll have more details to share soon.
With that, this week's update comes to a close. Stay tuned to Waypoint for all of the goodness this week, and we'll talk again soon – the HCS Season 2 Finals are just around the corner.
We'll see you in San Diego!
Bravo