With less than 10 weeks until the launch of Halo 5: Guardians, teams across the studio are working hard to put the final polish on maps, levels, animations, UI, and plenty more. Final decisions are being made on game settings, sandbox balance, and more. Personally, I walk around the studio (appearing as if I'm searching for something or someone very important), peeking over desks, and getting way too excited about things like new armor, Forge tools, and more yet-to-be-revealed goodness. To keep said goodness going, our beloved admin team hosted a studio-wide dinner featuring the rare but ever-popular breakfast for dinner offering, which lead to smiles, copious amounts of peanut-butter-Nutella-bacon pancakes, and (unsurprisingly) full stomachs all around. Only later did we realize that this effort was a ploy to confuse the studio about the time of day. Said ploy was successful. Thinking it was morning, some of us went back to work. Most of us passed out with food comas.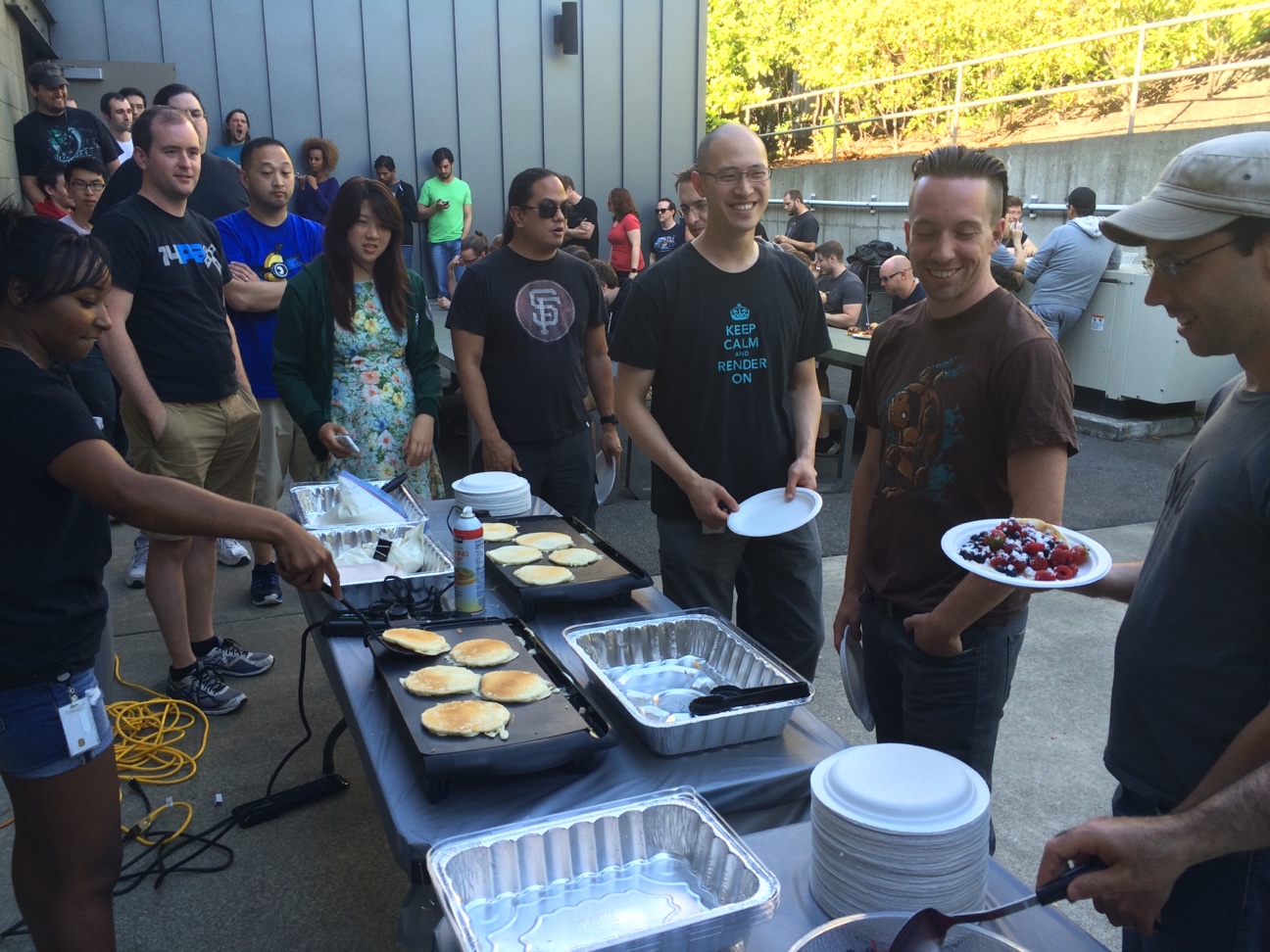 Breakfast. It's what's for dinner.
This week, we'll talk about PAX Prime, MCC, new UNSC special-issue gear, and more. Let's go!
PAX Prime

Ah, PAX Prime. Once a year, the party comes to our town. It's a good feeling, knowing that a ton of our friends (you) are coming into town, and that we'll all be able to enjoy some good company, conversation, and Halo gameplay, and that we'll be able to sleep in our own beds each night. This is a rare luxury.
While different contingents of the Halo 5 team are traveling around the world to showcase Warzone, one brave company has stayed home to set up shop in the Xbox booth on the PAX Prime showfloor, where we'll have 24 stations of Warzone multiplayer, ready for your enjoyment. Additionally, members of the Halo 5 development team will be hanging at the booth, and myself, bsangel, and others will be (unsuccessfully) trying to cut the Warzone line after each game so that we can play with you.
Also, for those of you who are local to the Pacific NW, or are arriving for PAX a bit early, our friends over at Xbox are hosting the ID@Xbox Pre-PAX Open House, and it's open to all – no PAX badge required. The event will feature more than 50 upcoming ID@Xbox titles, including eight new announces and several first playables. It's also free. To learn more about the event at Microsoft main campus, head here.
To those of you ascending upon Seattle next weekend, safe travels, and we'll see you soon.
Halo: The Master Chief Collection

On the other side of the studio, the Halo: The Master Chief Collection team continues to work on the next content update, which will target top community items, and we'll be sharing details once we're closer to release, and final testing has been completed. Also, the playlist and matchmaking teams continue to make tweaks based on your feedback. For starters, there are a few changes incoming when the next playlist update drops, which is currently targeted for next week. Let's start with Infection.
Thanks to popular demand, Infection will be the next featured playlist in MCC. The playlist will include the following game types:
Halo 3: Braaaains, Creeping Death, Save One Bullet, Hide and Seek, Speed Demons
Halo 2: Anniversary: Infection, Cadre
Halo 4: Flood, Hivemind, Last Stand
We're looking forward to bringing Infection and similar game types into the playlist mix, and hope you're ready to fight off the zombie hoards. Keep an eye on @Halo on Twitter for the latest info about when the playlist (and more of the below updates) will drop.
But that brings us to quite an important question. What, then, happens to Action Sack? Many of you have let us know that you love the playlist, and with 129 rather chaotic map/game type combinations, we can't blame you. Additionally, the playlist has remained near the top, and only recently has Big Team Battle reclaimed it's spot at No. 1, bumping Action Sack down to the second most played playlist in terms of total unique users each week. So, based on your feedback and this inarguable data, we think that playlist needs to stay in the matchmaking lineup, rather than be swapped for Infection.
So, with our next playlist update, Infection will become available as a featured playlist, Action Sack will remain in the lineup, and the Halo Championship Series playlist, featuring H2A's tournament game types, will be retired. This playlist was the official training ground for HCS play during Seasons 1 and 2, and it served its purpose well. Many epic skirmishes have taken place within this playlist, and these battles will not be soon forgotten. If you want to get some final HCS matches in, be sure to hop into the playlist this weekend.
Also on the way are the following:
Team Hardcore
The Construct TS map will be updated to the correct TS variant for Halo 3
Team Doubles
SMG starts will be removed from Halo 2 Classic
Big Team Battle
All AR-start Assault Halo 3 game types will be removed (until BR variants can be added)
Big Team (8v8) Dominion will be added
Weighting/frequency of Remnant will be reduced
Halo 4
Small team (5v5) Dominion will be added
Pitfall and Vertigo will be added for Legendary Slayer
Ragnarok CTF will be added
Halo 2: Anniversary
Weighting/frequency of Remnant will be reduced
Halo 3
Voting options rebalanced (see below)
Recently, we've seen some feedback that certain maps are appearing more than others in some playlists, so we've kept an eye on these discussions, and dug into the map weighting to see what's going on. In some cases, some of you simply have been hitting very low probability outcomes (for example, the chances of getting Epilogue in slot 2 or 3 of the Halo 3 playlist are just 5%), but in other cases, you're absolutely onto something, so we're making a few changes. For starters, some maps house more game types than others. Assembly, due to its symmetry, for example, houses five total game types (TS, TS BR, CTF, Assault, and King), whereas the asymmetrical Construct is host to 3 (TS, TS BR, and King). While the Assembly variants are weighted lower to compensate for this, it looks they weren't low enough, so we'll be updating voting options across the Halo 3 playlist and beyond to ensure that map (and game type) variety is at the best place it can be.
Additionally, we've been reviewing your feedback on the Xbox One reputation system with the team at Xbox, which brings us to the next section.
Player Blocking and Reputation

Over the past few weeks, we've been reviewing your feedback on matchmaking and the Xbox One reputation system, specifically as it pertains to your experiences in Halo: The Master Chief Collection, and working directly with the folks on the Xbox team to look into the feedback, and also make adjustments to the rep system to ensure that your online experiences are the best they can be.
For those of you unfamiliar with the system, here's a quick overview from the folks over at Xbox:
Reputation is designed to protect good gamers from people who like to ruin other peoples' game experiences
If you excessively betray your teammates, quit games early, or take other measures to ruin other player's games, your rep will slowly decrease
If you run into an abusive player you don't want to hear from again, you can block the user
If your rep gets into "Avoid Me," you may only play with other "Avoid Me" players until your rep has healed
As you play online without incident, your rep will improve
If you are curious about your reputation history on Xbox One you can always visit enforcement.xbox.com to see the history of your Xbox One reputation, and the general buckets of feedback provided from other players. If your reputation level changes, you will receive a message directing you to this site to learn more.
Cheating
Recently, however, we noticed that some players were using blocks to avoid playing against upstanding players, as well as negatively impact their rep, specifically in ranked play. As this was never the intent of the system, the Xbox team has pushed out a recent update that will ignore player blocks in the following (ranked) MCC playlists:
Halo 2: Anniversary
Team Doubles
Halo: CE
Halo 2
Halo 3
Halo 4
Team Hardcore
These playlists will no longer respect the list of players you've blocked, meaning if you keep losing to someone named frankie, you won't be able to simply block them to avoid matching with them again. Blocking frankie will, however, mean you won't get messages or be able to chat with him, and as always, if you do encounter a player who creates a negative experience, you can still leave the appropriate feedback for this player. Player block lists will still be respected in all unranked playlists, as social playlists are not impacted in the same way that ranked playlists are.
We're keeping a close eye on feedback, and will continue to work with the Xbox team on adjustments to tune reputation for the best online experience for everyone. As always, thanks for your feedback – keep it coming.
Play of the Week

Each week, we marvel at your amazing in-game feats posted on Waypoint, reddit, and Twitter, much in thanks to the power of XboxDVR.com as well as the all-mighty gifv. Whether it's one-in-a-million grenade bounce or an unbelievable multi-kill, we want to celebrate these awesome moments with you, and this new section of the weekly update will do just that. This week, we're highlighting a CTF run that is nothing short of incredible. You may have caught it on r/Halo. When I did, I immediately sent the link to the entire studio. I give you Pickel_Weasel's perfectly-executed, game-winning Mongoose-Bounce-Slam-Dunk-Through-the-Window Flag cap.
For an honorable mention, we've gotta give it to r/Halo's daveyjones117 who pulls off an all-too-perfect Jackal kill on Halo 2's Outskirts. We're also quite sure that daveyjones117 was a pioneer of professional golf ball camera tracking in a previous life. Excellent camera work, my friend.
Authentic UNSC Spartan Supplies

Just this week, we revealed the first set of UNSC streetwear from the team over at Musterbrand. As the Seattle weather starts to become a bit moody, we here at the studio start to regain a certain appreciation for waterproof, windbreaking materials as well as the warmth of a knit sweater, you know there's a good chance you'll see quite a bit of this gear in the Seattle area over the next few months. There's also a good chance that I will bother our consumer products team until they hook me up with the UNSC Top Loader bag, which I've heard can fit an entire Jay Frechette.
For this week's issue, I grabbed some time from Toby Rayfield over at Musterbrand who worked on bringing this gear to life – see below for a quick Q&A.
Bravo: How does this gear start out? What are the first steps?
Toby: When planning a Collection, one of the first steps often involves working with the developers to decide on a range of items that best represent a game and that will also be interesting for fans of the game. Once we have assets, such as concept art, sketches, colours and 3d renders, we are able to start looking for fabrics and trims as well as thinking about the initial shapes and elements from the game that we can incorporate into our designs, such as the shape of Master Chief's armor or his iconic helmet. Once we have collected all the pieces of the puzzle, our design team will start creating the initial sketches that will shape the Collection.
What inspires the design and ultimately the decision to move forward with a certain piece?
The main guideline during the design of our new Halo Collection was 'What would the UNSC personnel wear when they're off duty?'. The futuristic naval enviroment was the perfect setting for a high-tech science fiction streetwear Collection. We designed a wide range of items for this launch and in the end only the very best pieces were selected to be included in the final presentation. The development process is very intense and detailed and, hopefully, you can see in the final products that, thanks to the support of 343 and Microsoft, we were able to focus on making each piece unique and true to the Halo universe. Every piece in this Collection has a story to tell.
Which key universe and design elements are used to make the products authentic?
It is incredibly important for us to stay true to the core game, always. At Musterbrand, everyone who is involved with the products is a gamer and we have grown up with franchises like Halo, so we understand the importance of sticking to the story. We spent a lot of time researching the environments, the props and the equipment used by the UNSC and ONI, which is one of the reasons our products are branded with a Misriah Armory metal tag. Our Halo Collection is designed for everyday use, so the branding is subtle, and our products are all delivered fresh from our factories 'battle tested for your home'.
Any teasers on what you'd like to create next or what's to come?
We are very excited about our new Halo Collection. The collaboration with 343 and Microsoft has been great all the way and we are looking forward to working on our next project with them. We have a long-term plan for Halo and will add more products in the future. The Halo universe is huge and there is so much interesting content that we could create a new Collection every year!
That'll do for this week. We'll be back with a quick update next week before PAX Prime gets underway.
Until then,
Bravo