Pixel by Pixel
The ever-talented Matt Jordan, aka "Wrensi" in the Halo community, has been working on a special project for quite some time. With help from folks across the community and the 343 Publishing Team, we are excited to share a blast from the past, re-imagined in Halo Wars 2 for you to wage wars on – Fort Jordan! As many of you might already know, this is a spiritual successor to the 3v3 "Fort Deen" from the first Halo Wars.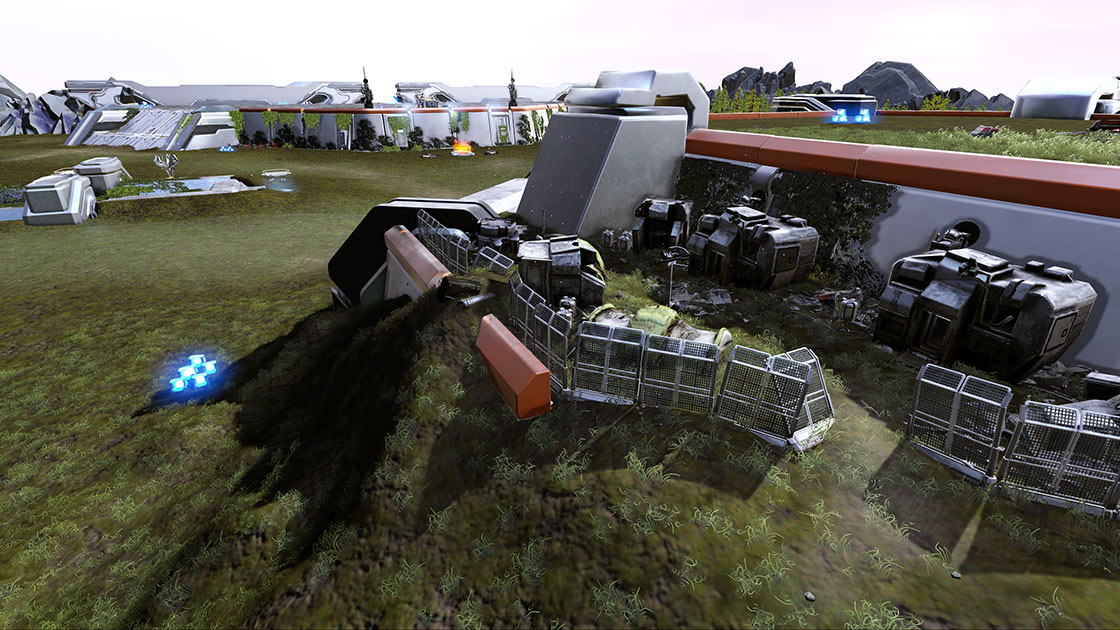 Currently this map is limited to custom games as we gather more feedback from the community. Think of today's release as a public beta for the map, so to speak. The goal is to listen to everyone and make any necessary changes prior to adding it into matchmaking.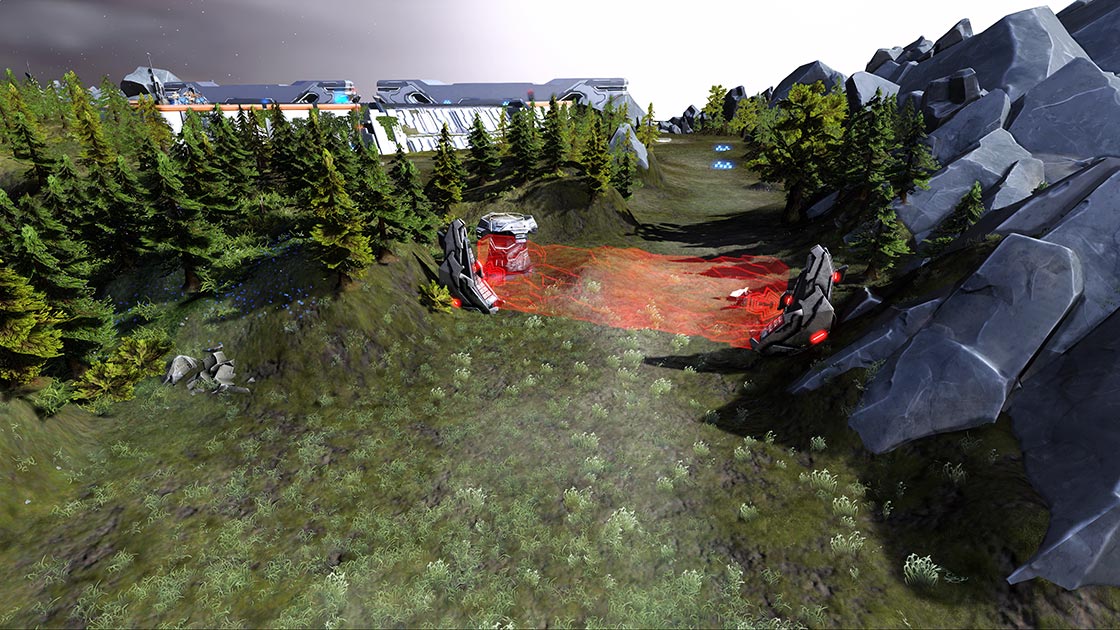 As with many remakes, they aren't always 1:1 based on the original map it was created from. However, this map is a literal import of the geometry used in Halo Wars 1, so the shape is entirely the same. The key difference is scale: Fort Jordan has more space to move around on the map. It was brought to life with the art assets in the palette created for Halo Wars 2 including mini-bases, the shield walls, power nodes, and our first map in HW2 with 1-way teleporters. The most prominent change is that players will be able to experience the map in multiple team size configurations. Fort Jordan supports 1v1, 2v2, and 3v3 variants team sizes of Deathmatch, Strongholds, and Domination!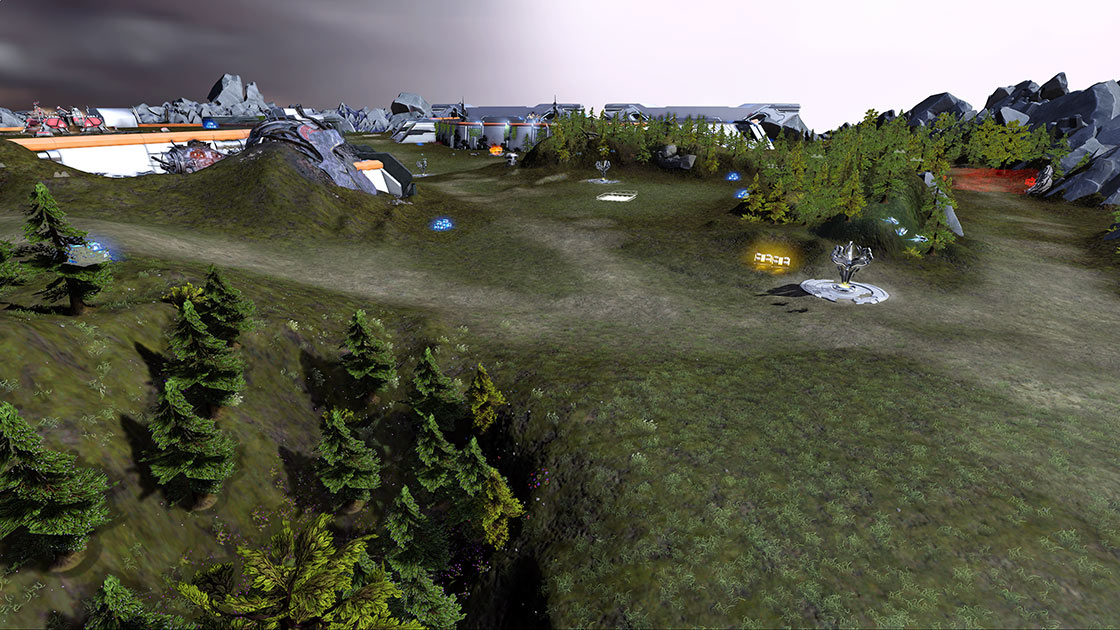 Want to try it out? Go turn on Halo Wars 2 and hop into custom matches with your friends, or against AI in skirmish, and give it a try. If you have feedback on the map, please go to the forum feedback thread here and let us know!
A Wall of Post-Its™
In November of 2017, a handful of us were huddled together in a room talking about Halo Wars 2 and what the future of it looked like for support. Production for the planned DLC that Creative Assembly had worked on was complete, no more planned content patches were in place, and most of the people had rolled entirely over to other studio projects. For anyone that has worked in QA, you know that at the end of a project, there is typically no more work to help support. You need active development of some sort to retain a QA team, so the people in this room knew what we were there to talk about. But this time it was different. Instead, this time, we discussed what we could do with the time – what contributions could we make to continue supporting the project?
Fast forward to January 2018. Matt and I had spent the better part of two months diving into the XML data for Halo Wars 2 to figure out what was going on behind the scenes. As part of this exercise, Matt prototyped out Blood Gulch from Halo Wars 1 in the Halo Wars 2 editor. The first take on it had problems, so it was scrapped, but there were a lot of learnings he took away from the process. Later that month, we released the first balance update built with the help of some of the engineers. They showed us the various processes on what scripts and files needed to be run to build the actual patch, how it moved through our various test environment sandboxes, what certification processes needed to be done and when, and the multi-person step to get it to the end users. We, as a studio, had our first homemade balance patch for Halo Wars 2! This marked a turning point, as up until this moment Creative Assembly had been involved in some way to make these updates happen. Our new learning meant we did not interrupt others focused on the upcoming MCC update while still providing Halo Wars 2 the balance changes to continue growing the community.
Fast forward a few months and this crazy German guy drops onto the scene as the Publishing Team's new Executive Producer. The contracts we had prior to him showing up were very close to concluding, but instead of being told to go home, we were asked if we wanted to do more and see what we could really accomplish in the title. There hadn't been any new content since the release of Awakening the Nightmare DLC.
Matt and I love Halo Wars 2 a lot and, given the opportunity to do so, we wanted to do all we could to create a fun experience for players. We knew balance patches were nice, but that content was what players craved. So, we were very much on board and started talking about all the crazy ideas we wanted to turn into real experiences.
These early brainstorms provided the core bits and pieces of where The Yappening came from. For those who did not get to experience it, The Yappening was a crazy game take-over that happened last year during the last weekend in March. Funnily enough, the entire idea for The Yappening was literally a joke to blow off some steam after doing nothing but hardcore competitive balance patches up until that point. When I say joke, I mean we were literally joking about crazy things that could happen. Remember that crazy German guy (his name is Pierre by the way) I mentioned earlier? He didn't think it was so crazy. Pierre overheard our idea, sat us down and said, "Yes. Go build it. I'm not going to stand in your way. If you want to make this happen, go build it. Just don't **** it up."
We were handed the keys to the castle and told to decorate it however we wanted, provided we didn't break anything. We set out to accomplish our goals, self-teaching and learning on the fly to chase these ideas. We literally had a wall of Post-It Notes™ of what we wanted to accomplish and by when. If anyone has ever heard of a game jam, that's pretty much what went down…just extend it to a few months and at least a tree's worth of Post-It Notes™. The entire Publishing Team, Community Team, and Marketing Team were involved at various points in some way, shape, or form. Then it Yappened, people had some fun, we celebrated the positive and negative feedback we got, and began to figure out what to do next.
After this and other behind the scenes changes, we needed to focus on work for the MCC Update in August. But we still made plans for Halo Wars 2 and knew we wanted to keep doing more. Despite being head's down on MCC, Matt still had the dream of Fort Jordan, his passion project. It's crazy what you can accomplish with an hour here and there for many months. And that brings us to today.
We continue to be excited and driven about Halo Wars 2, so we will keep at it and see what we can bring to the players this year. You guys have given us a lot of feedback and made your desires known. We can't build all of them, but we will continue to see when/where we can put some time in to continue supporting the passionate Halo Wars 2 community. It might be a while until the next piece, but we will continue working on more things and stuff.
Between Two Infernos
I was lucky enough to be able to catch up with Matt as we geared up for today's launch and talk about his remake of the map that so many players spent countless hours battling on. Take a look below at what he has to say about Fort Jordan.
Postums: So, Matt, did you ever anticipate that you were going to put out a map for Halo Wars 2?
Wrensi: Not even a little bit. I started working in the editor to teach myself how to use it because it was something I wanted to do and had some time to spare. Even after I showed it to some people and they really liked it, the hope of anything making it into game was low. At the time we lacked any real engineering support on the team, and I had no idea if I would ever get the map into a shippable state. A large amount of work was done in the last couple months when we decided to put a release date on the map and had to pull it all together to get it shippable. I also never thought that would be the actual name since it was just what people referred to it as while I was working on it.
Postums: What was the most difficult part in making Fort Jordan?
Wrensi: I would say finding the pieces I wanted to use to build the map in the editor since they don't all have friendly names. There is a lot of "rock01, rock02, rock03" with no preview. Outside of that it was just finding the time to actually work on it. As mentioned, I started off with Blood Gulch because I liked the idea of adding in a 1v1 only map, then the consensus was that I should do Fort Deen, so I started working on that shortly after the Yappening. I also have work on MCC that takes up a lot of my time, so it was mainly just an hour or so a week, or whenever there was downtime.
Postums: What other content pieces would you like to make for Halo Wars 2?
Wrensi: I would like some more snow in Halo Wars 2.
Postums: What was your happiest moment when building Fort Jordan?
Wrensi: Probably the moment I got it working and saw it in-game on my Xbox instead of just in an editor window. That was pretty exciting to see, and it made it feel more assured that it was going to come out.
Postums: When is the next balance update coming out to nerf the face off YapYap and Decimus?
Wrensi: I have a handful of changes I'm working on now and my hope is that it will come out early March. I should have a full draft for players to see soon.
Postums: Will the Yappening ever come back to Halo Wars?
Wrensi: I would like it to. But also, don't want it to take over the entire game like it did last time, so I'm wanting to look into what can be done to break it into its own game type that players can select. So, it's a high possibility.
Looking Ahead
One of the most amazing stories surrounding Halo Wars is the community and how it has helped support the title. The sheer amount of feedback has been a daunting task to read through but has been worth every hour a million times over. This game has come so far since launch and the conversations we have had with the community to help shape each balance update has been personally one of the best experiences of my career.
For the future of Halo Wars, we want to continue working on the title and continuing to support it as much as we can. There are no set-in stone plans to make large content drops such as a wave of DLC leaders and/or maps, but we will continue to work with the community directly to make strategic balance updates and, time allowing, meaningful content. Just remember that things can change. If Fort Jordan is well received by the community and sparks even more interest in it, we could likely see an uptick in them, but no promises.
Thank you to everyone who plays and enjoys Halo Wars 2. Together we have lived through the rise and fall of Kinsano Jackrabbits, the season of ForgeHog, Colony's Living Barrier, Arbiter's Phantoms, Serina's Ice Cream Trucks, and are still experiencing Decimus after being nerfed nearly every patch ever made…well, ever! If the community would like to see more updates and more pieces of content like this, keep playing and keep driving us to make more. The Publishing Team here at 343 wants to continue supporting Halo Wars 2. We've shown this commitment with continuous balance patches and bug fixes on a game that just turned 2 years old. Our efforts may slow down and will eventually stop as this is inevitable with any game. But for now, we will keep supporting the community in an effort to grow and expand it as long as we can.
For feedback, please swing by the Halo Waypoint forums and let us know what you are thinking about Fort Jordan in the official "Fort Jordan Feedback Thread." Also, if you're interested in learning a bit more about some of the lore associated with this new map, make sure you check out Grim's latest Canon Fodder, coming soon!
We hope you enjoy the map. Happy birthday Halo Wars! 🎂
Discuss