Greetings, friends, and welcome to the latest installment of the Halo Community Update. Today, we'll talk a bit about a very important upcoming anniversary, Halo Wars 2, some new studio updates, and more.
As Josh alluded to earlier this week, the Halo 5 team is still hard at work on content that lies ahead. These include new Forge goodness, weapons, skins, assassinations, stances, and variants of varying varieties, as well as features, such as the ability to browse and join live custom games (on both Xbox and Windows 10 PC), more maps into Warzone Firefight, and more. I'd like to tell you more, but I am told more details will be coming over the next few weeks. In addition to new stuff we think you'll like, teams are working on and prioritizing improvements to matchmaking, servers, melee registration, and more.
Changing of the Guardians
For some time, I've had the pleasure, privilege, and responsibility of sitting down each week and bringing you the latest from inside the studio. Nearly four years, several hundred Community Updates, and hundreds of thousands of words (jeez, sorry) later, we've marveled at amazing gameplay feats, celebrated the finest community creations, and shared in excitement as we looked ahead to experiences and projects that were on the way.
When all of this began, I was, in the simplest of terms, a massive fan of a game called Halo. Today, I am happy to say that this is probably still the best way to describe me, my enthusiasm, and my every day work. I was talking with Joe Staten at an event last night, and even after several years, I still find myself nerding out when I simply hear the guy's voice. Who's with me?
Over the past few years, I've met countless fellow Halo fans, each with an equally different and compelling story to tell. So many of us have a different favorite title, different preferences when it comes to maps and multiplayer, characters we love, hate, and love to hate, and so much more. I think we'd all agree that we could talk, laugh, and argue about these things for days on end. "Years" is probably more accurate. This is just one of the things that makes our community so rich and interesting, and one worthy of time, devotion, and the great conversation and friendships that result.
So it is with great pleasure that I introduce the new Halo Community Manager, who happens to, like each of us, have quite an extensive history with the franchise. Take it away, ske7ch.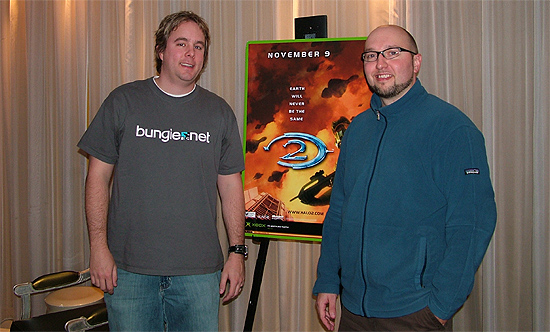 Thanks, Bravo! As the end of my first week at 343 comes to a close, it's a very surreal feeling to pick up this torch and jump back into the Halo community after a nearly six-year hiatus. A lot has changed during my post-Bungie cryosleep and this week has brought a veritable flood of emotions bursting with spores of excitement, nostalgia and honestly, a sprinkle of trepidation.
Thankfully some things haven't changed – namely my longstanding love of Halo, a kickass fan community and a community team comprised of awesome passionate folks who love their jobs! I've truly missed being an official part of Halo and while I did briefly mull over making a run at becoming the oldest ever HCS pro I'm thrilled that 343 spared me that humiliation and instead welcomed me into this more suitable role. It's safe to say the community team now has a brand new worst Halo player to beat up on (though I'm pretty certain I can still crush Frankie).
It will certainly take some time for me to unlock all the necessary 343 community certs (sadly I seem no closer to finally acquiring a DMR) but it's a journey I'm stoked to be starting and look forward to learning and experiencing together. To kick things off I'd love to get your help – please stop by the Waypoint forums to say hi, share any questions you have and I'll do my best to answer them in next week's update.
And finally, as I'm reliving so many great memories this week and we are gearing up to celebrate the 15th anniversary of the entire Halo Franchise, I'd love to hear some of your favorite Halo memories! Please share yours in our forums right here and we'll highlight some of our favorites in the coming weeks as we celebrate this momentous milestone.
I know the music and now it's time to dance. (go easy on me)
- ske7ch
Great to have you aboard, ske7ch. I'll be back in a bit to close us out, but now over to Grim who's talking HW2, upcoming festivities, Infection update, and more.
GRIM TIMES
Thanks, Brav. It's indeed been a pretty crazy week here around the studio, but in the very best of ways. Let's take a look at some of our favorite Halo happenings…
PARTY UP

This Thursday, we celebrated the first birthday of Halo 5: Guardians. It's been a pretty incredible ride during the game's opening year, filled with an eclectic menagerie of awesome in all sorts of flavors, and none of it would have been possible without you. So, thanks for everything – from the maps and montages, to the late nights and firefights. We've shared in a littany of experiences together in Halo 5 – 1,709,212,930,291 xp worth to be precise – and we can't wait to see what the future has in store.
Halo 5 studio head Josh Holmes also had some words to share in reflection of the game's first lap through the Sol system – you can check them out here.
Of course, Halo 5's birthday isn't the only important milestone we've got coming up in the next few weeks. In mid-November, Halo – and Xbox itself – will be turning 15. In addition to taking them to get their learner's permits, we've got all sorts of fun times scheduled to celebrate the momentous occasion. Since you've been with us throughout this great journey, it's only fitting that we should hear from you as well. Such a call to arms is of particular significance to yours truly, who put out a similar request five years ago during the then-10-year celebration of the Halo franchise. Needless to say, the results remain a humbling and touching reminder of just how much Halo means to so many people.
So, tell us how you feel! Head over to this thread and share your most cherished Halo memories and moments. We'd love to be able to incorporate as many of them as we can into our 15th anniversary festivities, so get in there and wax sentimental!
TRICK-OR-TACULAR

In case you didn't notice, we kinda started our Halo-ween festivities a little early today by kicking off a refreshed Infection playlist that includes eight new community maps. I'll let the master infector himself give you the skinny…
After working with Forgers to create Community Action Sack and update our entire Big Team Battle experience, we knew that Infection would need to be the next playlist to get some love. While the BTB Community Refresh was our biggest playlist update in Halo 5 with sixteen maps, we're happy to say that the Halloween Infection Refresh creeps ahead of it by one, with a whopping seventeen scary maps. Of those seventeen, we've selected eight eerie new maps and scouted out the best nine updates to the current maps, which include total visual and gameplay overhauls.
- Unyshek, 343 Community Coordinator, Better Than You at Infection, OP in Warzone
You can check out all the full details, map showcase, inside look at the refresh process, and more in Uny's blog here.
PLAY OF THE WEEK
Speaking of Infection, today's edition of POTW follows suit, as Eagle Precursor celebrates the Halloween Infection Refresh by making an incredible run as the Last Man Standing on the updated Nerve Center.
LAN-TERN PARTY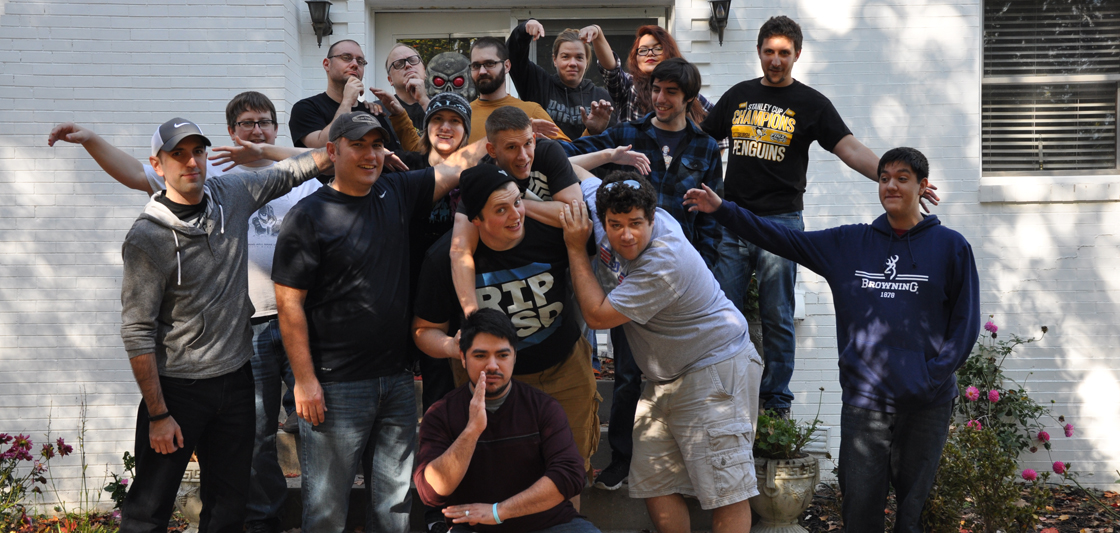 We can't hit this time of year without me getting all nostalgic for one of the Halo community's most time-honored traditions, the HBO Guilt-O-Lantern contest. The competition itself may have passed into legend, but the mantle has been taken up by a host of old Halo guard, including my good friend Padraig08, who sent along good tidings of a lovely and hallowed evening of good games, great friends, and gorgeous gourds. Let's hear from Paddy himself: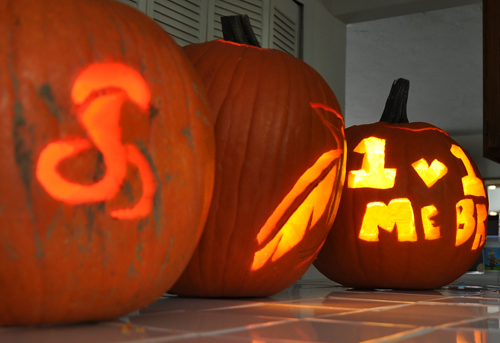 This past weekend was LANoween in the great state of Pennsylbama. While LANs are no longer the only way to get in some epic multiplayer action, they are required by many for the camaraderie, the pizza, and the soul. Many of my HBO brethren old and new gathered to eat, drink, be merry, and play Halo.
We picked up on some custom game action in Reach until dinner time on Saturday before preparing for the time honored tradition of the ODST challenge. Teams of 4 enter, but only one will be victorious. 15 minutes, Heroic on Chasm Ten, best score wins. Our winning team of Jennos, Nart, Stabbim, and Red Robber made it a close match at times, but in the end they usurped victory rather handily. After a quick award ceremony, we jumped into Halo 3 for a time, and a few of the crew spun off a Halo 5 campaign run.
Sunday was all about pumpkins and pumpkin carving. We had a solid showing, and lounged the day away before some of our group headed back to a place called home, freshly stocked with brand new – and long-lasting – memories.
- Padraig08, Lover of Orange, Lover of Brutes
ALL-OUT BLITZ

This weekend, fans across the proverbial pond can get their first hands-on with the freshly-announced Blitz Firefight mode in Halo Wars 2 at the Paris Games Week. In last week's Community Update, we helped cap off the opening salvo in the new mode's reveal, and since that time, we've seen loads of excited buzz from both media and community corners alike. We've also seen loads of creative curiosity surrounding some of Blitz's card-collecting gameplay details, so to go into a bit more detail, I made 343 studio head Dan Ayoub take a break from playing the mode to provide some additional clarification.
GRIM: What gets you excited about not just Blitz mode, but the Halo Wars 2 multiplayer offerings overall?
DAN: I couldn't be happier with the early response to Blitz. I'm excited about it because it's a fast, exciting mode, and it's an entirely new way to play RTS – it kind of turns the genre on its head. Using cards to field units is incredibly satisfying, and it's a blast to build your deck. Where it gets to be crazy fun is when you play with friends, and now you're collaborating to build decks that work well together. As to the MP in general, we've tried to build modes for everyone – from classic deathmatch to objective based modes. With the new units and modes, plus the ability to play against the AI in any of our modes, if you prefer that to human opponents, MP is going to be great!
GRIM: Let's talk specifically about Blitz mode, we had media partners and community friends come out to get some hands-on time with the mode recently, and it's been a lot of fun to see the buzz growing. As a refresher, can you describe at a high level for those who might not know, what Blitz mode is, especially in contrast to the other MP modes?
DAN: Blitz was conceived as a new multiplayer mode that would allow non-RTS players to onboard quickly and easily, butalso be deep enough to allow traditional RTS fans to enjoy. We looked at RTS elements like base building, resource collection, etc, and thought "how can we make a mode that is just about fielding units and fighting?" We landed on a card metaphor for it, and eventually that became the basis for the mode's gameplay itself. You choose a leader – each of which will have a particular style – build a deck, and go. One of the things I like about the approach in Blitz is that we've made duplicate cards more valuable by introducing an upgrade mechanic with them. So rather than having nine of the same card and not knowing what to do with them, duplicates actually level up your cards. We of course have classic RTS MP modes, but we've been thrilled to see the response from both RTS veterans and new players to Blitz.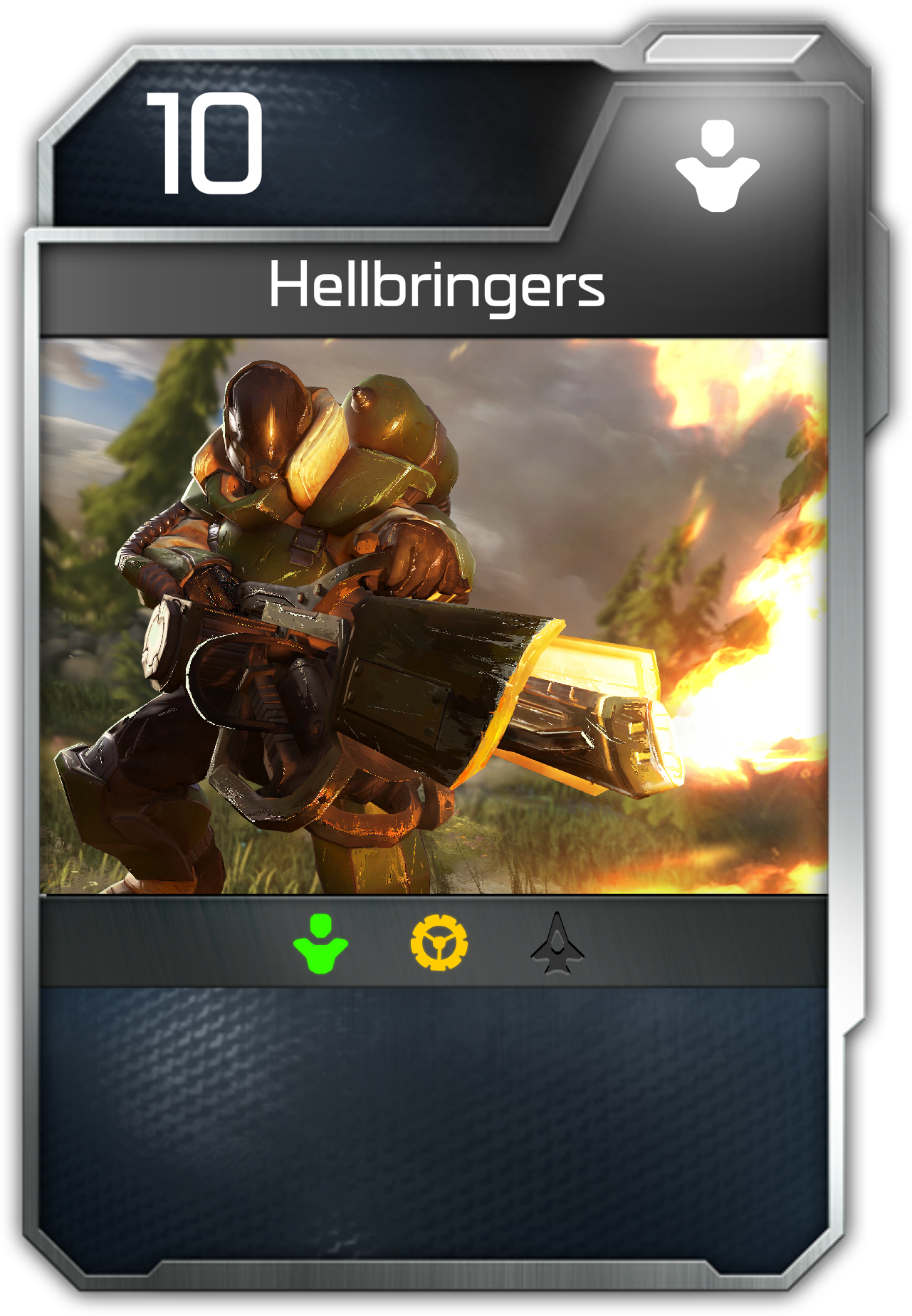 GRIM: So, let's dig a little deeper with some of these mechanics – and some of the questions that we know have been on folks' minds. The cards – what's up with them? Do you earn them through playing? Do you purchase them? Are they single-use?
DAN: You collect packs of cards by playing any part of the game, including playing the campaign, traditional multiplayer modes, and all Blitz modes, and in turn, you use those cards to create your decks. There are UNSC-specific cards and Banished-specific cards usable by any leader in that faction, in addition to cards unique to each leader. You can earn packs through completing campaign missions, daily and weekly challenges, and more. Once you earn a card, it's yours forever and you can use it however you like. You do have the ability to purchase packs as well, but we are very mindful of 'pay to win' concerns and are expressly tuning to prevent those types of scenarios. We'll also be adding new cards through DLC, that again can also be earned through challenges.
GRIM: How does this work regarding the previously advertised Season Pass for Halo Wars 2?
DAN: We're really excited about the Season Pass. It includes six months of DLC, which includes a campaign expansion, new Blitz Cards, new Leaders (new Leaders will also be available for purchase individually), and new units for Multiplayer. If you get the Ultimate Edition, you'll get all this as well as the Halo Wars: Definitive Edition on Windows 10 PC and Xbox One, along with all of its DLC.
GRIM: Can you talk a little bit about "building a deck?" Any particular strategies you like to employ? Do individual leaders get specialized units available to them?
DAN: The first thing you do is choose a leader. Different leaders have different abilities and starting forces, so you can choose a leader that fits your particular playstyle. Leaders will also have unique cards that only they can use. As you amass cards though the game, you can further tailor decks to your playstyle and adapt them to your opponents. To optimize for different team configurations or Firefight, you can even create multiple decks per leader, allowing for a lot of versatility in changing strategy easily from game to game. As you face different opponents, you will likely make slight changes based on their deck – remember, once you field the units you still control their actions, so it's a combination of strategy in deck building and strategy on the battlefield. I vary between brute-force decks and decks to harass, but you need to find the strategy that works for you, and against your opponent.
GRIM: Any tease on what's still to come for Halo Wars 2 as we move ever-closer to launch?
DAN: Early into the New Year, we'll have an open Blitz Beta on both Windows 10 PC and Xbox One. I'm really looking forward to this, as these betas really allow us to learn a lot about what our players are experiencing, and in turn integrate those learnings back into the game – very similar to the process from our Multiplayer Beta in June. When the Blitz Beta goes live, everyone will get a chance to try it out – I can't wait.
GRIM: You and me both, brother. See you then!