The first online qualifiers for the Halo World Championship begin this weekend! Teams spanning the globe will compete for glory, ranking points, and a chance for a precious spot in their Regional Finals. Our friends at ESL, Gfinity, and MLG will broadcast the #HaloWC qualifiers all weekend long -- here's a breakdown of where you can catch the action!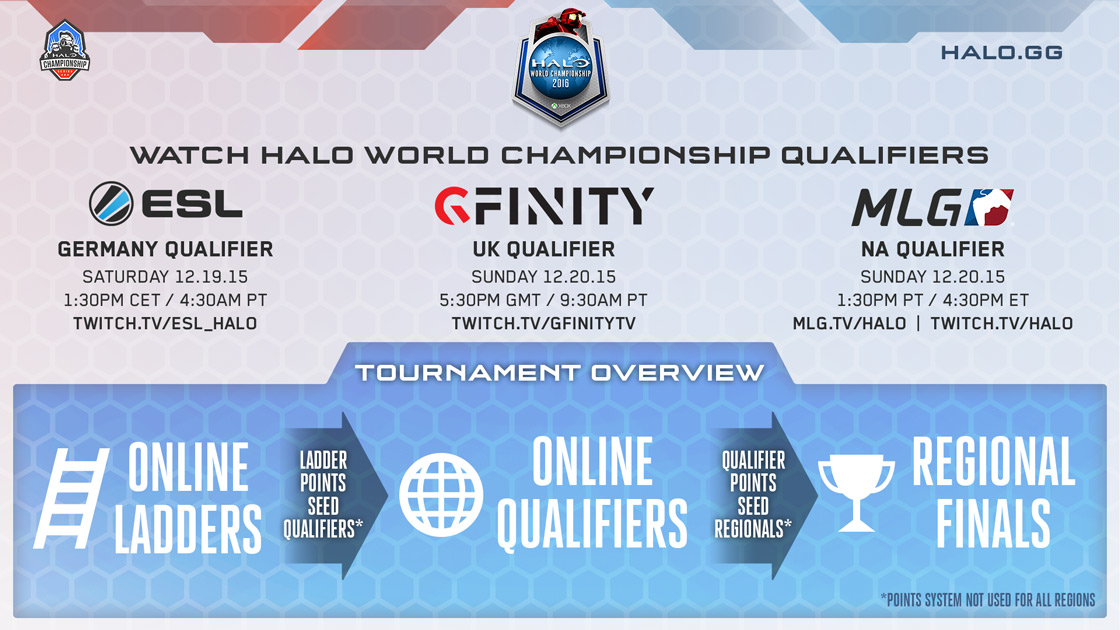 The competitive Halo landscape has seen some shakeups since the HCS Season 2 Finals - the last official tournament. Let's get caught up on just a few of the hot topics this offseason.
EUROPEAN CONQUEST

In preparation for the Halo World Championship, Europe's finest have been gathering and grinding to prove to North America and the rest of the world that they've got the talent to compete at the highest level. At the gamescom Invitational in August, it was Infused (Supremacy at the time) who took out OpTic Gaming in the first round and would go on to clash against what many consider to be Europe's top team, Epsilon Gaming. Epsilon took that victory, and they are among the favorites in the United Kingdom. These two teams are certainly favorites going into this weekend's first UK qualifier, and we're excited to see who comes out on top! For more, head to Gfinity.net. This weekend ESL hosts the German qualifier for the Halo World Championship, and according to The Simms, Fabe is the team to keep an eye on. "Fabe is without doubt the German team to take this qualifier. Team captain Speed is one of the top snipers in Europe right now and has the discipline and talent to take his team all the way. A young talent on this team to keep an eye out for is EGL Battle Of Europe finalist Robby 'Kimbo' Faulk. A young and super aggressive slayer who has all the talents of a future Pro European Player, and one who we will see lots from in future!''
WHERE ARE THEY NOW?

Unless you're Evil Geniuses, your roster has seen some team changes during this offseason. If it ain't broke don't fix it, right? The third place team, Denial Esports, has shifted quite a bit. Following the heartbreak at Season 2 Finals in Burbank, the team disbanded and went their separate ways. Chig and Mikwen joined the new Team Liquid, where only Ninja remained after the TL roster had also disbanded. Heinz and APG stayed together and picked up former Cloud9 star iGotUrPistola. On the hunt, it would be some time before they settled on a fourth teammate. After the rumors of the multi-esport athlete Formal subsided, it was Mikwen who would be yanked from Team Liquid. Left on Liquid were Ninja, Chig, and Ace. Yes, that Ace. The OpTic Gaming member finally decided to part ways with his long-time teammates after a disappointing first round exit at the gamescom Invitational. After weeks of tryouts, Flamesword, Maniac, and Assault finally landed on the young talent Stellur to round out the #Greenwall. In other unexpected news, Counter Logic Gaming has also tweaked their roster in an effort to propel themselves to the next level. It was CLG's Cloud who would be replaced by the young star Frosty, a player who helped lead eXcellence to the Season 2 Finals of the Halo Championship Series. The stakes are high for this weekend's new rosters - tweet @HCS and let us know your predictions!
LIQUID RISING

Team Liquid did not wait very long to acquire Unlegit as their fourth teammate after Mikwen parted ways. The former eXcellence young gun has made a name for himself, and is now ready to prove he's one of the top players in the scene. Team Liquid's performance in scrimmages and online tournaments thus far has been impressive, with multiple wins now under their belt including tournaments hosted by ESL and Pro Gaming League. They've even taken down top teams including the reigning #HCS champions, Evil Geniuses. Captain of Team Liquid Ace had this to say about his team's recent success: "Halo 5 just released and I feel like we haven't actually accomplished that much yet. That being said, I am still happy with our performance so far and I think we are adjusting well individually, probably better than I expected us to. I like our drive to play the game and how dedicated we are to improving as a team the most. Also, we couldn't have had the success we've had so far without the great support and management of our sponsor Team Liquid." The first North American qualifier begins this Sunday and Team Liquid are practiced and poised to not only qualify for the main event but possibly take home a top placing as well.
TEAM ENVYUS

In anticipation for the Halo World Championship, one of the most well-known esports organizations in the world has decided to join the fray. Team EnVyUs - a team that has had immense success in a variety of other esports titles - has signed Heinz, APG, iGotUrPistola and Mikwen to don the navy blue jerseys and represent them at the Halo World Championship. We caught up with Mikwen who had this to say: "This is the team I wanted to form after Season 2, considering how close we (Denial) were to beating EG but kept falling short. Finally being able to team with Pistola - someone I've always wanted to team with - gives us a lot more confidence. This team is super fun, we're all the best of friends. Even though we've been with Team EnVyUs for a short time, it feels like we're a family, and I can't wait to create memories over the next year with this team." Three quarters of this team gave Evil Geniuses a run for their money in Season 2, and they're hoping that adding the wizard Pistola will propel them into first.
For all news on the Halo World Championship, stay tuned to @Halo and @HCS on Twitter.