With St. Louis, London, Mexico City, and Australia/New Zealand qualifiers in the books, the final piece to the Halo World Championship 2017 puzzle awaits in Las Vegas, where the last remaining spots will be filled by top North American teams. And if there's anything Las Vegas is known for, it's that you're never quite sure when you're about to hit the jackpot – or whether your luck has simply run out. This weekend, March 3-5, those questions will be answered, and the field for the HaloWC Finals will be set. Are you ready to see who rolls the dice?
TALENT ON TALENT
There's perhaps no one better to give insight on the upcoming action than the folks who will be bringing it all to life in the booth. Let's see what they had to say.
Q: What are you looking forward to heading into the HaloWC Qualifier: Las Vegas?
STRONGSIDE: The competition is closer than it's ever been in Halo 5 and only the Top 6 teams qualify for the Halo world Championship 2017 Finals. With so much on the line I'm most excited to watch the Winners Bracket Round 2 matches and the Loser Bracket Round 3 matches (all of which are Bo7); These are the matches that truly decide a team's fate. Along with Ogre2 picking up the sticks again to join Evil Geniuses, Splyce putting up solid matches against OpTic Gaming online, Team Liquid's powerhouse roster, and Team EnVyUs looking to bounce back from their St. Louis performance, we're going to see some of the most intense matches we've seen all year.
GH057AYAME: I'm looking forward to seeing our North-American heavy hitters show up to the event with full preparation. After the last event in St. Louis, we saw a few teams look a bit out of sync, but I'm expecting to see everyone play their best this time around. We've seen Str8 Rippin' and Team Liquid falter online a bit, while teams like nV and Splyce (formerly Inconceivable) have picked up steam. The biggest question though on everyone's minds will definitely be: can Tom "OGRE 2" Ryan and Team EG show everyone that they've still got it? After a last-minute roster change, we saw Evil Geniuses pick up Halo's very own Brett Favre – which will hopefully give us another unforgettable tournament in beautiful Las Vegas, NV. Only time will tell!
SIMMS: Overall the sheer hype of a North American open event is incredible. The stage is set and only six teams can walk away with their tickets punched to the finals, and quite franly, I can't call who those six teams will be. This will be the most hyped event of Halo 5 to date and the competition is as strong as ever. VEGAS BABY!
GOLDENBOY: Looking forward to seeing all the people who are going to come through for the last NA open event before Worlds. I'm expecting the atmosphere to be electric!
Q: Which six teams do you predict will Qualify for HaloWC Finals?
STRONGSIDE
OpTic Gaming
Team Liquid
Team EnVyUs
Str8 Rippin
Splyce
Evil Geniuses
GH057AYAME
Team EnVyUs
OpTic Gaming
Team Liquid
Str8 Rippin
Splyce
Luminosity Gaming
SIMMS
Didn't I just tell you I can't pick the finalists? Ugh, fine...
OpTic Gaming
Team EnVyUs
Team Liquid
Splyce
Evil Geniuses
Team Allegiance
GOLDENBOY
OpTic Gaming
Team EnVyUs
Team Liquid
Splyce
Str8 Rippin
NOTABLE ROSTERS
Many will compete, but only six of the top teams in North America will move on from Las Vegas to the HaloWC 2017 Finals in California. Here are some of the most dangerous squads to watch for.
OpTic Gaming
Frosty
Snake Bite
Royal 2
Lethul
Team Liquid
Penguin
Rayne
Eco
Stellur
Team EnVyUs
Snip3down
Pistola
Huke
Mikwen
Str8 Rippin
Evil Geniuses
Roy
Lunchbox
Contra
Ogre 2 – The Goat has come out of retirement for shot at making HaloWC 2017 Finals – more details here.
Luminosity
eL Town
Victory X
Ninja
Saiyan
PNDA Gaming
Naded
Cratos
Str8Sick
Danoxide
Splyce*
Bubudubu
Shooter
Shottzy
Falcated
*secured the 8th seed in Champ Bracket through NA Online Qualifiers
EVENT INFO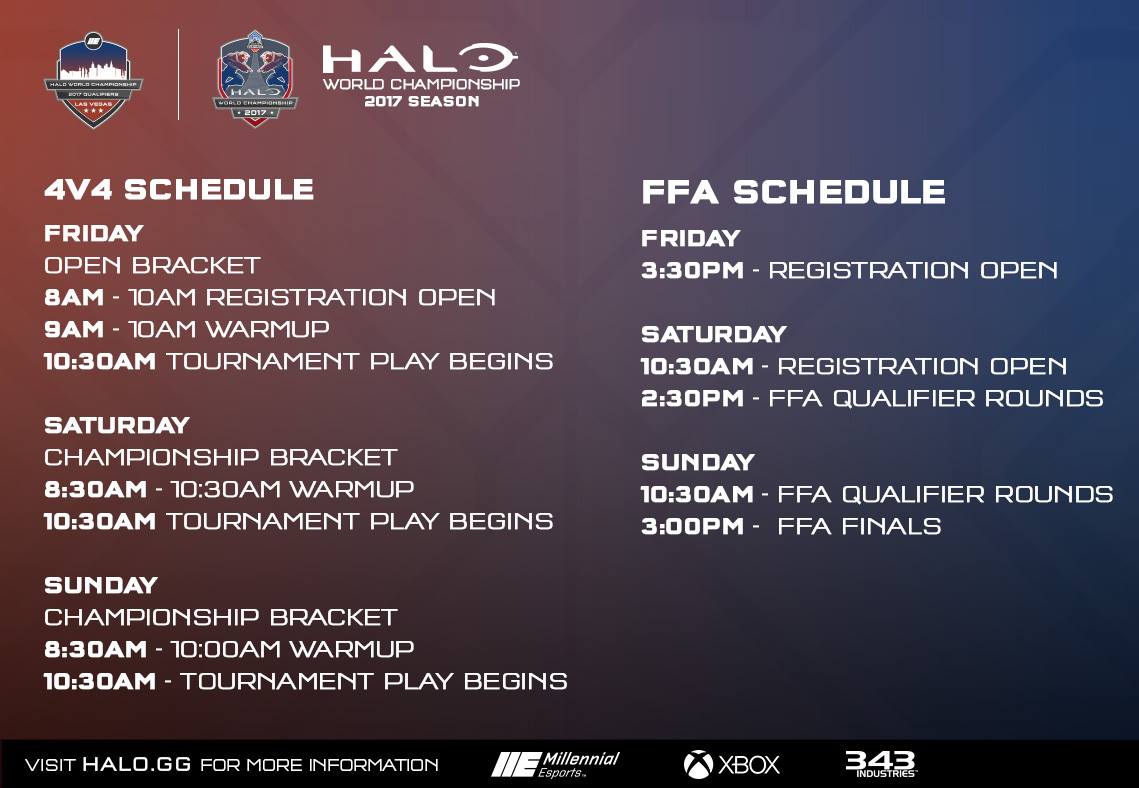 VENUE
Neonopolis in downtown Las Vegas.
450 Fremont St, UNIT 380 Las Vegas, NV 89101
PASSES
FORMAT
Open Bracket
Gametypes and tournament details HERE
Double elimination
Best of 5 matches
Top 8 move into Championship Bracket
Championship Bracket
Gametypes and tournament details HERE
Double elimination
Best of 5 matches
Best of 7 matches for all qualifying matches into the HaloWC 2017 Finals
Top 6 qualify for the HaloWC 2017 Finals
HOW TO WATCH
Catch all the action on March 3-5 from the HaloWC 2017 Las Vegas Qualifier at Twitch.tv/Halo.
PRIZE POOLS
FFA
Overall – $5,000
1st – $2,500
2nd – $1,500
3rd – $1,000
4v4
Overall – $50,000
1st – $20,000
2nd – $10,000
3rd – $6,000
4th – $4,000
5th/ 6th – $3,000
7th/ 8th – $2,000
ON-AIR TALENT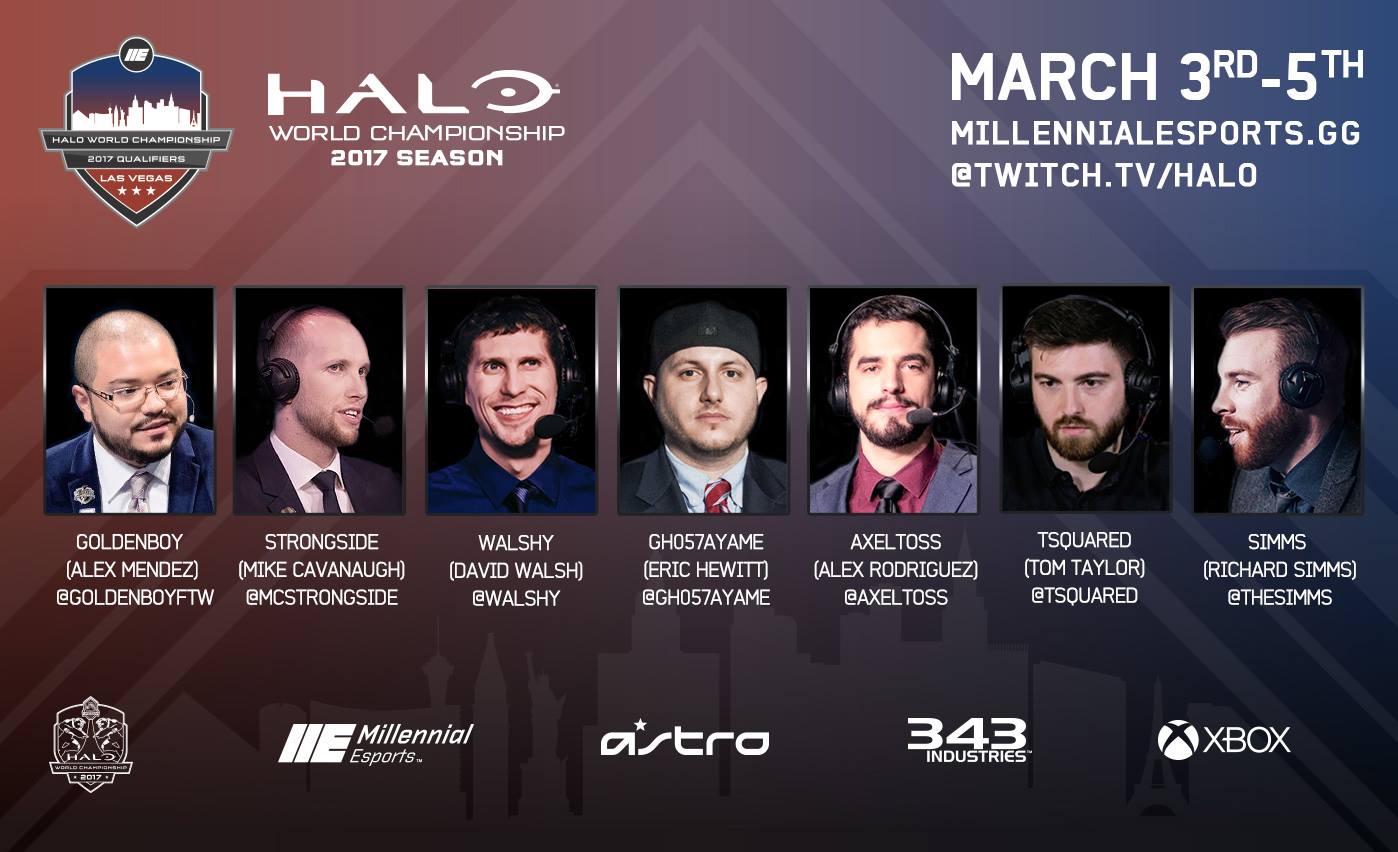 As always, for all updates on the Halo Championship Series and Halo esports, follow @HCS on Twitter, and keep it locked to Halo.gg on the web.