The road to the Halo World Championship 2017 continues as the action moves from St. Louis across the proverbial pond to our friends in the United Kingdom for the HaloWC 2017 London Qualifier, Feb. 17-19, where Europe's top Pro League and Open Circuit teams will all battle it out to see which two teams will claim the very first spots in the HaloWC 2017 Finals. With such a prize on the line, it's only natural that such an event be hosted in an equally-epic venue – in this case, none other than the Great Hall at Wembley Stadium in London.
TALENT ON TALENT
To help set the stage, we tapped some of the folks that will be responsible for doing just that when the action unfolds next weekend – Simms, Wonderboy, and Onset. Let's see what they're looking forward to.
Q: What are you looking forward to heading into the HaloWC Qualifier: London?
Richard Simms (Simms): First off just simply the event, I've never been to Wembley before so I'm quite excited to see it! In terms of Halo I am looking forward to seeing what the new Supremacy roster does, anyone who knows me knows I'm a French fan and this roster has gone from good to great with the addition of Solar, it's the one team I see been able to cause upsets.
Harry Channon (Wonderboy): The return of Epsilon into the Halo fold is one of the most intriguing storylines in my opinion; the old organization allowing Snipedrone to build a roster around himself has appeared to payed dividends so far throughout the online qualifiers, with the new Epsilon squad finish 1st in both the seeding cup AND both qualifiers. They are on a very impressive run of form, I'm eagerly anticipating what the young guns of Epsilon can do against the pro teams.
Outside of the competition... I'm very much looking forward to the return of Gfinity into the European Halo scene. Their events are always incredibly well produced and are an awesome team to work alongside. Not to mention the locale! Wembley stadium is an iconic venue, and most players will be mouthwatering at the opportunity to say they've won a tournament in Wembley.
Mark Hatcher (Onset): The return of open bracket play to Europe and seeing what players can emerge as true talents. I am also looking forwards to seeing if there is anyone who can topple FabE's dominance as Europe's best, or if they will steam through the competition in such a way that the NA teams stand up and take notice.
Q: Which two teams do you think will Qualify for HaloWC Finals and why?
Simms: Fabe and Infused, these two teams are currently just a cut above the rest. Fabe in my eyes is easily top 8 in the world and better than anyone outside of NA. Infused are second to them imo as that roster just grows stronger day by day.
Wonderboy: FabE are a dead cert. It would take a calamitous failure on their part to see them miss out on a trip to the HaloWC at the London event. Outside of FabE it really is a toss-up; the French squad Supremacy are probably my picks, but teams such as Infused, Epsilon, exceL & other rosters can also make a splash on their day.
Onset: FabE - The most dominant team we have seen on Halo 5 arguably in Europe. A flawless fall season pro league finals proves this.
Infused - A solid roster of immensely talented players. The only thing that can stop them in my opinion, is their mentality. If they stay strong and play the way they can, they could book a ticket to finals.
Q: Who would win in a 1v1 in H5, Simms or Wonderboy?
Simms: I have no worries in saying Harry would win in H5, I happily admit defeat on this as the guy is a grinder (make sure to follow his stream!). I do however sleep happily at night believing that I would roast him and many other casters (and some players) on Halo 2.
Wonderboy: I'll give the old man some credit, he used to have a nasty shot back on Halo 4 when we used to compete against each other... but you can't teach an old dog new tricks. He'd get around 6 kills before I stop messing around and start to play seriously. I get two ninjas, and a 360 backflip no-scope for the final 3 kills. Wonderboy emerges victorious; 100 points to Gryffindor.
Onset: No one would win here. Halo would be the loser. No one wants to see this.

ROSTERS
With final EU roster moves just barely locked in, let's see what Spartans are coming out to play in London.
HCS PRO LEAGUE TEAMS
FabE
Jimbo
Respectful
TuFoxy
Mose
Supremacy
HCS Pro LEague Team (formerly vibe)
Batchford
SeptiQ
Lunny
Ramirez
Team Infused
Kimbo
Phlux
Qristola
Snakey
notable OPEN BRACKET TEAMS
Epsilon
Snipedrone
Doodle
Vexzeus
Quadios
Excel
Riotz
Havoc
Flamez
Warlord
Pace making Pandas
Buk 20
Buk 57
Morguh
Zhuh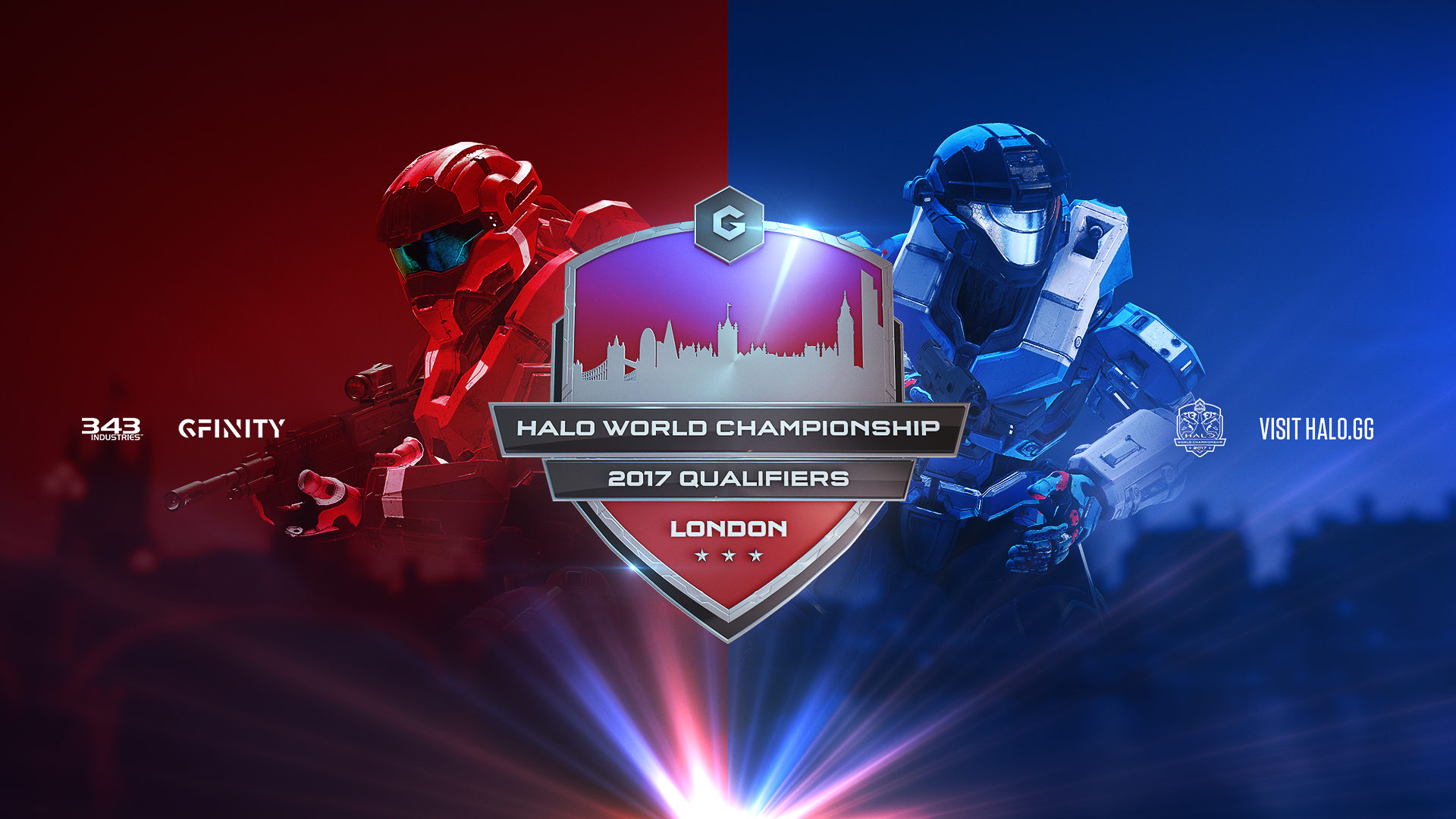 Hello, new desktop wallpaper...
EVENT INFO
Full event details can be found here, in partnership with Gfinity.
VENUE
Great Hall in Wembley Stadium
SCHEDULE
Friday 17th of February. Starts at 1:00 pm GMT 5:00AM PT (doors open 12:00 pm GMT)
Saturday 18th of February. Starts at 10:00 am GMT | 2:00am PT (doors open 9:00 am GMT)
Sunday 19th of February. Starts at 10:00 am GMT | 2:00 am PT (doors open 9:00 am GMT)
Note: All start and finish times are subject to change.
HOW TO WATCH
Catch all the action on Feb. 17-19 from the HaloWC 2017 London Qualifier at Twitch.tv/Halo.
FORMAT
Open Bracket:
Double Elimination
Best of 5 matches
Top 8 teams advance to the Championship Bracket
Championship Bracket:
Double Elimination
16 teams made up of Open Bracket teams, EU HCS Pro League teams, and Online Qualifier Point Leaders
Best of 5 matches until Winner's Bracket Finals, Loser's Bracket Finals, and Grand Finals (each Best of 7)
PRIZE POOL
Overall – $25,000
1st – $10,000
2nd – $6,000
3rd – $4,000
4th – $2,500
5th – $1,250
6th – $1,250
ON-AIR TALENT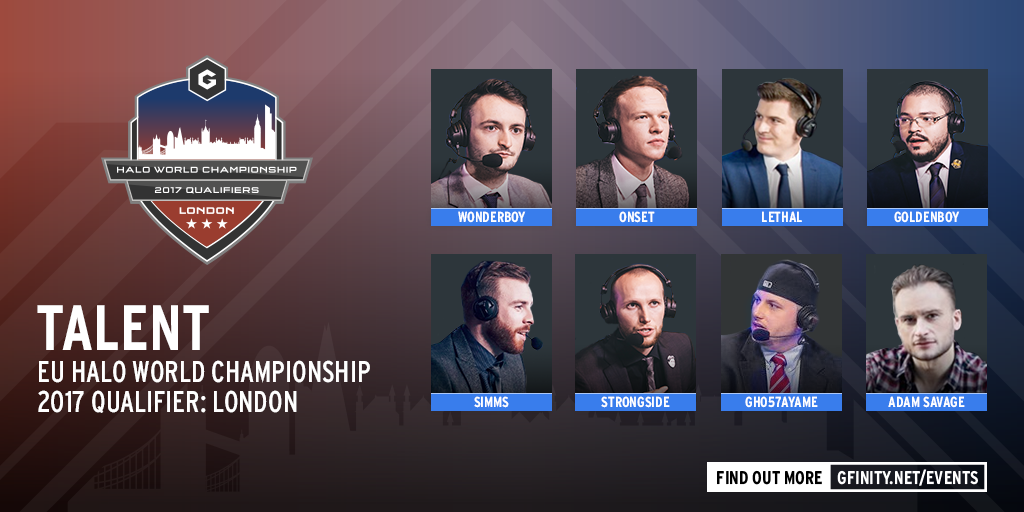 As always, for all updates on the Halo Championship Series and Halo esports, follow @HCS on Twitter, and keep it locked to Halo.gg on the web.