After a scintillating end to the HCS Pro League Fall 2016 Season, the wait for the Halo World Championship 2017 has seemed nigh unbearable. However, after a holiday offseason break that was anything but uneventful, that wait is over and the action is ready to commence in St. Louis for the opening round of the Halo World Championship 2017 Qualifiers.
Punctuating an exciting lineup of top Halo teams and players from around the world are arguably the odds-on favorites to win it all: OpTic Gaming and Team EnVyUs. OpTic wields the defending World Championship squad of Snakebite, Royal 2, Frosty and Lethul, but nV are defending a title of their own, as reigning NA HCS Pro League champions Snipedown, Pistola, Huke and Mikwen took down that very same OpTic quartet in the NA Fall 2016 Finals. Sweetening the taste of this growing rivalry is the fact that amazingly, both of these rosters enter the HaloWC unchanged from the previous season. And whether they will admit it or not, both nV and OpTic represent the bar that all other teams are competing to reach – and hopefully surpass.
The road to the Halo World Championship begins here – hope you're ready.
TOP STORIES
Clear vision – While OpTic Gaming remains in a prime position to qualify for HaloWC 2017, it would mean even more to defeat Team EnVyUs along the way, and prove that they're just as dangerous as they were a year ago.
Feeling green – While Team EnVyUs standouts Mikwen and Pistola might still be basking in the glow of an HCS Pro League season title, the Halo World Championship still represents a big bit of unfinished business for the duo. Both Mikwen and Pistola failed to qualify for HaloWC 2016, and are determined to not suffer the same unceremonious exit this time around.
Mad science – Evil Geniuses has a new roster and new energy about them as they enter the St. Louis qualifier as EG drops both Ninja and Stellur to pick up Contra and Predevonator to join Roy and Lunchbox. Fans who #bleedblue might no doubt feel like it was an eternity ago when their heroes were capturing X-Games Gold, and will be hoping that these new roster changes will translate into a return to glory at the HaloWC.
ROSTERS
With the dust barely settled on the Halo esports offseason, let's take a look at the freshly-minted rosters of many of the most important teams to watch next weekend.
HCS PRO LEAGUE TEAMS
Luminosity
eL ToWn
Victory X
Ninja
Trippey
Evil Geniuses
Roy
Lunchbox
Contra
PreDevoNator
Team Liquid
Rayne
Penguin
Eco
Stellur
Team EnVyUs
Mikwen
Pistola
Snip3down
Huke
Str8 Rippin
OpTic Gaming
Snakebite
Royal
Lethul
Frosty
Enigma6
Cratos
Nemassist
Naded
Str8 Sick
OPEN BRACKET TEAMS
Team Allegiance
Commonly
Danoxide
Spartan
Suspector
SetToDestroyX
Burton
Calm Mentality
Blaze
TiZoXiC
cE.Fs Starboys
INFUEGO
Qsurf
Nexivm
I thorium I
DoCtErPiLgRiM

EVENT INFO
Venue
Gateway Convention Center
1 Gateway Dr
Collinsville, IL 62234
How to Watch
Catch all the action on Jan. 20-22 from the HaloWC 2017 St. Louis Qualifier at Twitch.tv/Halo.
Format
Open Bracket:

Double Elimination
Best of 5 matches
Top 8 teams advance to the Championship Bracket

Championship Bracket:

8 teams from Open Bracket + 8 Pro Teams from Pro League
Double Elimination
Best of 5 matches until Grand Finals – Grand Finals is Best of 7
Prize Pool
Overall: $50,000
1st - $20,000
2nd - $10,000
3rd - $6,000
4th - $4,000
5th - $3,000
6th - $3,000
7th - $2,000
8th - $2,000
ON-AIR TALENT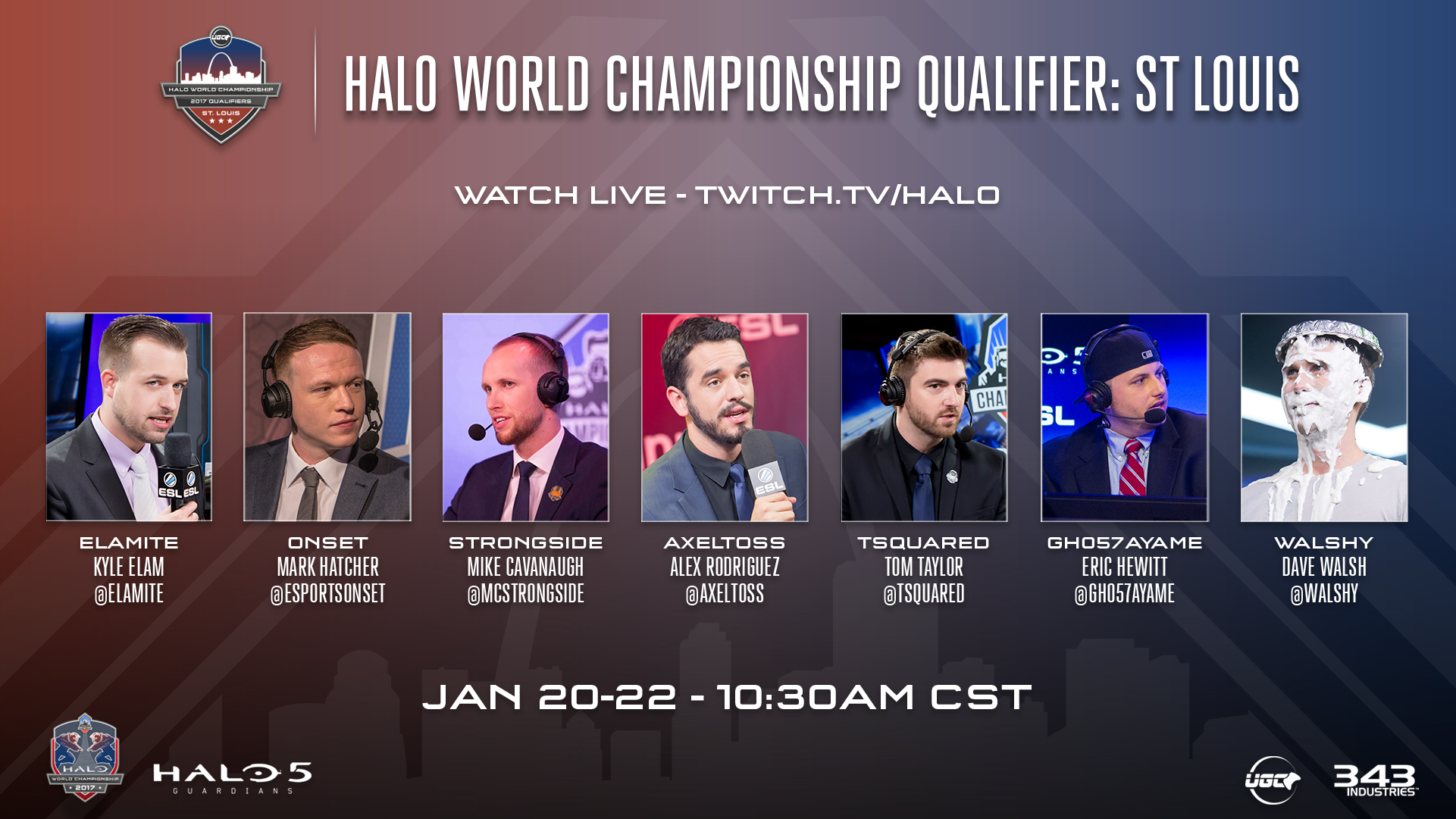 As always, for all updates on the Halo Championship Series and Halo esports, follow @HCS on Twitter, and keep it locked to Halo.gg on the web.