By 343 Industries -

Update - 3.18.15
The polls are now closed. Here are the four All-Stars that you have chosen to compete in the HCS All-Star Halo 2 Classic Showdown. Good luck to both teams!

This Thursday, we're hosting the HCS All-Star Halo 2 Classic Showdown, and we'd like you to join us. We've nominated eight of the top performers from Season 1 of the HCS, and are asking YOU to vote for your favorite player. The top four players in votes will play a best-of-5 series against 343's Pro Team in Halo 2 Classic! The best part? The matchup will be streamed for your enjoyment on the Halo Channel and Twitch. When the series ends, we'll be selecting viewers from Twitch and Twitter and bringing them into a 2v2 match with 343's Mason "Neighbor" Cobb and Michael "StrongSide" Cavanaugh, where each pro player will get teamed up with a Twitch viewer for each match.
Here's the breakdown:
Who: HCS All-Stars, 343 Pro Team, and you.
What: Twitch stream live from the 343 HQ.
Where: Halo Channel & Twitch.tv/Halo
When: Thursday, March 19, 4PM PDT
You can vote for the HCS All-Star candidate that you want to see compete here at HaloWaypoint.com/Community. Polls are open now and close at 4pm PDT on Wednesday, March 18, so be sure to cast your vote. Here's a look at the Season 1 All-Star candidates: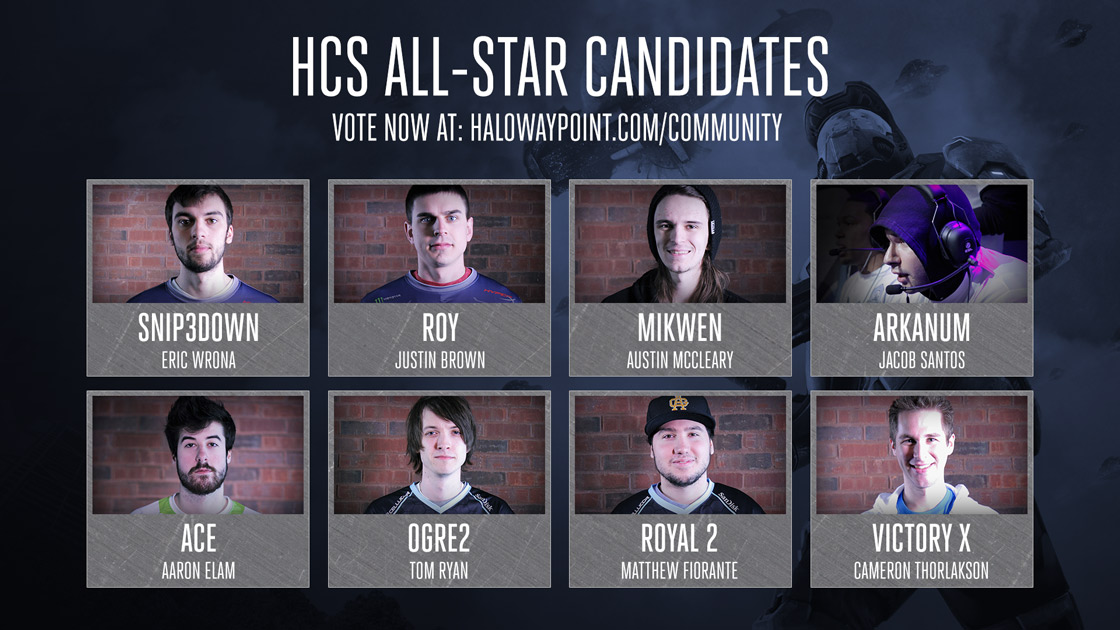 Waiting in the wings for the votes to be tallied will be 343 Industries' very own Pro team. These Halo legends made a name for themselves playing against many of today's HCS All-Stars, and we're looking forward to seeing if they've still got what it takes. Introducing, 343's Pro Team:

The teams will be playing a legendary mix of tournament game types. Here's a look at the rotation:
Game 1: Capture the Flag on Midship
Game 2: Team Slayer on Beaver Creek
Game 3: Team Ball on Lockout
Game 4: Neutral Bomb Assault on Midship
Game 5: Team Slayer on Ivory Tower
While there won't be a prize pool on the line for the series, there is no doubt that pride and bragging rights will be. Can 343's Pro Team take down today's top HCS players? Be sure to vote for your favorite HCS All-Star, and tune in at 4PM PDT on Thursday where you'll be able to join the action! We'll see you there.