The mile-high wait is finally over, and the final salvo of an epic autumn is upon us. Next weekend, Oct 20-22, the best pro and amateur Halo players and teams in the world will make their way to Colorado for the HCS Fall 2017 Finals at DreamHack Denver. With a $200,000 prize pool up for grabs and a championship on the line, the eyes of all Halo esports fans will be fixated firmly on the Rockies to see which squad comes out on top.
At first glance, three teams seem to stand out from the rest, beginning with Team EnVyUs, who are no strangers to success on such a stage. nV won the Fall 2016 Finals in California, then took the HCS Daytona crown earlier this year. The Elumnite-coached squad of Snip3down, Huke, Mikwen, and Pistola heads into DreamHack Denver running the HCS Pro League table to the tune of an undefeated 7-0 regular season.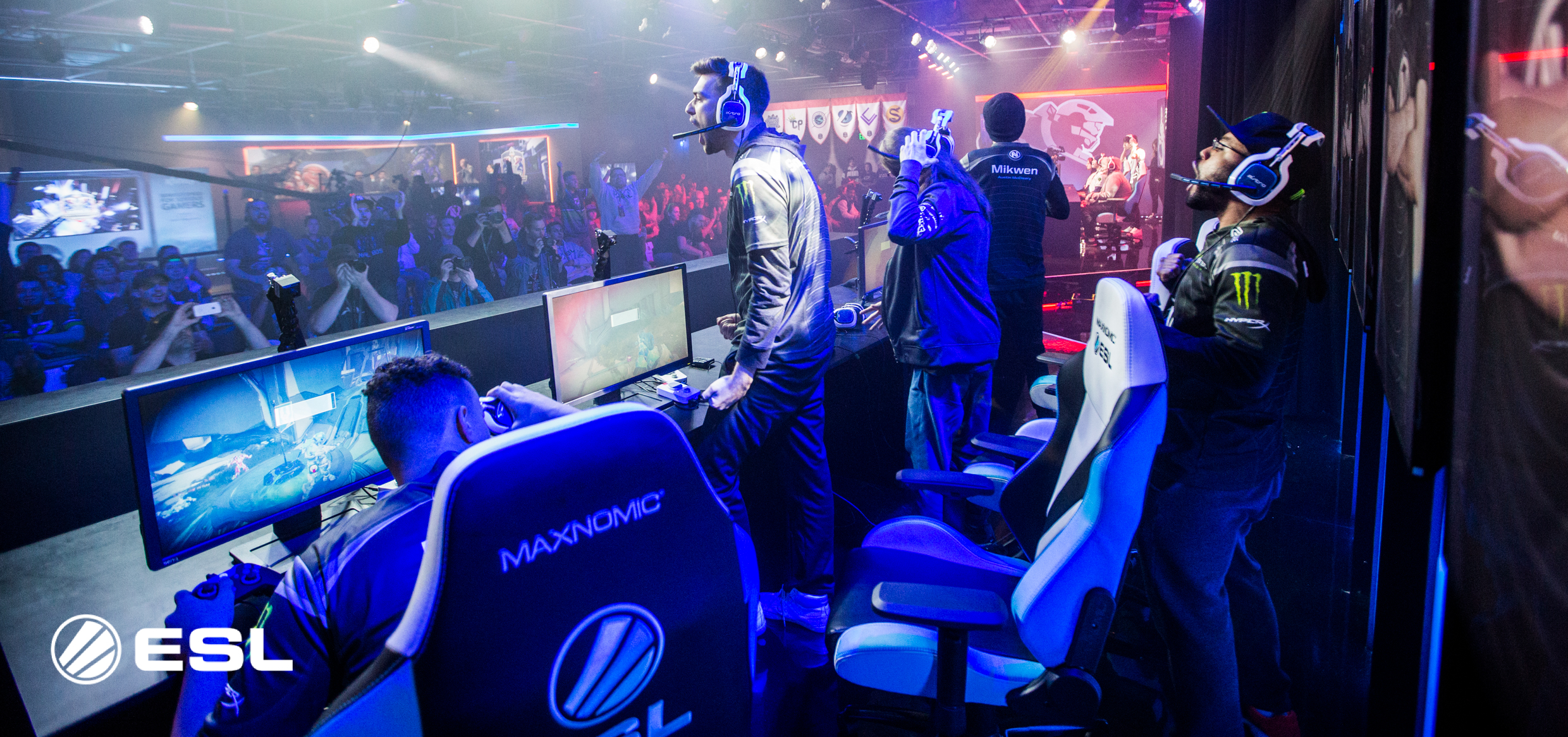 Team EnVyUs erupt after a huge victory at the HaloWC 2017 Finals
After dominating the Summer 2017 Finals at DreamHack Atlanta, the young guns at Splyce seemed to be hamstrung by their success once the Fall season of HCS Pro League began, finishing their regular season campaign in an underwhelming 4th position. However, there's not an opponent in the building who would think it wise to write them off heading into Denver, as it would be just as unsurprising to see them back on top when the final point is tallied.
Then there's the seemingly ever-present OpTic Gaming – though the perennial powerhouse has seen more than a few breaches in their vaunted #GreenWall as of late, losing their last two major tournaments to the aforementioned nV and Splyce at HCS Daytona and DreamHack Atlanta respectively. However, how does the old saying go – something about waking a sleeping giant? One must wonder though, how long might the squad that won both the 2016 and 2017 Halo World Championships stay together if the ultimate prize eludes them once more in Denver?
Now, while nV, Splyce, and OpTic might seem like the popular picks at first, there's plenty of room for other teams to make their presence known in powerful ways, potentially shocking the field with unexpected results. Team Liquid has to be considered at minimum a dark horse for the overall win, and Europe's Team Infused has unfinished business – and unconquered goals – in the United States. No matter who you are pulling for, the one guarantee is that Halo fans are in for an absolute treat when the squads hit the stage next weekend.
EVENT DETAILS
For more information on event details, travel, registration, ticket sales, and more, make sure to head over to the official Event Hub at halo.gg/dreamhackdenver.
HOW TO WATCH
Catch all the action streamed live on mixer.com/Halo & twitch.tv/Halo!
Friday live at 12:30pm MT
Saturday live at 12:30pm MT
Sunday live at 1:00pm MT
VENUE
National Western Complex – Event Center
4655 Humboldt St, Denver, Colorado, 80216
EVENT & BROADCAST SCHEDULE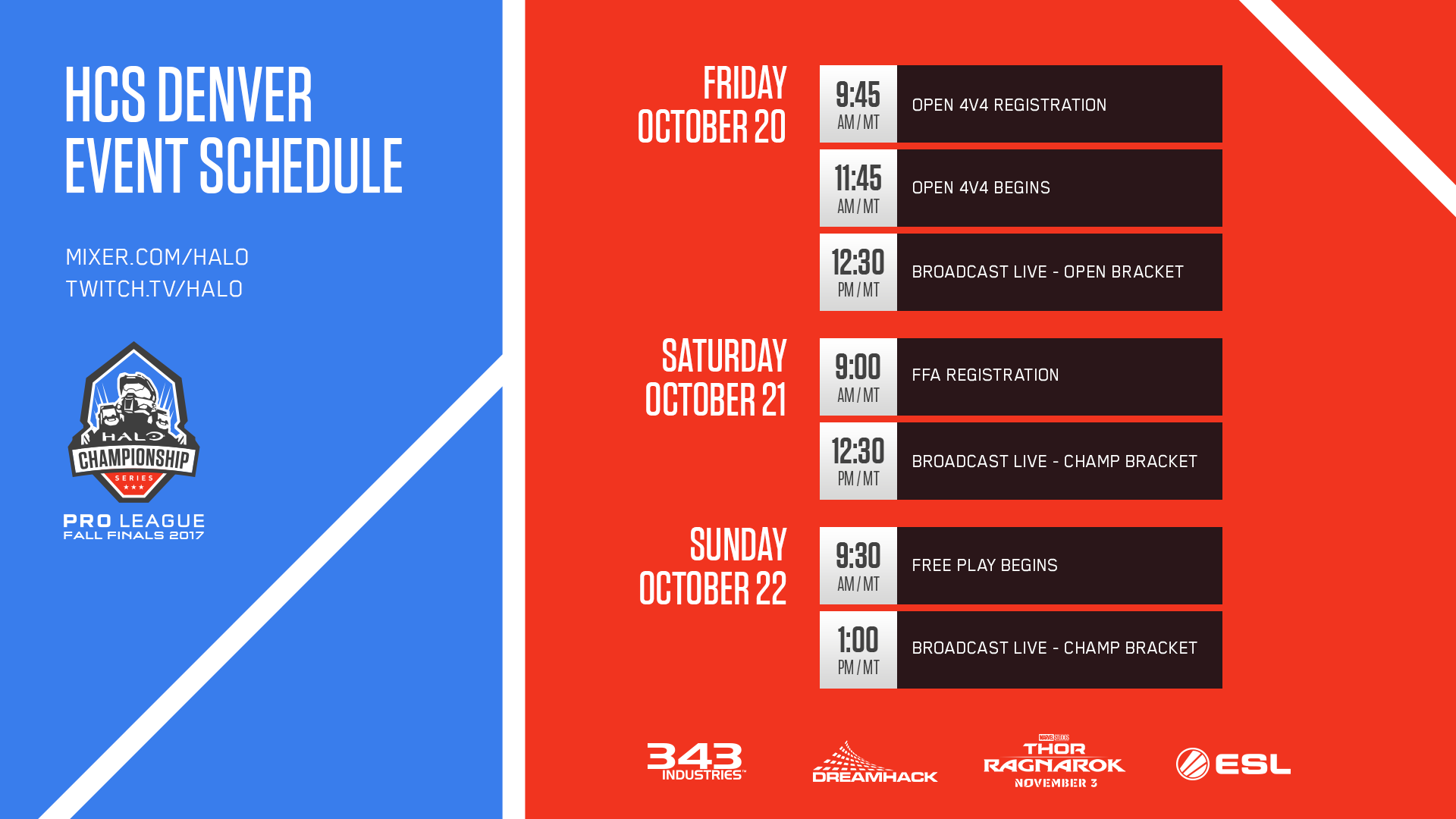 4v4 FORMAT
DreamHack Denver will feature a 64-team 4v4 Open Bracket which will feed into a Championship Bracket Tournament, where eight NA teams and two EU teams await. Vexed.eBuyer and Excel Esports will start in the 4v4 Open Bracket as our #1 and #2 seeds. Following them will be up to 62 Open Bracket teams, who will be seeded by HCS points earned from the Open Circuit. The 4v4 Open Bracket will be a double elimination bracket, where the top 6 teams remaining will advance to the Championship Bracket. Matches in the Championship Bracket will feature Best of 5 and Best of 7 series. Players will compete on the Fall 2017 map and gametype settings.
FFA FORMAT
Featuring a $5,000 prize pool, the FFA begins on Saturday, Oct. 21, and will be single elimination, two games played per round, with the top three players in each round advancing. Each game will be limited to 12 minutes, and the total number of players in the tournament will be capped to 288. The maps played will be Truth and Regret. The $5,000 FFA Grand Finals will be determined by a single game on Truth.
PRIZE POOL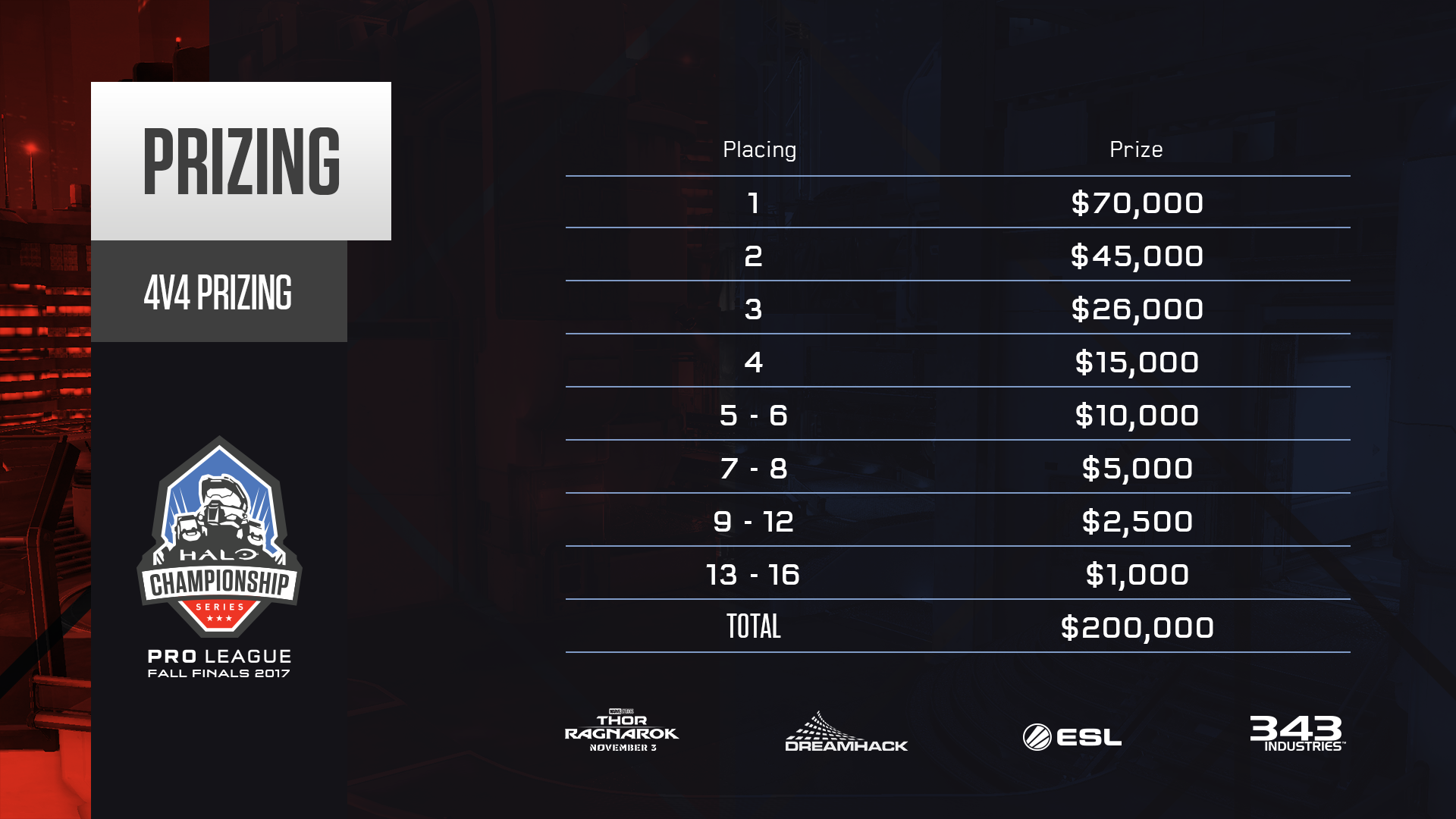 CASTER STORYLINES
Let's hear from Michael "StrongSide" Cavanaugh and Mark "Onset" Hatcher on their thoughts on some of the top storylines heading into DreamHack Denver.
NORTH AMERICA
STRONGSIDE: Heading into DreamHack Denver, the competition has gotten closer than it's ever been in Halo 5. From Splyce defeating OpTic at DreamHack Atlanta, to Team EnVyUs going undefeated in Pro League, and to OpTic Gaming just well… being OpTic Gaming, the consistent powerhouse throughout Halo 5 and never placing out of the Top 2. As for Team Liquid, with the addition of Spartan back in the fold we've seen some incredible moments from the squad, but they will need to be playing at their best without having their rollercoaster moments.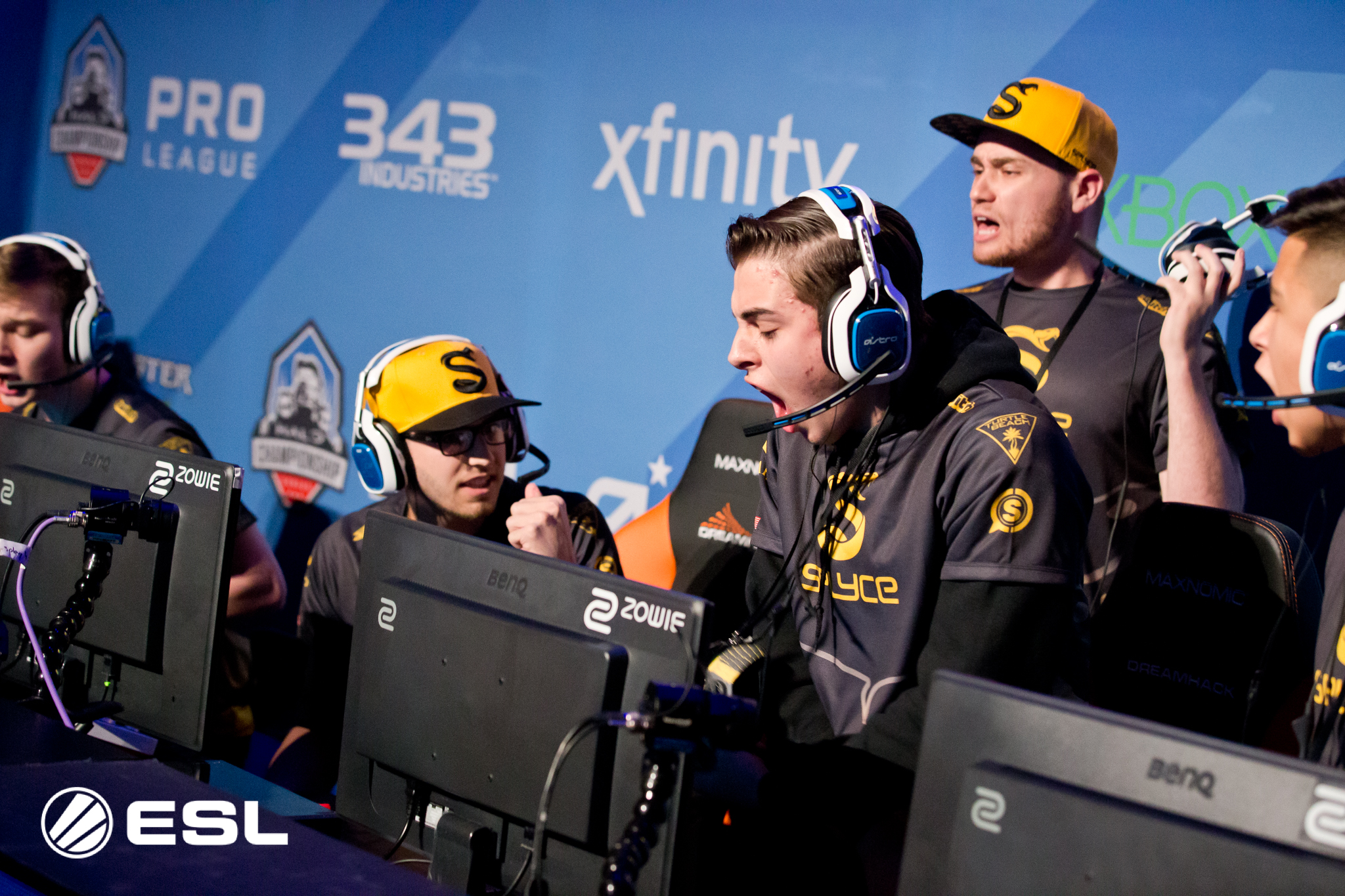 Renegade and Splyce after taking down OpTic Gaming at DreamHack Atlanta
We saw how hungry Splyce were at Atlanta, but the question is, will they have that same hunger after winning that event? Splyce lost three matches in NA Pro League to nV, OpTic, and Liquid after their win in Atlanta. Were they perhaps a bit too comfortable following their title? Team EnVyUs were OpTic Gaming's kryptonite and seen as the only team that could take the throne from OpTic. nV looked as if they fell behind at Atlanta with their struggle throughout the event. It's nV's time to prove again that they are a team capable of winning an event. OpTic Gaming have placed 2nd in back to back events, this has definitely put a fire in the OG squad and they have their sights to end the final event of the year on top.
Luminosity, Evil Geniuses, Ronin, and Team Kryptik struggled throughout the season and three of these teams made roster changes mid-season to attempt to turn things around. Although the roster changes seemed to better their team, it wasn't enough to defeat the likes of OpTic, nV, Splyce, or Liquid.
Team Kryptik (previously known as Naventic) were the first team to knock a team out of NA Pro League and secure in spot in the Fall Pro League season. Although, this didn't fare well for them as they ended the season 0-7 and only won 4 games out of the 25 played. The Kryptik players are well-known for showing up more focused at live events and looking to finish out the year with a strong performance.
EUROPE
ONSET: Since the dust of HCS London settled, all of the European teams have been grinding harder than I have seen. Every team has been scrimming since the day after London, with a shared motivation to prove the doubters wrong and prove themselves against North American opposition. Infused, Vexed and Excel are all boot-camping in Denver before the event so with this added practice, I would expect to see some big moves made from these squads as the tournament progresses.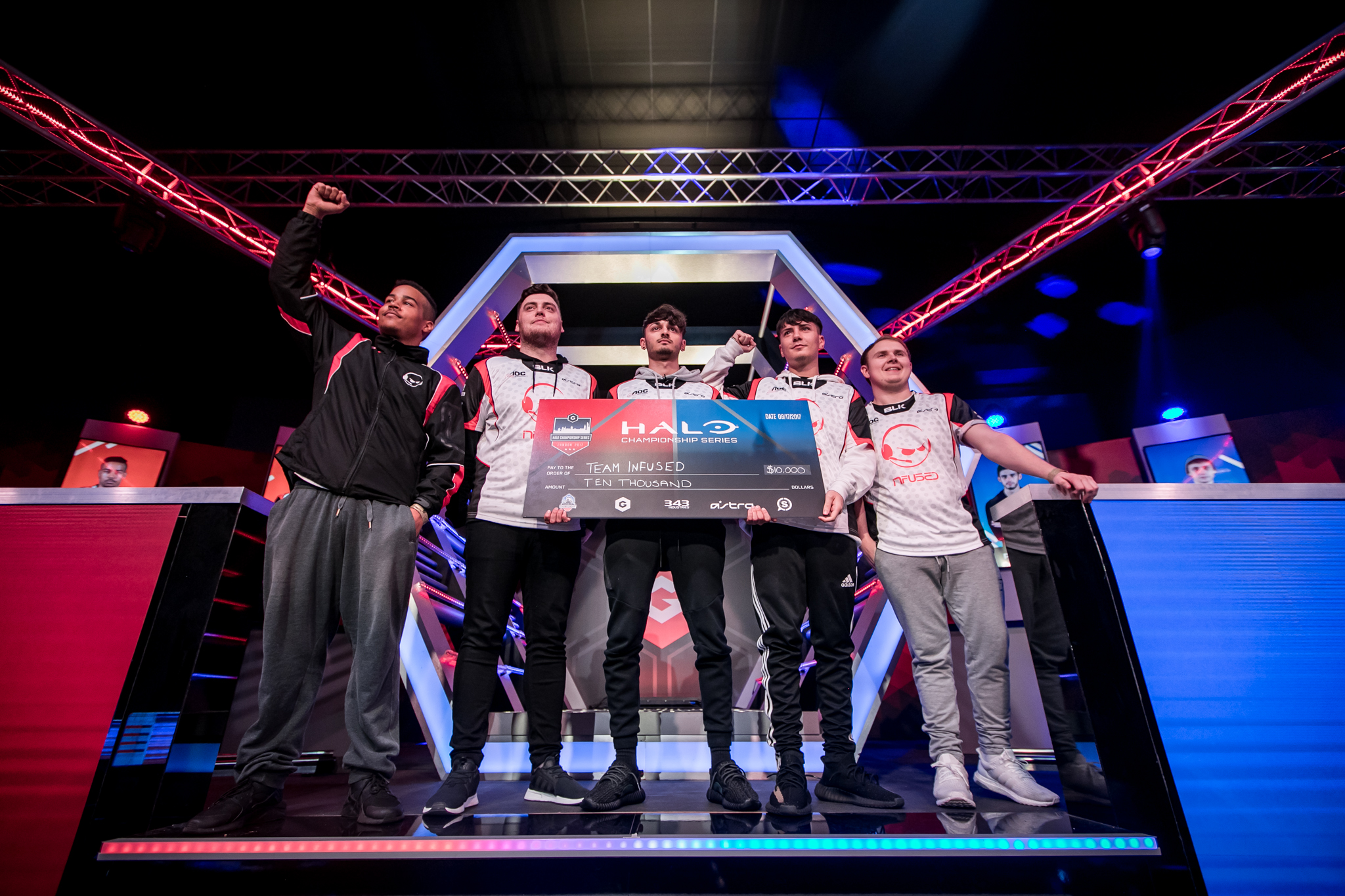 Team Infused win HCS London and earn a trip to DreamHack Denver
CASTER PREDICTIONS
Who wins it all at DreamHack Denver?
StrongSide: Splyce. This roster has come a long way from January earlier this year. With only one roster change across the 6 tournaments they have competed in, Splyce have the comfortable chemistry many teams wish they could have. Splyce also has some of the best if not the best individually skilled players on their roster; Renegade and Shotzzy don't lose very many clutch 1-on-1 battles. Watching Splyce compete at Atlanta you can tell they've sharpened their teamwork, communication, and consistency throughout a three-day tournament which were all things they had previously struggled.
Tsquared: It's hard to go against NV when they finished the 2017 Fall Pro League undefeated - they've fixed their slow starts online but it's going to have to transfer to Denver.
Onset: The team I believe will take the Dreamhack Denver title will be Team EnVyUs. Off the back of a disappointing outing in Atlanta, this squad not only has something to prove to the fans but also themselves. Question marks surrounding Huke's future add even more fuel to the fire, and after a strong showing in the pro league season I can see them coming out on top and returning to form.
Butters: OpTic is going to win it. There is no way they will let another event happen where they take 2nd place.
Walshy: I still find it difficult to choose a team outside of OpTic since it feels like a team needs to be playing exceptionally well to beat OpTic. OpTic is not the powerhouse they were a year ago, but they are still the favorite and most consistent in my eyes.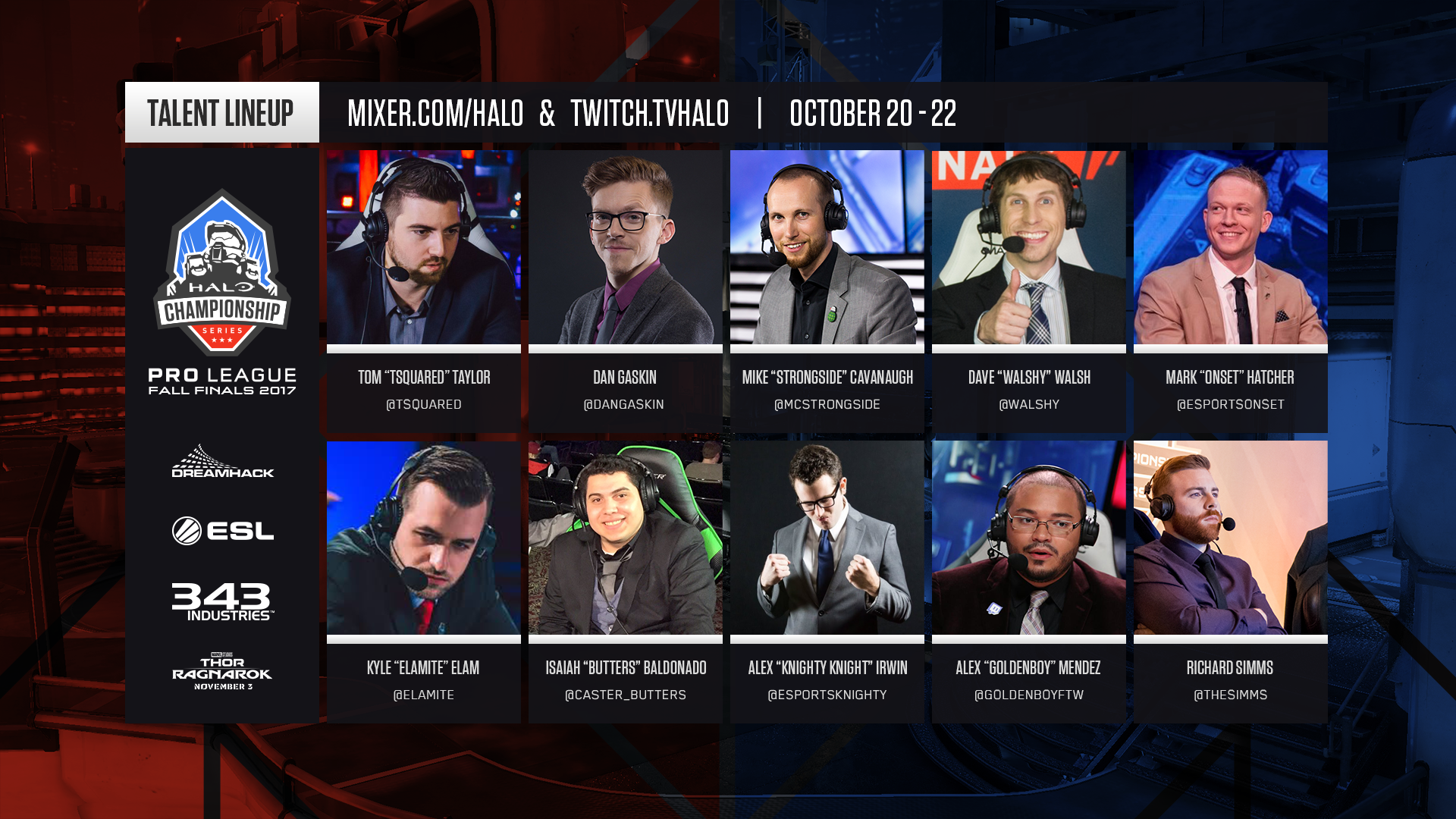 Which team can beat your winning pick?
StrongSide: OpTic Gaming. This squad are as hungry as ever after losing back to back events – something OpTic had never let happen throughout Halo 5. OpTic have been putting in a lot of practice leading up to the event and if Splyce have got too comfortable at the top, OG will punish them for slacking off.
Tsquared: I'm not sure if it's too much of an upset considering the rivalry but I'm looking at a potential NV vs OpTic grand final.
Onset: nV's main opposition will, of course, be OpTic Gaming. These guys have adopted the same religious practice schedule that separated them from so many during Halo 5's life cycle, but now have also stopped streaming their scrims in preparation for Denver. Is this a deliberate ploy to keep their strategy from their opponents? The results will speak for themselves.
Butters: nV would be the one to upset OpTic due to them being undefeated this season, and with Snipedowns recovery, nV will likely avoid a huge potential disadvantage at this event.
Walshy: I think nV has the best chance to beat OpTic because of their decision-making abilities. I don't see nV making as many objective or positioning mistakes compared to rosters like Splyce or Liquid.
As always, for all updates on the Halo Championship Series and Halo esports, follow @HCS on Twitter, and keep it locked to Halo.gg on the web.