The first matches of the HCS Pro League Summer Season are nearly upon us, where the finest Spartans in both North America and Europe will battle week after week for Halo esports glory. This article is a guide to the Summer 2016 Season, and within you'll find the full season schedule, teams and players, format, and more. The next evolution of Halo esports has arrived.
SCHEDULE AND BROADCAST
Week in and week out, you can watch Pro League matches for both Europe and North America on twitch.tv/Halo, brought to you live from the ESL Studios in Burbank, CA and Leicester, UK.
Here's a look at the first week matches premiering this week!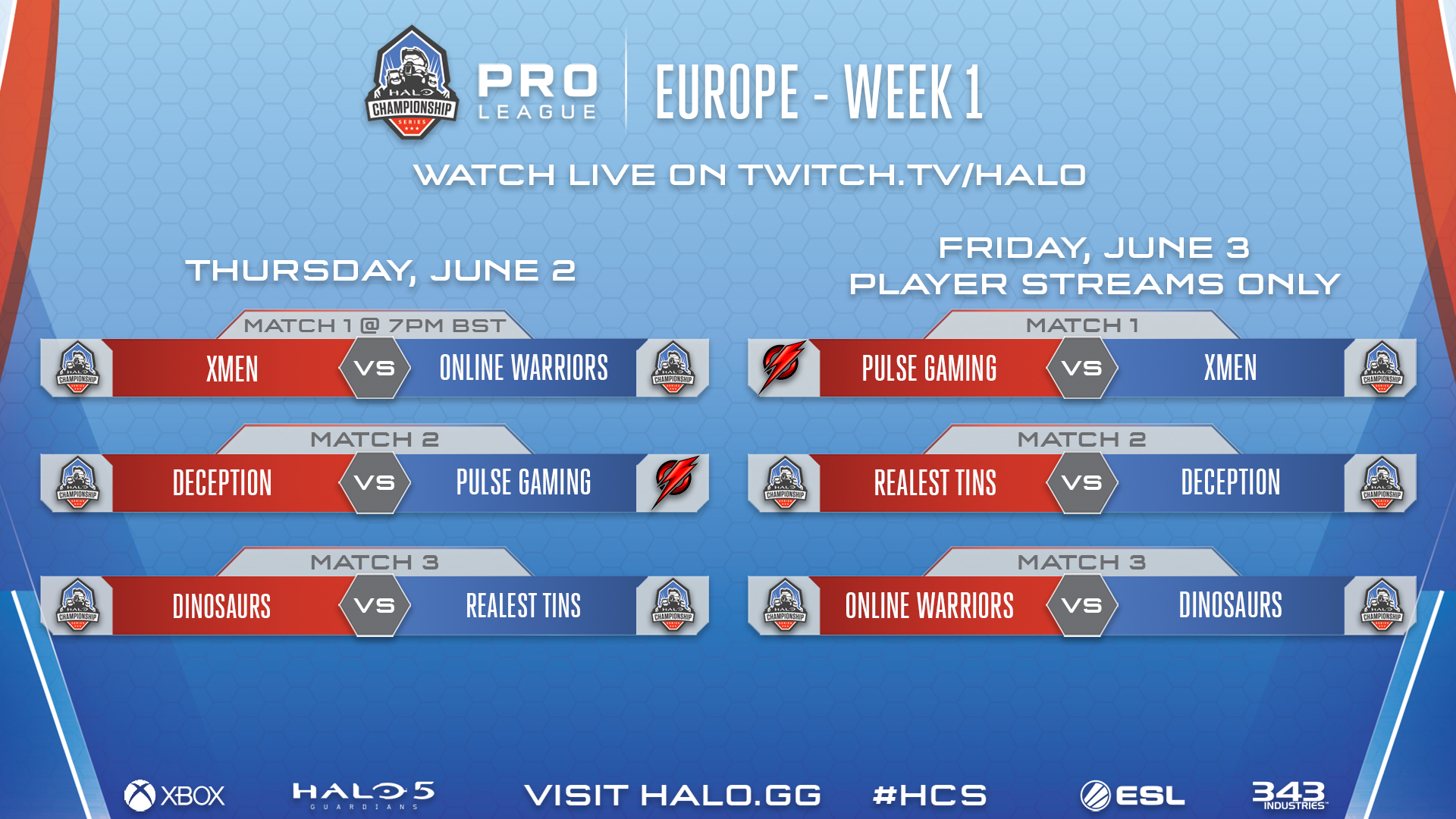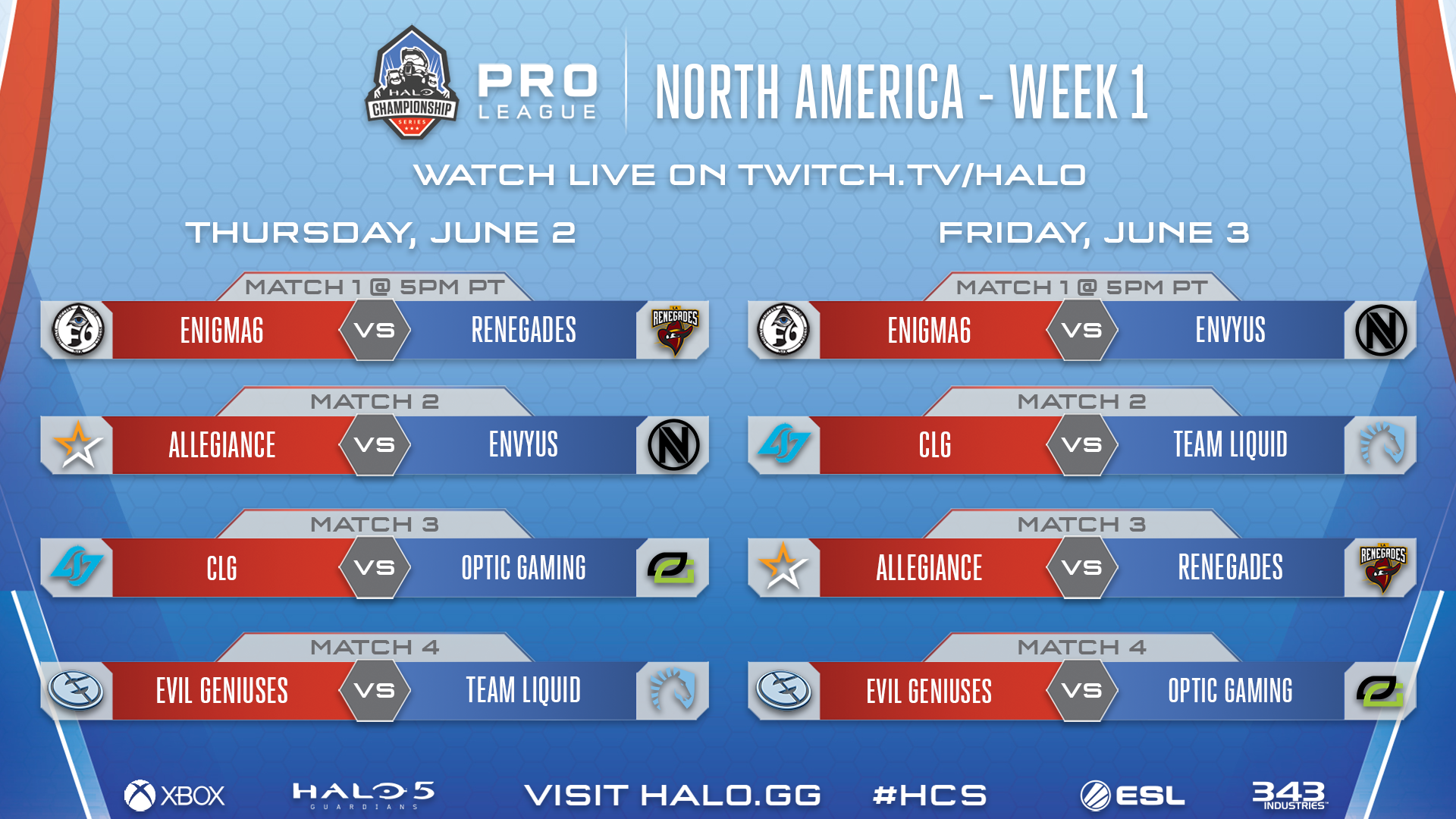 TEAMS & PLAYERS - EUROPE
XMEN
Jimbo, Snipedrone, TuFoxy, Chalkie
Online Warriors
Respectful, Mose, Snakey, Kimbo
Team Infused
Batchford, Phlux, Warlord, Doodle
Pulse Gaming
CxLii, KrYsTaLx, SLG, Solar
Dinosaurs
BUK 20, BUK 57, Flamez, Qristola
Realist Tins
Ramirez, Lunny, Riotz, Speed
TEAM & PLAYERS - NORTH AMERICA
Counter Logic Gaming
Snakebite, Royal 2, Frosty, Lethul
Evil Geniuses
Roy, Lunchbox, Snip3down, Suspector
Team EnVyUs
iGotUrPistola, Rayne, Mikwen, El Town
Enigma6
Huke, bubu dubu, Cratos, Shooter
Team Allegiance
Predevonator, Contra, Ryanoob, Goofy
Renegades
Ninja, Victory X, Commonly, Penguin
Team Liquid
Eco, Assault, Spartan, Stellur
OpTic Gaming
MaNiaC, Str8 Sick, Naded, ACE
FORMAT
In both regions, each team will play each other team twice, for a total of 14 matches in North America and 10 matches in Europe. The top four teams with the best records at the end of the season will head into their respective finals, while the bottom two teams will enter a relegation tournament where they must face the top Open Circuit teams to stay alive and compete in the Fall 2016 Season. In North America, the fifth and sixth ranked teams won't compete at the finals, but their spot in the HCS Pro League will be safe for the next season.
FINALS
The Summer 2016 Finals in Europe will take place at the brand new ESL UK Studios on July 24, and tickets will be available soon.
In North America, we're headed back to Los Angeles for the Summer 2016 Finals on July 29 and July 30. Venue details and ticket information will be coming shortly.
The overall season prize pool available for all players has also been increased, with $225,000 up for grabs in North America, and $100,000 in Europe. In addition to the finals prize pool, all players in both regions will receive a portion of the overall prize pool based on their standing at the end of the season.
MAPS, GAME TYPES, AND VETO SYSTEM
Over the course of the last month, we've been working closely with the HCS pro players as well as gathering the valuable feedback from the Halo community to update and fine tune the Team Arena playlist as well as map layouts. Here's a look at the map rotation that will be used for the start of the Summer 2016 Season of the HCS Pro League, which is also available in the Team Arena playlist:
Capture The Flag: Coliseum, Fathom, Stasis, Truth
Strongholds: Eden, Empire, Plaza, The Rig
Slayer: Coliseum, Eden, Plaza, Regret, The Rig, Truth
Alongside ESL, we've also developed a veto system that will be used for all Pro League matches. With this system, teams will go back and forth, vetoing maps for each game type in a series, until the final layout is determined. We're excited to see this system in action, and curious to see the decisions each team makes against their varying opponents over the course of the season.
Be sure to tweet @HCS and @ESLHalo and let us know which teams you think will come out on top this week. Will CLG's dominance continue? Will the super team XMEN come out on top as many fans expect? There's only one way to find out! Join us on Twitch.tv/Halo this Thursday and Friday.
Best of luck to all teams competing!