In exactly three weeks, we'll be at HCS Indianapolis at Indy PopCon 2015 for the final open tournament in Season 2, and we hope you'll join us! We have some exciting news to drop for those thinking about competing, as well those watching in-person and from home. Let's get right into it.
COMPETITORS: JUNE PRICE DROP & RESERVE PROGRAM
From now until check-in at Indy PopCon on Friday, June 26, a full team pass for HCS Indianapolis is just $200 (a $40 saving). Just use the code "PGL@HCS-INSIDER" at checkout to receive the discount. If you've already grabbed a pass for the full $240, don't worry - you'll be receiving a reimbursement of the difference. Players will pick up their 3-day Indy PopCon pass and HCS Indianapolis event badge at check-in.
If you haven't quite locked on your roster yet, but know you want to compete at HCS Indianapolis, you can now secure a pass with the new HCS Indianapolis Reserve Program. With the Reserve Program, you only need to pay for your portion of the pass ($50), while the rest can be paid during check-in at the tournament. We've made a handy graphic to illustrate the news more clearly: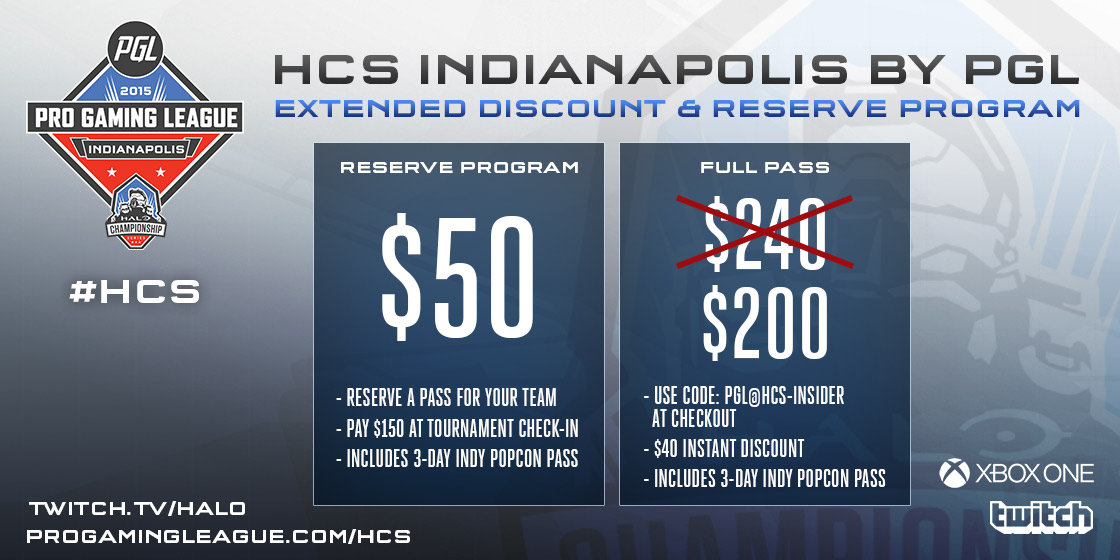 Come test your skills against the best!
SPECTATORS: LIVE & AT HOME AUDIENCE
If you're in the Indianapolis area and want to watch the best Halo teams in the world compete, come by Indy PopCon 2015 where all of the tournament action is going down. Seating will be available for audience members, and you will also have the opportunity to win prizes ranging from t-shirts to custom Xbox One consoles. Hosting the event and providing entertainment between matches will be 343's own Jay Frechette of The Bulletin.
Three-day Indy PopCon passes are still on sale, and can be purchased here for just $45.
If you're looking to watch at home, we've got you covered with Halo Channel and Twitch. As with every HCS LAN tournament, we'll be providing a full broadcast to cover all of the glory, all of the drama, and all of the action live from the tournament.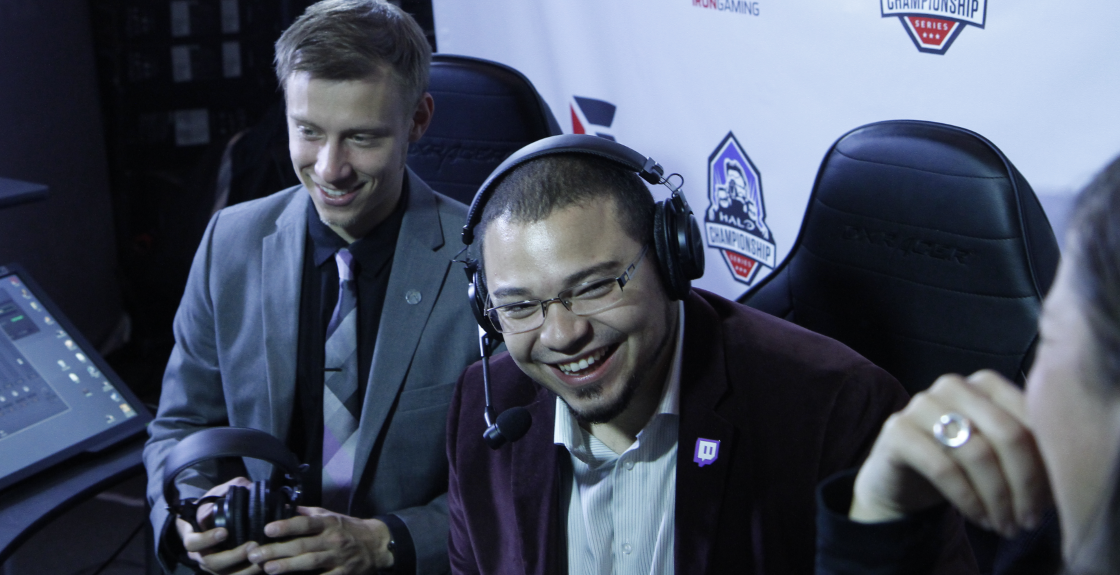 Fans in the audience and at home will make their voice heard in all-new Twitter polls that we're adding to the show. You can vote for which team you think is going to win, or which player will get the most kills. Voting could also land you some awesome prizes including HCS gear, Astro Gaming headsets or a custom Xbox One.
Stakes are high, and this is the last chance for teams to qualify for invitation to the Season 2 Finals by ESL! Will Evil Geniuses hold on to first place? Will an unknown team rise to the occasion to snatch a trip to Burbank? Teams will be fighting tooth and nail for not only their spot in the Top 8, but also for their share of $50,000!
For the latest on the Halo Championship Series and more stay tuned to @Halo and HaloWaypoint.com/HCS.