With the dust of the Halo World Championship firmly settled, and the spectacle of Splyce's dominating run in our collective rear-view mirrors, all eyes have turned towards the Gulf Coast, where the next chapter in Halo esports looks to unfold.
Eager to write new chapters in their respective stories, some of the best Halo players and teams on Earth are gearing up for an epic battle in the Big Easy with HCS New Orleans 2018 by MLG. This global open tournament will kick-off the new season in fantastic fashion, with teams vying for the lion's share of a $250,000 prize pool – and they'll do so under the gaze of even more watchful eyes, as Halo will be teaming up with Gears of War esports to tag team the twice-as-nice event.
Perhaps one of the most intriguing aspects of the event overall is the fact that the HCS 2018 season hold so many unknowns. Defending world champions Splyce – who are coming off a no-doubter of a title run at the HaloWC Finals earlier this year in Seattle – enter the Louisiana fray as a head-scratching eighth seed. Meanwhile three-fourths of the Team EnVyUs roster that placed third at the world championships have now traded in their nV blues for the brilliant orange of Team Reciprocity – and now find themselves in the first seed
Almost everywhere you look, North American rosters have been tossed and turned by the recent silly-season more than any other time in recent memory. And that's not even get into the international teams making their way to the event!
Suffice to say, the field at HCS New Orleans looks to produce potentially one of the most exciting and unexpected results in series history, and we can wait to get it all started!
EVENT DETAILS
For in-depth information on event details, travel, and more, make sure to head over to the official Event Hub at halo.gg/NewOrleans2018.
VENUE
New Orleans Morial Convention Center – Hall H
900 Convention Center Blvd
New Orleans, LA 70130
HOW TO WATCH
EVENT & BROADCAST SCHEDULE
Friday 7/13: 2:00PM CST – 8PM CST
Saturday 7/14: 2:00PM CST – 8PM CST
Sunday 7/15: 11:00AM CST – 7:30PM CST
MAIN STREAM
Mixer | Twitch | MLG | Twitter | YouTube
This broadcast will focus on the action taking place on the Main Stage but will also feature live check-ins to other featured stations, red-zone style, providing viewers at home with more robust coverage of the most important matches happening at that moment. The Main Stream will feature a world-class lineup of outstanding Halo broadcast talent, showcasing some of the finest casters and analysts in the sport.
In addition to the on-air talent, we've also got a stellar observer team that will be 100% dedicated to bringing viewers at home the absolute best experience possible. Lead by Wonderboy and joined by Richie Heinz and Alex "KnightyKnight" Irwin, fans can expect seeing all the action from more angles and perspectives than ever before.
GAMEPLAY STREAM
The Gameplay Stream (Bravo Stream) will focus on a dedicated featured station, providing viewers with an additional avenue to take in top-level tournament action all weekend long. Matches showcased on the Gameplay Stream will be broadcast with a streamlined presentation, focusing completely on the action in-game.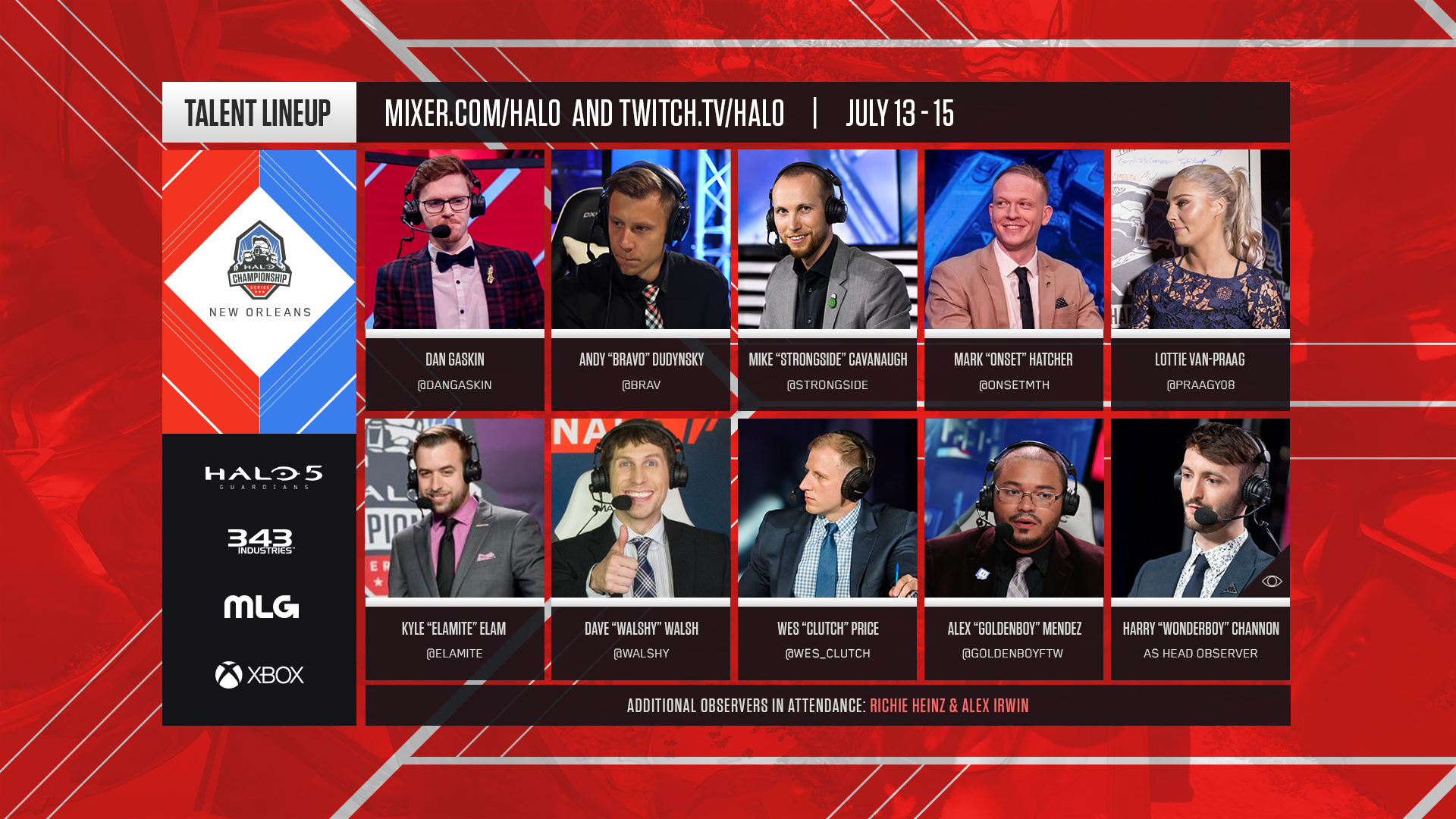 4V4 FORMAT
While HCS New Orleans event takes place in the US, it is open to all players and teams from North America, Europe & Middle East, Latin America, and Australia & New Zealand. Players will compete for over $250,000 in cash, as well as HCS Pro Points towards seeding for the HCS 2018 Finals in November.
12 teams have been qualified directly into groups play based on a combination of the following two criteria: Performance at the 2018 HaloWC Finals, as well as performance in the online tournaments leading up to the event.
While online play is important, group play will help seeding for the championship bracket, and will provide top professional gameplay to watch right out of the gate! Teams that have registered for the event will battle it out in the Open Bracket, where only the top 8 teams will advance.
FFA FORMAT
As with so many other open events in the Halo Championship Series, HCS New Orleans 2018 will feature a $5,000 FFA tournament taking place on Saturday, with action culminating in a 6-player Grand Finals event that will kick off our Championship Sunday broadcast slate. The FFA is open to all players and spectators in attendance, so make sure you arrive early for free registration (10am-1pm CT) for your chance to make a name for yourself!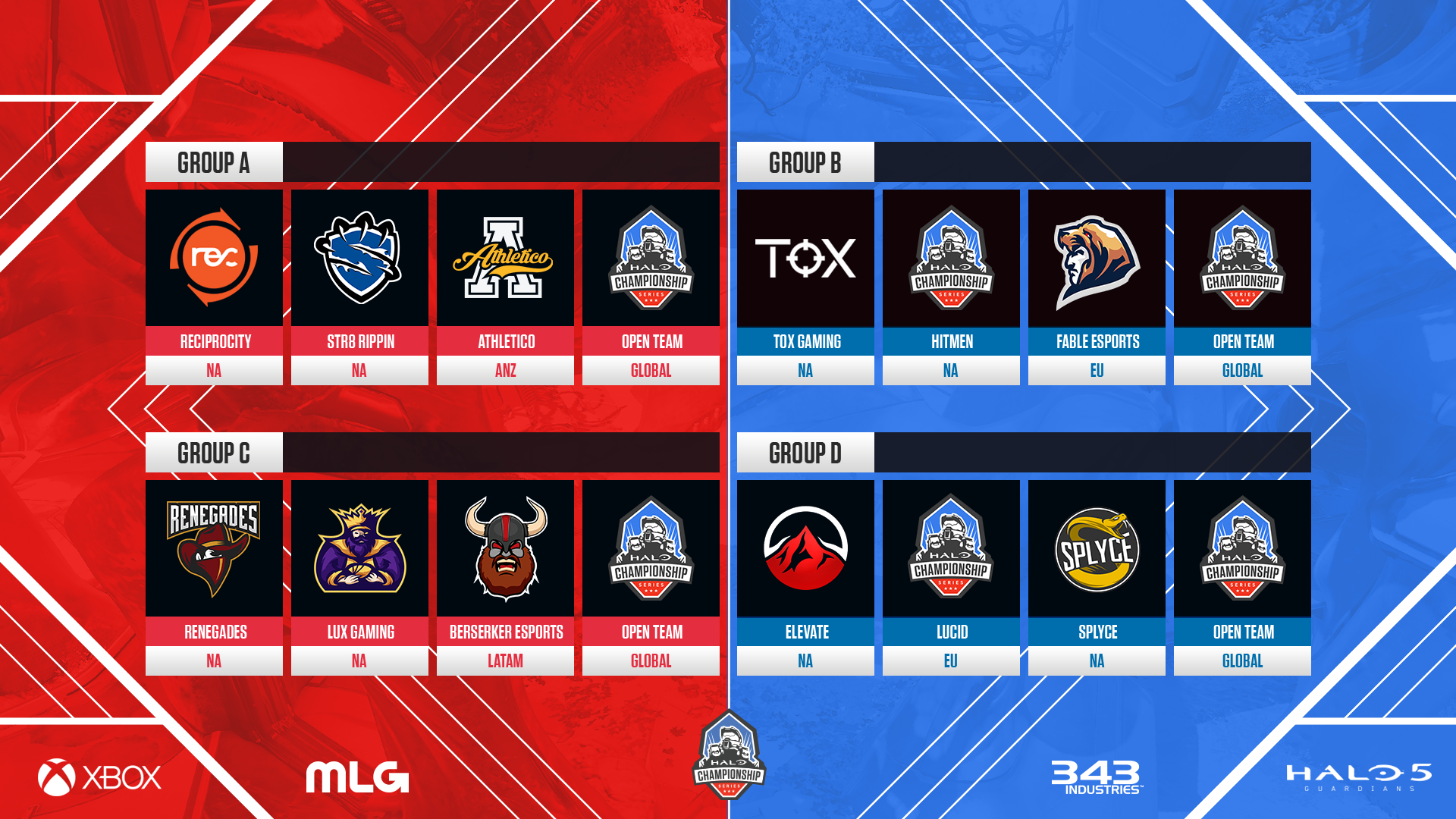 TOP STORIES TO WATCH
Updated Settings – During the offseason, the competitive game settings for the Halo Championship Series underwent a major refresh and update. Three new Forge maps made by the community have been added, including Refuge, a remake of Halo 2's legendary map Sanctuary. Additionally, Oddball has been added to the rotation bringing a whole new dimension to competition rotation. Which teams have the best new strategies? Which teams have put in the most practice? We'll find out in New Orleans.

Splyce and TOX – Coming out of the Halo World Championship, only Splyce and TOX Gaming have emerged from this crazy offseason with their rosters 100% intact, which makes sense considering their 1-2 finishes throughout the past couple seasons. While TOX sit comfortably with the second seed, have they improved enough in the off season to finally take another event win? Splyce on the other hand currently find themselves sitting as the surprising eighth seed – have they simply stumbled out of the gate during online play or will we see a HaloWC hangover in New Orleans?

European Shuffle – Following Team Infused's disappointing finish at the Halo World Championship 2018 Finals, the team went their separate ways and have landed on three different squads. In New Orleans, only Kimbo and Respectful have qualified alongside familiar and past championship teammate TuFoxy, as well as France's number one player and fan favorite, SLG. Is this the team that will once again break into the Top 6 as Team Infused themselves did just one year ago?

Dark Horses – As always, every tournament has a few teams looking to fly under the radar and turn some heads on mainstage. Here are a few squads in particular to keep an eye out for this weekend:
Hitmen (Ace, bubu dubu, Demon D, Artic) – a combination of championship-caliber veterans mixed with younger and hungry talent could spell upset for teams that might be overlooking this sixth seed.
Renegades (Mikwen, APG, Neptune, Penguin) – Half of Renegades from last season have secured half of the former Team Reciprocity lineup to form this new and improved Renegades roster. While they have been performing exceptionally well in the online 2k, it wouldn't surprise us to see this team also contend for the title down in New Orleans. If they aren't careful, unsuspecting opponents could find themselves sent to the Elimination Bracket sooner than they thought.
Elevate (Spartan, El Town, Sabinater, Falcated) – This team is out to prove the doubters and naysayers wrong as they've collectively struggled to find consistency at the top of the league despite heroic individual efforts. Could this be the combination that shakes up the scene and breaks into the Top 3?
TOP ROSTERS
Reciprocity (NA)
Snip3down
Saiyan
TriPPPeY
Pistola
TOX (NA)
SnakeBite
LethuL
Frosty
Royal2
Renegades (NA)
MiKWeN
Penguin
APG
NeptunE
Elevate (NA)
eL_Town
Sabinater
Spartan
Falcated
Str8 Rippin (NA)
Nemassist
Dastroyed
Str8Sick
Rammy
Hitmen (NA)
Ace
Bubudubu
D3M0N_D
Artic
Lux (NA)
SuperCC
Envore
Valkryie
Taulek
Splyce (NA)
Eco
Renegade
StelluR
Shotzzy
Lucid (EU)
Tufoxy
Respectful
Kimbo
SLG
Fable eSports (EU)
Shady
ShabbyDagger
SolaR
riotz
Athletico (ANZ)
PIProns
BZIIRK
Colt
Slayz
Berserker eSports (LATAM)
GEARS ESPORTS

As we mentioned before, HCS New Orleans 2018 by MLG will be shared with our friends at Gears of War esports, who look to bring their own rowdy and raucous regime into the fold, adding to the overall excitement of this incredible event. Top Gears esports teams from around the world will be competing for their own $250k prize pool, and you can catch some of their action between your favorite Halo matches at the links below.
mixer.com/GearsOfWar | twitch.tv/GearsOfWar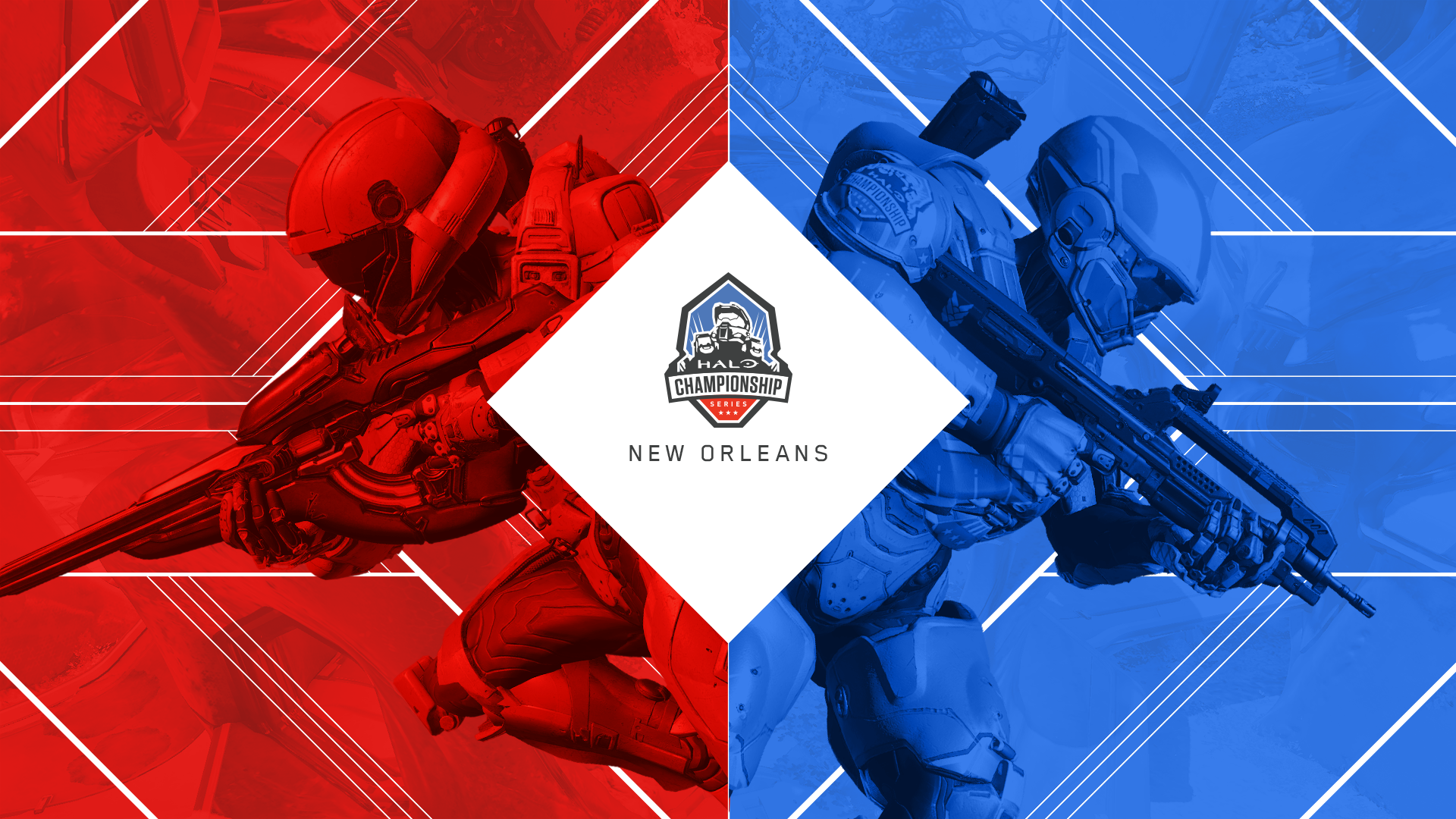 From gumbo to gunplay, HCS New Orleans is shaping up to be another unforgettable event on the Halo esports calendar – the action commences soon, and we'll be right there with you for every moment of it! For all the latest on the Halo Championship Series and the Halo World Championship, keep it locked to Halo.gg and follow @HCS and @MLG on Twitter.