Day 1 of the first ESL Online Cup kicked off today and teams from around North America registered to qualify for the Legendary Bracket in the Day 2 Sunday Cup. After all the headshots, flag caps, and clutch Oddball plays, we have our 8 teams who will advance to play in the Legendary Bracket. Waiting in the Legendary Bracket, are Denial, Cloud9 and the other the top 8 teams overall in the HCS. Just last month these teams fought tooth and nail at Iron Games HCS Atlanta and are now sitting atop the league as today's qualifiers attempt to dethrone them. Here are the 8 teams who will test their might tomorrow against the best of the best:
Congratulations to the top 8 teams from Day 1. Beginning Sunday at 1PM PDT these 8 teams will face off against the Top 8 teams overall in the HCS in the Legendary Bracket. For a full breakdown of the Online Cup format, take a look at the graphic below: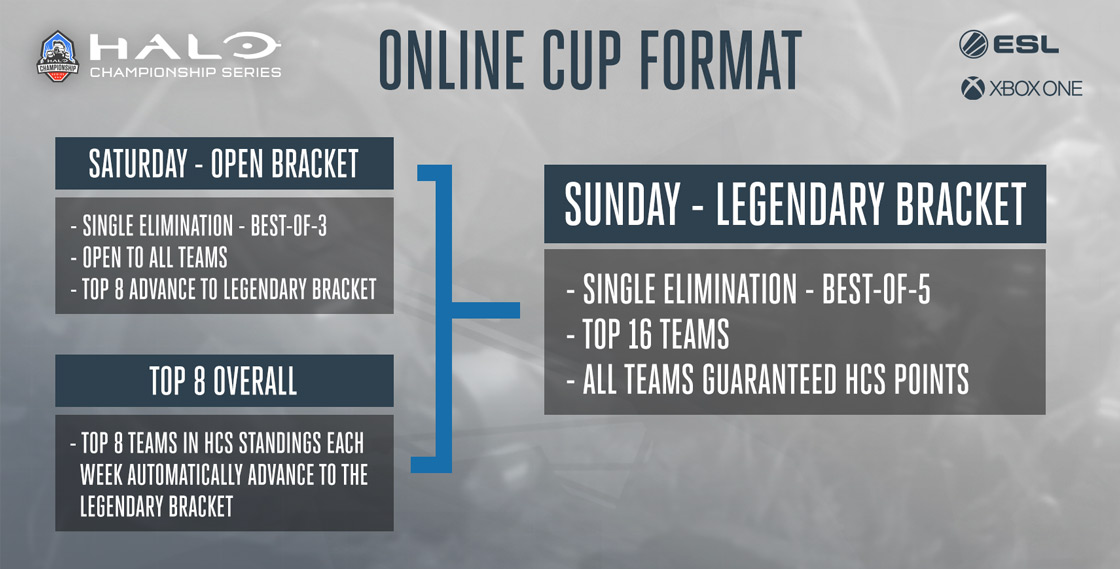 Want to catch all of the action tomorrow? We've got you covered! We'll be hosting the streams of the top HCS Pros as they battle through the Legendary Bracket on Twitch.tv/Halo, so you won't miss a beat. Here's what the teams will be playing for tomorrow:
1st - $1,500 - 150 HCS Points
2nd - $1,000 - 100 HCS Points
3rd - $600 - 75 HCS Points
4th - $300 - 50 HCS Points
5th - 6th - 35 HCS Points
7th - 8th - 25 HCS Points
9th - 16th - 15 HCS Points
Will Evil Geniuses continue their reign over the Halo Championship Series? Or will Denial eSports finally get their revenge? We'll find out tomorrow! See you 1PM PDT on Twitch.tv/Halo! Best of luck to all competitors.