At the Halo World Championship 2017 Finals, a host of eager lone-wolf Spartans took to Burbank battlefields in a quest to claim the latest FFA crown. When the FFA Grand Finals came to a close on Championship Sunday main stage, Rasa Libre stood atop the main stage as a new Halo FFA king.
With exciting changes in the Halo esports landscape afoot, we caught up with Rasa to get his thoughts on where he currently sits in his competitive Halo career.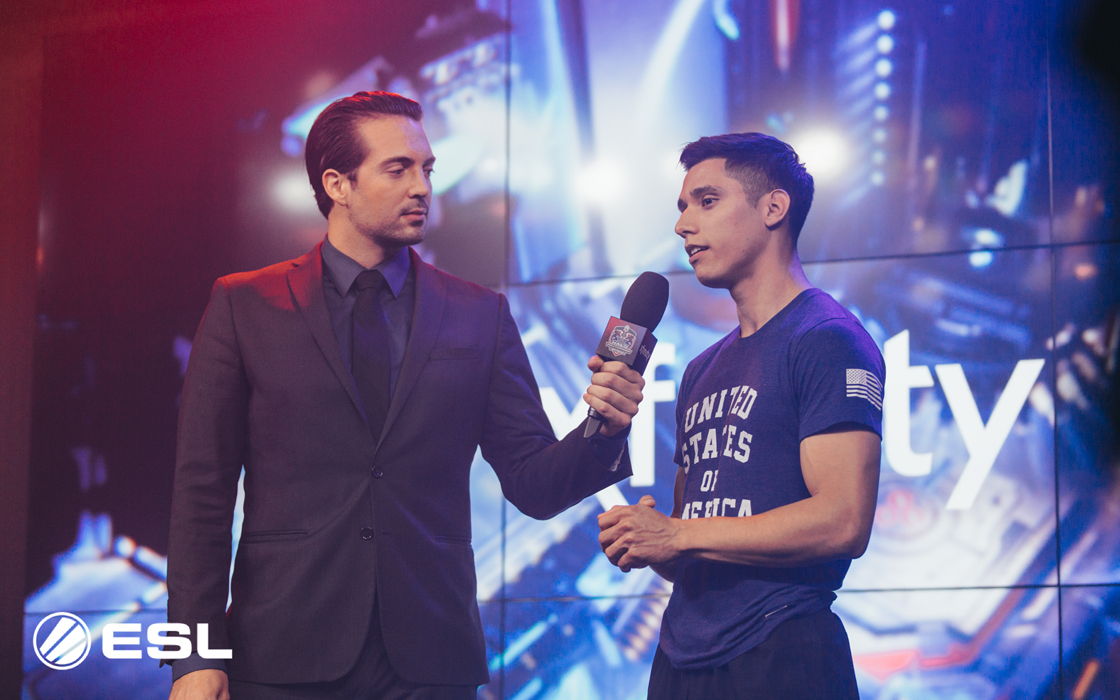 HCS: First of all, big congrats once more for your FFA win a the HaloWC 2017 Finals! To start out, when did you start playing Halo?
RASA: I started my Halo journey with Halo 3 back in 2007 at the age of thirteen. Around that same time, I found out about the competitive scene and instantly became hooked – I'm a Halo 3 purist to say the least.
HCS: What does your practice schedule like?
RASA: I'm on playing seven days a week either scrimming or playing with friends. I usually play in the afternoons and try to be off by before 10:00pm. My time during the week is limited so I try to make the most of each session by getting great practice, and watching scrims, film, etc...
HCS: What would you say your gameplay strengths are? Sniping, Objective, Slays, etc.
RASA: I try to be the player that can do everything. Specializing in a specific skill isn't truly beneficial in my eyes. Competitive Halo requires players to be versatile to handle a broad spectrum of situations. When it comes to 4v4, I don't want the sniper or rockets. My mind is locked on the objective and getting the win. If I happen to stumble across rockets/sniper or accidentally get the "Combat Evolved" medal, then.... I'll probably choke.
HCS: What controller setting do you use?
RASA: Bumper Jumper, Sensitivity is 4/3 with Inner Dead Zone 0% and Outer Dead Zone 0%
HCS: What initiated your drive to play Halo competitively?
RASA: I've always been a competitive athlete growing and drive comes from my desire to be great. My love for both strategy and Halo combined is what led to me playing competitively. To be able to test yourself against other competitors is exciting and challenging. Whether it's Halo, boxing, cross country, ultimate frisbee, etc. I'm coming to win.
HCS: After winning the Free-For-All tournament at the HaloWC 2017 Finals, are you looking to make a push into the competitive 4v4 scene?
RASA: After winning the Free-For-All my mind was set on "retiring," if you can call it that. However, my family flooded me with support and wanted to see me continue playing in tournaments. A couple family members told me I was crazy for quitting now. My girl-friend was also in this boat, but she was really supportive and constructive. She asked me, "what's the next step, streaming? Let's get you a good computer to stream, and build a fan base."
Believe me I was absolutely laughing at the notion of streaming and continuing to play. However, it would seem crazy to stop now after winning my first major competition. I've always hoped to be on main-stage and to be there conquering was unforgettable. I will be making a pushing into the 4v4 scene, nothing is official yet, but I will be making an announcement soon.
HCS: Nice! Great to hear you are looking at continuing to compete – where do you draw your drive and inspiration from?
RASA: Living life to my God-given potential is what drives me every day. My faith as a Christian has provided tons of inspiration and I wouldn't be who I am without it. What drives me is leaving a legacy behind that serves as an example to my brothers, friends and other close family members. Lastly, my girlfriend inspires and drives me to press forward every day on my job and goals. Her support and patience is vital to my growth. She's a big reason why I'm continuing to play Halo 5 competitively.
HCS: Sounds awesome, Rasa. It's great to hear about all the intangibles that go into helping shape a player's career, and we're stoked you joined us to share some of your story and thoughts today. Any shout outs before we go?
RASA: Shout outs to my God, my family, friends and the Halo community. Also, I want to give ESL and their staff a special thanks for hosting the Halo World Championship. Lastly, to 343 Industries for making Halo 5 and for working with the competitive community on these new settings. Your hard work is appreciated. And if anyone wants to follow me you can do so @rasa_libre on Twitter.
With the HCS Pro League Summer 2017 Season fast-approaching, we're just getting started on more exciting moments in Halo esports. For all updates on the Halo Championship Series and Halo esports, follow @HCS on Twitter, and keep it locked to Halo.gg on the web.