California, here we come… Heading into this weekend, only two teams have locked up spots in the North American Halo Championship Series: Pro League Summer 2016 Season – Counter Logic Gaming claimed the first spot with their dominant win in the Halo World Championships this March, with their rivals Evil Geniuses sliding into the second spot by virtue of their outstanding win in the HCS Pro League Invitational at PAX East 2016 by ESL this April.
This brings us to the North American Summer Qualifier, which kicked off on the virtual battlefields this past weekend. Sixteen teams took to Xbox Live in the online round of the Summer Qualifier to narrow the field down to the top eight teams in the North American region. These eight teams are now on their way to Burbank, California to compete in person at the ESL Studio on May 8. From there, they will battle it out in double elimination groups with the top four teams punching their tickets to the HCS Pro League for the Summer 2016 Season.
Let's take a look at the eight teams heading to the west coast to capture Halo esports glory – and maybe even a nab a solid tan while they're at it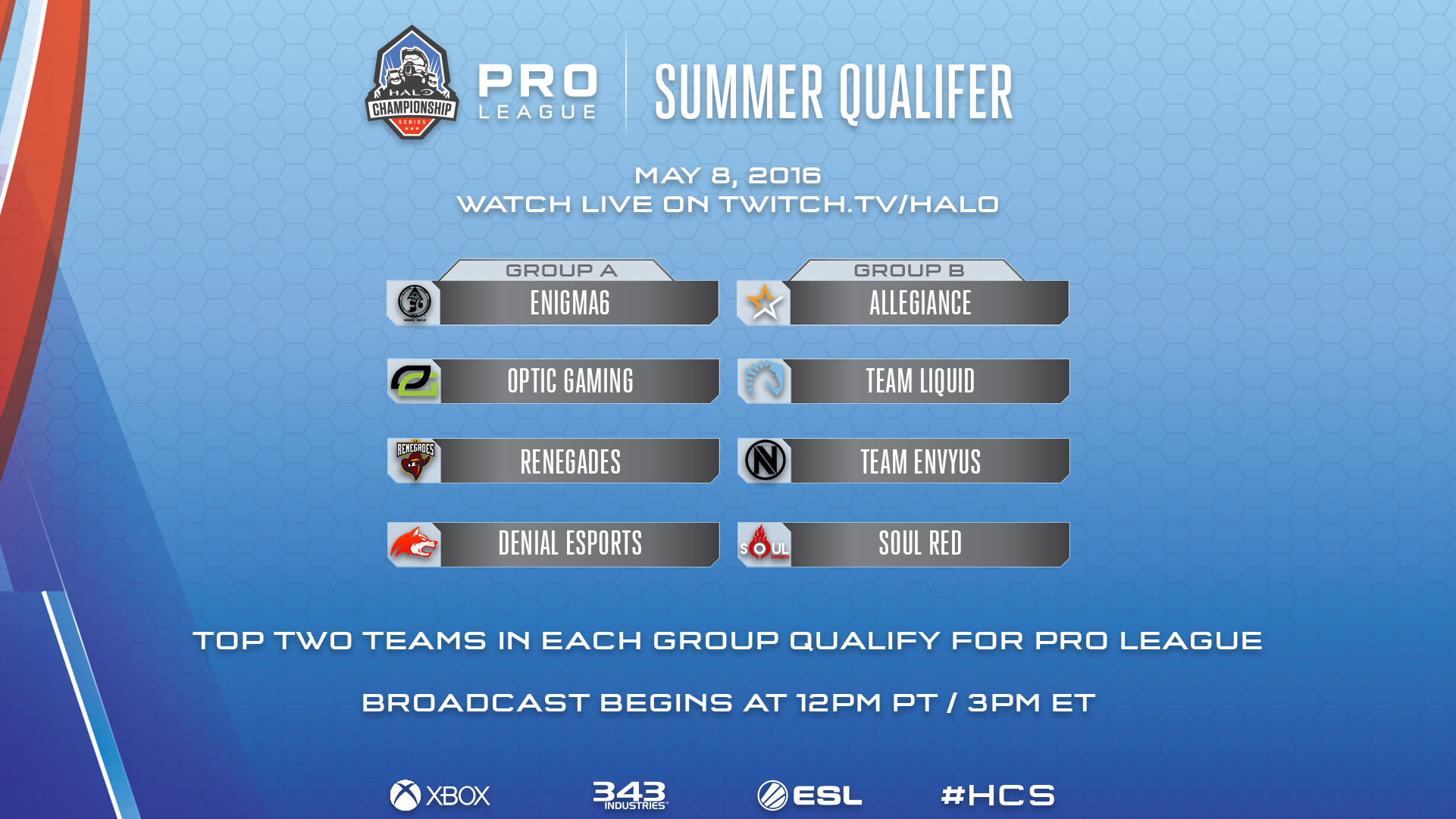 The HCS Pro League 2016 North American Summer Qualifier will take place at the ESL Studios in Burbank, California on May 8th. Veteran Halo casters Strongside, Goldenboy, and Gaskin will be bringing you all the action starting at 12pm PT on twitch.tv/Halo as we find out which four North American teams will stake their claim to a spot in the HCS Pro League Summer 2016 Season.
In addition, May 8th will also see eight of the top European Halo teams - based on their performance in the Halo World Championship - battle it out in the European Summer Qualifier. This qualifier will see the top two teams advance directly to the European HCS Pro League, while the remaining six will drop to the Last Chance Qualifier. Let's meet the teams and players who will be fighting for glory abroad…
DECEPTION
Doodle, Batchford, Warlord, Flux
ONLINE WARRIORS
Snakey, Mose, Kimbo, Respectful
MOVEMENT
Lunny, Flamez, Vexzeus, Qristola
PULSE GAMING
Solar, CXLII, SLG, Krystalx
XMEN
Tufoxy, Jimbo, Snipedrone, Chalkie
THE DINOSAURS
BUK20, BUK57, Ramirez, Riotz
VITALITY
Hborg, Puni, Talic, Fragxr
PENTA SPORTS
Septic, Anima, Meentlaan, Alpha
As always, for all the latest Halo Championship Series news, keep your internet dials locked on to Halo.gg, and follow @Halo, @HCS, and @ESLhalo on Twitter.