With the dust settled on an incredible Halo World Championship 2017 Finals, we're excited to begin the next chapter of the Halo Championship Series. The HCS Summer 2017 Season is shaping up to be another landmark moment in Halo esports, and we couldn't be more eager to get the next evolution underway. Today, we're excited to discuss a few details for the North American Pro League, with more details on Europe, DreamHack, Open Circuit, Last Chance Qualifiers, and gameplay settings on the way.
The return of the HCS Pro League is nigh upon us, ushering in yet another epic season of top-flight competitive Halo play through awesome open events in destinations like Daytona, Atlanta, and Denver, positioned alongside riveting online matchdays – all of which will showcase the top pro and amateur Halo teams and players fighting for both gain and glory.
Last week, we released the opening salvo of details for brand new settings coming to Halo 5 HCS play, and just yesterday, we released version 1 of these settings in the HCS Summer Preview playlist. All along the way, we've been hard at work analyzing and incorporating feedback from vital sources with the aim to create the most competitive and rewarding Halo 5 esports experience yet, for both players and spectators alike.
NA Pro League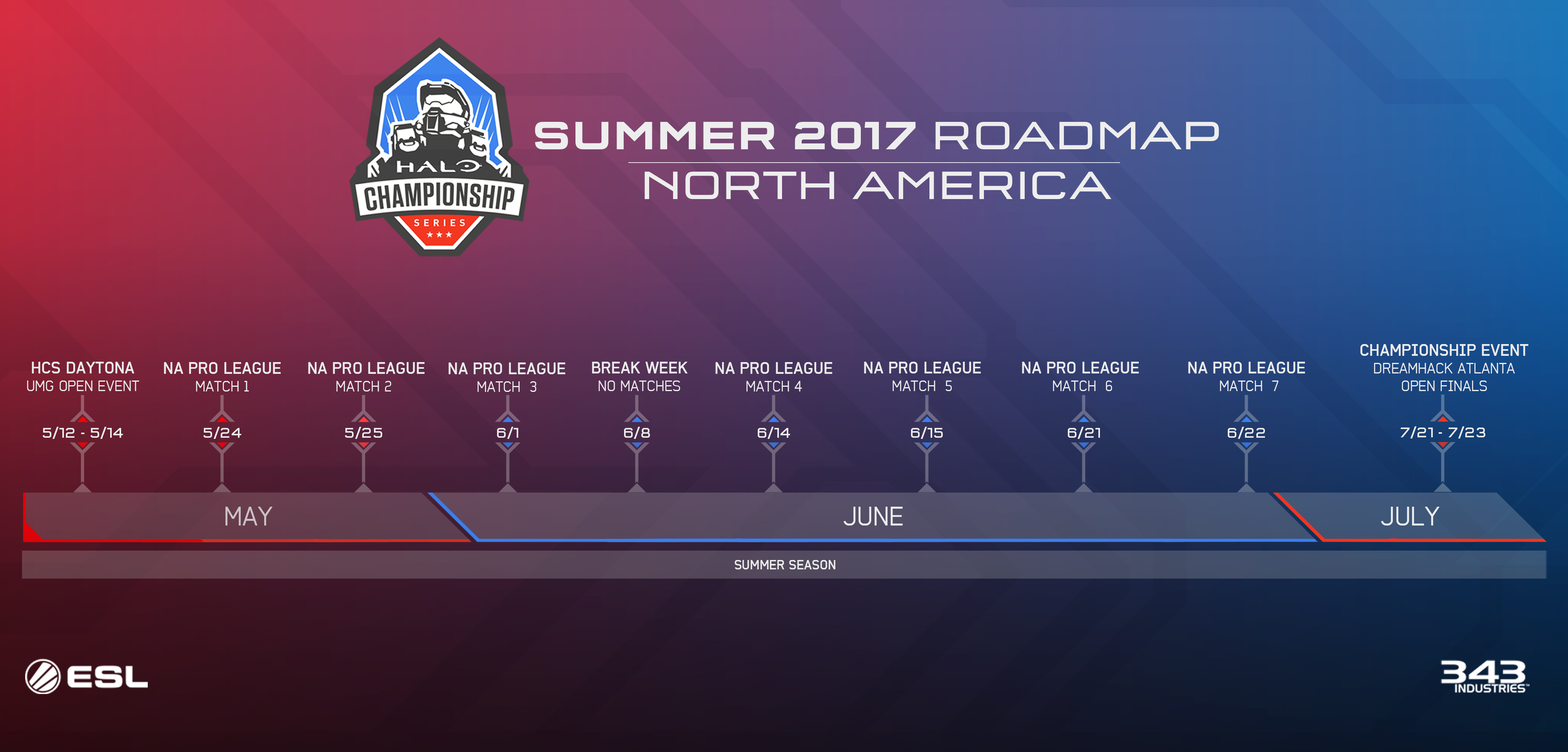 NA Pro League action returns on Thursday, May 24 at 4:30 PT! Tune in each week on Wednesdays and Thursdays on beam.pro/Halo and twitch.tv/Halo to see the best teams in the world duke it out against one another. The season will culminate in an open final championship event at DreamHack Atlanta, with all pro teams – and plenty of hungry amateur squads – fighting for not only Pro League spots via the Open Bracket, but also a top finish in the Championship Bracket. That's right - based on community feedback, this means that now any team in the open bracket can compete at the finals event and vie for the HCS Summer Season 2017 title alongside pro teams.
We're looking forward to this brand-new format, and hope you'll be joining us for the epic open finals at DreamHack Atlanta.
Following the HCS Pro League Fall 2016 Season and Halo World Championship 2017, here is the North American Pro League lineup:
OpTic Gaming
Team EnVyUs
Team Liquid
Str8 Rippin
Luminosity Gaming
TMMT Crowd Pleasers
Evil Geniuses
Winner of the Pro League LCQ
With one last Pro League spot remaining, it'll all come down to the HCS Pro League LCQ. We know many teams are anxiously awaiting these details, and we're working with partners to lock down specifics and announce final details as soon as possible – stay tuned for LCQ info this coming week. The competition will be fierce, and we can't wait to see who will take the final spot.
Summer 2017 Finals at dreamhack atlanta
Following the regular season, the top six North American Pro League teams will head to the DreamHack Atlanta open Championship event as they auto-qualify for the Championship Bracket. This year, though, pro teams won't only have to worry about their peers, but also top amateur teams looking to make a statement. The top Open Bracket rosters will advance to the Championship Bracket to compete for the Finals prize pool of over $100,000, with the final prizing determined by additional crowdfunding.
The seventh and eighth place North American HCS Pro League teams will be given preferential placement in the Open Bracket, and all eligible teams in the Open Bracket will challenge them for the two available Pro League spots. The top two North American Open Bracket teams will earn a spot in the NA Fall 2017 HCS Pro League season.
Be on the lookout for more details on the DreamHack finals event as the event approaches.
Looking ahead to Fall 2017
After the summer action concludes and the Pro League lineup is set, the HCS Pro League Fall 2017 Season will kick off on August 23 and conclude with another open finals championship event at DreamHack Denver from October 20-22.
With all this in mind, it's an understatement to say how eager we are to get things kicked off down in beautiful and sunny Florida with HCS Daytona, May 12-14. The action kicks off on Friday, and you can be part of it all be purchasing tickets to the event here, or tuning in online at beam.pro/Halo or twitch.tv/Halo.
And don't forget, you can test your own skills alongside the rest of the world by jumping into the HCS Summer Preview playlist in Halo 5 right now to try out version 1 of the Summer Season settings. Who knows, maybe you'll discover you've got what it takes to be raising that championship trophy next year…
Stay tuned for more information on the Europe, DreamHack Championship Event, Open Circuit, settings updates, and more.
We'll see you on the battlefield, Spartans.