After two incredible and action-packed events in Halo World Championship 2017 and HCS Daytona, the HCS Pro League by ESL is primed and ready to get back underway with the opening week of the Summer 2017 Season. The combination of new competitive settings, new faces, and a tantalizing season finals at Dreamhack Atlanta have fans of all walks chomping at the bit to see what this next chapter of Halo esports will hold.
While OpTic Gaming are the current reigning – and repeat – Halo World Champions, it's Team EnVyUs that defends the titles of both the last big event – HCS Daytona – and the last HCS Pro League Season, as nV took down OpTic at the Fall Finals 2016.
However, while all eyes may inevitably turn towards the "big two" at the top of the standings, recent changes in both game settings and team rosters should have fans keeping a very close watch on the rest of the field, as the standings can swing on the smallest misstep, or biggest clutch play. One thing is for sure, we can't wait to get it all underway this week.
LCQ RECAP
Following their impressive respective showings at HCS Daytona, it came as a surprise to few that this past weekend's HCS Pro League Last Chance Qualifier (LCQ) came down to Splyce and Oxygen Supremacy. What was surprising was the unbelieveable level of competition on display that made both Splyce and Oxygen Supremacy's road to the Grand Finals anything but pedestrian. Squads like the Brownies and the alphabetically acclaimed ABCDE gave viewers a fantastic show, despite eventually falling just short.
In the Grand Finals, Splyce fought off an inspired performance by Oxygen Supremacy. The series shifted dramatically on an incredible 3-2 comeback victory by Splyce that turned what would have been a 3-1 series deficit into a momentum-swinging 2-2 tie. From there, Splyce turned everything up to eleven, rolling through Truth Slayer and Empire Strongholds in Games 5 and 6 respectively to punctuate a 4-2 Grand Finals victory that sent them to the North American HCS Pro League for the Summer 2017 Season.
WEEK 1 MATCHUPS
Week 1 matches for North America kick off on May 24, and right out of the gate we've got an amazing slate of head-to-head battles to keep tabs on, as new lineups and old rivalries collide, with each squad wanting to start the Summer 2017 Season off with a W. Punctuating the opening salvo of competition is our Match of the Week, which sees the next chapter in the OpTic Gaming vs Team EnVyUs rivalry unfold on Thursday, May 25. Let's take a look at the full schedule: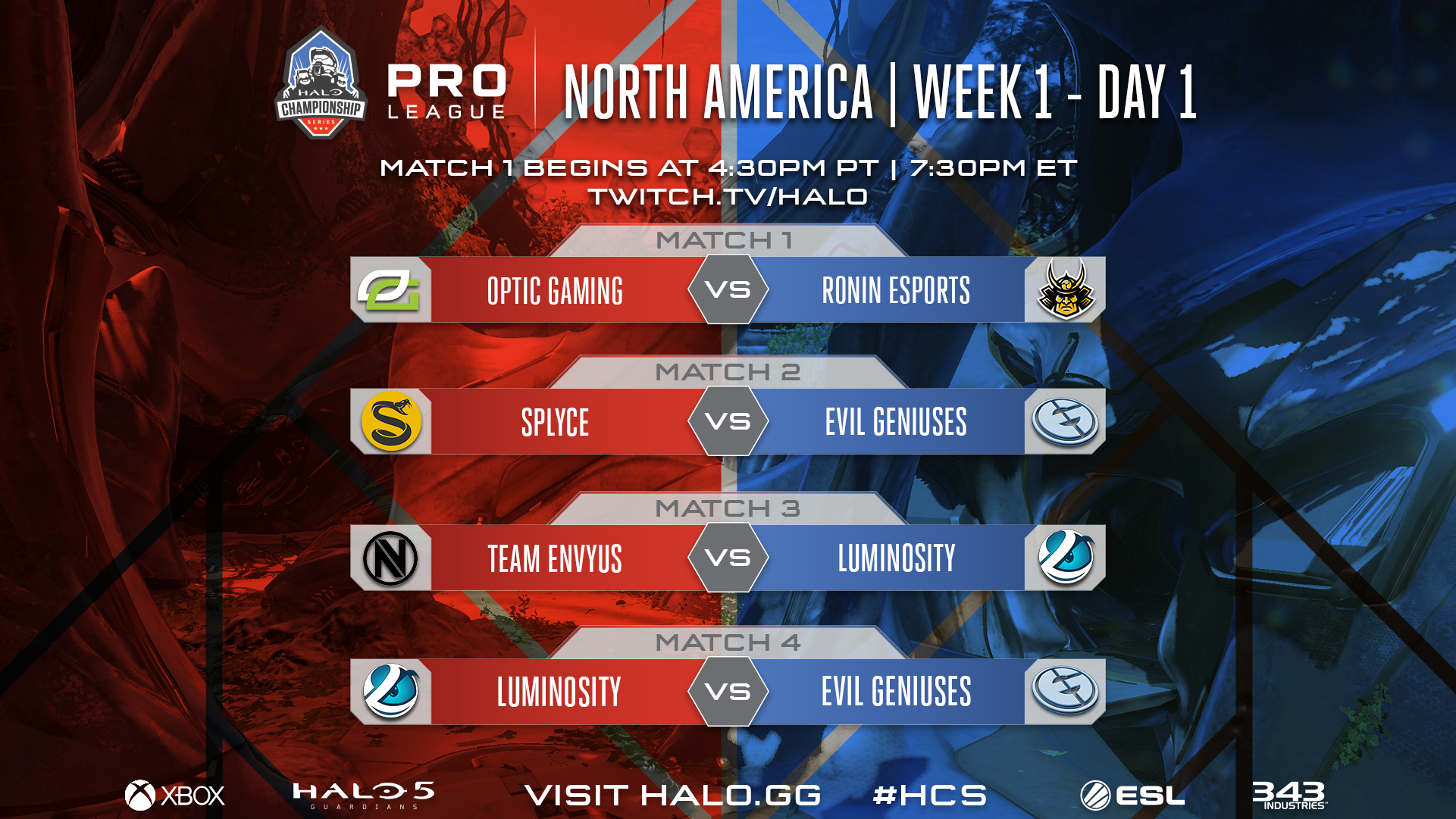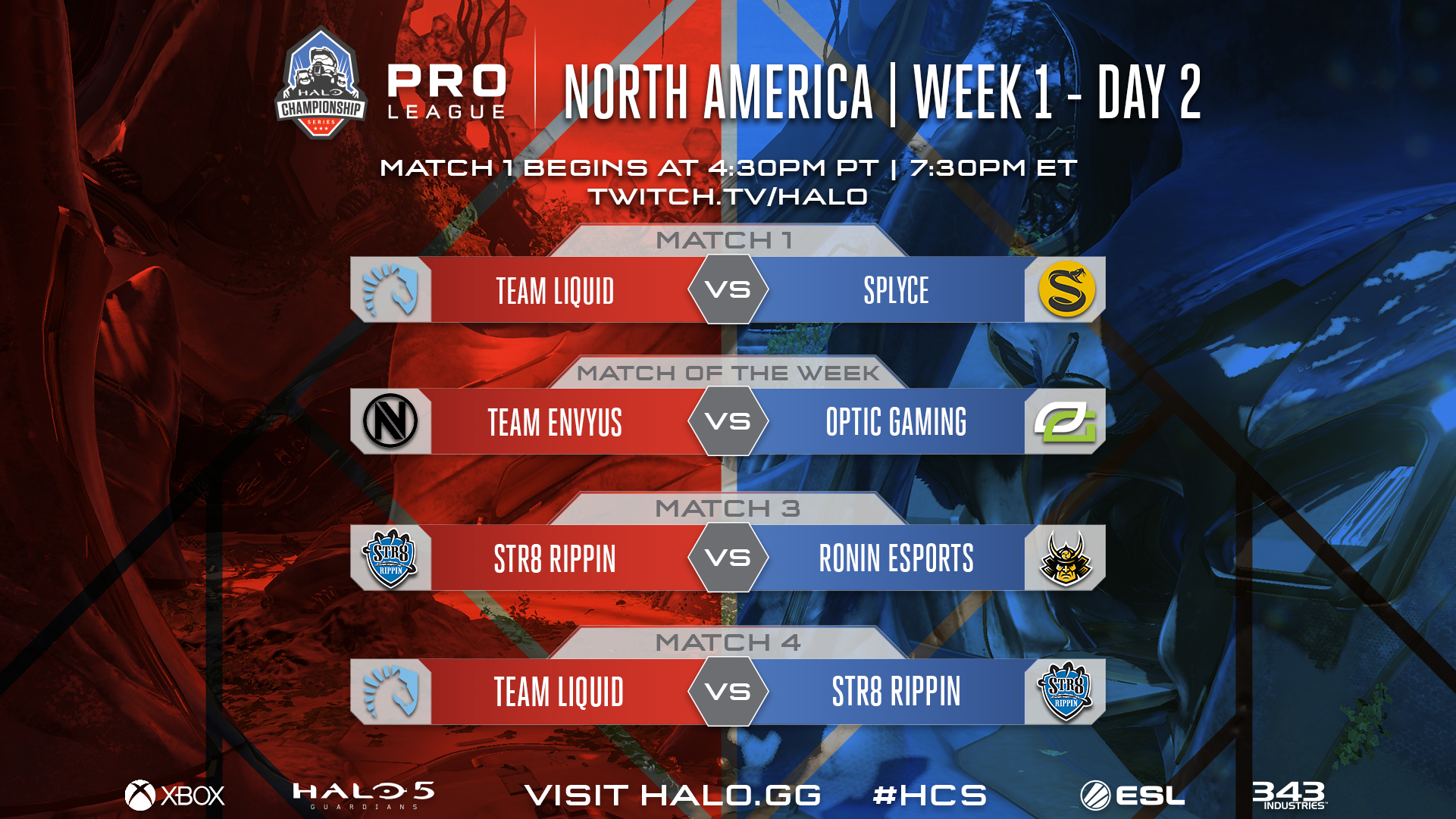 *Note: You'll notice that EG and Luminosity play twice on Wednesday and do not play Thursday, and Str8 Rippin and Team Liquid play twice on Thursday and do not play Wednesday. This schedule was put together in cooperation with pro teams to help avoid conflicts with other events, and following weeks will follow a normal schedule.
HOW TO WATCH
Catch all the action streamed live on beam.pro/Halo & twitch.tv/Halo, with veteran Halo stalwarts Tsquared and Elamite bringing it all to life from the booth.
ROSTERS
Evil Geniuses
Roy
Lunchbox
Tapping Buttons
Falcated
OGRE2 (Coach)
CHANGES: Removed ContrA & OGRE 2 + added Naded & Falcated, Naded & Towey (Coach) both retired post-HCS Daytona, and EG has since added Tapping Buttons & OGRE2 (Coach)
Str8 Rippin
Ace
aPG
Heinz
Danoxide
TSquared (Coach)
CHANGES: Removed Renegade + added Danoxide
RONIN ESPORTS
Cratos
Spartan
Suspector
Str8 SicK
Showtime (Coach)
CHANGES: Removed Danoxide & Naded + added Spartan & Suspector
Luminosity
Tripppey
Victory X
Ninja
Saiyan
CHANGES: Removed eL ToWn + added Tripppey
Team EnVyUs
Mikwen
Pistola
Snip3down
Huke
Elumnite (Coach)
CHANGES: NO ROSTER CHANGES
OpTic Gaming
Frosty
Royal 2
SnakeBite
Lethul
Clutch (Coach)
CHANGES: NO ROSTER CHANGES
Team Liquid
Rayne
Penguin
Eco
Stellur
Symbolic (Coach)
CHANGES: NO ROSTER CHANGES
Splyce
bubu dubu
Shotzzy
Renegade
Shooter
Coach Phil (Coach)
CHANGES: Removed Falcated + added Renegade
SUMMER 2017 ROADMAP
In cased you missed it, HCS Daytona was just the beginning of an exciting slate of Halo esports this summer. Here's a reminder of what lies ahead.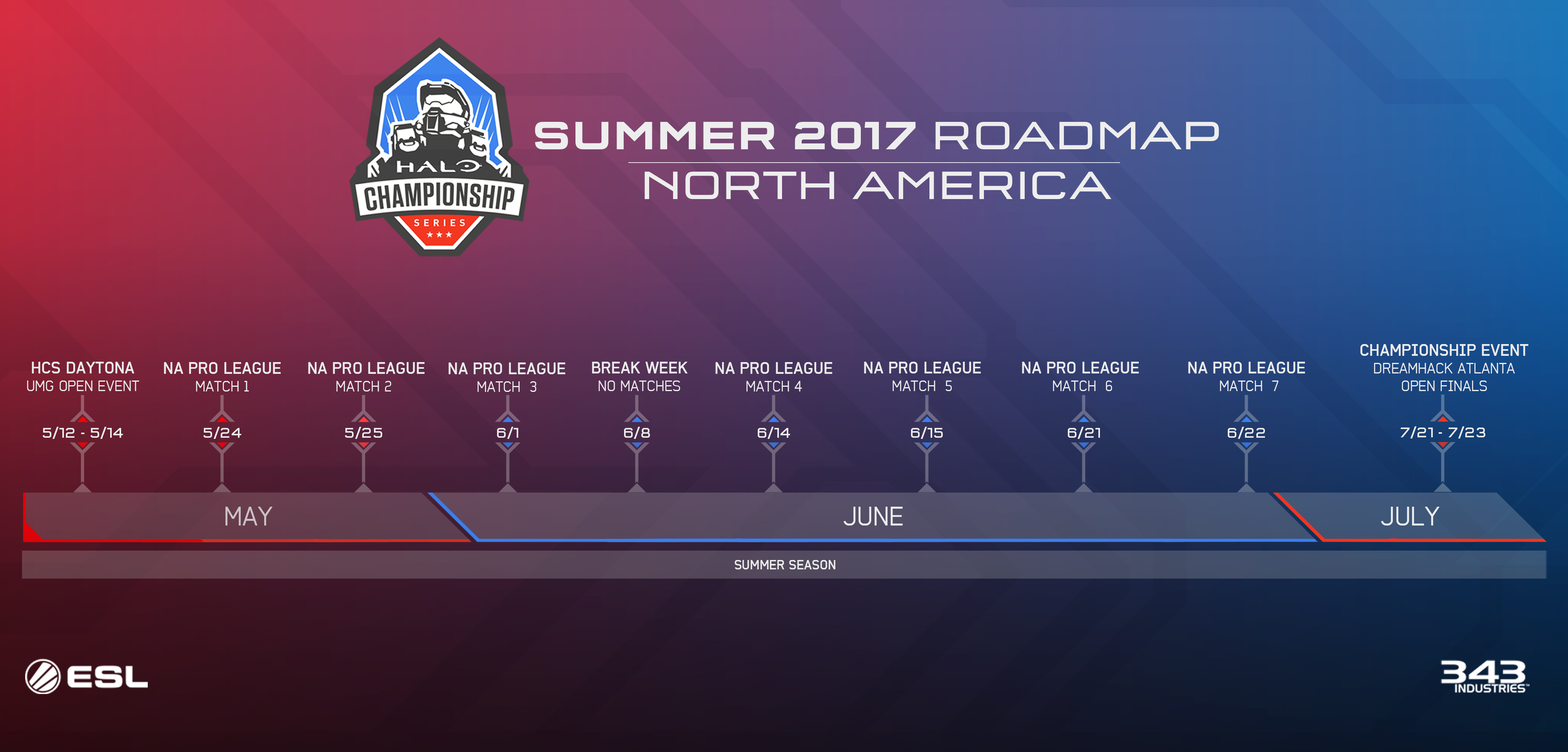 TEAM SCHEDULES
To make it even easier to keep up with your favorite squad, we've put together a collection of team-specific schedules – be sure to reference these when getting ready for each week's matchups!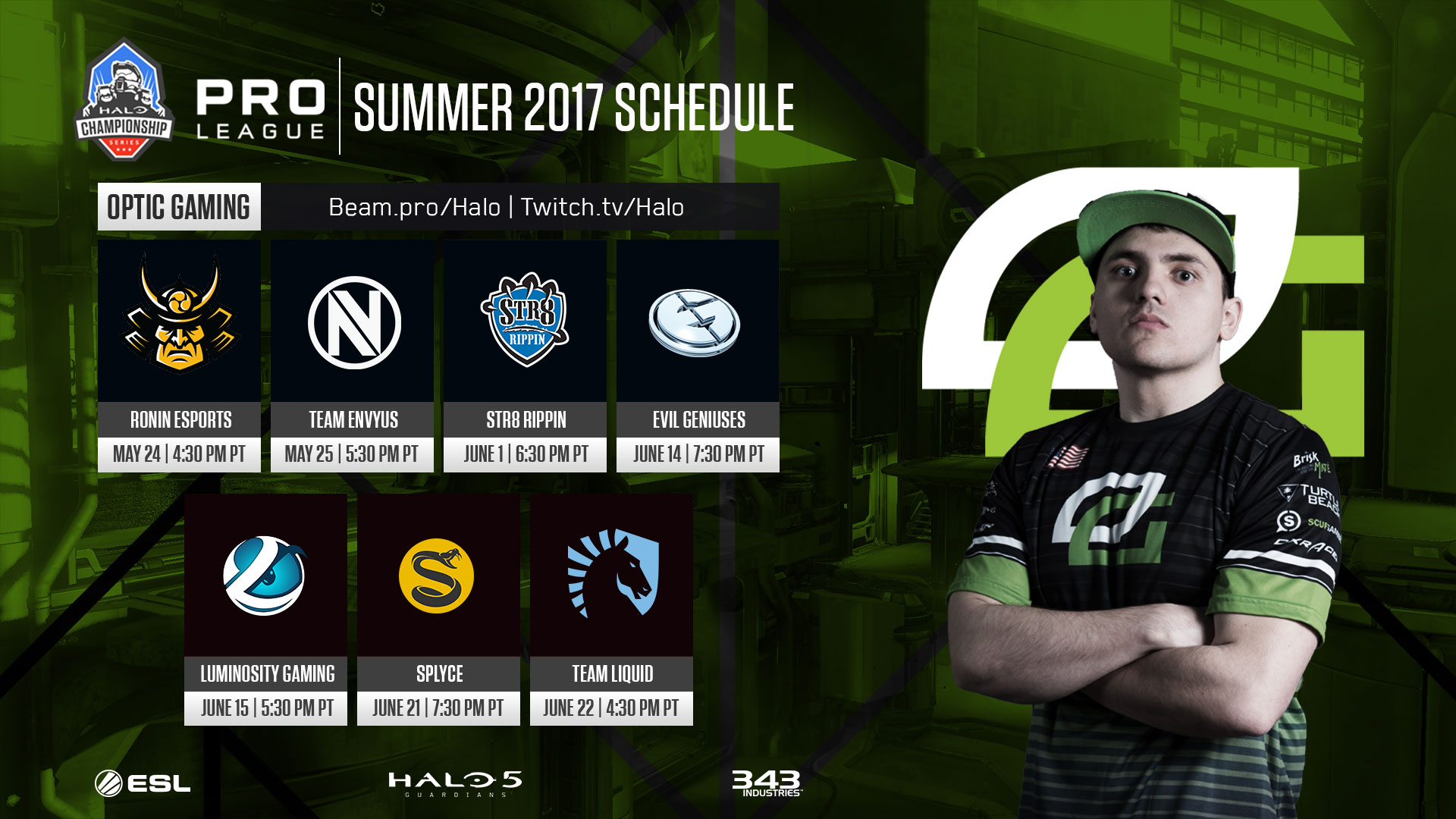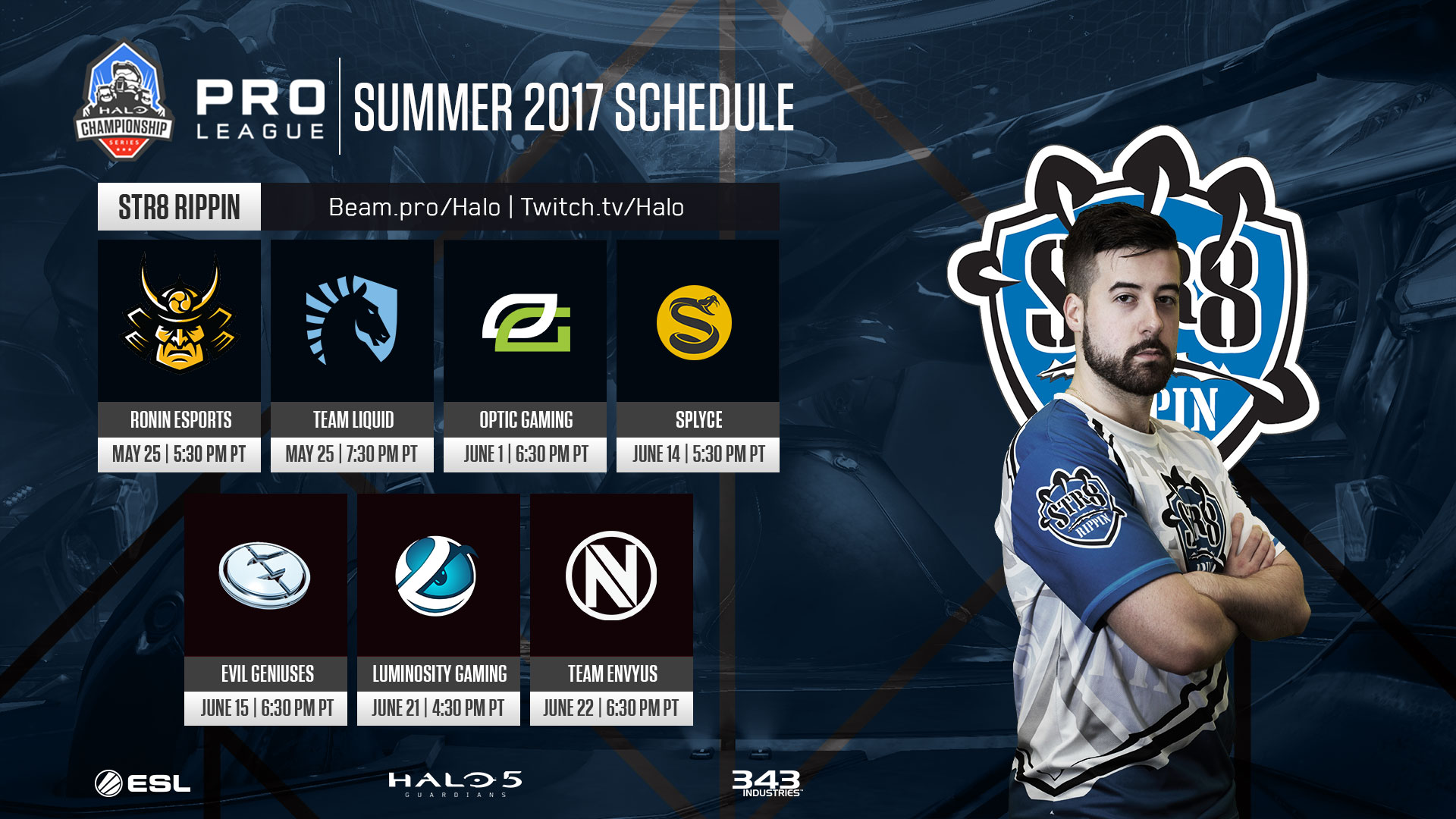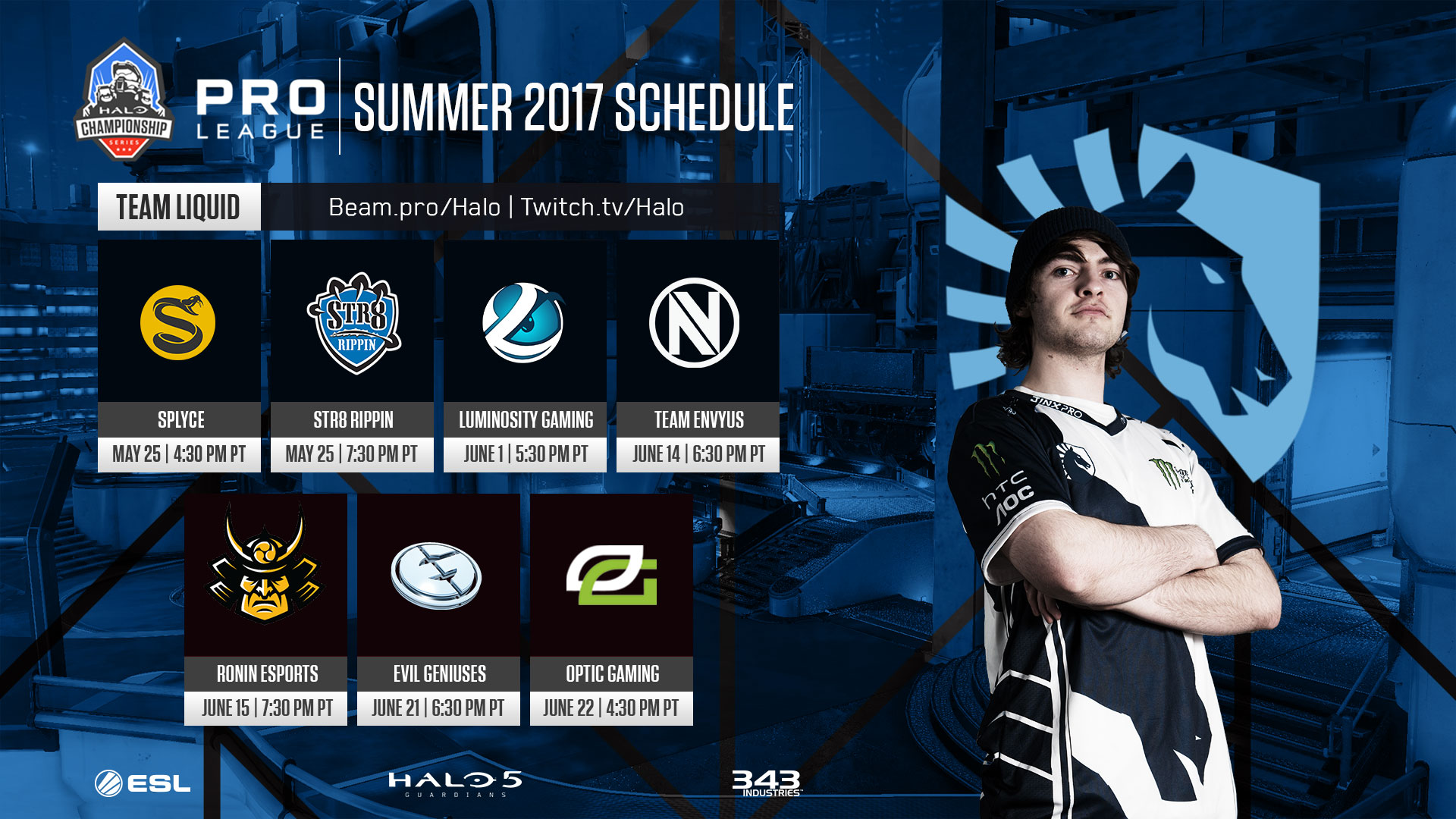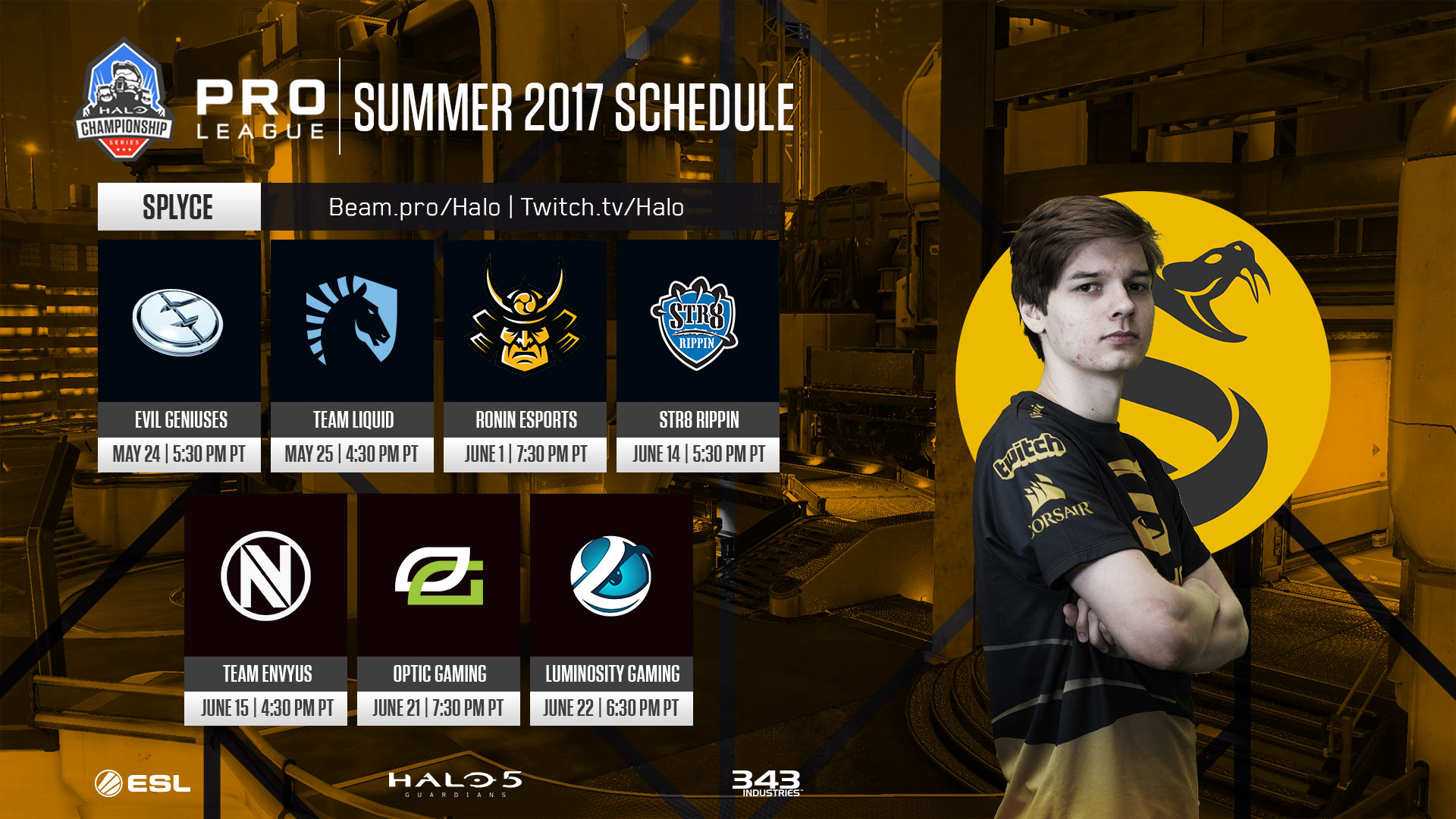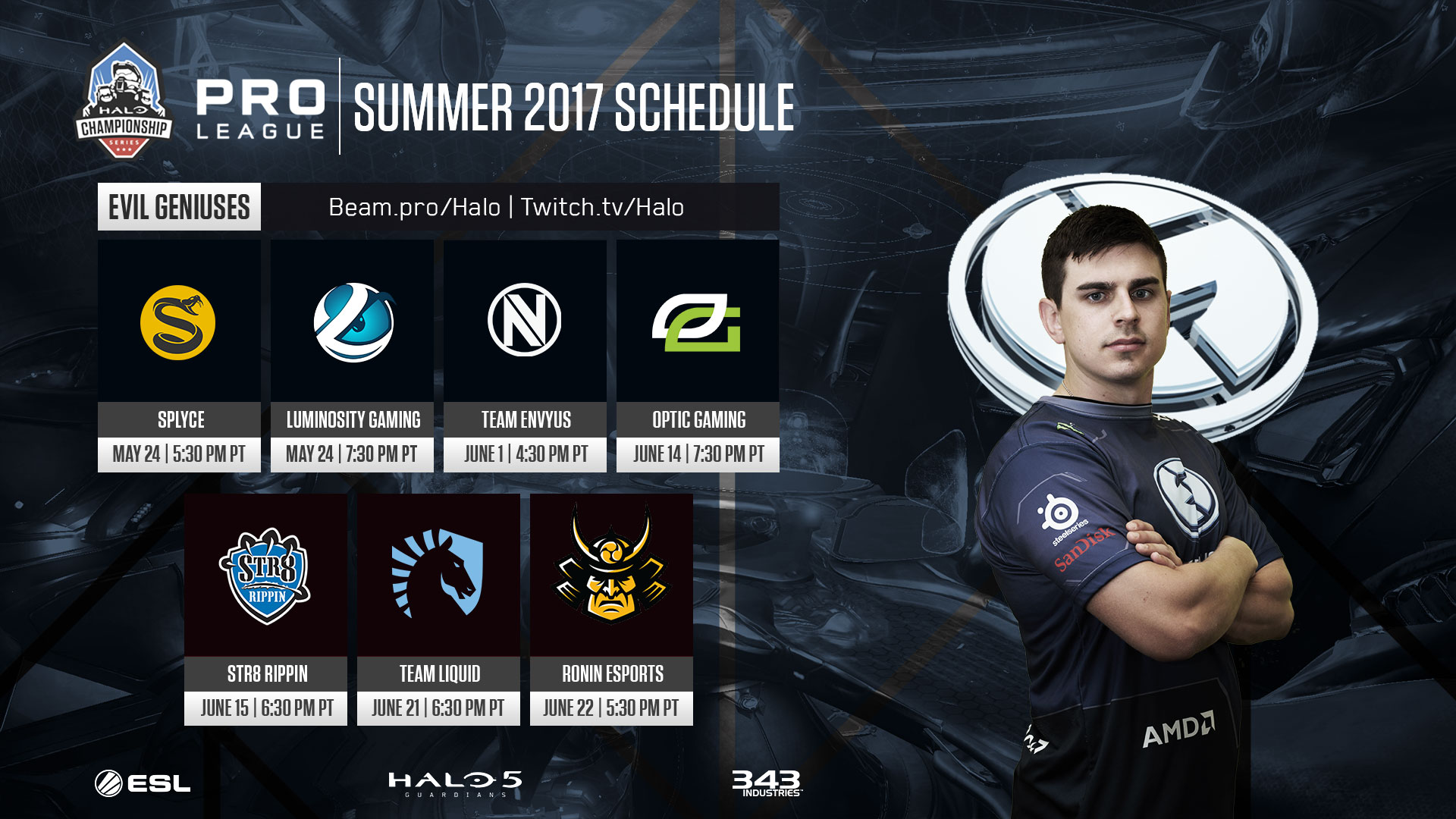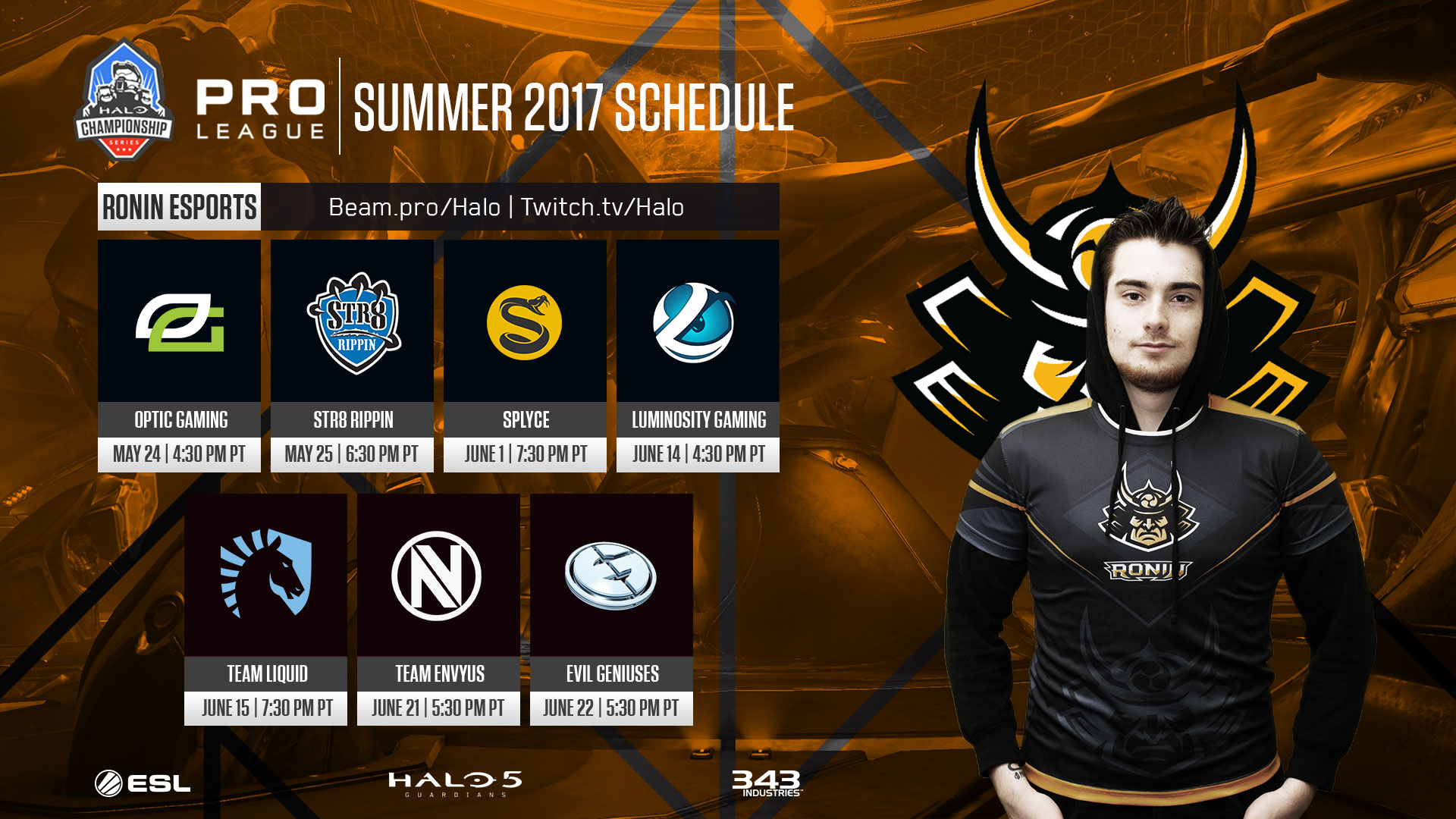 As always, for all updates on the Halo Championship Series and Halo esports, follow @HCS and @ESLHalo on Twitter, and keep it locked to Halo.gg and ProLeague.com/Halo on the web.